The most successful hair salons know that you need to win over all your customers, whether they're coming in for the first time or the tenth time. If you're relying on the same marketing tricks that you did 10 years ago, it's time to switch things up! Both the industry and technology are changing, and it's up to you to keep up with them so you don't get left behind. To help your hair salon shine, we will outline 29 proven strategies each broken down into five categories: in-house, staffing, social media, website, and online advertising. Ready for your salon to be a cut above the rest? Read on!
In-Store Strategies
For most people, a haircut isn't just a task to check off their to-do list; it's an experience. A great haircut can make someone's day. Making the salon experience as pleasant as possible can leave someone primed to feel great about their haircut, and about your salon. If you worry that your in-house salon experience might be a little lackluster, here are a few ways you can add some flair:
1. The Little Things That Make a Big Difference:
For most people, a haircut or nail appointment isn't just a task to check off their to-do list; it's an experience, and a great haircut, manicure, or facial can make someone's day. Extra attention to little details can leave someone primed to feel great about their experience and your services. Offer your customers tea or coffee, make your waiting area extra comfortable, and offer add-on services like hair masks, hand treatments, and massages. You can either upsell these, or offer bonus services once in a while, like free makeup along with a haircut to add an extra finishing touch to a customer's new look!
2. Offer Samples of Products:
Customers paying for a pricey haircut may not always have the funds to buy a pomade, shampoo, conditioner, and hair mask on top of that. Offering free samples will let them try it out, and will invite them to come back to buy the full-sized version later. If you're worried about customers using free samples instead of buying full-sized products, keep in mind that the people who have the disposable income to buy the full version won't bat an eye at picking it up later; the people who don't will appreciate the sample as an extra perk that other salons don't offer.
3. Have Promotional Events:
If you're looking to amp up the fun once in a while, why not host a promotional event? Offering an instructional class on a colour technique or product will help you generate buzz and product sales. Not your thing? Holiday-themed promos are a great idea, and might get people interested in the idea of having their hair done for the holidays. For example, hosting an updo-themed event near Christmas might help some customers realize they want their hair done for that fancy office party coming up!
4. Offer Bonus Makeup Services:
After a new haircut, your customer will (hopefully) leave feeling like a million bucks. Want to make them feel like a billion instead? Offer bonus makeup services every once in a while! Even if they aren't going anywhere fancy after they get their hair done, doing their makeup will help them feel even more like a whole new person after their haircut. If you sell makeup, it can also encourage sales of makeup products, and get customers to think about paying for any professional makeup services you offer.
5. Power Up Your Product Sales:
If it seems like some of your products just sit on the shelf while others fly off of them, it's time to keep a closer eye on how they're moving! By tracking customer purchases, you can get a sense of who is buying them—what services lead to what product purchases? Is a certain stylist selling more products? Or are some products just less popular than others? By keeping track of this data, you'll be able to tell whether or not you should change your marketing strategy or whether it's time to replace some of your products with different brands.
6. Keep Your Calendar Organized:
Salon scheduling can be complex when you're juggling client appointments and employee shifts. If you're disorganised, you might inadvertently leave clients waiting for appointments, and your staff either idle or over-scheduled—a recipe for low morale. Using an online scheduling tool like vcita will help minimize cancellations and scheduling errors by syncing your work calendar with the scheduling tool and reminding clients of their appointment times by SMS. You can also schedule private functions, so you can use vcita for both your staff meetings and client appointments. A lot of managers don't know how to schedule properly, and doing it right will help you stand out as a great employer.
Staffing Solutions
Beyond all the bells and whistles, one thing that will keep your customers coming back is a great haircut. And a great haircut depends on great staff—but keeping great staff also depends on the environment they work in. Hairdressers are a creative, outgoing, and lively bunch, so give them a working environment that fosters creativity rather than stifles it. Wondering how? Take a look at these next five tips:
7. Hire For a Variety of Skill Sets:
The next time you're hiring, seek out someone with a specialty that other staff may not already have. For example, if you have a stylist with a special interest in short pixie cuts and another stylist that specializes in men's hair, maybe look for someone that specializes in colour to mix things up. Not only will it help them learn from each other, you'll also be able to tell customers looking for something in particular that you can book them with someone who specializes in that type of cut or colour.
8. Create a Relaxed, Creative Environment:
Once you get the basics right—making sure stylists are paid fairly, giving enough time between appointments, having a comfortable break room—think about little extra perks to offer your staff, too. The best hairdressers will gravitate to the best employers, so make sure that's you. Some perks you could consider offering are professional development training, employee discounts on hair product, or incentives and rewards for outstanding work. Even little things, like occasional free treats in the break room, will help show your staff that you care about their comfort. Having happy staff will give your salon a friendly atmosphere, and in turn will help your customers feel at home!
9. Ask Staff for Their Ideas and Feedback:
One easy way to help your staff feel valued and important is to regularly ask for their ideas and feedback. When you're trying new marketing ideas, don't forget that you have a creative team at your disposal! From product expertise to social media skills, your hair stylists may have industry knowledge that you don't. They're also your best resource when it comes to making sure your workplace is a happy one, and, within reason, implementing their feedback on things like scheduling, tools, products, and workspaces can help you keep happy staff and happy customers.
10. Have a (Fun) Monthly Meeting:
You can use your monthly meeting to celebrate staff that did a great job over the past month, or brainstorm ideas about products and services. Maybe you could pick a different person from your team to lead a workshop each month, or work together to come up with goals for the salon so everyone feels more invested in them. What's important is that it's something fun and inclusive; a meeting that's too formal is likely to be too stuffy and unappealing for creative folks. Building rapport among staff should be your primary goal, since a staff that works well together is much more likely to provide great customer service.
11. Make An Album of Successful Staff Haircuts:
if you want to motivate staff and help out your customers in the process, a great way to do this is to take pictures of successful haircuts (with your customers' permission, of course) and compile them into an album for customers to look at while they're waiting. This way, a customer can browse your own offerings instead of being limited to looking at fashion magazines, and you'll be reminded to give your staff positive feedback when they've done a great job by including it in the book.
Social Media Strategies
Having a social media account is the new norm for most businesses, so if your salon isn't already on Facebook, Instagram, or Twitter, it's time to set up an account! If you do have social media accounts, make the most of them by posting regularly to remind your customers you're out there. Need a few tips to make your social media sparkle? Read on!
12. Word of Mouth:
In addition to offline methods of getting the word out, social media is a great place to start when you're looking for new clients—in addition to advertising on your own Facebook page, you can pay for Facebook ads that market to your demographic, or join Facebook groups where your clients might be. Don't be afraid to get creative! You can also comment on the Instagram feeds of your favourite stylists, or on industry blogs. Don't forget about other platforms too: Twitter, Pinterest, Tumblr, Snapchat, TikTok and YouTube are great ways to make yourself known.
13. Showcase Your Best Cuts on Social Media:
When one of your stylists does a stellar job, make sure your followers see it! Try to include a range of services to feature so that people looking over your Instagram feed or Facebook photos get an idea of what types of services you offer, from braids to colour to updos to the hottest cuts. Don't forget about other platforms too – Twitter, Pinterest, Tumblr, Snapchat, TikTok and YouTube are great ways to make yourself known.
14. Streamline your Social Media:
Even if you're not a marketing expert, chances are a social media scheduling tool will help you out a lot. Using programs like Hootsuite or Loomly, you can create one post and put it up on multiple social media platforms without having to copy and paste text, and you can schedule social media posts in advance. If you don't have a website yet, you can use vcita's booking tool on your Facebook page, so that clients can still book appointments online. Although it's a good idea to have a website eventually, if you don't have one quite yet, try making the most of your social media first!
15. Follow Other Salons, Hairdressers, and Influencers:
Happy is knowing what's trendy in hair—and an easy way to keep on top of fashion is to follow others who are keeping on top of it! With the proliferation of influencers promoting themselves on Instagram, it's a good idea to choose someone whose style you like and follow them, or follow other hairstylists or salons you'd like to emulate. It's also wise to follow the competition in your area, since it will help give you an idea of what their promotions, haircuts, and social media strategies are and how yours compare.
16. Look at Your Analytics For Info About Who's Interested:
Social media business pages on Twitter, Instagram, and Facebook all have free analytics accessible to moderators, so you can tell what the demographics of your audience are and which posts generate the most interest. You can then use this information to help you decide what services and products best suit the needs of your customer base. Although your social media audience might be slightly different than who actually walks in the door, taking your analytics into consideration can help you market to the people who are the most interested in you.
17. Create Video Content:
More than any other media, video gets the most attention online. If the idea of creating videos intimidates you, don't worry: they don't need to be long. In fact, short, 30 second videos that give customers a snippet of your aesthetic, a tip about using hair products, or a glipse into the culture at the salon are all you need. Videos posted to social media should be casual and fun, and the best ones will give viewers a sense of the personalities behind them. Customers that get a glimpse of the salon's culture or follow you for tips and tricks are more likely to remember you the next time they need their hair cut.
Website Strategies
You've probably put a lot of effort into curating what a customer sees when they walk into your salon—pictures on the wall of the latest hairstyles, trendy magazines in the waiting area, and a clean, polished environment. The same is true for your website! The more customers feel at home in your digital space, the more likely they are to walk through your door. Below are a few strategies to help you take your website to the next level:
18. Stand Out on Google with a Clickable Meta Title and Description:
A meta description and title is a tag in your webpage's HTML code that gives search engines a description of your site. It's often what search engines will use as the website description in search results, making it the first thing people will read about you. It's a small detail, but one that will give your customers an impression of professionalism before they even click on the link to your site. Make sure it's catchy, with popular search keywords and a call to action—the more people that click on your site, the better it is for your ranking!
19. Start a Blog on Your Website:
Having a blog on your website is great for two reasons: it will keep your customers coming back to your website, and will also improve your rankings in search results, especially if you include links to product webpages and other articles. Think about what types of posts would grab the interest of your clientele. Whether it's a how-to blog or a commentary on celebrity hairstyles, make it something that fits with your salon's culture and style, so customers that read your blog will get to know you in the process!
20. Include Online Booking Solutions:
Make it easier for customers to book appointments by offering ways to do it online. You can show the schedules of each stylist and their available appointment times, and allow the customer to select what services they're booking for. This also saves your receptionist time, giving them more time to focus on customers in the salon. There are several different salon booking software options to choose from online. One of them is vcita Online Scheduling. vcita's salon scheduling features work both as a plugin you can add to your existing website, if you are a WordPress or Wix user. Or you can use vcita's landing page builder to build a beautiful branded landing page optimized with 'schedule now' or 'book and appointment' call-to-action buttons. See example hereunder: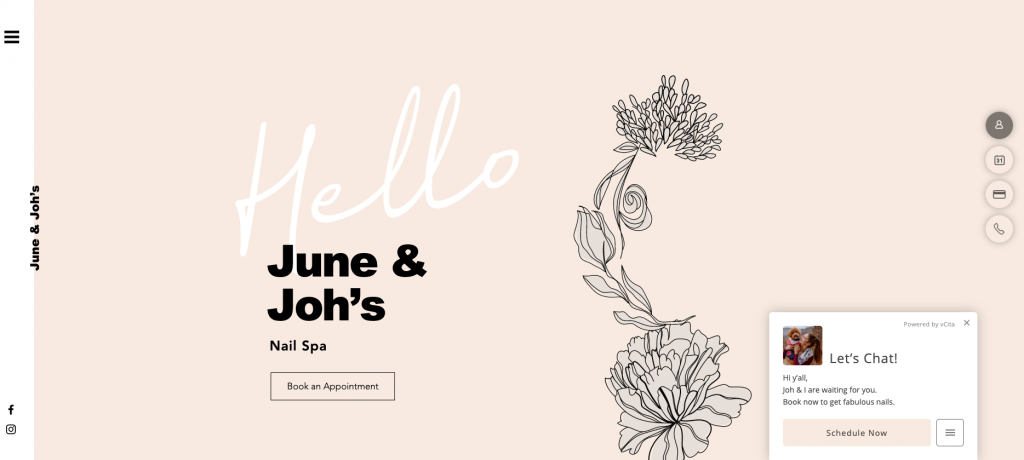 21. Sell your Hair Products Online:
For people that don't live close by, it might not be practical to come to the salon, even for a product they really love. Help make it easy for them with a shopping cart on your website! This is an especially good option if your salon has its own line of hair products that they can't get elsewhere. Making sure it's available to order online will make it less likely that your customers will find another brand to replace it with.
22. Make it All Easy to Find with Great UX Design:
Great user experience design doesn't have to be flashy—in fact, the more similar it is in function to other webpages, the easier it will be to navigate. Animations and lots of high quality images are great, but make sure they don't slow down the load time of your website too much. Also make sure you have a clear, easily accessible menu on your homepage, and that your phone number and address are easy to find. A homepage with well-chosen graphics, a staff bios page, a booking page, a product shopping page, a blog and a contact page will give your customers all the information and services they need. Make sure you have a call to action on your page that helps customers navigate to your booking page quickly and easily.
Branching Out on The Web
So your social media pages are thriving and your website is optimized for great customer service—what's next? Read below for some more ways to get yourself noticed online and drive more traffic to your website… and your salon!
23. Add Your Business on Yelp:
People deciding between different salons in the area will often turn to Yelp and Google Reviews to decide who they'll go with. Granted, it's a risk: by opening yourself up to public reviews, you're also risking unhappy customers leaving negative reviews. But even those can be an opportunity to show people you care, by responding to them in a courteous and professional manner. You can also encourage happy customers to leave reviews on Yelp if they liked their haircut!
24. Make Sure Your Business Has a Google My Business Listing:
Adding your business to Google My Business means you'll show up on Google Maps, with your contact info, hours of operation, and Google reviews listed alongside your location. Additionally, having a Google My Business listing makes your business show up in local searches, which is significant for businesses like salons that rely on the patronage of locals. You can also access Google Insights for your business through your account, which gives you lots of analytics about who is visiting your website and what keywords they're using to get there.
25. Try PPC Advertising:
One of the great things about social media marketing is that it's free—but if your salon has an advertising budget, you can try PPC (pay-per-click) advertising. PPC ads are now capturing up to 50% the traffic coming from Google. Meaning also that the ads for many of the more competitive search terms are becoming increasingly expensive. If you are looking for a cheaper cost per click advertising model than paid search marketing, you may want to look into other PPC networks such as Facebook or Instagram.
You may not want to run PPC campaigns for long periods of time, since it can be quite costly. However for limited time periods, they're an especially good way to help get your business off the ground when you're just starting out, or for special promotional events.
If you want to get started with PPC Marketing, we suggest you read our 'Beginner's Guide to PPC Marketing'.
26. Make Email Newsletters That Clients Want to Read:
A lot of businesses will ask for someone's email address at the till, only to bombard their inbox with newsletters they didn't ask for. In theory, email marketing is a good strategy, but often in practice, the emails filter into someone's spam folder and the effort is wasted. If you have an email newsletter, make sure to provide real value to your newsletter readers, so you won't end up end up in their spam folder.
A good practise, If you have a blog, is to post a link to sign up for your newsletter at the end of every post. That way, your emails will go to people who actually read them, and you'll be in a better position to gauge who's interested in your email marketing strategy.
27. Keep Your Brand Identity Consistent:
Whatever your salon brand is, make sure your presence across your website, social media, online ads, and in-house atmosphere is consistent. Use your brand colours, logo, and voice in both your social media campaigns and your website. If you don't know what your brand identity is, take a moment to think about what differentiates you from your competitors: are you edgy? Sophisticated? On trend? All natural? Is there an extra product, service, or quirk that makes you different? If there's nothing you can think of, it's a sign that maybe you need a stronger brand! Having a specific personality will help build trust, which in turn will make customers more loyal.
Nurture your client relationship
28. Use CRM Management Software to Keep Track of Clients:
Working in a salon for any length of time, you'll find that customers will usually spill a lot about their work, hobbies, relationships, and other things. Most businesses have some sort of customer relationship management (CRM) program, but it's especially critical for salons. In addition to maintaining rapport with clients, a CRM management tool that lets you keep notes about customers' allergies, aesthetic preferences, and other crucially important details that you'll want to remember every time they visit. Remembering the little things will help customers feel valued.
29. Networking with Potential Clients
Although a lot of networking happens online, in-person connections are still more memorable and lasting. Someone will be way more likely to follow your Facebook account if they've met you at a trade show, workshop, or other event, so find out what industry events are happening in your area and shake some hands! People often make the mistake of thinking that there's a secret to networking, but the best way to do it is to just go to events, and be genuine. It's partially a numbers game: the more times you show up, the more likely it is that you'll run into someone that can help you or wants what you offer.
One Final Thought: Simplify, Simplify
In the words of Thoreau, "Simplify, simplify." There's a huge variety of marketing strategies to choose for your salon, but if you're feeling overwhelmed, then start with the ones that make your life easier! Good marketing is about working smarter, not harder. Programs like vcita can help you consolidate some of these strategies so that the core ones are automatic, freeing up your time to get creative with the others—because sometimes the best marketing strategies are the ones no one else has thought of yet