Drive action with beautiful email campaigns.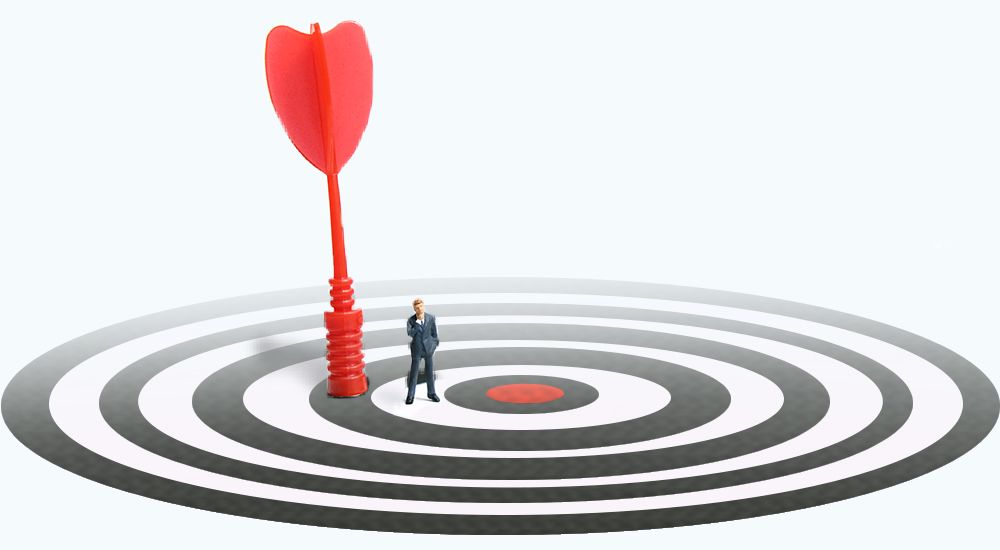 Everything you need to master email marketing
Effective call-to-action buttons
Add CTAs to your emails, enabling clients to book appointments, complete a payment or submit a document 24/7 from any device.
Email marketing on-the-go
Easily create email campaigns, manage subscribers & get real-time results – all from your mobile.
Customer segmentation
Import contacts & use tags to segment clients based on their location, interests and more.
Coupon promotions
Create beautiful coupons to get more bookings, promote new services and more.
Real-time results
Get real-time analytics – see how each email campaign impacts your bottom-line.
Create your email marketing design in less than 5 minutes
Create killer campaigns with zero design skills. Simply use our pre-built email template, pick an image from the free gallery and viola! You're all set.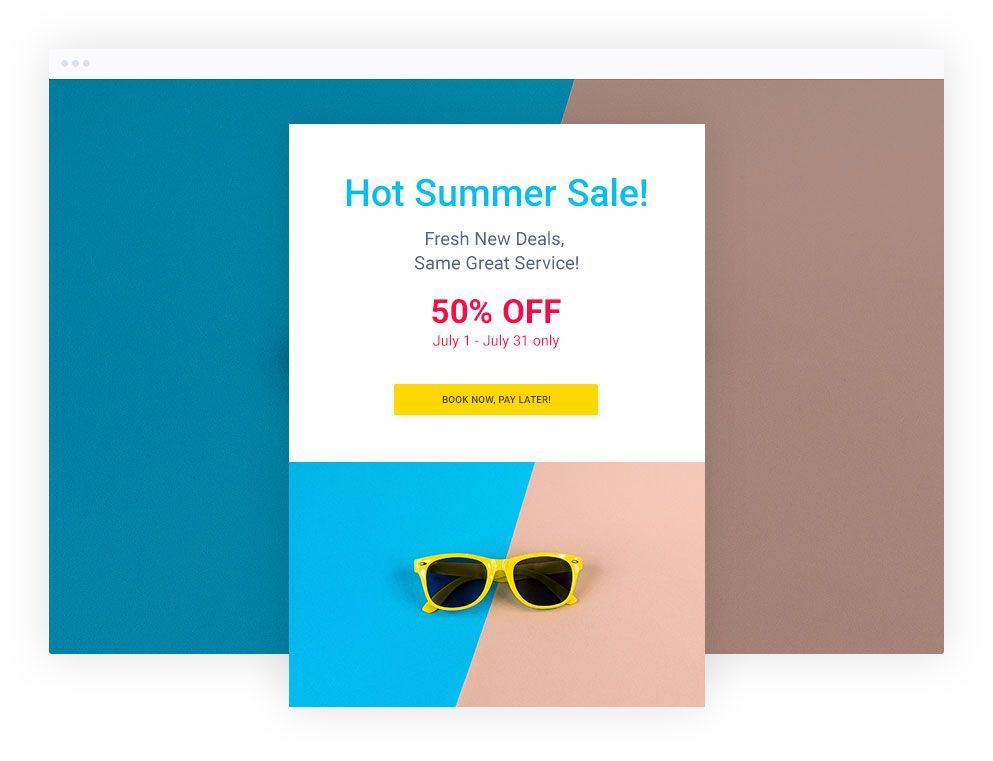 Prompt clients to take action & feed your bottom line

One-click actions
Each vcita email campaign is built with client engagement in mind. Prompt clients to schedule an appointment, upload a document, complete a form or pay for a special offer – all in a single click.

Scheduling button
Add a scheduling button to each email campaign you create, enabling prospects & clients to book appointments or register to events around the clock – even while you're asleep!
Get on a first-name basis
Add a personal touch to your email campaigns. Customize your email templates to include a client's first name and improve click-through rates instantly.

Email marketing analytics that make sense
Use vcita's campaigns tool to learn how each campaign affects your bottom line. Track actual client activity, measuring the real success of your email marketing: new clients, scheduled appointments and payments.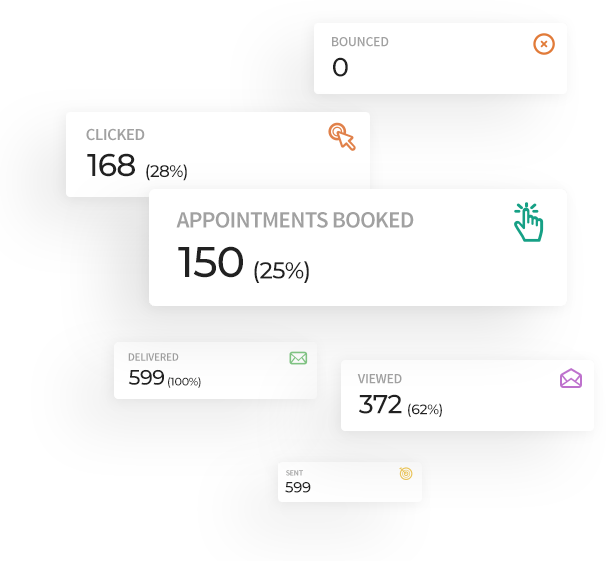 Over 100,000 small businesses are managing their customer relationships with vcita
Rated 4.4 out of 5 on GetApp (143 votes)

What is an email marketing system?


An email marketing system is a technological solution used to streamline the process in which commercial emails are sent to the listed contacts that have expressed a desire to receive this type of content from you. It is a powerful and most profitable direct marketing channel, which is why your emailing system should not be an afterthought in your overall marketing strategy.

This solution usually encompasses dedicated software with an array of services that perform several tasks related to your email campaigns. All of them focus on quality personalization, segmentation, and, most of all, users' consent.

This includes designing email templates for various client profiles, expanding the list of email subscribers, updating their contact information and segmenting these lists for the purpose of easier customer targeting. An email marketing system includes not just the services, but also a set of tools and resources that empower you to step up your marketing game beyond just clicking the "send" button.

Email templates, for example, should support diverse emailing profiles, from promotional emails to newsletters and announcements. They need to support fast customization in line with what your brand needs at a particular moment.

Email builders should be intuitively designed with drag-and-drop functionality that will allow you to manage your email marketing needs without additional hiring costs. Additional features that are a must today are the support for mobile platforms and support for an easy preview of a designed email.


What are the most common type of marketing emails SMBs send out?


All businesses can profit from smart email campaigns, but SMBs will usually find that the formats that work best for deeper engagement with their customers are the following:

1) Newsletters are the bread and butter of any email marketing campaign. Since you are running a small or medium business, you are more likely to intimately know what your customers really need. Send them a newsletter with useful tips, how-tos, and guides. Your content should be tailored to what you perceive as their need and be sufficiently engaging and informative at the same time.

2) Promotional email is yet another essential marketing format that does heavy lifting whenever you need to promote the launch of a new product or service, collect subscriptions and push your sales. These are best sent with irresistibly attractive exclusive offers and cross-sales of related or complementary products/services.

3) Acquisition emails are essential if you are to keep valuable subscribers who have not yet been promoted to full-blown customers. These usually combine valuable information tailored to them and exclusive offers, particularly those that they can enjoy by becoming your regular customer.

4) Retention emails play a hidden yet key role in making your customers come back to you after a prolonged lack of engagement with your business. Remember, it's highly important to keep the lights on in every relationship you establish with your customer, so make sure you regularly remind them of their value for you every once in a while.


How do you send email marketing campaigns?


Leads and sales are your precious assets and email marketing can help you dig them out smartly. Not all of your customers and prospects are the same, yet they deserve to get the same level of attention from you. Keeping them engaged means regularly launching targeted email campaigns.

The first step is to set your goals clearly and define your target audience. You'll need to determine if you want to focus on welcoming new subscribers, engaging the existing ones with attractive content, or nurturing them with an offer of value. Once you are done with this, you need to build a targeted email list, develop a plan with a timeline for sending emails and follow-ups.

This is where the technology jumps in, as you can use your vcita's solution to create and send automated campaigns in a fast and efficient way.

Automated campaigns are promotional messages sent to your clients via email or SMS. They are automatically sent by the system based on conditions or triggers you set in advance. These triggers can involve a birthday, a special promotional offer, or any event you want to turn their attention to.

Let's take birthdays as an example – all of your customers have them. Once you define your campaign, vcita will sell these customized campaigns to each user on the date of their birthday. Thus, you do not have to worry about juggling all the dates in your head.

To make things easier, automated campaigns can be sent either directly from our template library or after you create your own campaign, with an option to customize your message and conditions/triggers in both cases. If you are satisfied with a particular campaign, you can simply clone it (duplicate it) or create one from scratch with the help of pre-made campaign types such as "Convert new leads into paying customers", "Reconnect with your inactive customers", etc.

Whatever you choose, you'll save both precious time and effort in the end.

GET STARTED
Create your first email campaign today! It only takes a few minutes.