Invoicing software for small businesses
You need a simple
invoice software.
We offer that and more.
*No credit card required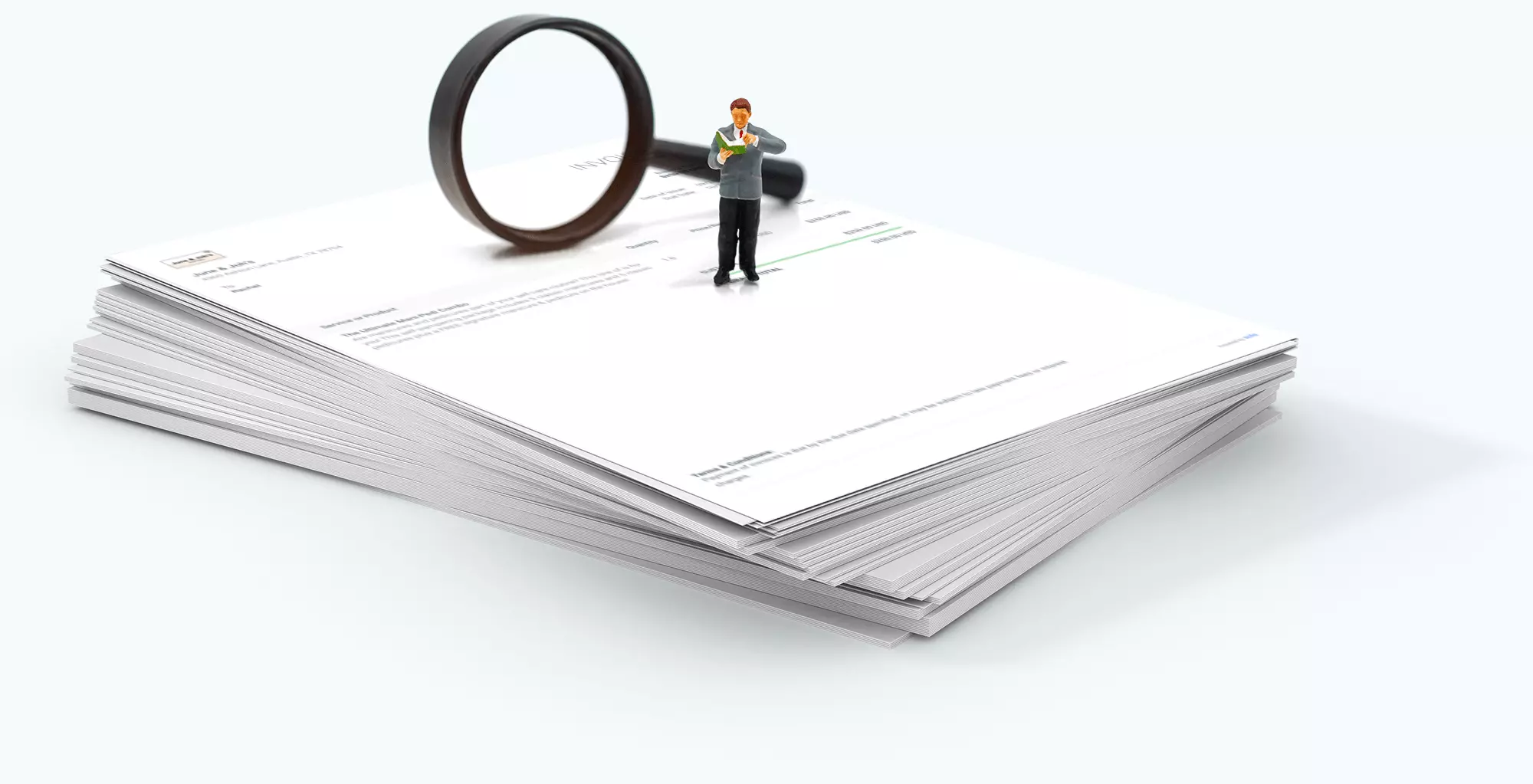 Manage your entire billing lifecycle from one app
Send estimates, invoices and receipts in a matter of seconds
Let clients pay for services directly from an estimate or an invoice
Manage your payments, clients and calendar in a single place
Invoicing software for small business
Invoicing software for small business – smart, simple, effortless
Get your invoicing and billing tasks out of the way, so you can save time and focus on boosting your business. Easily issue beautiful invoices from your desktop or mobile, and speed up payments with automatic client reminders.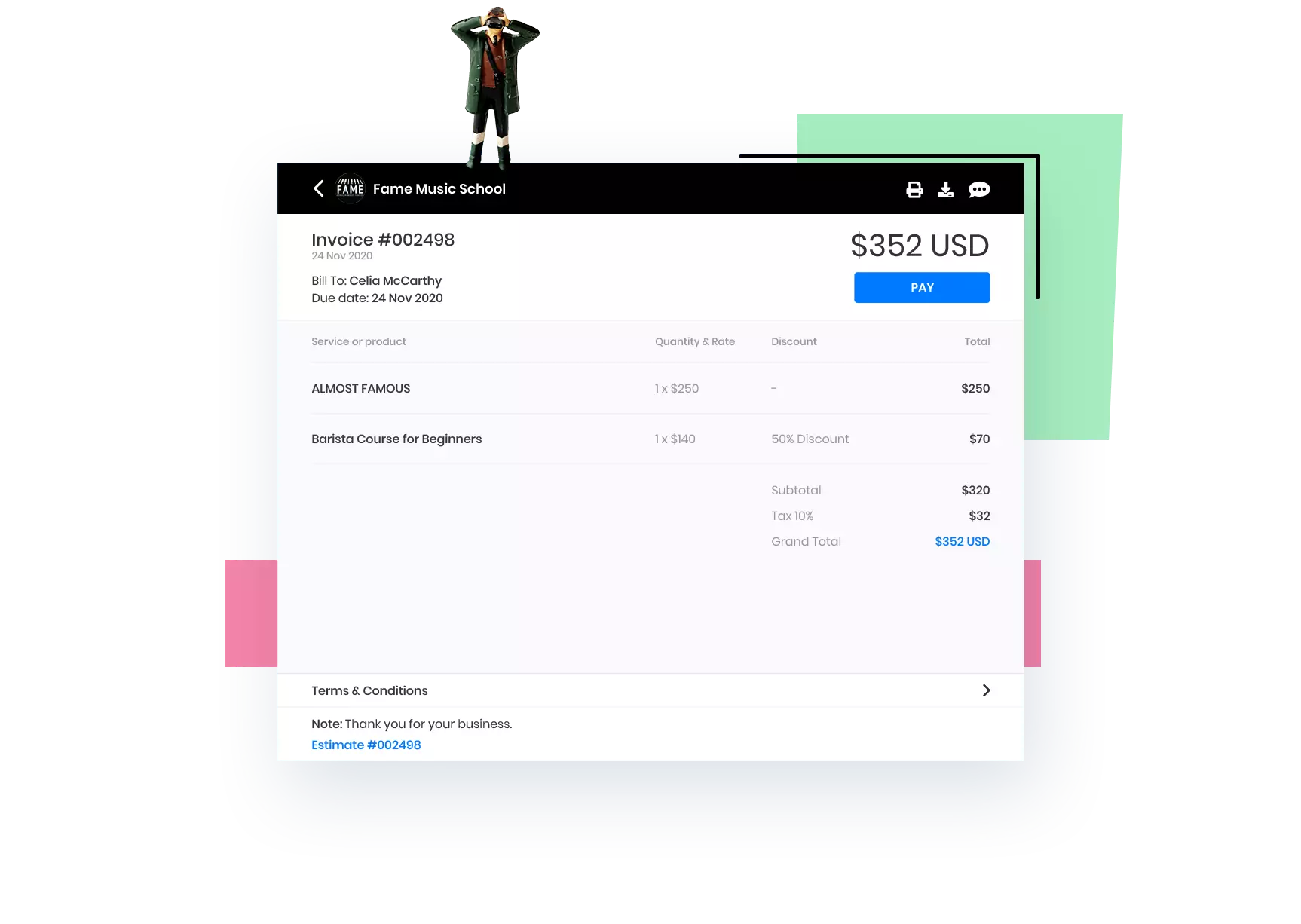 Create professional, customizable invoices

Add your company name and logo, choose your currency and set multiple tax rates. It's super easy and quick to set up!

See your billing & invoicing in one place

View pending, paid and overdue invoices from a friendly dashboard, and know where you stand with each client in real-time.

Get paid in a single click

Let clients pay for invoices online 24/7 by adding a simple payment button to your invoices.

Send invoices via SMS

Don't wait for clients to open their emails. Send invoices via SMS as soon as the meeting is done.

Collect like a pro

Forget about unpleasant collection calls – simply set up automatic payment reminders to ensure clients pay on time.
GET STARTED
Small business invoice software with a big business vibe.
Estimates and invoice software
From the first "hello" to the final invoice
Get paid 60% faster with a client billing software that supports your entire billing lifecycle:
Estimate
Issue professional, branded estimates within minutes, scoring you more business from prospects and clients.
Invoice
When you're ready to collect payments, turn the estimate into an invoice in a single click.
Receipt
Automatically issue and send out receipts when clients pay online, or choose to send them out manually.
More than just invoice software
See the bigger picture
Track pending and overdue invoices related to bookings from a single dashboard, where you can filter invoices by client name, payment status and more.
Request payment upon booking and create automatic payment requests when a client registers for a service.
Automatically save all invoices and estimates to the relevant client cards
Goes hand in hand with your accounting software


What is cycle billing?

Cycle billing refers to billing your clients based on a customized schedule for each of them, as opposed to billing all of them at once on the same day. This practice is convenient for businesses as it allows them to distribute workload and have an overview of clients that have, and those who have or haven't paid yet.

The length of the billing intervals can depend on the client, the type of service offered, the planned budget of your business, or the client's paying capacity. The usual strategy is to bill a specific percentage of customers every day, instead of billing them all together at once (i.e. single-date billing).

Typically, there are three billing cycles you can follow – daily, weekly, and monthly. vcita's automatic billing supports all of them, allowing you to choose whichever billing cycle works best for you and your clients. Besides the billing cycle length, you can also choose between sending the billing statements using email, SMS, or both.


What are the different billing methods?


There are three most common billing methods in the service business:

Billable hours. The most popular billing method in the service business, the system of billable hours refers to the amount of time a business spends providing its service for which it charges the client at an hourly rate agreed upon in advance. To be able to charge their billable hours, businesses need to record the amount of time spent providing services for each client every day.

Subscription billing. In this type of billing practice, the business bills the client on a regular, subscription basis (specified by the business). This way, the business charges the client in exchange for the services the business provides on a continuous basis, for the entire duration of the subscription.

Project billing. When a business is undertaking an entire project at a price that was agreed upon in advance and can't be changed, we call this practice project billing. There's usually a time limit involved within which the business is expected to complete the given project.

What is accounts receivable in billing?

Accounts receivable refers to the outstanding invoices or bills or the amount of money that clients owe a business for the services delivered to them. They are created when a business allows its client to purchase its services on credit, in installments, or as a subscription. Once you send your client a bill, it becomes part of your accounts receivable, until the client pays it.

On the balance sheet of your business, accounts receivable represent money due in the short term. Since they represent funds owed to the business, they're listed there as an asset.

Accounts receivable differ from accounts payable, as they represent funds owed to the business. Accounts payable, on the other hand, represent funds that the business owes to others, such as creditors or suppliers. Whereas accounts receivable are listed as assets on your balance sheet, accounts payable are listed as liabilities.

Sometimes, a client may not pay the account receivable. Once you confirm this, you'll have to write off the amount as a one-time charge (a charge you expect to be an isolated event) or a bad debt expense (a share of accounts receivable you assume will never collect).

Looking for a simple small business invoice software?
Start your 14-day free trial today.
Not sure? Schedule a demo