You've been working hard to build your business from the ground up, and now you're finally seeing real growth. But more customers and bigger orders inevitably bring more paperwork, and you didn't start your business because you love doing paperwork.
Specifically, managing all your invoices is probably starting to become a real headache. When your business was smaller, you could get by just sending invoices through email and using a spreadsheet to keep track of them. But now you need a more efficient solution to handle your increasing invoice volume and ensure you get paid on time.
That's where invoice management software comes in.  It will save you tons of time by automating your invoicing process, and bring greater visibility and control over your company's cash flow, making it a must for any growing business. The time you invest in implementing a good invoice management solution now will pay off hugely down the road.
The importance of efficient invoice management
Efficient invoice management is essential for any small business. It ensures you get paid on time, identifies cost-saving opportunities, and keeps your financial operations running smoothly.
A dedicated invoice management software solution allows you to automate the invoicing process, set up automatic payment reminders, accept online payments, customize professional looking invoices, and keep all your invoice records in one place. Cutting down on manual data entry saves time and lowers the risk of errors, while automated reminders drastically reduce late payments and limit revenue loss from unpaid invoices.
Here are just 3 reasons why invoice management software is super important for your business:
Accuracy
With a good invoicing tool, you'll have a single source of truth for all your billing information. That means accurate client details, full product/service information, and pricing all in one place. No more hunting for info in emails or juggling multiple spreadsheets. Your invoices will be consistent and error-free every time.
Business insights
Effective invoice management gives you valuable business insights. You'll see which products and services are most profitable, track payment histories to determine your best clients, and uncover seasonal revenue trends. This data can help you make strategic decisions to improve cash flow.
Competitive edge
Using invoicing software is one of the smartest ways for a small business to scale. With an efficient system in place, you'll spend less time on administrative tasks and more time growing your company. Your clients will appreciate the professional experience, and you'll gain financial clarity and stability. In today's competitive market, that's an opportunity no business can afford to miss.
Common invoice management challenges for small businesses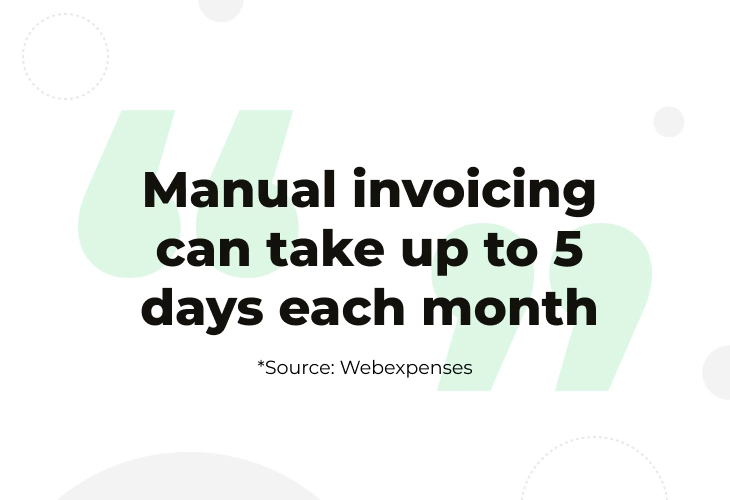 As a small business owner, you know how tricky it can be to stay on top of invoicing. Between following up with clients, ensuring accuracy for invoices, and actually getting paid, it's easy for things to slip through the cracks. Here are some of the most common invoice management challenges small businesses face, and details about how the right software can help resolve them.
Lost time
Manually creating and sending invoices takes up valuable time (up to 5 days a month) that could be better spent developing new products or acquiring new customers. Invoicing software automates the process, so you can get back to growing your business.
Human error
It's all too easy to make mistakes when entering invoice details by hand. We're talking anything from minor typos to charging the wrong amount or sending an invoice to the wrong address. Robust invoicing software double checks invoice data and flags errors, to avoid incorrect billings and ensure you get paid.
Lack of visibility
Without a centralized system, it's difficult to see the status of invoices pending, payments received, and money owed. Invoicing software gives you an at-a-glance view of accounts receivable, so you can understand your cash flow and know where you stand financially at any given time.
Chasing payments
Following up on late-paying or non-paying clients is frustrating and time-consuming. Invoicing software can automatically send payment reminders to prompt clients to pay on time, saving you the irritation.
The benefits of using invoice management software
Invoice management software is a game changer for small businesses. It automates and streamlines your billing process, saving you time and money. Here are a few of the major benefits:
Reduce errors and fraud
Manual invoice processing is prone to errors and fraud, which cost you money if they go unnoticed, and take up your time to detect and correct. Invoicing software automatically scans invoices for accuracy and flags any discrepancies for review, while providing an audit trail to prevent and detect fraudulent activity.
Simplify workflows
Invoice management software automates much of the workflow around invoice management. It can extract data from invoices, match purchase orders, select correct general ledger accounts, schedule payments, and more. This way, you'll spend less time shuffling papers and more time running your business.
Gain valuable insights
With invoicing software, you'll receive valuable reporting and analytics on your invoicing data. Gain insights into things like average invoice age, time to pay vendors, recurring late payers, seasonal trends, and more, and use these insights to make data-driven decisions about your business.
Pay vendors faster
With automated workflows, you can approve and pay vendor invoices faster, which lets you take advantage of early payment discounts and strengthen your relationships with key suppliers. The software also enables electronic payments, so you can pay vendors with the click of a button.
Access anywhere
Leading solutions offer mobile apps so you can view, approve, and pay invoices on the go. You'll always be on top of the status of your billing and payments, and the information you need will be immediately available even when you're out of the office.
Overall, invoice management software is an easy win for any small business looking to scale. It handles one of the most tedious parts of running a company.
Key features to look for in invoice management software
The right solution can save you time, improve cash flow, and deliver business insights, but there are many options and it can be hard to choose the one that's best for your small business. Here are some of the key features to look for:
Customizable templates
Look for software that offers professional yet customizable invoice templates that let you add your logo and color scheme. It's important to be able to customize fields, add terms and conditions, and reorganize the layout according to your business needs.
Payment tracking
Robust payment tracking is essential for any invoice management software. You need to know the status of invoices at a glance – whether they're paid, unpaid, late, or disputed. The software should automatically log payments when you receive them, and notify you of any past due invoices so you can remind your clients. Some solutions even offer automated payment reminders to save you time.
Recurring billing
If you have clients on retainer or subscription plans, recurring billing features are a must. Good invoice management software will let you set up recurring invoice schedules, automatically send invoices on the schedule you choose, and log those payments as they come in. This can help ensure predictable cash flow for your business.
Reporting and analytics
In-depth reporting and analytics provide insights into your business's financial health, so you want software that offers reports on invoice status, payments received, revenue per customer, and more. Some solutions even provide forecasting tools to help you better predict cash flow and fluctuations in revenue.
In short, the right invoice management software provides the features and automation needed to streamline payments, gain financial insights, and scale with confidence..
How vcita can optimize your invoice management workflow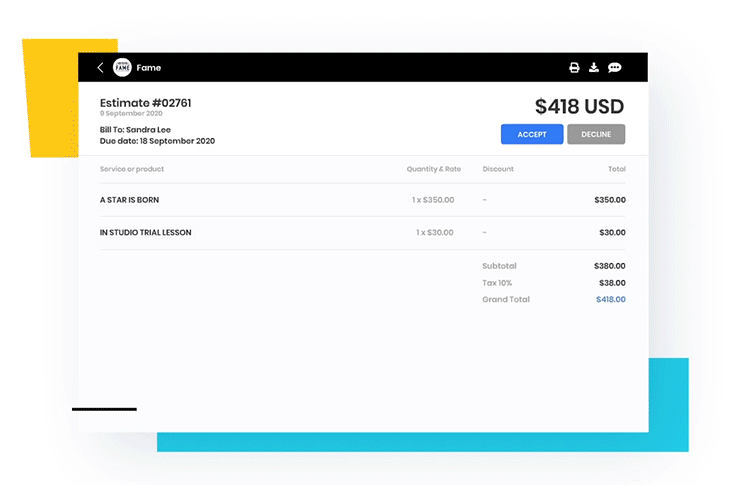 With vcita's all-in-one solution, you'll optimize your invoice management workflow in no time. Here are five ways that vcita can streamline your billing process:
Automated reminders
Forget chasing down clients for late payments. vcita sends automated payment reminders so you get paid on time, every time. Customize the schedule to match your payment terms and the reminders will go out automatically.
Branded invoices
Make a professional impression with customized invoices featuring your business logo and color scheme. vcita lets you create invoices, estimates, and receipts with your unique branding, delivering a polished image that reinforces your trustworthiness.
Accept online payments
Get paid faster by inviting customers to make credit card payments just by clicking on a payment link sent to them. vcita integrates with major payment processors like PayPal, Stripe, Square, and Venmo, so your clients can pay you instantly online. Funds are deposited directly into your bank account, streamlining your accounts receivable.
Detailed monitoring
Gain insight into your revenue with vcita's reporting tools so you can always know where your money stands. See invoices by status, view details on paid and unpaid invoices, and more. The reports help you make data-driven decisions to improve your billing efficiency.
All-in-one solution
vcita handles your complete billing workflow in one place. You can generate professional quotes and estimates, convert them to invoices when work is done, accept payments online or by check, send payment reminders, track invoice status, run reports and more. Reduce confusion and manual work by centralizing your invoicing with the vcita platform.
No more manual invoice management
As your company grows, it's no longer possible to manage business invoices manually. Between lost invoices, delayed payments, and administrative headaches, you'll quickly become overwhelmed. Automated invoice management software helps you eliminate errors, shorten billing cycles, gain better control and insight into your finances, and free up time to focus on driving revenue.  With a good invoicing and billing solution in place, small businesses can set themselves up for sustainable growth.