Running a business can feel like juggling flaming balls while attempting to run a marathon. Handling HR processes while addressing client needs is a multitasking nightmare if you don't use the right tools to ease the pain. One solution that is essential for all businesses is an automated invoice system. But what exactly is invoice automation and how can it help your business? Let us explain.
Invoice automation is any process that streamlines invoicing by automating manual tasks. It often uses software to handle the end-to-end receipt, management, and payment of client bills.
In this article, we will dig into the benefits of automated invoicing systems as well as offer specific solutions for small businesses.
What are the benefits of automated invoice processing?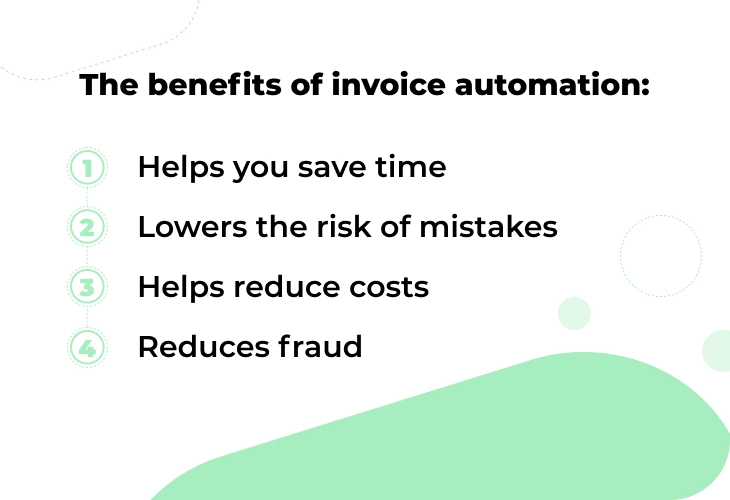 There are many benefits to using invoice automation software, including:
Helps you save time
An invoice automation process can help businesses save time by reducing the effort it takes to process invoices. Some of the ways that invoice automation can save time include:
Improving accuracy by removing the risk associated with human error.
Reducing the time associated with entering, routing, and reconciling invoices.
Lessening the idle time between the steps of invoice processing. For example, it can match invoices with purchase orders. It may also be able to route invoices for approval and schedule payments without delays.
Lowers the risk of mistakes
Invoice processing automation can prevent errors by capturing data from invoices and validating it. This can help ensure accuracy and compliance with company policies and regulatory requirements.
Here are some of the common errors it can help prevent:
Calculation errors: It can calculate totals and other sums for you. This helps to eliminate the risk of human error and miscalculation. It can also alert you when information is missing or when the invoice total doesn't match the expected amount.
Data entry errors: It can pull values from your other software, reducing the need for manual data entry which can be prone to typos.
Routing errors: It can match invoices with purchase orders, route them for approval, and schedule payments. This reduces the chance of invoices getting lost, misplaced, or forgotten.
Compliance errors: It can check invoices against company policies and regulatory requirements. It can also flag discrepancies that may indicate fraud or error.
Helps reduce costs
Companies that automate invoicing have reported lowering processing costs by up to 81% when compared to manual techniques. Some of the cost-saving benefits of invoice automation are:
It reduces the need for paper, printing, and storage, which can be expensive and wasteful.
It lowers the costs associated with manual data entry, validation, and approval of invoices.
It reduces the risk of errors, duplicates, fraud, and late payments, which can lead to penalties, interest charges, disputes, and legal issues.
It improves cash flow management. This can enable faster decision making and problem solving, as well as improved cash flow forecasting and budgeting.
Reduces fraud
Invoice automation can help businesses prevent fraud and increase regulatory compliance. It does this by automating parts of the invoicing system that might otherwise attract errors or deliberate misuse. Some of the ways that it can reduce fraud include:
Invoice validation: The software can be set up to match invoices with purchase orders in one workflow. This can prevent fraudulent activities such as overbilling or billing for non-existent goods.
Electronic invoicing: An AP automation solution allows businesses to receive and send invoices electronically. This can reduce the chance of invoices getting lost, misplaced, or tampered with.
Automatic approval workflows: The software can route invoices for approval based on predefined criteria. This can ensure that only authorized users are able to approve invoices and payments.
How do I automate invoice processing?
One of the best ways to automate invoicing is to use invoice processing software. It is tailored to handle the end-to-end receipt, management, and payment of client bills. It can also match invoices with orders, route them for approval, and schedule payments. The use of invoice processing automation cuts out all the manual steps you would otherwise find in an accountancy system.
In general, the steps include:
Invoice capture: Invoices are received and scanned by the software. It can often extract information from invoices, such as invoice number, date, and amount.
Invoice matching: They're then matched with purchase orders to ensure that goods or services have been received and prices are accurate.
Invoice approval: Invoices are routed for approval based on business criteria. The software can also send reminders to approvers and escalate invoices that are pending or overdue.
Invoice payment: Invoices are paid electronically using secure methods. A good invoicing system will integrate with payment platforms and accounting systems to update records and reconcile accounts.
Invoice automation software – choosing the right one for a small business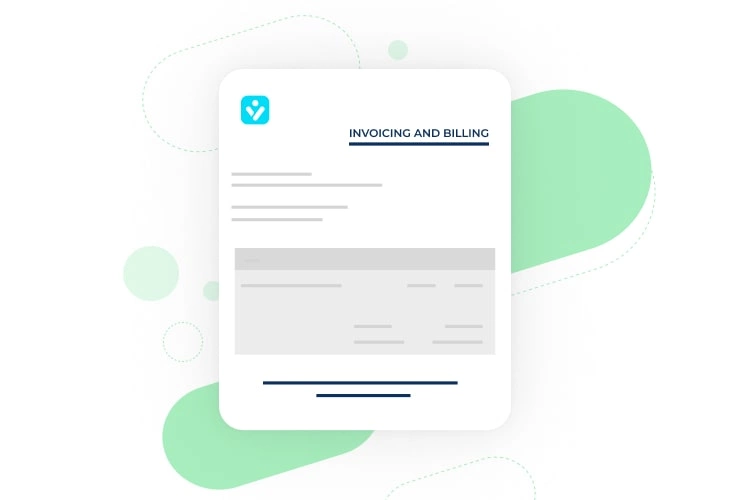 It's likely that, as a small business, you don't have or can't afford a dedicated payroll team. This often means that the best way to handle payments for you will be through a single online payment processing platform. Or, more specifically, one that is tailored towards the needs of a business of your size.
vcita is a simple and efficient invoice automation solution that allows small businesses to manage invoicing and payments. With vcita, you can:
Create and send professional invoices in minutes, with customizable templates and branding options.
Accept online payments from clients, with integrations to all the top payment systems (PayPal, Venmo, Stripe, etc.).
Convert invoices into bills with a single click and track the status of your payments in real time.
Automate reminders and follow-ups to reduce late payments and increase cash flow.
Manage your clients and appointments from one dashboard, with a mobile invoicing app and a client portal.
vcita is more than an automated invoice processing system. It is a complete CRM solution that helps you grow your business and impress clients.
Invoice automation streamlines invoicing
Automated invoicing software is a smart and convenient way to streamline invoicing. It can help businesses save time and money, as well as improve cash flow and customer satisfaction. By using invoice automation software like vcita, companies can create and send invoices faster, accept online payments easier, and track and manage payments better.