Marketing trends come and go but one thing never changes: Great businesses are built and run on relationships.
As any marketer worth their salt will tell you, email marketing is the single, most powerful tool to connect with your audience and win their trust and loyalty.
If you're a business owner who hasn't jumped on the email marketing wagon yet – we have news for you.
If you're a business owner who gave email marketing a try just to realize it was the worst invention after fish-training kits – we have news for you, too.
vcita's new, fresh out of the box email marketing templates are about to blow up all hang-ups and barriers and turn email marketing into the simple, fun, results-driven experience it should be.
vcita's "Announcements": The Easy Way to Connect with Your Audience
Our company's mission is to level up the playing field so that every small business owner has the tools they need to succeed. That's why, two years ago, we created "Campaigns", a simple email campaigns builder that lets you create, edit, and send email marketing to your leads and customers within minutes.
Our users were happy. We were happy. But as sometimes happen in committed relationships, we felt that something was, uhm, missing.
Today, as we release our new library of email marketing templates, we finally have the secret sauce that brings everything home: the simplest email campaign builder in the world coupled with the power of beautiful, effective email marketing templates.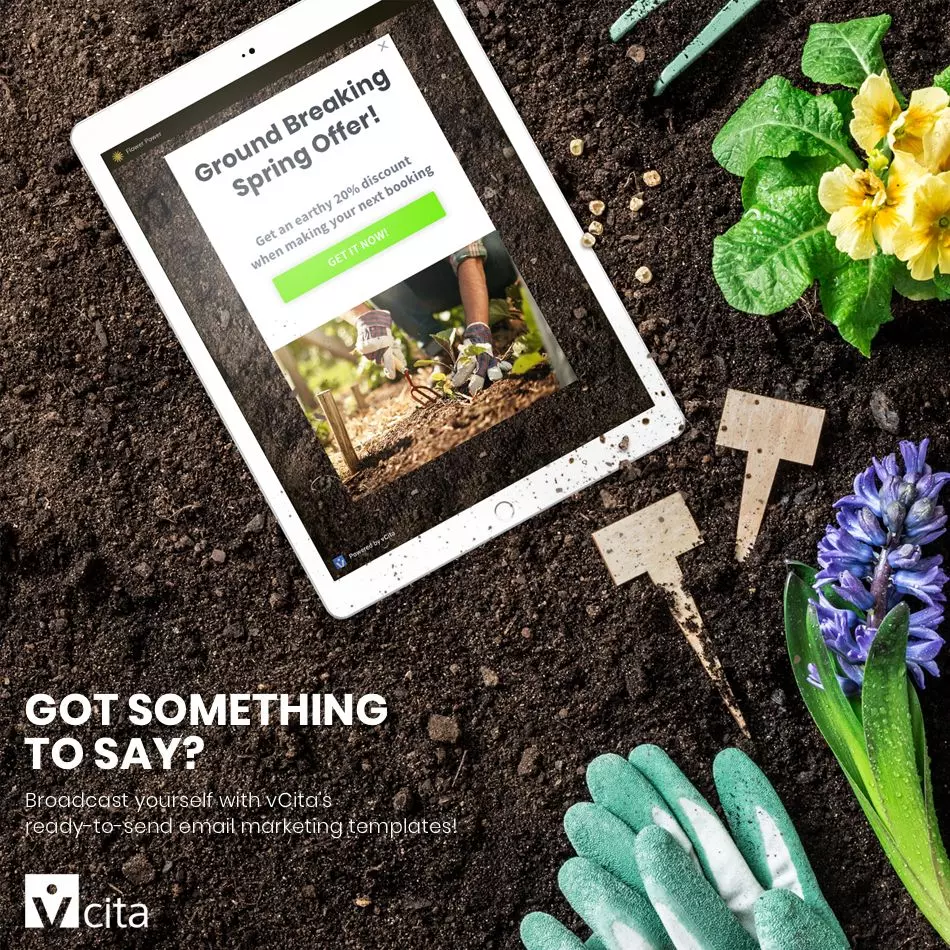 What Makes Our Email Marketing Templates So Great
What would you rather have, more time or more money?
With vcita's new email marketing templates, you can have both.
Forget about steep learning curves, nitpicking with subject lines, or spending your hard-earned dollars on stock photos that don't look anything like you or the business you actually own. vcita's new email marketing templates deliver everything you need faster than anything you've seen before.
Bring the Bacon Home
Each of our new email marketing templates was assigned with the same, single mission: Getting your clients (or leads) to purchase from you without them feeling the hard sell.
That's why we hard-wired three conversion amplifiers into every template:

1. A strong email subject line that begs to be opened
2. Professional sales copy that drives people to claim your offer
3. A beautiful, hand-picked visual that sets up the atmosphere

And naturally, each template features a strong call to action to make sure your clients know exactly what they need to do next.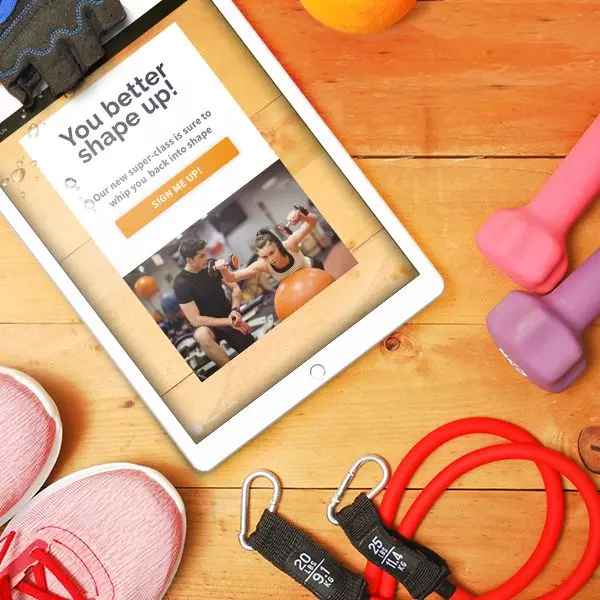 Customize and Send… In God's Speed
While we've put lots of thought into our templates, we know that you're the ultimate authority on what works for your customers and your business!
All of our email marketing templates are fully customizable. You can change the header, image, text, increase (or reduce) the discount, add a coupon – whatever fits your purpose and the occasion. Best part? It literally takes a minute. Here, see for yourself:
Stay on Brand, Always
"Different strokes for different folks" is just as true for brands as it is for people. An email you receive from Zappos is going to sound very different than an email from, say, Salesforce.
Your brand has its own identity and voice, too. No one can drive that point home better than Popeye the sailorman: I Yam What I Yam and Dats What I Yam!
To help you convey who you are, our email marketing templates feature different styles of voices. So whether your brand is informal, goofy, "hip" or plain-ole' traditional – we have you covered.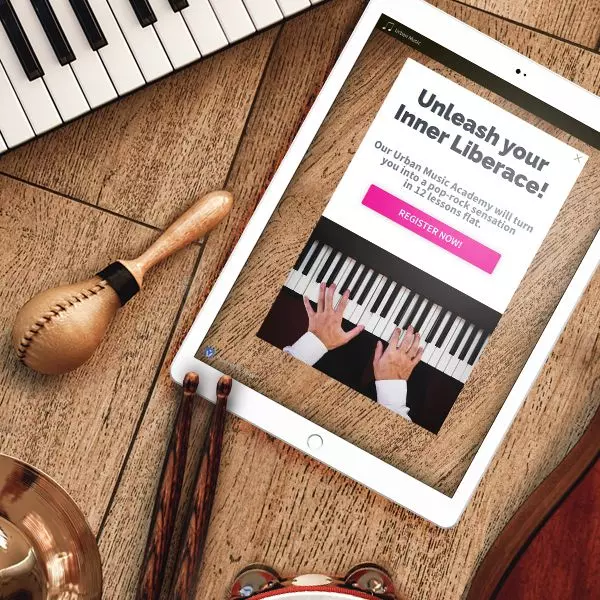 Monetize Every Occasion
Many people still subscribe to the old dogma that email marketing's only good for presenting a straightforward sales offer. But the real power of email marketing is in understanding that every message can be leveraged into a sale opportunity.
For example, let's say you want to update your clients of an upcoming change to your business hours. Alternatively, you may want to inform everybody of the recent star hire who just joined your team.
Here are two updates that don't fall under the traditional marketing category. Or do they? With effective storytelling and vcita's "Book Now" call-to-action button, any seemingly innocent update can be turned into a real business opportunity. That's why you'll find great suggestions for run-of-the-mill business updates in our email template library alongside more "traditional" campaigns.
Market Like the Bigger Guys
Nothing helps you cross the road faster from a small business to a memorable brand like professional email marketing. How would you like to have every email you send look like it has a creative professional, a copywriter, and a marketing team behind it? That's what you get when you use vcita's Announcements: Fresh and crisp email templates, packed with beautiful visuals and effective storytelling. Let the templates speak for themselves.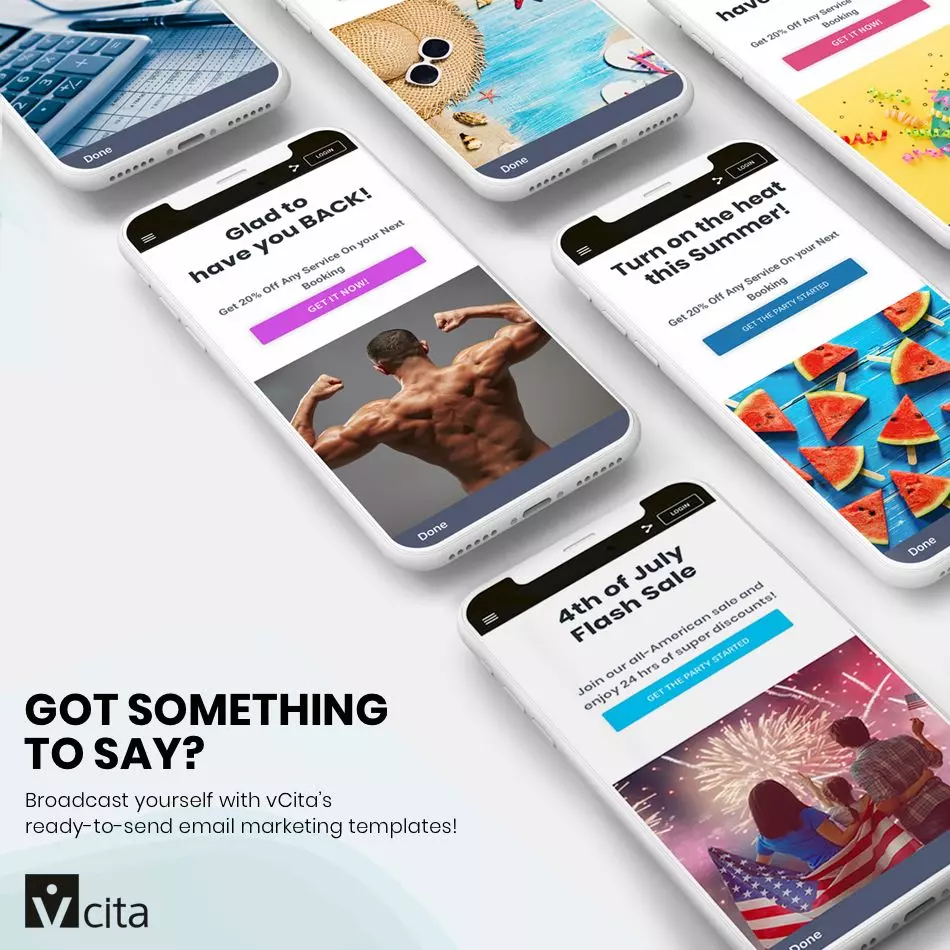 Track Everything with Real-time Stats
Data is power. And all businesses should be privy to that power regardless of their size or skillset.
While we all want every email campaign we send to "nail the sale", there's always room for improvement. And what better way to learn than seeing real-time analytics as soon as you hit "Send"?
The Announcements' analytics bar gives simple and straight answers to your most pressing questions:

1. How many recipients opened your email
2. How many recipients clicked on your call-to-action
3. How many recipients claimed your offer and booked an appointment, registered to an event/workshop, or made a payment

With easy, bite-size stats staring at you from every campaign, you have all the insights you need to figure out what's working and what type of content your audience likes best. As we always say, we're in the business of making people happy.
Got Something to Say? Say it with vcita
No matter what you want to say, or how you want to say it, with vcita's Announcements you're only one email template away from broadcasting yourself to your audience and making an impact.

Not sure what you want to say? Check out the "Featured" tab on our email marketing templates library for some great recommendations for campaigns you can send right now.