As a small business owner, you're always looking for ways to improve the customer experience. After all, happy customers lead to repeat business and referrals, which are essential to growing your business. In fact, 86% of customers report that they are willing to pay more for a great customer experience.
But providing an unparalleled customer experience can be a challenge, especially if you're juggling multiple tasks and responsibilities (who among us isn't?).
That's where vcita comes in.
Our comprehensive platform offers a range of tools and features that can help streamline communication, scheduling, and payments for your clients. In this blog, we'll explore why customer experience is so important, and how vcita can help you create a hassle-free experience for your customers.
Why customer experience is make or break
In 2023, customers have come to expect a seamless and convenient experience when they interact with businesses. Whether it's making a purchase, scheduling an appointment, or simply getting in touch, customers want a stress-free experience that's quick, easy, and transparent.
This is especially true for small businesses, where customers may have less familiarity with the brand or less tolerance for inefficiencies.
A positive customer experience can have a significant impact on your business. Studies have shown that customers are more likely to make repeat purchases and recommend your business to others when they have a good experience. A 2018 study by PwC found that 73% of customers said that customer experience was an important factor in their purchasing decisions.
So how can you create a positive customer experience for your clients? At vcita, customer experience is our bread and butter and we just so happen to be willing to share our knowledge.
How vcita helps build an unparalleled customer experience for your clients
vcita is a powerful platform that can help you streamline many of the operational details of running a business. By providing a range of tools and features that make it easy for clients to schedule appointments, make payments, and get in touch with you, vcita can help you create a winning customer experience.
Let's take a closer look at some of the ways vcita can help:
Client portal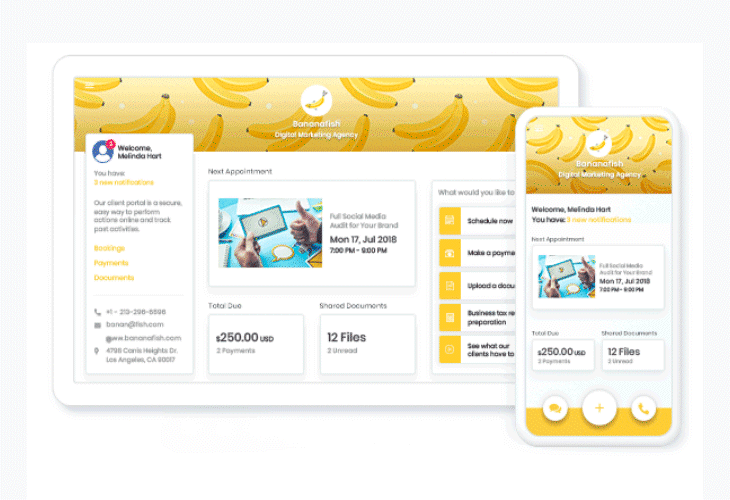 When your client logs into the vcita portal, they are greeted with a dashboard displaying their upcoming appointments and outstanding payments. They can also access shared documents and pay any outstanding fees directly through the portal. This personalized experience is made possible through 2-factor authentication and the ability for the business to customize the menu of options.
This ensures their security when logging in, and creates a seamless experience for them whenever they want to interact with your business.
Makes Payments Easier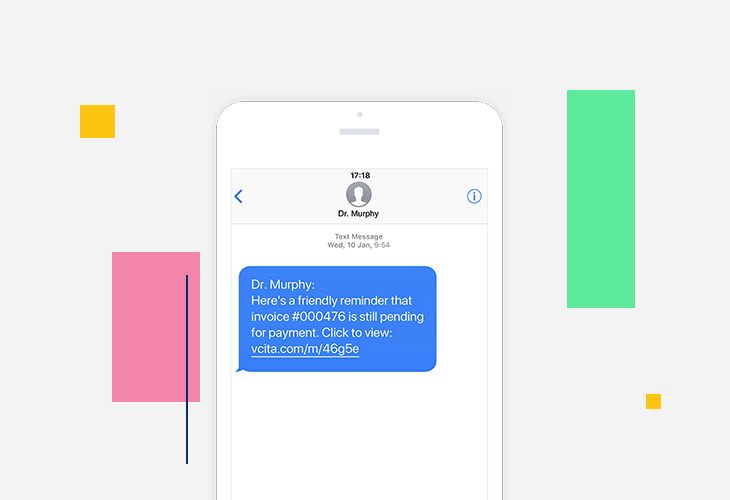 One of the biggest challenges for small businesses is getting paid on time. Late payments can cause cash flow problems and hurt your bottom line. vcita makes it easy for clients to pay their bills, right from their mobile devices.
With support for multiple payment options, including PayPal, Stripe, and Square, clients can quickly and securely pay their invoices with just a few clicks. Payment reminders can be sent via email or SMS, keeping the outstanding payment at the top of your clients' minds. And because payments are processed automatically, there's less chance of late payments or missed invoices.
Enables Automated Scheduling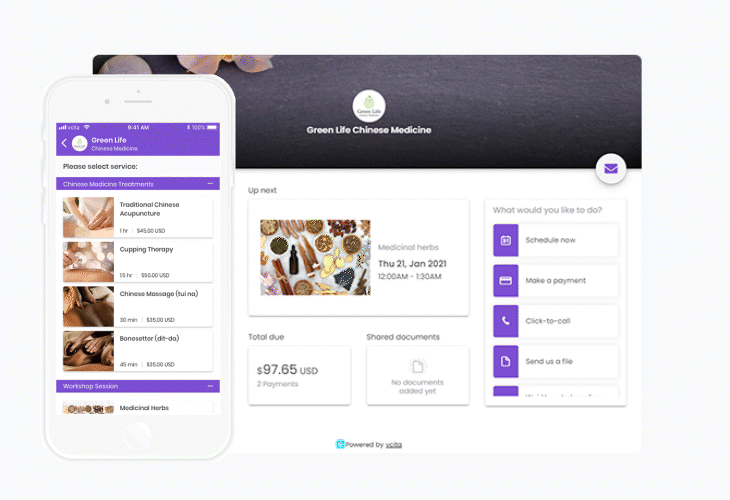 Scheduling appointments can be a major headache, both for you and your clients. Missed phone calls, unanswered emails, or chasing down clients to schedule makes this aspect of running your business cumbersome and inefficient. vcita makes it easy by enabling clients to schedule their own appointments right from your website.
With support for a wide range of appointment types, including in-office visits, phone calls, and demos, clients can quickly and easily find a time that works for them. And because the system automatically sends out confirmation emails, there's less chance of double-booking or missed appointments.
Easier for Clients to Contact You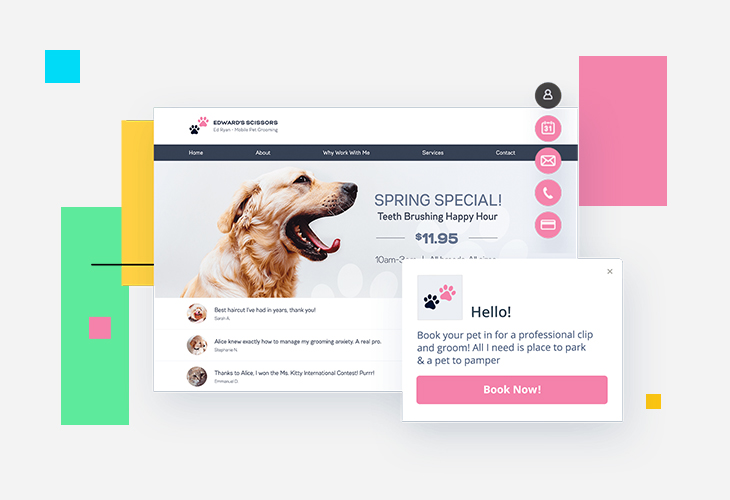 Clients want to be able to get in touch with you when they have questions or concerns. With vcita, you can offer a range of communication options that make it easy for clients to get in touch.
The platform includes a text dialog feature that lets clients send SMS messages to your business, which are then logged in the CRM. This is a great way to offer 24/7 support, and it can help build trust and loyalty with your clients.
Simple Document Sharing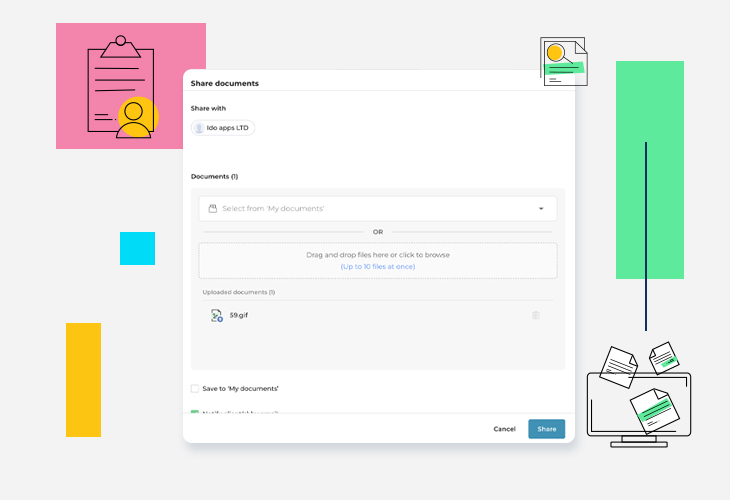 In addition to scheduling appointments and making payments, clients may also need to share documents with their service provider. Whether it's a medical report, a contract, or an estimate, vcita's platform makes it easy for clients to share important documents with their providers.
Clients can upload and store files directly in the portal, ensuring that the information is always accessible to both parties. This eliminates the need for clients to send files via email, which can often be time-consuming and inconvenient.
Purchasing package bundles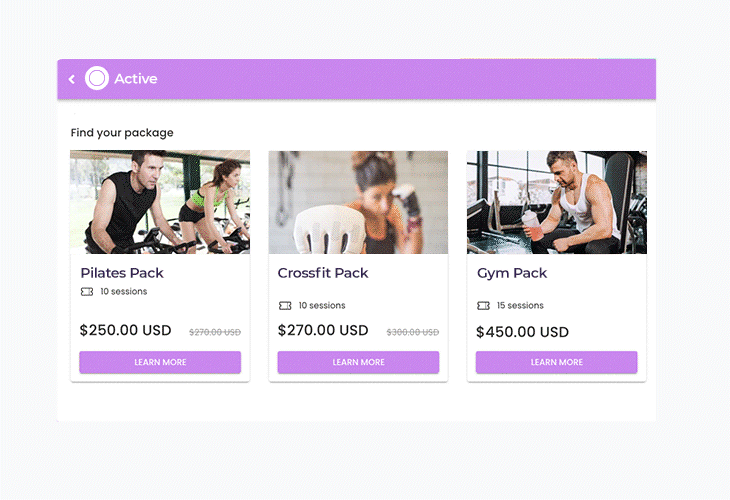 Many service providers offer package deals or subscriptions that allow clients to prepay for a certain number of sessions at a discounted rate. For example, a fitness instructor may offer a package of ten classes for a reduced rate.
With vcita, clients can purchase these packages directly from the portal, making it easy and convenient for them to sign up and pay for multiple sessions at once. This not only saves time for the client, but it also helps the service provider to manage their cash flow and ensure a steady stream of income.
Wrapping up
At the end of the day, the success of any small business relies heavily on its ability to provide a positive customer experience. By using vcita's platform, you can streamline many of the tasks that are essential to your business, such as scheduling appointments, accepting payments, and sharing documents.
By providing a seamless and intuitive platform for clients to manage their appointments and payments, vcita helps businesses to stand out from the competition and build customer loyalty. When clients are happy with the convenience and accessibility of a service, they are more likely to return for future appointments and recommend the service to their friends and family.
In the digital age, providing exceptional customer service is more important than ever before. By utilizing tools like vcita, you can ensure that you are meeting the needs of your clients and providing a positive and memorable experience that will keep clients coming back time and time again.