How to turn leads into paying customers is an age-old question for small businesses. While the answer may seem complicated, it doesn't have to be.
One of our biggest goals at vcita is to provide you with the tools and features to turn leads into paying customers in no time. The best part is that our platform is easy to use, so you don't have to waste precious time learning the ins and outs of marketing in order to get results.
This article will outline how exactly you can use vcita to put a strategy in place for effectively nurturing leads and turning them into paying customers.
Widgets
A widget, for example, is a small piece of code that can be embedded on a website to allow visitors to perform actions such as booking appointments or making payments.
For example, a business can set up a widget on vcita that will be displayed on their website. That way when prospective clients visit their website, they will be able to book an appointment via the widget without ever leaving the page.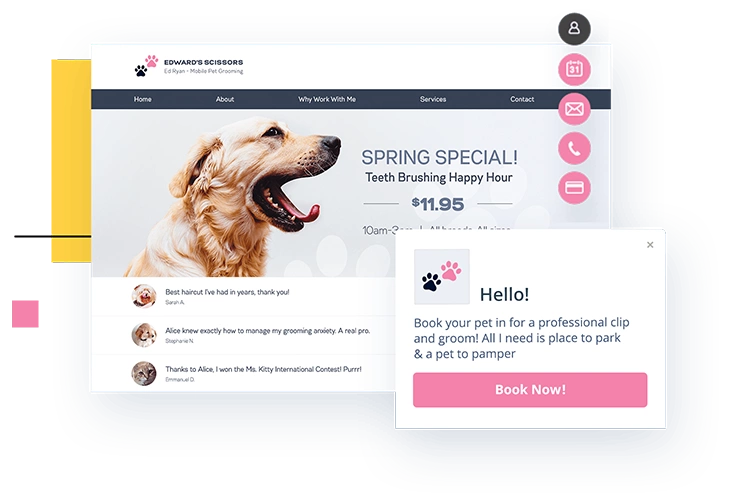 By using widgets, you can make their website more actionable and increase the chances of capturing more leads. Additionally, on vcita, widgets can be customized and branded to match the business's website, making the experience seamless for the client.
Forms
By using forms on vcita you will receive instant notifications when a new lead fills out an inquiry. This allows the business to respond to the lead in real time and potentially convert them into paying customers. Sometimes waiting a day to respond to inquiries could mean the difference between a converted lead and a lost lead.
Not only will vcita notify you immediately when a form is filled out, but the lead's information is automatically stored in the CRM. This means you can easily access and organize the lead's information and follow up with them in the future. This allows you to continue to nurture the lead and increase the chances of converting them into a customer over time.
Forms are also helpful for businesses that may not be able to convert leads into customers immediately. In cases like these, it is essential to have a good lead management system in place to keep track of all your leads and customers.
Tagging
vcita also allows you to tag leads and customers. Tagging allows businesses to organize and segment their leads and customers for different campaigns and record management.
For example, if you run a gym with a 5am running club and many leads inquire about joining, you can add a tag to all those leads such as "5am running club" and then easily identify and segment them for targeted marketing campaigns.
Tagging can also be used to identify the level of engagement of a lead or customer, such as "hot lead", "cold lead" or "compulsive buyer" to help the business prioritize their follow-up efforts.
By tagging leads and customers, you can better understand your audience and tailor your marketing efforts to specific segments, which can ultimately increase conversion rates and revenue.
Email and text campaigns
Engaging with leads and customers through email and SMS campaigns is a super effective way to nurture them and convert them into paying customers. vcita offers an email marketing and SMS feature that allows you to easily create and send targeted campaigns to specific segments of your audience.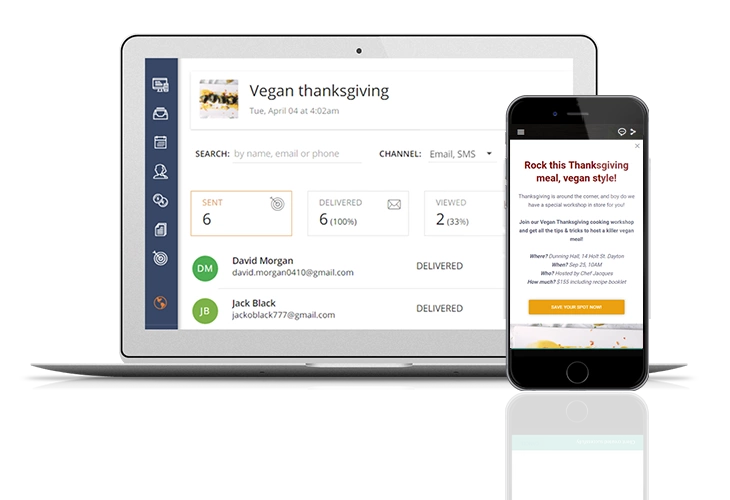 The platform provides businesses with a library of templates that can be customized to match the business's brand and message, and then easily send them to specific segments of leads and customers. This can be done by using tags, allowing businesses to send targeted campaigns to leads who are interested in a specific product or service, or to leads who came through a specific channel.
Businesses can also use segments to create more targeted campaigns, such as promoting a special offer to all leads who have reached out in the last 30 days or segmenting leads by the stage of the sales funnel. This allows businesses to create personalized and relevant campaigns that increase the chances of converting leads into paying customers.
Trigger based marketing campaigns
Trigger-based marketing campaigns are the perfect thing for businesses to automatically engage with leads and customers. These campaigns are set up to run in the background continuously, and businesses can switch them on or off as needed.
Examples of automated campaigns include welcome/onboarding emails, which can introduce new leads or customers to a business and its products or services. Another example is a reactivation campaign, which can be triggered when a customer has not engaged with the business for a certain period of time (such as 60 days). This type of campaign can be used to remind customers of the business and its new services, and encourage them to engage with the business again.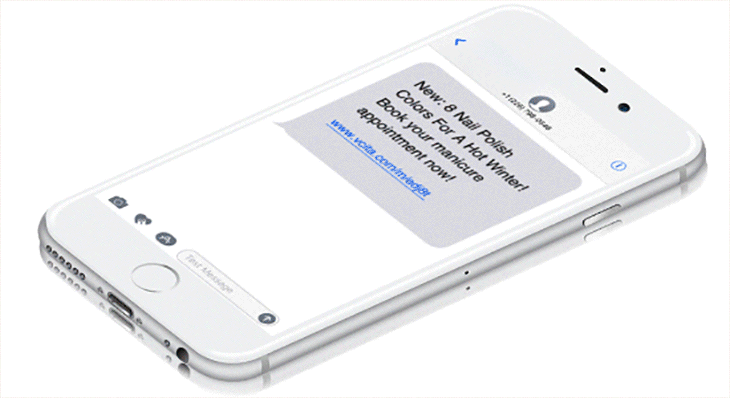 By using automated trigger-based marketing campaigns, businesses can save time and resources by not having to manually send out campaigns. These campaigns run in the background and can be customized to match the business's needs, allowing them to focus on other aspects of their business.
Coupons
On vita, both manual and automated campaigns can involve the use of coupons to provide discounts to leads and customers. Coupons can help businesses drive sales and encourage customers to make a purchase.
Coupon creation can be done all within the vcita platform. Businesses can create different types of coupons, such as a winter sale or a specific discount, and set the parameters of the coupon, such as the discount amount (fixed or percentage), expiration date, and usage limit.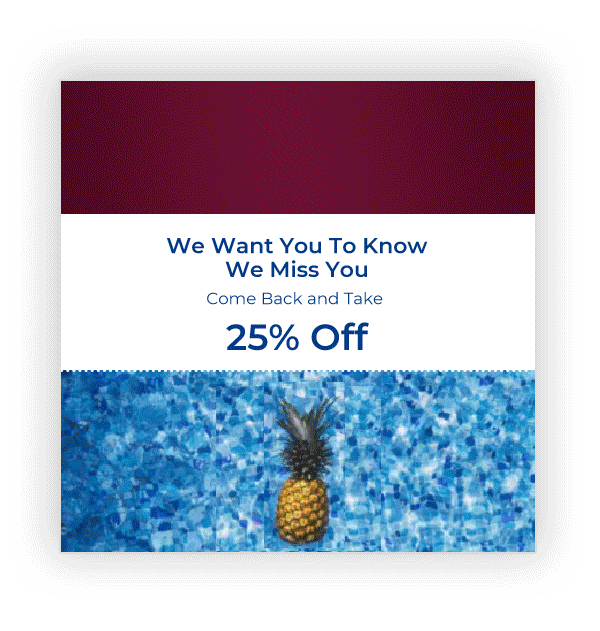 For example, business can set a coupon code that is only valid for a certain period of time, or limit the number of users who can redeem the coupon. Businesses can also limit the coupon to specific services or products.
On the client side, businesses can send the coupons via email, and clients can then use the coupon when booking their next appointment. The system will ask them if they have a coupon code, and the client can redeem the coupon at the time of booking.
On the business side, the system will provide analytics for the coupons, such as redemption rates, who used the coupon and what they purchased, and how much they paid. This allows businesses to track the effectiveness of their coupons and make adjustments as needed to optimize their marketing strategy.
Packages
Offering packages, or bundled services, can be a great way for businesses to provide value to their customers and increase sales. Take a spa offering a "massage bundle" for example. Setting up a punch-card or bundle package can be done within a few clicks on vcita. You'll be able to give the package a description, such as "best value for money – get your favorite massage at the best price", and choose an image to represent the package.
You can also set an expiration date for the package, such as X number of months.
You can then set up the services that are included in the package, such as a certain number of massages or the option to choose from a variety of services. You can also set the regular price of the services and the package price, showing the savings for the customer.
If a client purchases a package, it will automatically be updated on their client card within the CRM. The package will show up as credits on their client card, and the client will be able to see how many credits they have left and what services are included in their package.
This feature is beneficial for businesses because it encourages repeat business by giving customers the best value for money. When a client goes back to book an appointment, the system will prompt them to use their credits, and they will be able to book the service without paying. This can be especially effective in converting leads into paying customers as they are presented with a good deal.
Convert your leads that much faster
With all the tools mentioned above, there is no shortage of strategies you can use with vcita to turn leads into paying customers, and it all really is at your fingertips. From widgets to packages and everything in between, you'll be increasing your bottom line in no time and growing your business. Just make sure you're prepared for all the extra business that comes your way!