Encouraging your employees to feel invested, excited, and empowered is a critical component of any successful business, especially for an SMB. When you grant your team members access to the inner workings of your business, you give them a sense of ownership and belonging. They become part of the organization and understand the bigger picture and have the chance to take an active role in it all
At vcita, we know that empowering your team starts with the right tools. This is why the vcita platform allows your employees to reclaim their own time so they can feel independent and in charge. Instead of being siloed with tasks, they can take a more active role in the entire business and team.
For example, let's say Lydia is a masseuse at your spa. With vcita, Lydia can see her schedule and availability, as well as the availability of other team members. If a customer books a massage with Lydia, she can respond personally through the app, saying something like "Looking forward to seeing you!" This involvement and capability foster a more collaborative experience for your clients, your employees, and your business as a whole.
Empowered employees feel a stronger sense of loyalty, productivity, and job satisfaction. You can also track employee performance with vcita's staff performance reports, which allow you to analyze appointment bookings, hours worked, total clients, and earnings.
When you invest in employee engagement, you're investing in the future success of your business!
How vcita helps keep your staff involved and invested
Award your staff members with independence
One of the key ways that vcita helps propel your employees is by giving them the independence to access their own accounts within the system. Each staff member has their own personal account, separate from the admin account, which allows them to manage their own schedule and clients. This level of autonomy not only streamlines communication between staff and clients but also instills a sense of responsibility and ownership in each individual employee.
With their own account, staff members can see their own schedules, manage their clients, and communicate directly with them through the app. They can even set their own availability schedule, and can easily close their calendar for days off. Organizing everything under staff members' names makes them feel more involved and invested in their work by putting the power in their hands.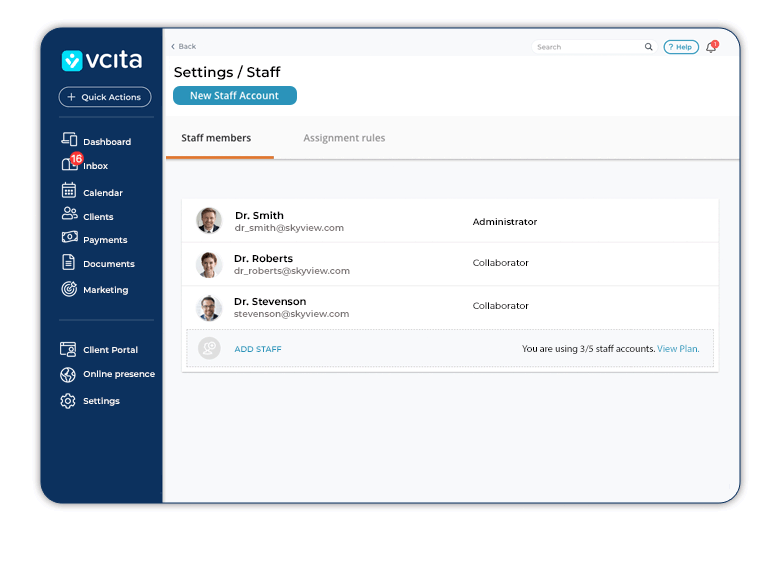 Another important feature on vcita is that the admin has the ability to "impersonate" any staff member in case they need to communicate with clients on their behalf. This is particularly helpful when a staff member is unavailable or when the admin needs to step in and support them. The admin can also modify the calendar if needed, such as in the case of a sick or absent staff member.
Make the best use of data
Utilizing data is an essential part of how business owners and staff members make smarter business decisions. After all, data helps business owners determine things like who the most popular and successful staff members are for specific services. On vcita tracking data such as appointment bookings, revenue generated, and client feedback has never been easier. This information can then be used to model the behavior of the rest of the staff, improving overall performance and service quality.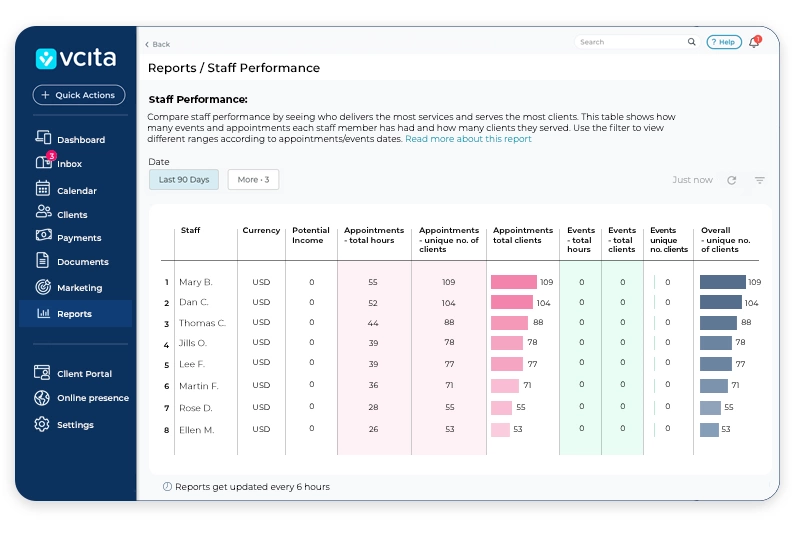 But wait, there's more! Staff members can also use this data to learn about their own work. By analyzing their own data, staff members can determine where they excel and areas that might need a little TLC. This allows for both positive feedback and constructive criticism all at once.
This use of data will help both business owners and staff members provide the best possible results for everyone involved. By leveraging the power of data analytics, vcita helps businesses optimize their operations, improve service quality, and increase revenue.
Free up time and resources that can be better spent on more important tasks
We all know that time is money and saving time starts with automation. By automating as many routine tasks as possible, the vcita platform creates time to focus on what really matters. For example, by automatically sending appointment reminders, staff members can save a ton of time that would be spent manually following up with each client. On vcita, users can also send automated emails and texts to clients, letting them know about new services or promotions.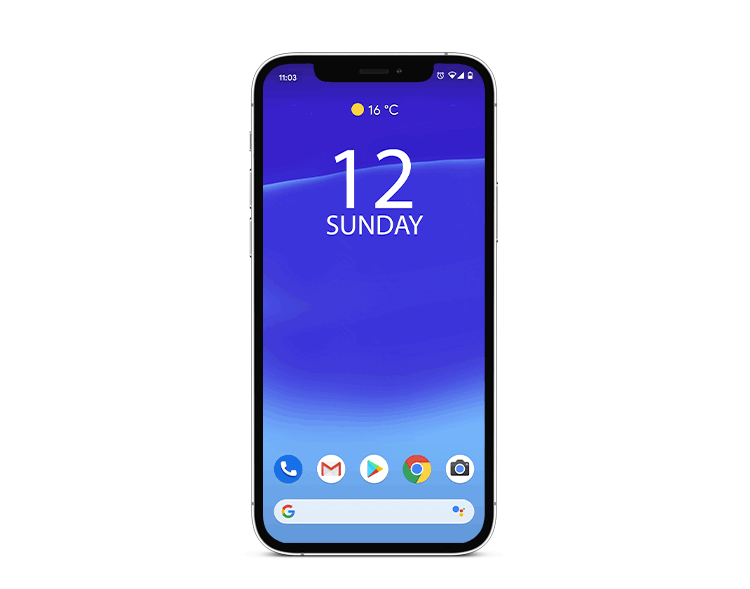 By automating these routine tasks, staff members can focus on providing the best possible service to their clients, while the business owner can focus on more strategic activities, such as marketing, business development, and whatever else their hearts desire.
At vcita, we know that empowering staff members through automation frees up time and helps streamline operations, which means businesses can achieve greater efficiency, productivity, and success.
Finishing strong with your team alongside you
Allowing staff members to take ownership of their work is a must if you want a more engaged and invested team. This starts with providing them with the tools they need to make this happen! With vcita's platform, all these tools are wrapped into one making it easy for staff members to provide a more personalized service to clients, communicate and collaborate with one another effectively, and gain a deeper understanding of the overall business goals.
By giving staff members more responsibility, you will not only achieve greater efficiency and productivity but also create a more positive work environment where employees feel valued and supported. If you are confident in your staff, you can focus on other areas of your business while keeping your mind at ease.
As a business owner, you might be used to handling things on your own. But you don't have to! In fact, why not take advantage of a tool like vcita that will transform your business by empowering your staff? The best part is, it will simplify things, not complicate them.