In the business world, every aspect of the customer journey matters. Starting even before the first point of contact to long-term engagement, creating a holistic and exceptional surrounding experience is crucial for building strong relationships with clients. It's about more than just onboarding; it's about crafting a seamless and unforgettable journey that encompasses every touchpoint.
It starts from the moment potential clients express interest in your services, whether through a website visit, a phone call, or an email inquiry. Every interaction matters, as it shapes their perception of your brand and sets the tone for the entire relationship.
By focusing on delivering a smooth and delightful surrounding experience through to the onboarding experience, you can enhance client satisfaction and encourage loyalty right from the beginning. It demonstrates that you value their time and that you take your profession seriously.
From the first impression to ongoing support, vcita's app helps you master every aspect of the client's journey, here's how.
Capture their interest with online reviews
The average customer reads between 4-6 reviews before deciding whether to trust a business and make a purchase. That means that before they even engage with you, they're checking you out online.
vcita offers a powerful tool to boost your brand's reputation even before the onboarding begins: client reviews. Positive reviews have a significant impact on consumers' purchasing decisions and can greatly influence their perception of your business.
With vcita's automation feature, you can effortlessly request reviews from your satisfied clients. For example, you can set up an automated message to be sent "after the appointment ends," prompting clients to leave a review about their positive experience with your services.
By leveraging the power of reviews, you can enhance your brand credibility, build trust with potential clients, and establish a positive online reputation. With vcita's integrated review feature, you can effortlessly collect and showcase client testimonials, helping you make an even stronger impression on new leads.
Make it easy for them to engage with your business
Widgets on your site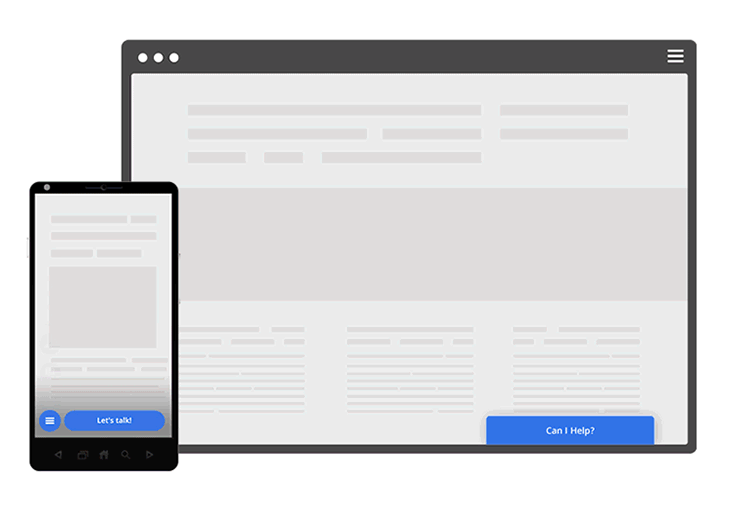 For those who have their own business websites, vcita offers a widget that seamlessly integrates into your site. This widget, while created and operated by vcita, effortlessly blends with your website's design, giving clients the impression that it's just another part of your site.
The vcita widget offers a range of functionalities that enable you to engage with your website visitors directly. One of its key features is the chatbot capability, allowing you to provide instant responses to simple questions and inquiries. This automated chat feature ensures that potential clients receive immediate attention and assistance, even if you're not available to respond personally at that moment.
The vcita widget also allows visitors to take action directly from your website. They can schedule meetings, book appointments, and explore the services you offer, all without leaving your website. This saves visitors the hassle of navigating to a separate portal or page, providing a smooth and uninterrupted user experience.
Another impressive feature of the vcita widget is the ability to initiate phone calls. Visitors can simply click on the widget to make a call directly from your website, connecting them instantly with your business.
Social media profile enhancements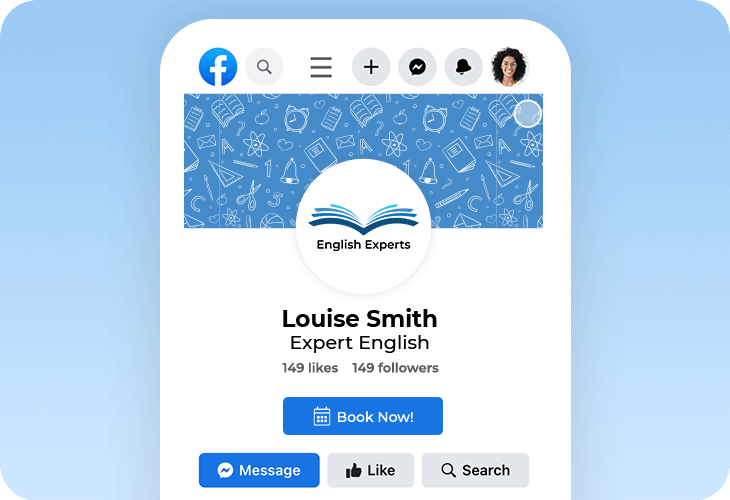 Another aspect of making it easier for prospects to engage with your business is your social media profiles. In fact, Millennials and Gen Zers tend to use social media to make purchasing decisions more often than not. You want to use your social media profiles, not only as a way to advertise your products and services, but also to encourage first time and recurring visitors to engage with your business.
Lucky for you, vcita has an integration with Meta available. That means you can connect your vcita account to your Facebook or Instagram account and a "Book Now" button will appear on your social media profiles. This button will take users straight through to the automated scheduling page where leads and clients can book appointments with you, without having to first go to your website.
The ability to book appointments with you directly from your Facebook or Instagram account is a major advantage to your onboarding process. It streamlines the booking process and enables new prospects to see how professional your business is.
Roll out the red carpet for them
Welcome emails
When it comes to onboarding new clients, rolling out the metaphorical red carpet is essential. With vcita, you can create an automated welcome email that sets the stage for a personalized and attentive client experience right from the start.
An automated welcome email allows you to greet your new clients, introduce your business, express gratitude for their decision to work with you, and provide them with essential information about what they can expect from your services. By automating this process, you save time while still ensuring that each new client receives a warm and personalized welcome. This ensures you make a positive first impression and demonstrate your commitment to exceptional client care.
Client Portal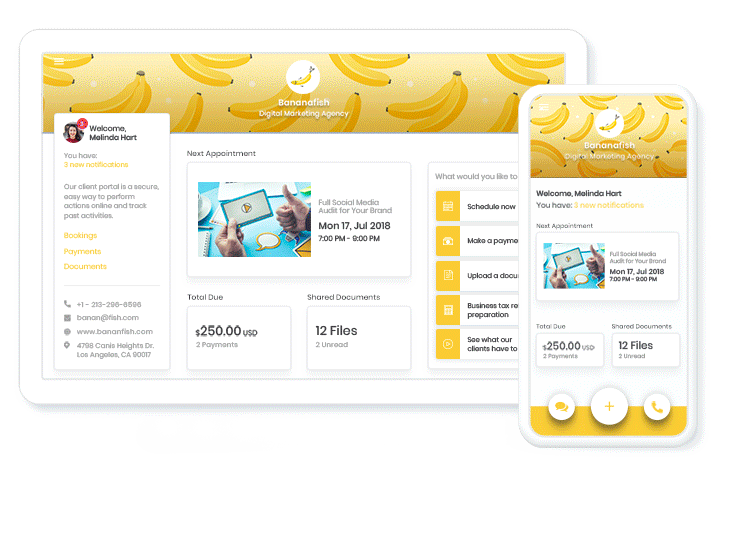 Looking like you have it all together is important, especially in the first engagements with your new clients. Sending them to vcita's client portal will empower and excite them to do business with you, and make them feel like they made the right choice in choosing your business.
vcita offers an aesthetically pleasing and highly customizable client portal that ensures your client's first interaction with your business is visually appealing, engaging, and personalized. The customizations available make it look like it was designed especially for your business, with your logo and colors at the forefront of the client portal. It's no longer a generic online space; it becomes an extension of your business, a virtual representation of your brand values.
Your clients will love the client portal, as it enables them to take control and engage with your business on their terms. They can use the client portal to view their bookings, book an appointment, view and make a payment, send documents and so much more. It is intuitive and highly functional, and is the perfect tool to wow your new clients when they onboard.
Elevate your client onboarding experience with vcita
With vcita, you can transform your client onboarding experience and make a lasting impression. Whether through the visually appealing portal, the ease of linking vcita to your social media, or the seamlessly integrated widget on your website, vcita provides a personalized and user-friendly interface that engages visitors. Automate welcome emails and leverage the client portal for streamlined communication, appointment scheduling, and payment processing. Collect positive reviews effortlessly. Elevate your onboarding experience with vcita and unlock the full potential of your business.