No one knows better than small businesses how important it is to build a strong relationship with customers. Maintaining customer relationships requires a lot of work, which is why customer relationship management (CRM) technologies and strategies are a must when it comes to both customer retention as well as bringing in new customers.
As is true with many aspects of the business world, CRM is not a one size fits all solution. Something that works for huge corporations might not be relevant to small businesses.
At vcita, small businesses are our bread and butter, which is why our CRM is tailor-made to help you manage customer relationships in a scalable way. We love to make everyone happy, which is why our CRM is built with both the business and the customer in mind.
So, why is vcita the best CRM for small businesses, you ask? Let's review.
All in one solution
While a standard CRM will collect basic information about each client, it will not include details such as a history of communication, services booked, payment details, signed contracts, and other relevant documents. At vcita, we know that CRM is about more than basic customer details.
Understanding the client profile requires a comprehensive history of all this information. The vcita CRM aggregates all messages that were sent or received in the vcita system, while also collecting all logged documents, payments, scheduling details, and all other relevant information to create a 360 view of each client.
You understood that correctly, the vcita CRM is more than just a CRM. It's a scheduling app, a payment portal, an instant messenger, and much more, all in one.
We also know that while small business owners are experts in their fields, you aren't necessarily interested in becoming technology professionals. With vcita, you don't have to. The platform is intuitive and easy to manage and allows business owners to take care of every aspect of business operations in one place, without any special software knowledge.
Action-ready environment
vcita doesn't just provide small businesses with all this client information only to leave you hanging about what to do next. The platform is action-oriented!
This means that the system will collect client information and then guide you in the direction of what action you should take next. For example, if a client owes a business money, the system will remind you to follow up with them. But that's not all!
Businesses can take action from directly within the system. So, if a client owes money, a reminder message can be sent via email, SMS, or instant message from within vcita. Not ready to send them a message yet? You can set follow-up reminders for whenever is most convenient for you.
In other words, when you click on a client card you will not only have a plethora of information gathered about that client, but you will have clear insights about any relevant actions to take with that client. You can also add your own notes to the client card, the interface is your oyster.
Mobile friendly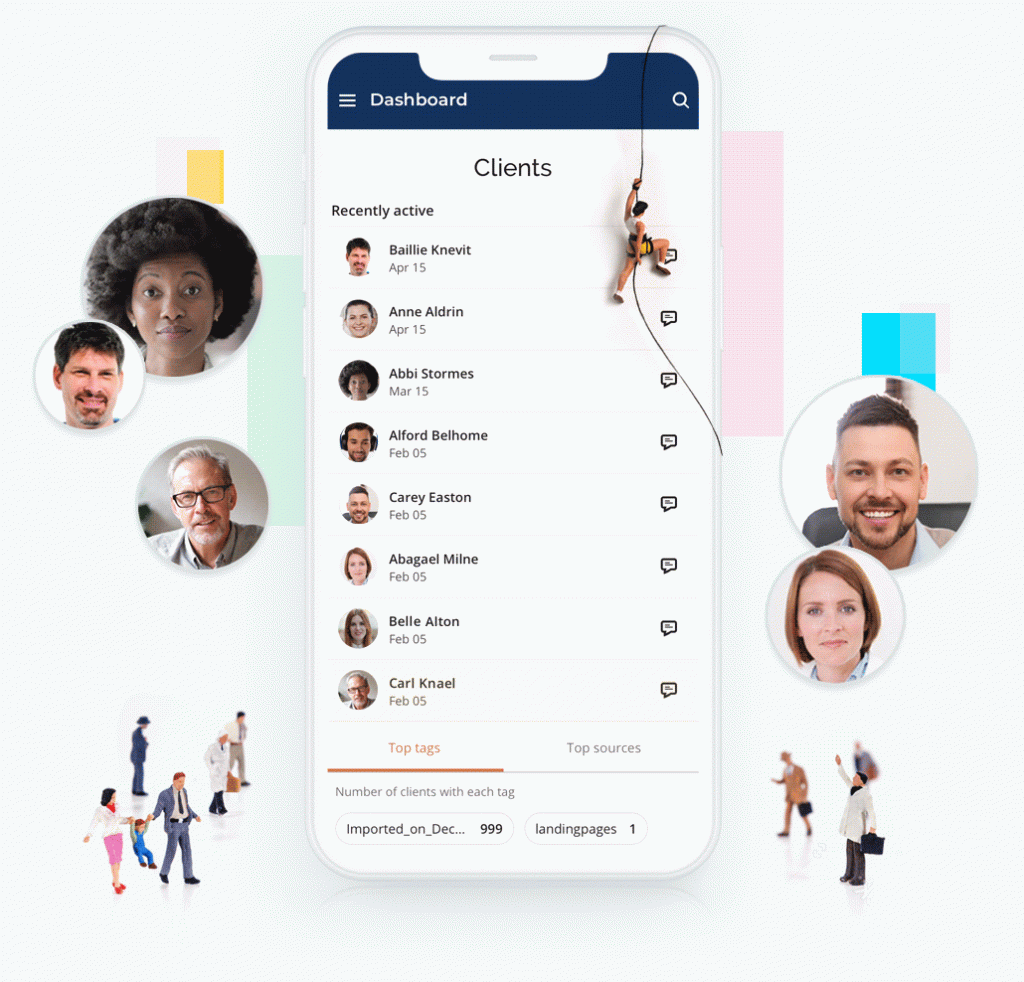 When you're running from appointment to appointment, chances are you're not lugging your computer around. Nothing is more annoying than an interface that doesn't work well with mobile, forcing you to wait until you're in front of a computer to take care of things that could be done while you're on the go.
The vcita CRM supports desktop and mobile as one unified experience. Everything that can be done on the computer, can also be done from a phone. Generate invoices, charge clients, send estimates, and more, all from the palm of your hand. It's a "mobile first" world, and we believe running a business from your phone is more than possible.
Positive customer experience
Customer experience is a huge piece of the puzzle when it comes to CRM, which is why the vcita system isn't only user-friendly for businesses, but for your clients as well.
Customers can use vcita from their computers or phones to book appointments, make payments, and everything in between all in one convenient portal. And they won't have to download, purchase, or set up anything on their end.
We also want to put the spotlight on small businesses using our CRM, which is why the client interface can be fully customized to reflect your business's branding. We think of CRM as a two-way street; you gain information about your clients and when they log in to the portal, they will get information about your business too.
Secure and HIPAA compliant
Security is a top priority for any business, but for businesses that focus on sensitive information ensuring customer confidentiality is a must.
Take Angela, an alternative health practitioner who uses vcita to manage her business. Because Angela's business involves the exchange of personal medical information with her clients, finding a HIPAA compliant platform was non-negotiable.
When Angela began using vcita, her clients felt safe sending sensitive information within the platform knowing it was HIPAA compliant. Using vcita allows Angela to stay organized and run her business, even as she travels the world.
Value for money
Let's get down to brass tacks. With vcita, you get more bang for your buck, and when it comes to small businesses, every buck counts.
You not only get a CRM, but you get every tool you need to manage your time, money, clients and marketing, all in one place. Whether you're in front of your computer or on the go, your business essential tools will be there with you so you never miss an opportunity to expand.