At vcita, we believe that SMS marketing should be accessible, which is why our platform makes it so easy. With vcita, you'll be able to send SMS messages to your clients and keep them engaged with your business, with no headache necessary.
From automating appointment reminders to running promotions, vcita's SMS marketing feature can help you strengthen relationships with your clients and drive revenue. And we're not the only ones who think so. Most marketers agree that SMS marketing has led to significant revenue increases for the businesses that use it.
Read on to learn how you can make the most of this valuable tool.
Texting to success: harness the power of vcita's SMS marketing
It's crucial to stay top of mind with your clients. With vcita's SMS marketing feature, you can do just that and keep your clients engaged and interested in your business.
There are two main types of SMS campaigns on vcita: transactional SMSs and marketing SMSs.
Transactional SMSs are messages sent to confirm appointments, payments, or reminders. For example, dentists can use transactional SMSs to confirm appointments with their patients or to send patients a notification of payment acceptance after an appointment. Transactional SMSs can also be used to send clients reminders before an appointment.
On the other hand, Marketing SMSs can be used to promote your business. An example of a marketing SMS would be a birthday wish with a coupon for the birthday month. Another example is a dentist reminding a client that it's time for their next cleaning, or an auto shop reminding a customer to get their tires checked before winter.
If this all sounds similar to email marketing, you're not wrong. But stats show that 70% of customers prefer text messages to email and other modes of communication.
You're convinced. Now, here's how to use the vcita SMS tool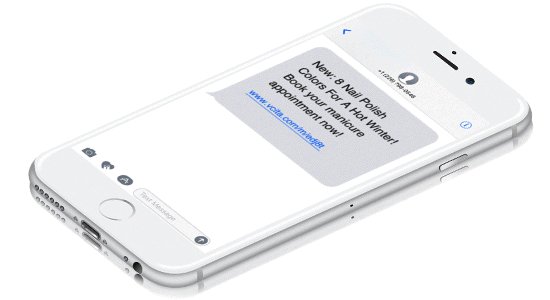 On the vcita platform, there are SMS marketing templates for everything from announcements to automated campaigns. You can choose to send out an SMS campaign involving a one-time message to many clients, such as an announcement about a sale or a change in business hours.
We also offer the option to set up automated SMS campaigns. All you have to do is set up the automated campaigns once and then they are triggered by specific behaviors or actions, such as a big purchase, lack of engagement for 6 months, or a client's birthday.
For our premium package clients, two-way SMS communication is available. This allows you to communicate with clients and have the conversation recorded in the vcita CRM for future reference. The clients will receive the SMS in their phone as a regular text message, making it convenient and hassle-free for them.
More ideas for how to use SMS marketing to boost business
Asking for a review: After providing a service or product, you can use SMSs to reach out to customers and ask for a review. This can be done through an automated campaign that sends a request for feedback a day after the service has been completed.
Meeting follow-ups: Following up on meetings can be important for building relationships with clients. SMSs can also be used to send reminders about upcoming meetings or to check in on the status of a project.
Building Excitement (promotional SMS): Promotional SMS messages can be used to build excitement about a new product, service, or event. These messages can include special offers, exclusive access, or limited-time discounts.
Send coupons: Coupons are a great way to incentivize customers to make a purchase. You can use SMS to send exclusive coupons to customers, encouraging them to take advantage of special deals.
Wish a happy birthday to clients: A simple message wishing a customer a happy birthday can go a long way in building a relationship. SMS can be used to send birthday greetings to customers, along with a special offer or coupon to celebrate the occasion.
It's been a while texts: SMS can be used to reach out to customers who haven't been engaged for a while. This can be used to re-engage with customers who may have forgotten about your business or to offer a special deal or promotion to encourage them to return.
Connect with your customers through vcita
SMS marketing can help you improve engagement and increase customer loyalty. With high open rates and the ability to automate messages, SMS marketing can save time and effort while delivering tangible results.
At vcita, we believe SMS marketing is the perfect tool for businesses to reach out to their customers whether it's for transactional purposes like appointment confirmations or reminders, or for marketing purposes such as sending promotional messages, coupons, or birthday wishes. By using vcita, you are perfectly positioned to begin using SMS marketing and connecting with your customers more effectively.