Did you know that the average person spends 3 hours and 15 minutes on their phone each day?
It's a habit we can't seem to shake as half of all screen time sessions begin within 3 minutes of the last.
To leverage this hold of attention, text message marketing just might be the solution due to accessibility, simplicity, and cost-friendliness. It offers a wide array of benefits that will make any small business owner happy.
Here's the scoop.
What is text message marketing?
Also known as SMS marketing, this is the practice of sending various marketing messages such as personalized promotions, new product launches, discounts, reminders, and similar to customers who opted to receive your texts.
Due to high open rates, small business text message marketing represents an ideal channel to reach your customers quickly and directly. It also fits well side by side with email marketing, allowing for an omnichannel approach.
Why should small businesses use text message marketing?
There is no shortage of reasons why small businesses should incorporate text messaging in an effort to connect with their customers and improve their operations.
Here are the top ten:
1. Easy for customers to opt in or opt out
You can ask customers to opt in via your website, app, and any other online channel. Another option is to send a single text asking them to confirm the opt-in with a simple 'yes' or 'no'.
Text messaging is generally one of the more intrusive methods of marketing, which is why it's essential to keep the customer experience in mind and make this as seamless as possible.
In the same spirit, it's also mandatory to provide clear instructions to opt out at any time. Including simple information on how to unsubscribe is not only one of text message marketing best practices but also a legal requirement in some areas.
2. Quick delivery & easy implementation
In today's time of instant connectivity, people (younger generations more so as they grew up with smartphones and texting) prefer text messages since they are more immediate and easier. When you send an SMS to customers, they're instantly notified, which means swift access to content in a matter of seconds.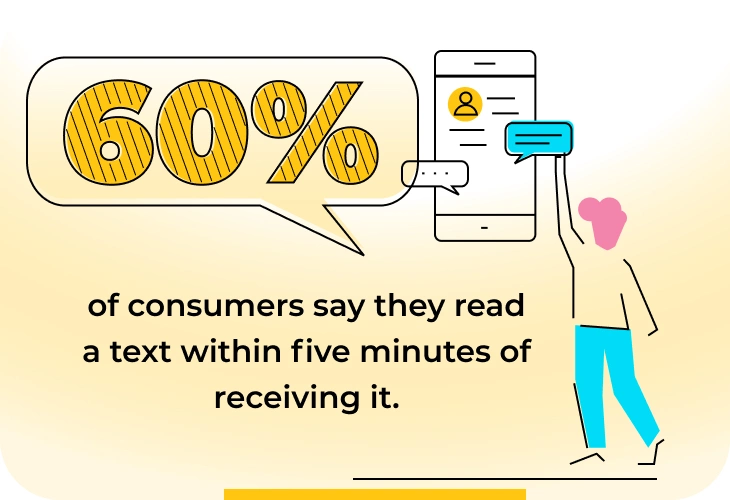 In fact, 60% of consumers say they read a text within five minutes of receiving it – particularly useful for sending a time-sensitive message to hundreds on your contact list.
Furthermore, a text message marketing service can integrate with any marketing platform without a hitch. As such, you can use SMS messages either as a basis for a campaign or as an additional element in a broader campaign.
3. Improves customer engagement
One of the best parts of small business text message marketing is the fact that it targets people who really want to receive your marketing messages (as they opted in). This helps expand their engagement with your brand.
Don't take our word for it – the numbers tell the same story. Text messaging has ridiculously high open rates that go anywhere between 90% to 99%, while the response rates sit around 45%, according to the internet – both far higher than email.
4. It encourages word of mouth
Virtually everyone has a smartphone in their pocket, which means everyone is readily accessible. This is doubly true for texts as they don't undergo the same spam filter scrutiny as email nor do they get labeled separately by content.
It also helps that SMS marketing isn't overly promotional. A character limit means customers expect short and to-the-point texts. There's only so much you can fit into 160 characters, particularly compared to an email or social media post. So, customers tolerate it, at the very least.
The concise and opt-in nature of the medium makes it easier to share, which is why people are more likely to share their texts with friends and family than they are to share an email. It requires less effort to show or forward a short message to another person, quickly generating word-of-mouth marketing.
This can do wonders for your brand awareness as a well-crafted and executed campaign can keep your business in the thoughts of your clients.
5. Encourages higher interaction with your business
Unlike any other marketing channel, SMS creates a sense of urgency. It's just the way it is: most people have unopened emails dating weeks and months back but when a text message lands, we usually open it right away.
This is in no small part thanks to the lower amount of messages an average user receives from a business as there is less SMS noise compared to sifting through an email inbox.
All of this is driving more engagement, thus presenting various opportunities to add a bit of spice to your content and make it stand out. You can include links to your site or landing pages with all kinds of visual content, or perhaps send interactive content in the form of polls and surveys. There's tons of stuff you can do, at scale.
Check out all the types of SMS messages you can send to your clients with vcita.
6. Increases customer loyalty
One of the fastest ways to maintain and boost brand loyalty is by reaching out to an already engaged audience.
This is why SMS text message marketing is a great fit for small businesses – you already have an established group of people who have a strong affinity to your brand as they willingly shared their contact numbers.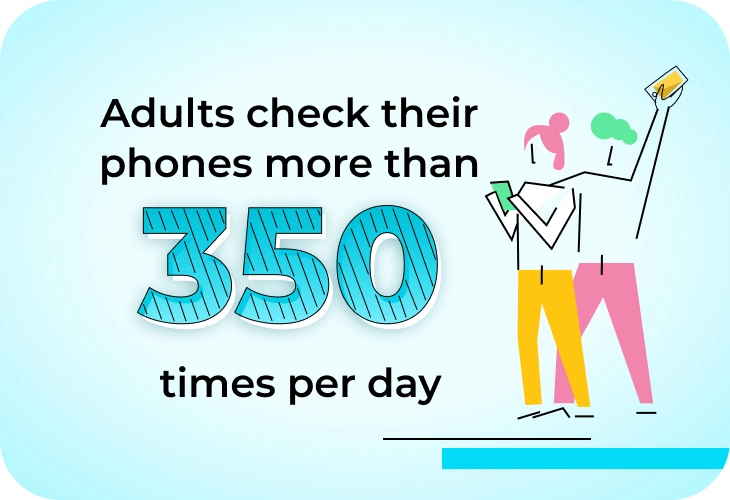 When you add the fact that in the US alone, adults check their phones more than 350 times a day on average, you get an audience that is open to receiving texts from you at virtually any time.
Hence, you can take advantage this behavior to engage your customers and increase loyalty in all stages of their journey, from the initial brand awareness stage all the way to repeat sales. SMS can also be used to share relevant content, updates, news, and even engage users to share their positive experience online in the form of reviews and ratings.
7. It's more affordable
As far as services go, small business owners will find that text message marketing platforms are on the cheap side of the spectrum.
Naturally, costs will depend on your needs, most notably the size of your contact list and text frequency. You can get things started for around $25 a month for 500 texts per month, $49 for 1000 texts a month, and so on.
Many vendors also offer combined plans that include other business features (e.g. payments management, automation, scheduling, etc.) which might be a more affordable option.
8. Integrates easily with other channels
Text messaging can be used alongside other marketing efforts, such as your website, social media and email, to create a comprehensive and cohesive approach.
You can leverage it in several ways, making it a versatile tool for small businesses that aim to get the most bang for their buck. An obvious example is sending texts (rather than emails) to customers who have abandoned their shopping carts, therefore creating a more effective sense of urgency to complete the purchase.
From marketing and customer service to appointment scheduling and order tracking, SMS marketing means you can engage with your customers in a variety of contexts. The fact that it integrates with other channels makes it easier to do so.
9. Can be automated
For small business owners who are both short on resources and time, automation is a lifesaver. It's no different with text messages. Any text message marketing service worth its salt allows you to always contact customers at the right time by scheduling texts and programming responses according to specific triggers.
For instance, you can send an automated happy birthday message with a discount coupon to your users by adding each user's birthday into the system and setting up an automated message.
10. Makes it easy to personalize your marketing
Because it easily integrates with your other marketing campaigns and existing CRM, you can personalize SMS marketing to send texts that offer value for the recipient, building brand loyalty and trust in the process.
Unlike social media, email, and even outdoor promotional messaging, SMS marketing doesn't (yet) trigger a sense of fatigue. You can capitalize on this massive opportunity by creating personalized messages focused on your customers' interests using their buying histories and other info.
Get started with text message marketing
In a nutshell, small business text message marketing offers numerous benefits to owners looking to up their marketing game by reaching new customers and building stronger relationships with existing ones.
Through direct and convenient communication, cost-effective marketing, increased engagement, and personalized communication, it can help you stay competitive in today's fast-paced and ever-changing market.

With simple-to-use tools like vcita that are specifically aimed at small businesses, you can seamlessly begin utilizing text message marketing to grow your business – without breaking the bank.