There are so many channels for small business owners to reach out to their audience, which is great, but with so many options available, choosing the right channel for digital marketing can be overwhelming.
Email marketing dates all the way back to 1978, which might make it seem like the old-school route compared to newer social media platforms, but the data proves it's not obsolete! 
With more than 4 billion daily email users, it is not hard to see that email marketing has major potential for lead generation. In fact, in 2020, Litmus reported that 4 out of 5 marketers said that they would rather give up social media than email marketing. 
One of the best things about email marketing is that you don't have to break the bank for a good return on investment (ROI), which is good news for small businesses. Campaign Monitor reports that email marketing drives $44 for every $1 spent. Meaning every dollar counts, literally.
We have compiled a complete guide to help you understand the ins and outs of email marketing so your small business can get the most out of this highly effective marketing tool.
What is email marketing?
As the name suggests, email marketing is marketing done via email. When done correctly, however, email marketing is more than meets the eye. It can be used as a tool to build valuable relationships with your customers.
Email marketing can actually harm your relationship with your audience when done incorrectly. If you are sending unwanted emails, you'll likely be put directly in the spam folder never to be looked at again.
As the email sender, you need to understand what the recipient is looking for in an email.
In short, email marketing should be beneficial to both the business and its customers. Businesses hope to increase brand awareness which will ultimately increase revenue, while customers want to have their needs filled and stay up to date with the brands they love.
Why is email marketing important for small businesses?
Email marketing can be useful for every business, but small businesses especially stand to gain a number of things that are crucial for funneling sales.
Expands reach
While social media is a valuable marketing channel, it has gaps that can be filled by email marketing. Forbes reported that fewer than half of companies describe their social media strategies as "very effective" for raising brand awareness and increasing sales.
For one thing, algorithms limit organic outreach on posts, meaning not all of your followers will necessarily be exposed to what you are posting. Research shows, for every 2000 followers on Facebook, only 2-5 people see your posts; while the average open rate for emails at 22.73% is much higher.   
Also keep in mind that not everyone uses social media, especially if your target audience is older. While Gen Z and Millenials have a number of options when it comes to online communication, people that are Gen X and older are more likely to rely on email.
That being said, 60% of Gen Z still report relying on their email for online shopping, so email marketing is useful for expanding reach across the board. 
Builds relationships with clients
Marketing in general is about building relationships between a business and its clients, and email marketing really makes this possible. Social media is all about the endless scroll, so receiving a direct email already feels more personal to clients.
This is your chance to speak directly to each individual client, and you want your email marketing strategy to reflect this. In order to do so, you need to get to know your audience so you can send them emails that are truly relevant to their needs.
Increases brand awareness
Increasing brand awareness is crucial for strengthening your business. If you want your audience to care about what you have to say, they first have to care about you.
Email marketing allows direct long-term interactions between customers and businesses, making it easier for clients to get to know your brand. Your email marketing campaign should reflect the tone of your business so customers can learn what you're all about.
Also remember, that the visual and written content of your email campaigns should be consistent throughout your emails and match up with your website and social media platforms. You want to make it clear that your business has a coherent identity.
Customers who identify with your businesses are more likely to be loyal. Seven out of 10 customers will buy from brands they trust, over those they don't!
Adds value to your readers
Compelling email marketing is valuable for both the business and its customers. Think of it as a "you scratch our back, we'll scratch yours," situation.
As we mentioned above, sending relevant emails requires understanding what your audience is looking for and catering to those needs.
Emails should first attract the reader's attention, and follow up by making them happy. The possibilities are endless and can include offering rewards, giving them helpful information, or acting as an authority that answers their questions and concerns.
Personalizes your interaction with clients
Like any meaningful relationship, interactions should feel personal. While personalizing interactions can take some extra work, there are also little things you can do to make your clients feel seen.
For example, sending follow-up emails after purchase will show customers you are thankful for their business and care about their experience.
As you learn more about your customers, you will be able to send even more personalized emails, like recommending products or service packages based on their past purchases. Unlike social media, email allows you to segment and personalize messages based on your customers' behavior.
Engages new and retains existing clients
When it comes to conversion rates via email marketing, the numbers speak for themselves. One study by McKinsey reported that email marketing generates 117% more total conversions than social media.
While users may follow a brand on social media, this is different than subscribing to their email list. The act of subscribing already implies that these people want to hear directly from your business, and are therefore more likely to engage with your emails.
The versatility of email marketing allows you to send unique messages to new and existing clients so that you can simultaneously respond to their different needs. A welcome email, while great for new customers, is irrelevant to existing clients. While, inversely, existing clients are more likely to respond to a special offer of a product or service that they already know.
How does email marketing work?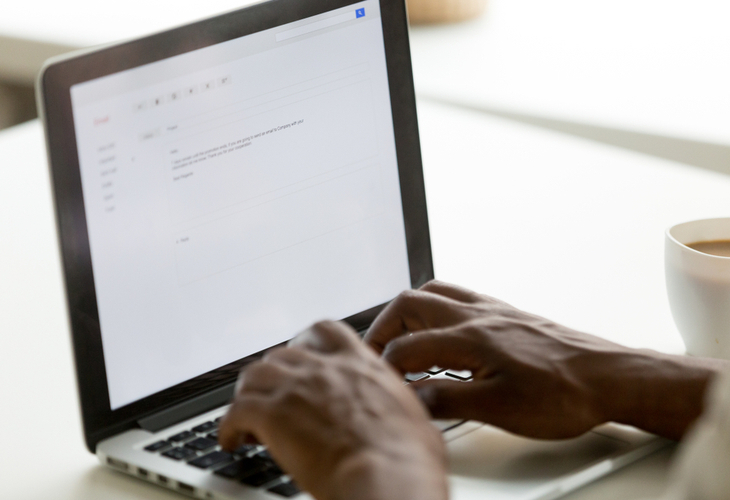 Now that you understand why email marketing is important for small businesses, let's get into the how. In order to come up with a successful email marketing strategy, you will first need to understand a few basic principles.
First and foremost, you need to have an active email list. If you don't have anyone to send your emails to, you won't be getting very far. Your email list is generally composed of people who have already shown some interest in your brand.
You can generate new leads by offering promotion or discount forms and pop-ups on your website, requiring users to input their email addresses. This list can also be made up of customers who have already purchased from you in the past.
Once you have your lists, you will need to learn how to manage them. Don't worry, this process can be automated, and you won't have to painstakingly send out individual emails.
Many small businesses use email marketing platforms or software that provide tools for designing personalized email campaigns that will help you make the most out of your email lists.
When coming up with an email campaign, you should have a clear goal in mind. Email campaigns looking to boost sales will sing a different tune than your monthly newsletter.
How to get started with email marketing
All of this information may feel a little overwhelming, but getting started can be broken down into a few basic steps.
The first step is determining your target audience.
Once you have figured out who your reader is, the next step is understanding the best way to communicate with them.
The final step is crafting your emails.
How to come up with an email marketing strategy
Above, we outlined the basic steps for getting started, now let's dive a little deeper.
Determine your target audience
We've talked a lot about getting to know your target audience, and this is how to make it happen.
Come up with a list of questions about your customers that you want answered. What are they looking for in brand-customer relationships? How do they prefer to make purchases? What motivates their purchases? How do they prefer to be contacted?
Getting the answers to these questions will vary. You can offer customer surveys and product reviews. Digital analytics is a great tool for mapping out buying patterns and customer behaviors.
All of this data will be used to build buyer personas.
Build channels and communication tactics
According to different buyer personas, you can create different customer channels and communicate with each of them accordingly.
Referral emails for new customer channels will be treated differently than loyalty program emails for returning customers.
Remember, personalization is key! Email marketing is not one size fits all buyers.
Create content
Based on your different buyer personas, you will be able to craft the content of your campaign accordingly.
Another great thing about email marketing is that it is easy to run A/B tests and measure the results. This data allows you to continue to refine and perfect your future campaigns.
Tips and tricks of email marketing
To help make your email marketing strategy even more effective, incorporate these tips and tricks into your campaigns.
Simple sign-up
Nothing is more off-putting than a complicated subscription process. Make signing up for your emails a seamless process, don't overcomplicate it!
Special offers are gold
Make sure users know that they will benefit from subscribing to your emails. Incentivizing buyers with a special offer or discount from the jump will show them that it is worth signing up for your emails.
Don't go overboard
It might seem tempting to send out multiple emails to increase the chances of engagement, but this is not the case.
Overdoing it with your emails is likely to make you lose subscribers in the long run. Stick to sending scheduled emails, with the occasional special offer.
Get started with the right software
It can take years to master the art of email marketing, but small businesses don't have that kind of time.
Thankfully, there are email marketing solutions, like vcita, that offer small business owners the ability to create colorful marketing email campaigns in seconds using the templates available on the platform. Using a platform like vcita enables you to segment your client lists and target specific clients when sending your emails. The templates available help your brand stay at the tops of your clients' minds in just a few intuitive clicks.
Using the right software along with all the tips above will get you on your way to email marketing gold soon enough!