Helping others is energizing and fulfilling. Doing it as a career seems like a dream for most people. But this is precisely what the coaching business is about: helping others live the lives they want.
You may have always wanted to coach, but haven't been sure where to start. If you've been wondering how to start a successful coaching business, this guide is for you. Here, you'll learn everything you need about starting a successful coaching business, all the way from the visualization stage to the implementation stage.
You'll also be able to figure out exactly what type of coaching business you want to create, including how to find your perfect client.
Types of Coaching
There are two primary types of businesses most new coaches choose from: one-on-one coaching and group coaching.
One-on-One Coaching
One-on-one coaching is a bit easier and faster to get into from the two models. This is because when you are coaching someone one-on-one basis, you don't need to have a predetermined plan or curriculum for their progress. Naturally, each client is going to have a different path. You can, therefore, take your time with your client, developing plans and goals as you build your relationship.
For clients, one-on-one coaching is often preferable. This is because clients feel like they are truly getting specialized attention. Most love that they can connect with you individually as a coach.
Group Coaching
Group coaching is something that one-on-one coaches often transition to after they've been coaching for a while. With group coaching, your time as a coach is not spread as thin.
If you've been coaching individuals for some time, you may realize that you could come up with educational materials that would help many clients at once. You may also wish to start running online coaching groups or sell a coaching course. Perhaps you found that you like coaching on group calls or in group meetings.
Group coaching allows you to set up your systems once and then help groups of people at the same time. For clients, group coaching may offer the benefit of being cheaper than individualized coaching.
Popular Coaching Markets
There are an infinite number of coaching markets available. However, that said, there are a few that are more popular than others. Below are four of the most common fields for new coaches to get into.
Small Business Coaching
Small business coaching is broad rather than specific. You can help individuals or groups get their small business up and running, or you can choose to consult in a particular area related to that business, like marketing. You can also specialize in a particular small business, like helping therapists get their solo practice off the ground.
Sales Coaching
Sales coaching is related to small business coaching but is a much more specific area. As a sales coach, your job would be to increase your clients' sales numbers. It doesn't matter what type of client you choose, but again, this is an area in which you may wish to specialize. For example, you could decide that you want to coach gyms on how to increase their sales by signing up more clients every month.
Life Coaching
Life coaching is popular because it allows coaches to help their clients in many different ways. Perhaps you feel that you are more of a generalist, but have a lot of knowledge that can help your clients in the various areas they might be struggling. Life coaching will allow you to do just that.
Health & Fitness Coaching
As many people are on a constant quest to get healthier,  health coaching is an ever-growing market. If you decide to be a health coach, you can specialize in one particular area, such as gym training, bodybuilding, nutrition, or yoga. You can choose to help clients in many different ways, such as being the type of coach that provides full nutrition and training plans.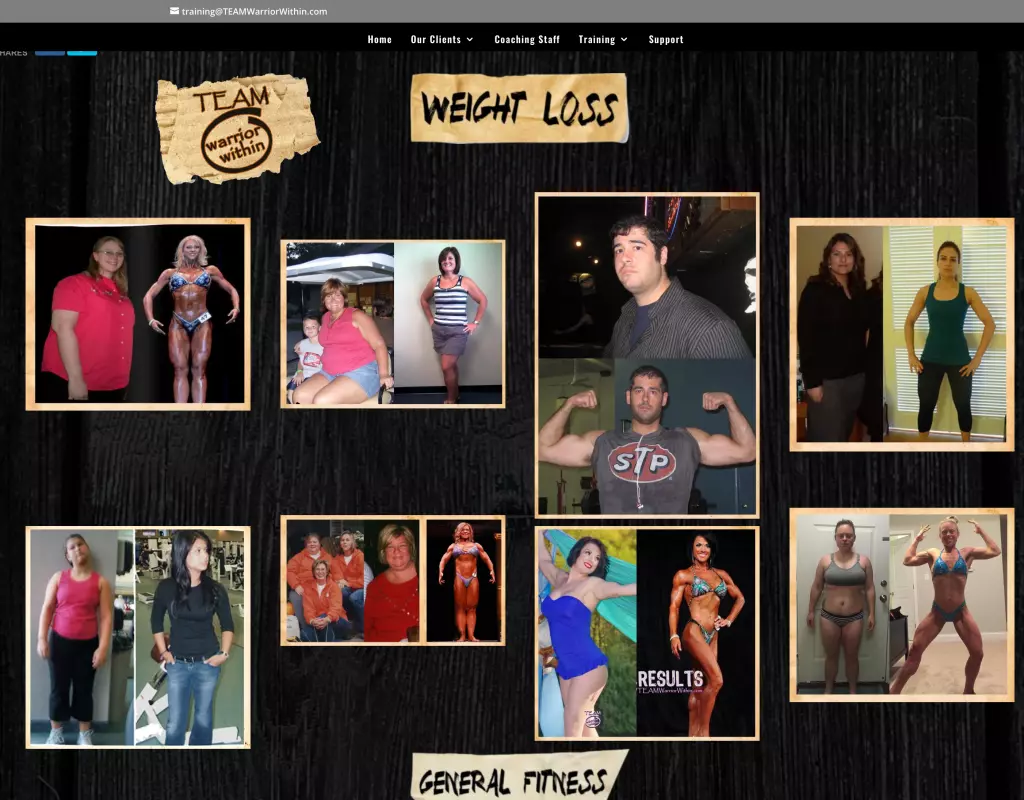 Team Warrior Within is an example of a fitness coaching business that specializes in bodybuilding competition prep.
How To Start Your Coaching Business
1. Visualize Your Perfect Client
Although you may be excited to jump into your coaching business, and tempted to start it quickly, resist the urge for now. This is an exhilarating time. If you've thought about becoming a coach for a while, you may feel like you're ready to hit the ground running.
Still, it's a much better idea to take some time to visualize your perfect client. If you start here and work backward, you're much more likely to grow a successful coaching business that you love.
Jot down a story about your perfect client. Give them a name. Decide what problem or transition they are facing in their life that you want to help with.
This step may seem like it's not that important, but it's actually the most important to create the business of your dreams.
2. Decide on Your Niche
Choosing the perfect niche is the next most important step in developing your coaching business. Once you visualize your ideal client, you may have a general idea of the field you want to go in, but carving out a specific niche is very important to build a thriving business.
How you choose your niche is dependent on several factors:
Do you have specialized education or training in any specific area?If you already have specialized education, like an advanced degree or training in any specific field, this would lend itself well to becoming your niche. If you've chosen to get certifications, those could also work. Keep in mind, however, that you don't have to choose a niche based on your education or training. There are several other factors.
Do you have a specific skill set, based on your own life experience?

Even if you aren't trained in a particular area, maybe you have valuable life experience that can help you coach others. For example, perhaps you lost a considerable amount of weight in the past and you feel that not only is your story inspirational but you are also well placed to be able to help people achieve similar goals.

What are you most interested in? In all likelihood, there's a specific area that you spent a lot of time thinking about, simply because you are interested in it. This would be an excellent way niche to focus on since you already know that you're passionate about helping clients in that specific field.
What niche fields are profitable? Although you may want to coach regular people looking to improve their overall fitness, that might not be extremely profitable online. You may instead decide to coach young professionals who need some help counteracting all the sitting they do in their office. This would likely be a more profitable and specific niche.
What niche fields are not saturated? In the example above, coaching regular people who want to improve their general fitness is already a very oversaturated niche. Almost every coach in the health and fitness field is doing just that. Instead, think of a more specific and focused client base. There may be a market for young moms who want an online fitness coach to help them lose weight without needing to go to the gym or leave the house.
Do you want to coach clients exclusively online or in-person as well? Although you may be mainly building your coaching business online, you should also think about whether you want to work with clients in-person. If you do, this might help you further narrow down your niche to people in your area who would be willing to meet in person.
Which clients will have the income to spend on coaching? You should focus on a niche that will attract clients who can pay for your coaching services, as mentioned briefly above. For example, although you may wish to work with college students, that group is not known for having a lot of disposable income. If you chose to work with them regardless, you would have to lower your rates substantially. Instead, you might wish to focus on new grads or grad students who may be in a slightly better financial position than college students.
Choosing your niche is not a decision to be taken lightly. You should take your time before going public with your business to make sure it's the exact right fit.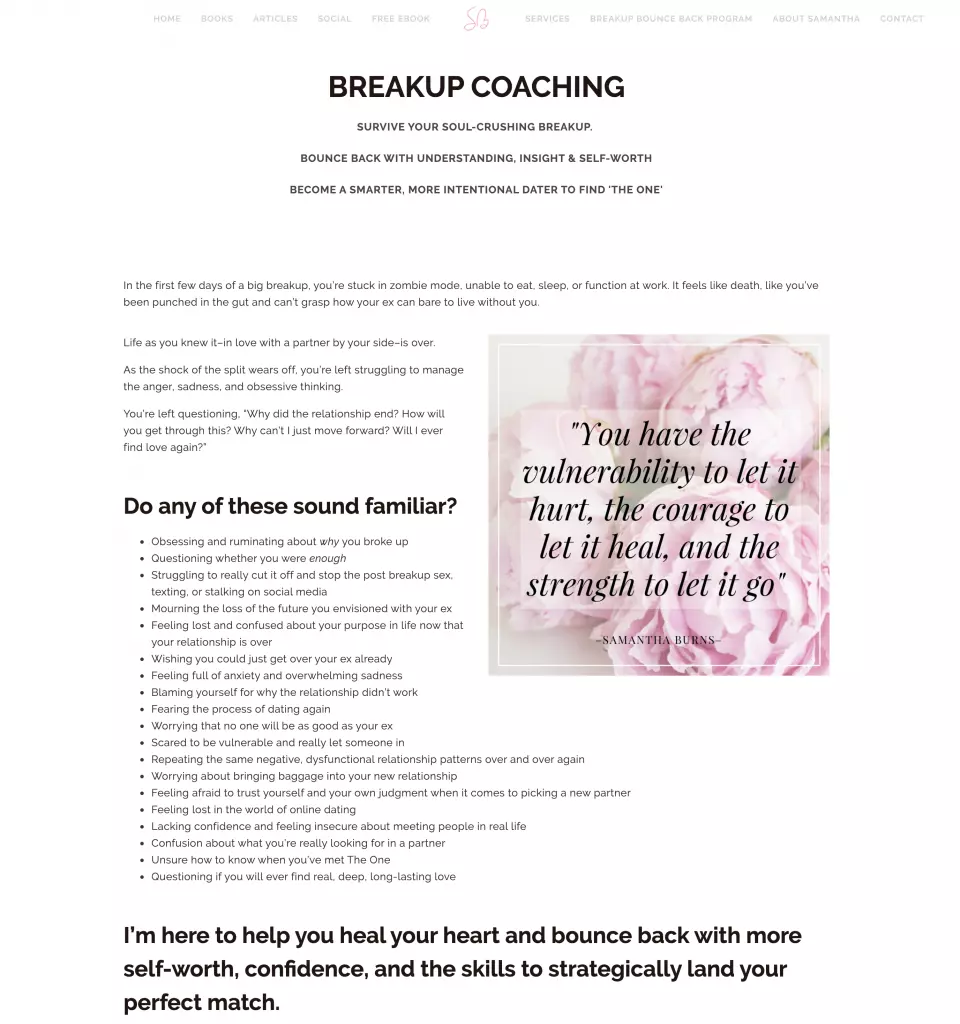 The coach at LoveSuccessfully.com has a particular niche in helping people through their breakups.
3. Separate Yourself From the Pack
Now that you've found your niche, you need to figure out how to separate yourself from the pack. What is it that makes you unique?
You may wish to do a bit of research on competitors to see how other people are defining themselves. You should never copy what a competitor is doing. In fact, just the opposite: you should get an idea of what's out there to figure out how you can make yourself unique to your clients.
4. Draft a Business Plan
Now, it's time to get down to the business of business. Once you know exactly how you want your coaching business to look, sit down and draft a business plan.
You may want to get help from friends or colleagues who have done this before or even hire your own coach to help with this task. If you've never written a business plan before, it can be intimidating, and getting help can make all the difference.
A good business plan will create a clear picture of the future of the business. You can use it to get a loan, if needed, or to present to capital investors.
5. Setup the Necessary Tools for Your Business
There are a few more things you need to get your coaching business up and running.
First, you'll need to decide what type of business you want to set up. Then you'll need to check and see what licenses you require. You may wish to consider sole proprietorship because it is easy and fast to get going. Another option is a single-member limited liability company because of the protection it offers.
Even if you've chosen an area of coaching that doesn't require a specific license (like life coaching), to run a business in your city or state, you'll probably need to obtain a small business license. You'll want to check with your local tax collector, your Department of Revenue, and your Secretary of State. There may be several tasks to undertake, such as applying for a fictitious business name with your state, along with obtaining the business license.
You don't strictly need an employer identification number, or tax ID, from the IRS, unless you are hiring employees. But, it's a good idea to get one so that you aren't using your social security number on business documents. You can apply for your EIN at IRS.gov. Never go through third-party services to do this, as it is easy and straightforward to go straight to the government to apply.
You'll then want to stop in at your local bank and sign up for a business banking account. If you're doing a sole proprietorship, this isn't absolutely necessary, but it is still a good idea so that you can separate business funds from personal funds. The process should be relatively straightforward, but the bank will need your business' organizing documents and your EIN or social security number.
6. Market, Market, Market
You've set up your coaching business; now it's time to let people know!
The first thing you must do is create a robust, well-designed, inviting website for potential clients to come to learn more about you. It is impossible to have a thriving business without a great website.
On your website, your clients should be able to get information about your services, find links to your social media (more on that below), and be able to communicate with you easily. Here, you'll want to use a client scheduling software, like vcita. vcita allows them to connect with you online 24/7 via the contact form, as well as schedule appointments with the 'schedule now' button you can place either on Facebook or on your website.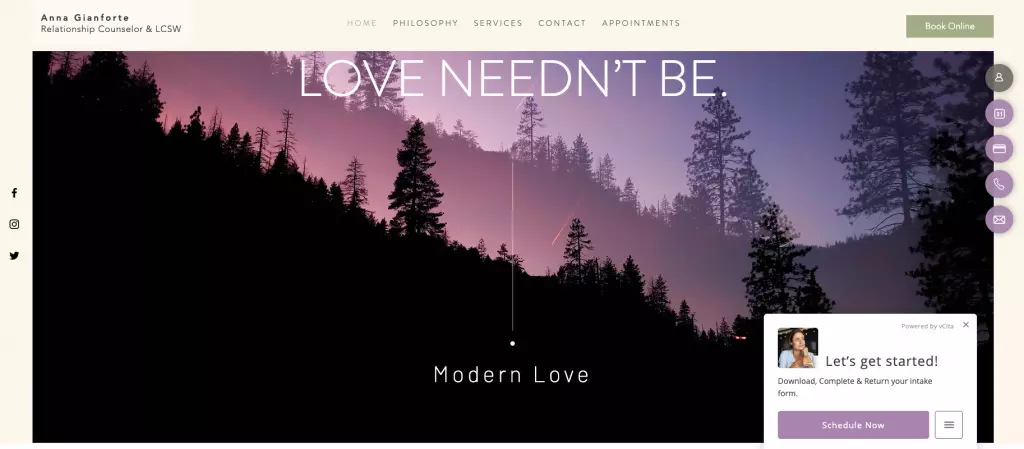 Modern Love Coaching by Anna Gianforte added beautiful and effective call to action buttons to her website with vcita.
After your website is built, you can then focus on your social media. Depending on what type of coaching business you are running, you may wish to build a Facebook page, a YouTube channel, and Instagram profile, or any of the other social media services that are available. Make sure you don't spread yourself too thin. In other words, focus on one or two platforms where your audience is most active. This will depend on who your ideal client is, which you already figured out prior to setting up your business!
Go Get 'em!
Having a successful coaching business can be one of the most fulfilling things in the world. If you've always wondered how to start a successful coaching business, now you have the tools to do so. If it's something you've always wanted to do, don't wait another second! Start from today and create the business of your dreams.