No two businesses are the same.
But if there's one fact that rings true for companies regardless of size or industry it's this:
Great customer service experience matters.
In fact, we'd argue that it matters now more than ever.
Food for thought: 90% of consumers consider customer service to be a major factor in determining whether or not to do business with someone.
Oh, and did we mention that positive customer experiences represent some of the best word-of-mouth marketing you could ask for?
In a day and age where customer service is so transparent, business owners can't afford to neglect it.
Like, literally.
That's why we put together this list of tips and examples of what businesses can do to provide top-tier client service (even if you're flying solo).
1. Speed Up Your Client Response Time
Reality check: modern clients are impatient.
Think about it. Nobody wants to play the waiting game when they reach out to a business via email or social media.
And hey, rightfully so.
Conventional wisdom tells us that most people are satisfied with a same-day response, or at the very least a reply within 24 hours.
Responding to questions and comments in a timely manner isn't just about keeping up appearances, though.
The longer you let your clients or prospects linger, the more likely they are to grow impatient.
Heck, they might even start thinking about bouncing to another business if their questions go unanswered for too long.
The solution? For starters, make sure that you keep an eye on your inboxes and notifications via email, social media and any other points of contact you have online. Smartphones make it relatively easy to respond to questions around-the-clock.
And on that note, don't let queries pile-up or become part of your to-do list! Although you shouldn't be expected to respond to clients in the middle of the night, you also shouldn't let a potential client slip through your fingers because you sat on their message.
2. Personalize Your Customer Service Experience
While they might not tell you directly, your clients don't want to be treated like just another face in the crowd.
Sure, they want a job well-done from you.
But they want to want to feel noticed and acknowledged, too.
Something as simple as a follow-up call or check-in can help give your clients a warm, fuzzy feeling that signals that you see them as more than just dollars and cents.
Whether it's a client-specific question or simply referring to your clients by name, anything you can do to make your customer experience feel more intimate is a plus.
3. Surprise Your Customers Just Because
Okay, who doesn't love surprises?
Springing a freebie or gift on a new customer for the sake of a surprise is a brilliant way to stand out in their minds. Doing so can be presented as a sort of reward for doing business with you.
Bear in mind that you don't need to give your customers anything pricey or complicated. A simple thank-you card or complimentary gift for a select few customers for month is a low-hanging way to get your clients more invested in your business on a personal level.
4. If You Screw Up, Don't Be Afraid to Admit It!
Spoiler alert: customer service snafus are inevitable.
Relax! Given how busy the average business owner is, the occasional mistake isn't going to totally wreck your reputation.
That said, you should be willing to admit when you've made an error and take the time to make it right.
Big brands like Chewy are noted for their awesome customer service, frequently receiving shout-outs for replacing items and handing their mistakes with grace.
The takeaway here? Don't assume that a customer service "crisis" is actually a crisis. Sometimes angry customers or screw-ups on your part can actually be spun into a net positive.
5. Reply to Your Business' Reviews (Good, Bad or Ugly!)
Providing customer service is an ongoing process that doesn't necessarily end after your clients hand over their hard-earned cash.
Take customer reviews as a prime example. Whether it's Facebook reviews, Google reviews or third-party sites such as Yelp, how you interact with your customers is on display each time you respond to a review.
Responding to positive reviews is a smart move to build even more of a positive rapport with your satisfied customers.
However, it's perhaps more important to continue to provide customer service to folks who may not have been thrilled with your work.
A calm, thoughtful response can do double-duty of showing off your good side while also potentially winning a would-be lost client back.
6. Be Yourself When Handling Customer Concerns
This is a quick tip but definitely worth mentioning.
Customer service is not something you can simply cut-and-paste.
Rather than use canned or robotic responses, take the time to craft personalized messages to your clients that allow your personality to shine through.
This allows you to show off the human side of your business while also reminding your clients that you remember 'em.
7. Make Yourself More Accessible to Clients ASAP
The common thread between businesses that provide an awesome customer service experience?
They know how to communicate.
The more available you are to your clients and prospects, the easier it is to win them over and keep them in the good.
Whether it's gathering client feedback or scheduling follow-up calls, streamlining your client communication should be a top priority.
And hey, that's where vcita can be a game-changer for service businesses looking to step up their customer service!
Rather than bounce between platforms and notes, vcita keeps all of your client contact information in one place. Not only that, but the features baked into vcita make it a cinch to address customer service concerns.
Some key features include:
Automated SMS appointment and payment reminders
24/7 online availability for bookings and payments
Note-tracking to help you remember personal details for each one of your clients
The ability to upsell clients with online coupons and ready-made promotional messages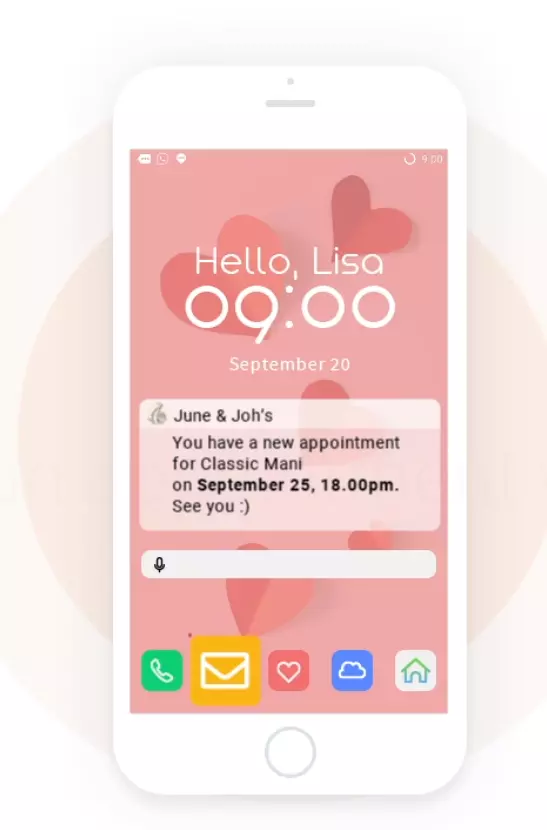 Pssst: If you haven't already, make sure you take our free trial for a spin.
And with that, we wrap up our list!
It's Time to Step Up Your Customer Service!
When you're a small business owner, you are your own customer service department.
And while you probably have a ton on your plate already, customer service isn't something you can let fall by the wayside.
That's why it's crucial to pay close attention to the points above to ensure that you're meeting and exceeding the expectations of your clients.
With the help of these tips and tools such as vcita, you can step up your customer service sooner rather than later.