Reviews hold an enormous amount of weight for today's consumers and businesses alike.
And if your business is currently lacking reviews, it's time to think about snagging some for yourself.
After all, we live in a world where 84% of people trust online reviews as much as they trust personal recommendations from friends and family.
Think about your own experiences shopping around online.
Ever looked for a gadget on Amazon? You probably glance over anything that has less than a four-star rating, right?
Same rules apply on Yelp! when you're on the hunt for a hotel or somewhere to grab a bite to eat, too.
That's exactly why the more often you can encourage your clients and customers to leave feedback for you online, the better.
Why Service Businesses Need Reviews
Beyond being transparent to potential customers, service businesses have plenty to gain from amassing tons of reviews. Consider added bonuses such as:
Instant credibility

– a business boasting dozens of reviews has obviously been around the block versus the competitor with no reviews at all

Buzz for your business –

positive customer experiences serve as awesome forms of advertising and social proof you can use to market yourself

Major SEO firepower

– with so many consumers finding businesses via Google, having reviews is an essential part of your

local SEO strategy
This quote from the geniuses at Shopify perhaps put it best:
"After reading a positive review, customers are now less likely to go on to visit a business' website… [they] are far more likely to get directly in touch over the phone over via email, or by visiting in person"
Before Hunting for Reviews, Read This
But while winning positive reviews can yield positive returns for today's businesses, there's also the elephant in the room.
Bad reviews.
Although business owners shouldn't be paralyzed by fear of negative feedback, opening your business to reviews does come with its own set of potential headaches (more on that later).
Yet in most cases, the benefits outweigh the consequences by a long shot. If you run your business by the book and already have a dedicated base of customers that are in love with what you do, you're probably golden.
Either way, you should give some thought before actively enabling and soliciting online reviews for your business. Doing so is a long-term strategy that requires a commitment of your time and resources, but is so often worth it in the big picture.
If you don't have any reviews yet, don't panic! There are two smart ways and can enable and solicit them, and we've broken the steps down below.
1. Allow Facebook Reviews Directly on Your Page
Running a Facebook page? You have the option to enable reviews on your page which creates a "Reviews" tab on your page.
Additionally, your reviews will aggregate to a star rating which is made visible to the public and anyone who views your page.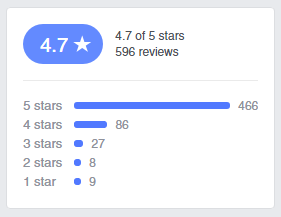 The Reviews tab will display your star rating in addition to written reviews from customers. Some reviews will simply show up as ratings, although reviewers have the option to go in-depth if they so choose (and similarly, you can respond to them).
2. Enable Reviews on Your Google Listing
Google Reviews are an important aspect of local SEO and, as it should come up as no surprise, will pop up alongside your business listing in a Google search.
Assuming you've claimed your business listing, you'll need to verify your address via postcard, phone or email depending on your situation.

After you've verified your business listing you can create a link that points customers to write a review in a single click.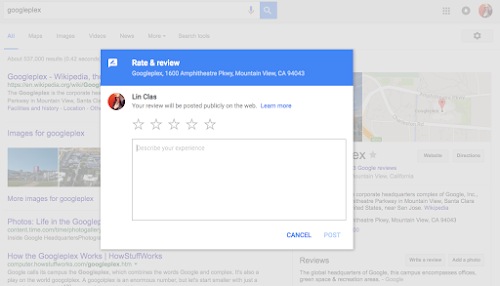 What to Do After You've Enabled Reviews
The key to marketing via reviews is consistency: you need fresh reviews coming in on a regular basis in order to make your business appear current and happening.
Sure, some random reviews might trickle in from satisfied customers or your biggest fans.
However, sometimes if you want something it's best simply just to ask.
The good news? Reviews are no different.
You simply need to make it as quick and painless as possible for your customers to leave a review. Again, you have the option in Google to incentivize reviews through your one-step direct link that only requires one click for customers to get started.
But where should you drop your link? How should you remind customers to leave a review, anyway? Consider the following simple but effective options:
Mention your review link within your email signature with a catch call-to-action ("Don't forget to leave a review!")

Pin a Tweet or Facebook post on your social pages to remind customers to leave feedback if they had a positive experience

For brick and mortar businesses, signs in your window or front desk asking for reviews are totally fair game
Perhaps one of the best avenues to ask for reviews is via email, especially if you already have a working relationship with your clients and they're used to hearing from you. If you're using vcita, you can easily send your clients a beautiful, professionally designed email, in minutes: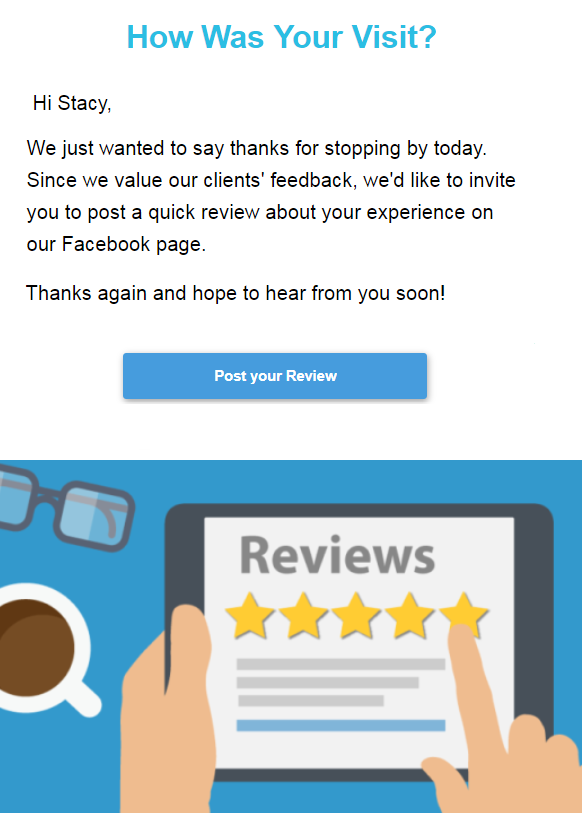 It also pays to provide some guidance on what clients should include in a review. While you don't want to be too pushy, it's nice to have some in-depth stories about positive experiences versus a bunch of star-only or "Great job!" reviews.
And if reviews still aren't coming despite your best efforts, you always have the option to sweeten the invitation with some sort of deal or discount. After all, scoring a deal in exchange for a few seconds of someone's time is hard for your loyal base to pass up.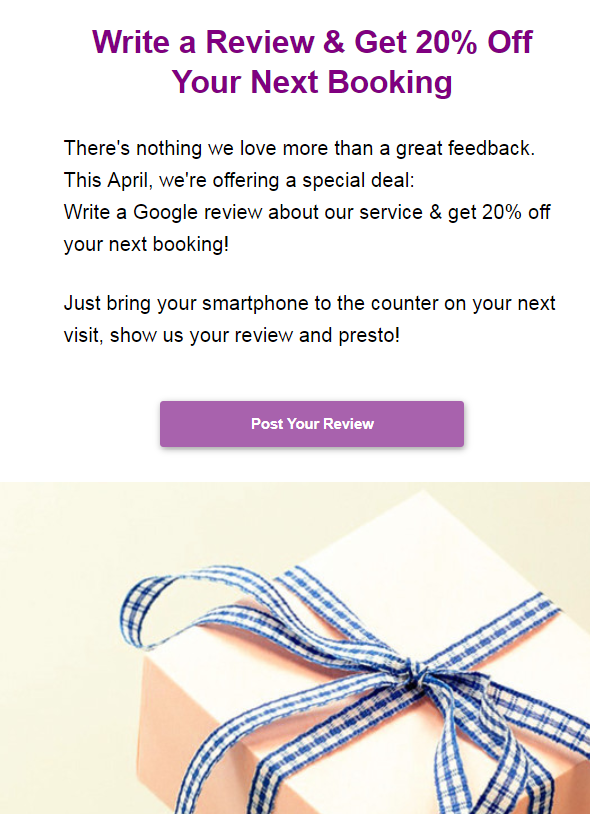 How to Deal with Negative Reviews
Of course, not all reviews are necessarily going to be sunshine and rainbows.
Even if you do your best to provide service with a smile, there's always the potential for a negative review. Oftentimes these reviews arise from some sort of misunderstanding, and luckily both Facebook and Google Reviews allow you to respond accordingly.
In the case that a review is a blatant troll or spam, you can request them to be removed. Here are the links to do that for both Facebook and Google.
As a rule of thumb, always respond to negative reviews with grace. Be respectful and empathetic rather than petty.
For example, civil language such as "I'm sorry for your negative experience" or "I appreciate your feedback – I'd really like to discuss this in private" do well to paint you in a positive light.
In fact, sometimes you can actually use a negative review to make yourself look like a million bucks if the person commenting is obviously being unreasonable.
Just taking the time to respond shows that you care, and it's not as if one negative review is going to sink your entire online reputation. Negative reviews come with the territory with doing business online – as long as you brace yourself for them and respond in a civilized manner, you'll be fine.
Ready to Get Reviewed?
In the case of most businesses, the benefits of winning reviews far outweigh any potential drawbacks. Enabling reviews not only increases exposure for your business, but provides concrete proof that you're the real deal for new clients and customers.
By knowing what to look out for and tools such as vcita to help give your clients that extra push, you can start encouraging positive feedback for your business today.