If you want to be your own boss and make a good income, starting your own car detailing business is a great idea. Car detailing is a premium service with high profit margins, and customers are willing to pay good money for someone who knows what they're doing. In this article, we'll discuss what you need to know to start your own car detailing business.
Starting a car detailing business: an overview
If you want to start your own car detailing business, here are the basic steps you'll need to complete.
Decide on your business structure. Will you operate as a sole proprietorship, or form an LLC? As a sole proprietor, you have minimal paperwork but put your personal assets at risk. An LLC protects your personal assets but has more registration requirements.
Carry out market research. See what services and prices existing car detailing businesses offer, to determine how you can stand out and what people are looking for in a detail shop.
Create a business plan. It's essential for obtaining funding and guiding your business strategy. In your business plan, you'll need to outline your mission and vision, target market, marketing plan, operational details, and financial projections.
Get the proper licenses and permits to operate. Requirements vary by location, so check with your city clerk's office. Common needs include a business license or permit, tax registration, and insurance.
Build a professional website. Make it easy for potential clients to find out what services you offer, your location, pricing, and more. Include a client portal where customers can sign in to view appointment details, make payments, and leave reviews.
Set up an efficient booking system. Use software like vcita to manage appointments, client profiles, invoices, and payments in one place, and add a booking widget to your website to make it easy for clients to schedule appointments.
Laying the groundwork
The first steps to starting your car detailing business include obtaining the proper licenses and permits, finding a good location, and investing in high-quality equipment.
Business licenses and permits
Licensing requirements vary by location, so it's best to check with your city clerk's office, but you'll usually need a business license or permit to legally operate a car detailing business. Some states require you to register with an industrial agency for car wash and polishing businesses, and you might have to pay annual fees.
Location
If you'll open your business in a fixed physical location, look for an affordable space with ample parking in an area convenient for customers. You could rent a bay at an existing car wash or detail shop, to save on overhead costs. Even if you plan to operate a mobile business, you'll still need a place to store your equipment and supplies when not on the job.
Essential equipment
Quality tools and products are key to providing superior service. Must-haves include a high-powered vacuum, polisher and waxer, cleaning solutions and waxes, microfiber towels and mitts, air compressors, and seat covers.
Attracting customers to build a successful car detailing business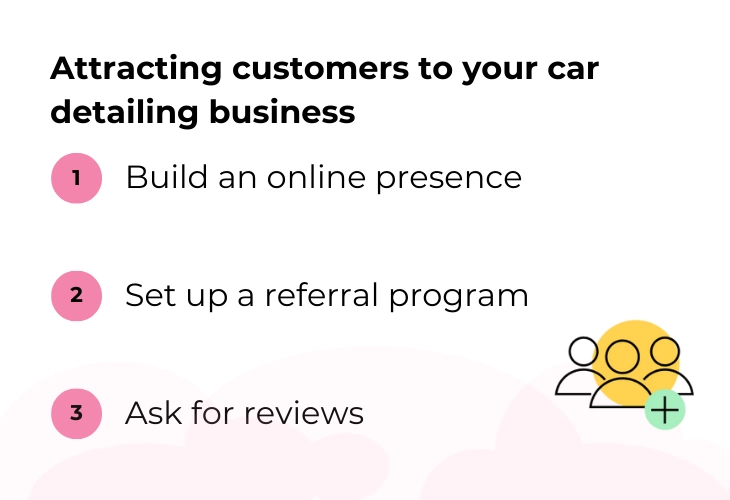 To build a successful car detailing business, you need to attract new customers. Here are 3 top tips for marketing your business and expanding your customer base.
These days, if you're not online, you don't exist. Start with a professional website to tell your brand story and showcase your services. An all-in-one business management platform makes it easy for you to create a professional and attractive website in a short space of time.
Set up a referral program
A referral program is a great way to encourage clients to spread the word about your business. Offer an incentive when you ask clients for referrals, like 25% off their next detail for any new customer they refer. This rewards them for their loyalty and word-of-mouth marketing.
Don't be afraid to ask your happy clients to leave you a review on review websites and social media. You can just send a simple message through email or SMS, and include a link to the review site. If you're asking them to post on social media, don't forget to tell them your profile name or account handle so they can tag you. Doing this will not only boost your social media following but will increase your brand awareness gradually.
Managing operations smoothly with business management software
Once you've established your business entity and started attracting customers, you need to find an efficient way to manage your day-to-day operations, keep things organized, and ensure high-quality work.
This is where business management software like vcita comes in. vcita's all-in-one platform handles everything, from booking appointments to billing clients and managing your team. Here are some of the features you'll find in vcita's business management solution.
Online booking
The online booking system lets customers see availability and schedule services directly on your website, then it syncs with your calendar so you'll never forget a booking. You can customize the booking page with photos of your work and package offerings to give people an idea of what you provide.
Client portal
The client portal gives clients a place to sign consent forms, pay invoices, and communicate with you. It offers your clients control over their accounts and friction-free ways to get in touch, a secure location for documents, and easy ways to view their booking details and reschedule or cancel if needed.
Cloud CRM
With vcita, you'll have a centralized cloud CRM where you can store customer information, service and payment history, notes from previous appointments, and more. This makes it easy to see what services each client prefers and personalize their experience.
Employee management
Use vcita's software to assign clients, appointments, and incoming requests to specific team members. You'll have oversight into employee schedules and workload to ensure an even distribution.
Invoicing and payment
vcita also handles invoicing, accounting, and payments. Create professional-looking invoices in a few clicks, send them through email or SMS, and track client responses. The system even includes online payment processing, so you can invite clients to pay directly from the invoice, and sends automated payment reminders. This streamlines getting paid for your services and keeping accurate financial records.
Using an integrated software solution like vcita to run your operations will save you time and allow you to focus on growing your car detailing business.
You too can build a successful car detailing business
So there you have it, the essential building blocks to get your car detailing business up and running. With a little advanced planning, the right business management software, and some persistence, you can start your own car detailing business and enjoy a steady income.