Coupons have been around forever, but digital marketing strategies make it easier than ever to offer them to clients—and the benefits are greater for business owners too. Instead of simply generating revenue, they can help tell you who your clients are and where they're coming from. With a few clicks, you can create digital coupons in no time flat to capture new leads, stay competitive, and fine-tune your future marketing efforts.
The pandemic has more consumers taking advantage of digital coupons than ever before, but even when people aren't struggling financially, there's an emotional reward inherent in finding the best deal. That means both your clients and your bottom line will both benefit from the right coupon marketing strategy. Below is a primer on coupon codes and how they work, plus 7 strategies that will get your clients in the door (or on your screen) faster by offering coupons.
Digital or physical?
Print coupons usually either have a barcode that can be scanned when a client checks out, or a coupon code that you can enter into a POS system to apply their discount. Although many customers still use print coupons or print coupons off the internet, digital alternatives are becoming more popular every day. Physical coupons might give you an edge in situations where they're paired with other swag (for example, at a trade show), but digital ones are better if you're on a budget.
QR codes can offer a physical-digital hybrid, where the client scans a code with their phone from physical media to access a special offer. Once dismissed as a marketing gimmick, they're making a comeback—particularly after the pandemic, as they're becoming an easy way for restaurants and other businesses to offer hands-free information. These are great if you have a physical location and want to advertise a coupon in your window, or if you want to attach a digital coupon to print media like a flyer or brochure.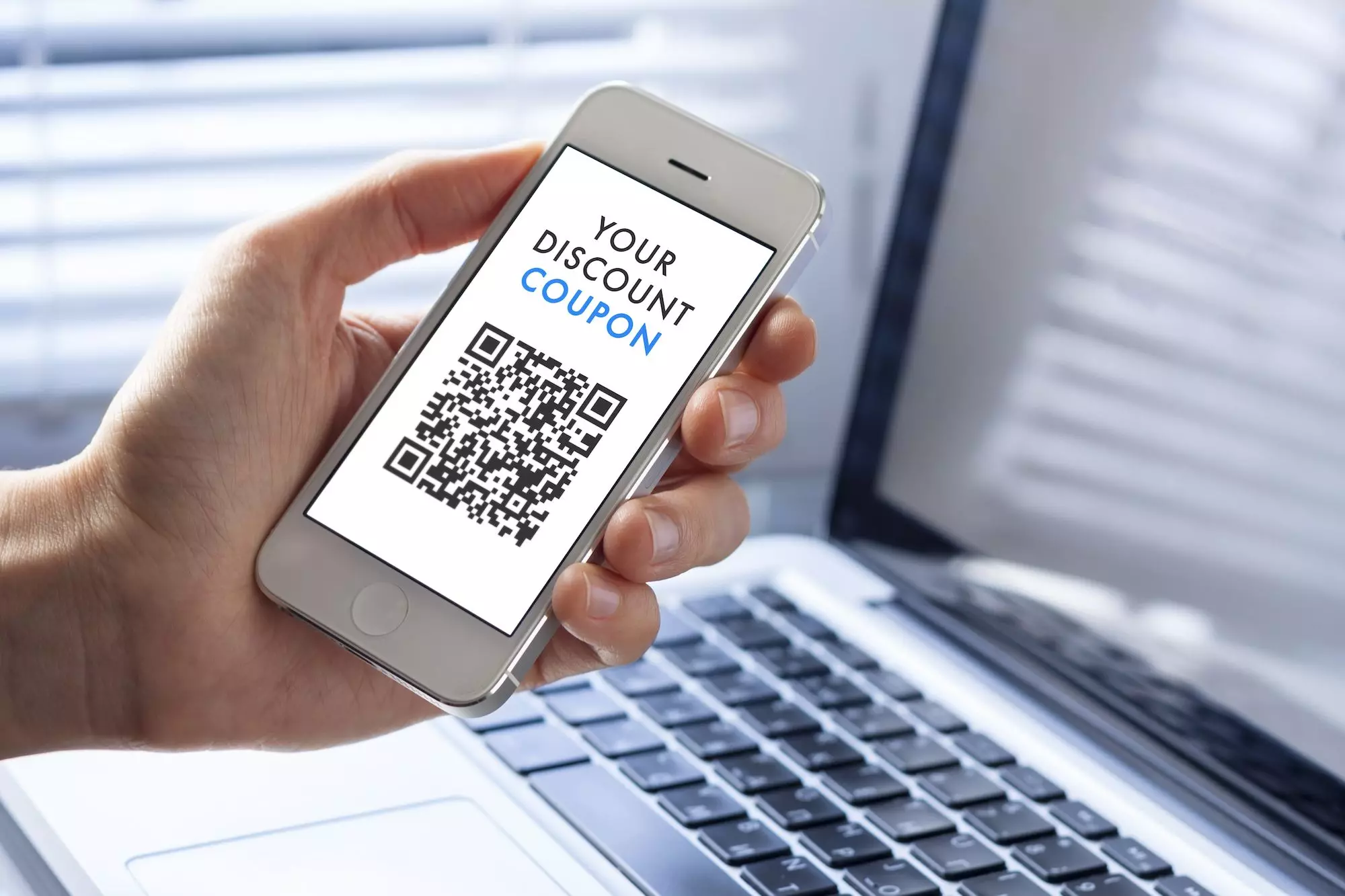 Digital coupons are strictly online, redeemable without any physical media at all. They usually contain a code, a word or combination of characters that clients can enter into their digital shopping carts before they check out to apply the discount to their purchase. They're often distributed through email, posted on social media, or placed in PPC ads or other media. One of the key ways to make the most of digital coupons is to use coupon codes strategically.
Coupon codes tell the story of your client's journey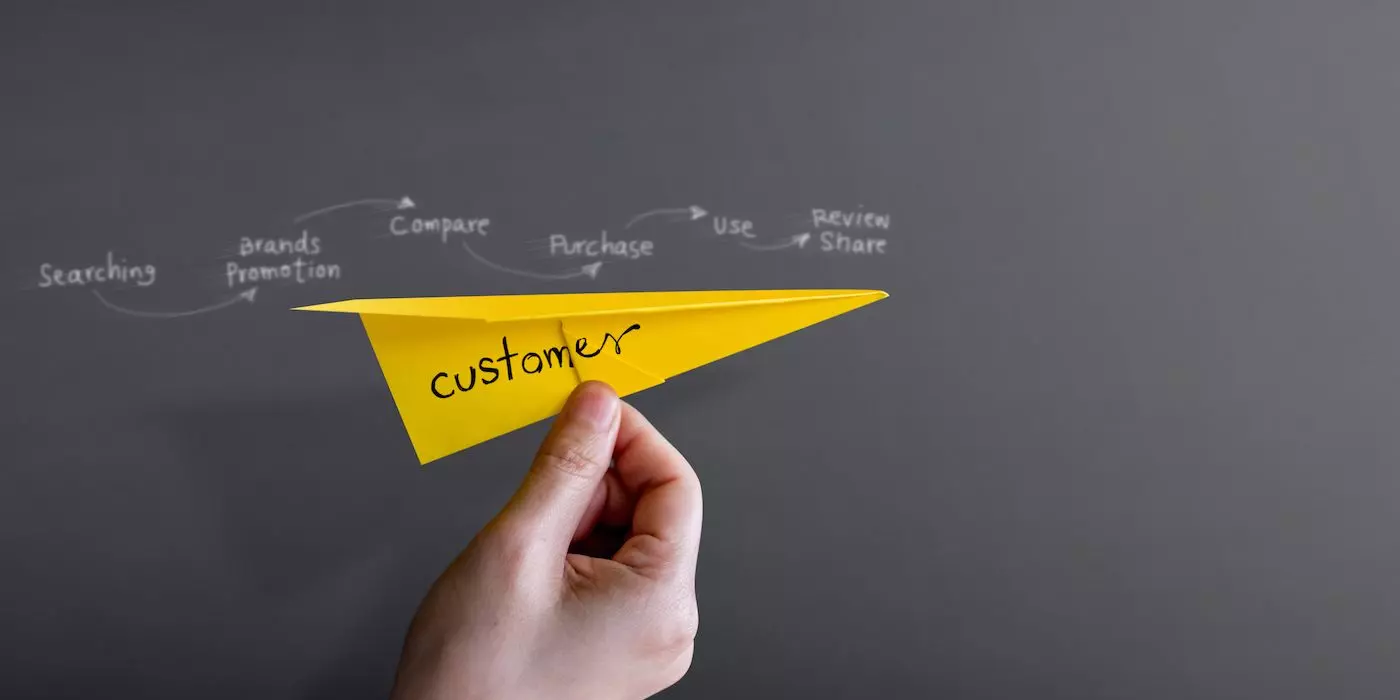 Create a different code for each channel the coupon is marketed on, and you can track where most of your paying clients hear about you. For example, if the coupon appears on Facebook, on a podcast, and on Google Ads, using a different code for each will mean you'll know right away where your client heard about you when they type your coupon code into their checkout screen. Then, you can use that information to direct your advertising to the right platform.
Generally speaking, there are three ways you can use coupon codes:
Public codes—these codes are shareable and available to the public, and can be used repeatedly; they're best for new clients, and have the farthest reach.
Limited codes—these are intended for limited time offers or a limited number of uses; they're best for offering to a small subset of clients, or to create scarcity or fear of missing out as a way to motivate buyers.
Personal codes—these are private, one-time use codes you'd give out to an individual client; they're better for dormant, VIP, or other special category of client.
How can I make a digital coupon?
 Making digital coupons is easy, as long as you have the right tools. Software like vcita offers coupon creation options that you can use to make customized offers for one, some, or all of your clients, on your terms. This software gives you marketing templates you can use to create coupons, and gives your clients an option to click on "I have a coupon" at checkout to enter their coupon code.
After you're set up to create them, you'll have to figure out what strategy to use to offer coupons. Below are our top 7 strategies for making the most of your digital offers.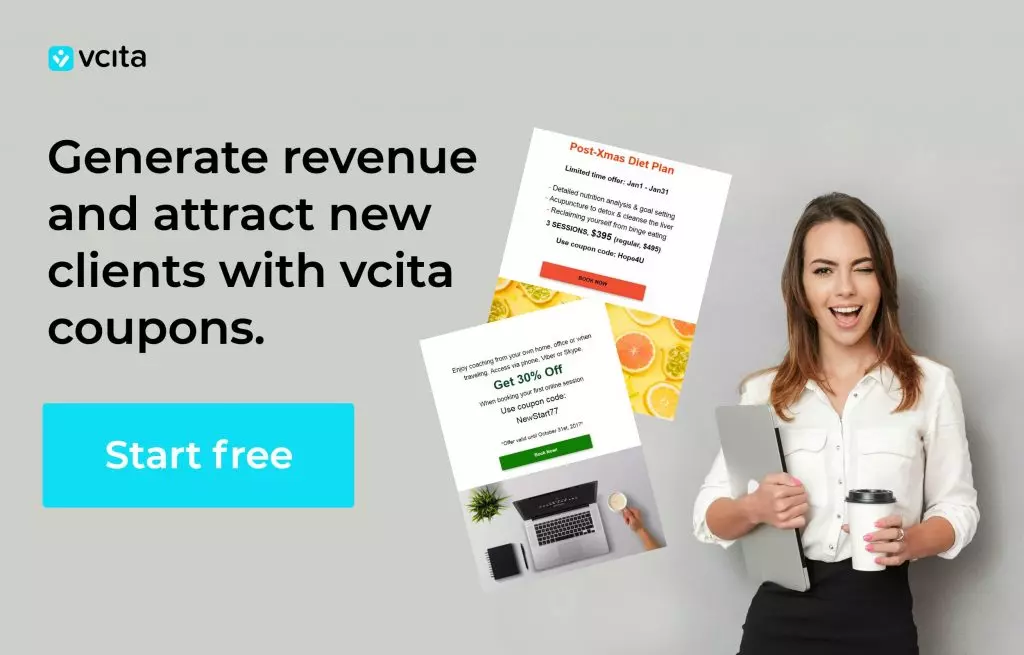 Top 7 coupon marketing strategies:
1. Personalized exclusive offer
Exclusive offers are coupons offered specifically to an individual client or small subset of your client base. These can take the form of milestone discounts for individuals (birthdays, client anniversaries), or offers exclusive to longstanding clients. Done right, it's often a good way to invest in nurturing your VIP clients rather than chasing new leads all the time. Exclusive offers are also the most influential ones, meaning it's more likely that your efforts will pay off.
The key to this strategy is integrity; a lot of brands put the words "exclusive offer" on public coupons, which can erode trust when it's obvious that the offer is open to everyone. Instead, use email or SMS marketing to send the coupon to your client with a personalized message.
2. Lead generation "thank you" strategy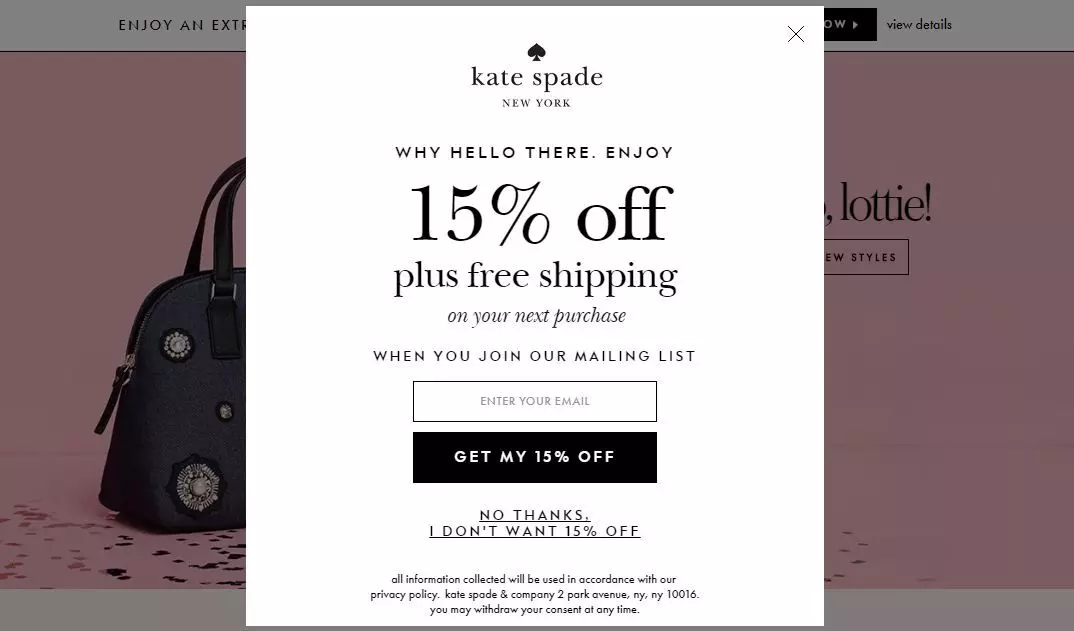 Even if you have the best, most attractive lead generation form out there, new leads still won't give you their data for nothing. An email newsletter can be a tempting offer, but doesn't have the same instant gratification that a coupon does.
One common and effective strategy is to pair your coupon offer along with the option to sign up for your email newsletter. If you use lead ads on social media or lead generation forms on your website, add a line of text or a graphic that tells your leads they're eligible for a deal when they fill out a survey or book with you.
3. Referral program rewards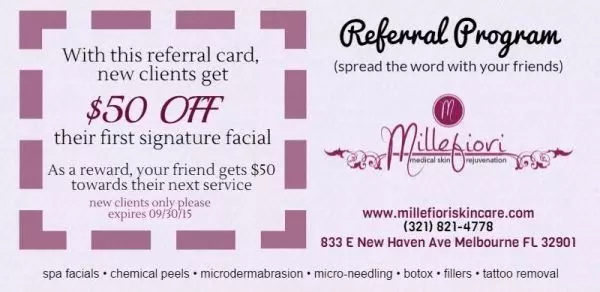 Referral programs generally offer both a reward for the party that refers a friend, and their friend. You can use a specific coupon code for your referral program, or a unique one-time code for each person so you can more closely track the sequence of referrals that follows.
This can be a great way to re-activate dormant clients, particularly those who had a good experience with you and just need a reason to come back. Referral programs also offer them a way to give something to their friends, which is especially effective if your business provides a service they can go to together, such as spa treatments or yoga.
4. Threshold based coupons
With threshold discounts, clients have to spend a certain amount of money in order to activate a percentage off their purchase. These work for both new clients and existing clients, especially if you have big-ticket services you're hoping to promote.
A smart strategy here is to send big spenders a follow up email with a thank you note and a discount offer on their next purchase. This gives them a real incentive to revisit your location or website, making them more familiar with your brand.
5. Limited time offers
 These are discounts available for a few days or a week, usually with a code posted to your social media account or emailed to your subscriber list. It's effective because the urgency of the offer, creating a little FOMO (fear of missing out) that might be enough of a push to convert your leads into paying clients.
As a bonus, it can also encourage leads to follow you on social media, especially if you let your followers know you'll update them with more discounts down the road. Limited time offers can coincide with holidays, or they can give your services an extra boost when things are slow—just make sure to make the expiry date prominent in your ad.
6. Holiday promotions
 A lot of businesses use special promotional codes around the holidays, to create a feeling of mutual celebration. As a public strategy, you could market it as a limited time offer that all of your customers and followers can take advantage of. As an exclusive strategy, you could send your clients a "Happy Holidays" email with your promotional code inside.
Holiday promos can also help encourage your customers to consider giving your product or service as a gift to someone else, particularly if you present your offer during peak gift shopping times. Make a list of gift-giving holidays you'd like to celebrate with your customers, then plan some promotions around them.
7. Loyalty program discounts
 According to a recent study from Juniper Research, digital loyalty programs are set to grow by 30% over the next three years. Loyalty programs usually offer a freebie or discount after a certain number of points are saved up or purchases are made.
This is a great option for encouraging existing clients to become regulars, and offering a discount without devaluing your products or services. Although there's loyalty program software out there, it's possible to record virtual stamp cards in your CRM system too. After clients make a purchase, you can send a thank-you email with an update on how close they are to their next reward, and make it that much more enticing to keep coming back.
A few final thoughts 
Don't be tempted to have too many coupons, or you might risk inadvertently devaluing your service. If you're a high-end brand and you want to communicate quality, offering a loyalty program or exclusive offers is your best bet.
There's evidence to suggest that customers prefer redeeming coupons over simply getting discounts, even if they end up paying more with the coupon. Although coupons are a little more work, they have a higher potential reward for you and your clients.
If you're stumped as to what to offer and how, do a little research. For example, having a limited time offer that makes you less expensive than your competitors might help you get traction with customers in your area.
A little discount for a lot of data
Coupon codes make it so that you don't have to hunt down marketing analytics—your customers will give them right to you! If your coupon strategy is manageable, affordable, and well thought out, these offers can take your digital marketing (and your business) to the next level.