Here at vcita, we're always eager to pick the brains of small business owners to see how we can help our clients overcome their most pressing problems.
And the two nagging problems we hear about all the time?
No-shows and late payments.
Hey, we hear you.
Not only are no-shows and late payments a total time-sink, but they also prevent you from getting paid.
Because the constant back-and-forth involved with reminders and collecting payments can quickly eat up the valuable time in your schedule.
Bad news, right?
And so there's a reason why more and more small business owners are looking for automated ways to communicate with clients. Doing so means more time on your hands and more money in your pocket when you want it.
That's why we invite you to become part of the automated text and email reminder revolution!
What is the main purpose of an appointment reminder?
It's so important for small businesses to have an automated system to take care of reminders and late payments without having to chase clients around.
Why, though? We're so glad you asked!
Clients Love Receiving Reminders
Newsflash: in 2018, the last thing anyone wants is an unexpected phone call.
In fact, most of your clients probably reserve phone calls for their family and closest friends. By default, any sort of business communication is taken care of by text messages and emails.
Sending SMS and email reminders keeps your clients in the loop without bugging them. Your clients are likely just as busy as you are and so your refresher messages are totally welcome.
And in a day and age where people are checking their phones 80 times per day on average, such messages are hard to miss.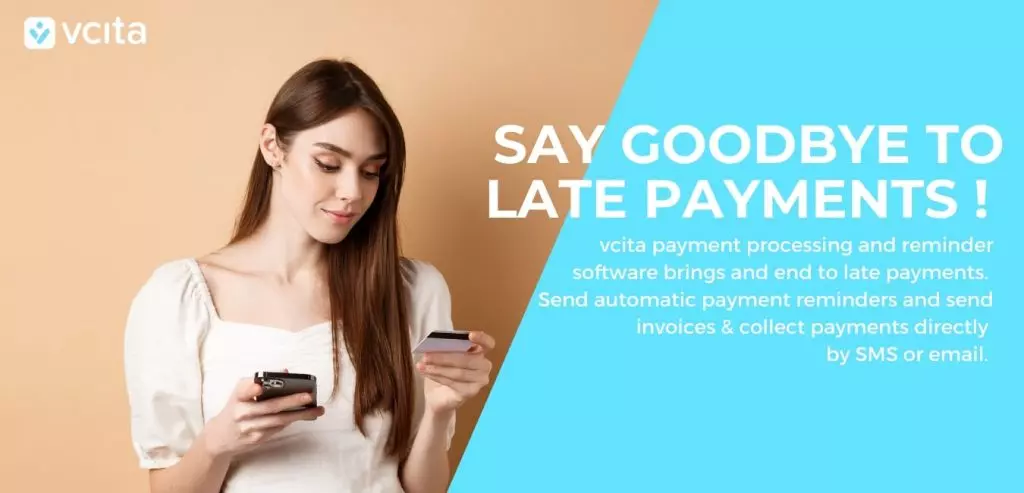 Do text reminders work?
Absolutely! Appointment reminders can translate directly into dollars and cents for appointment-based business owners.
For starters, appointment reminders are a time-tested way to reduce no-shows and late cancellations. Seeing an ever-so-valuable text or email could be the "Aha!" moment to get them through your door.
Payment reminders are invaluable for keeping clients from sleeping on your invoices, too. Rather than do the legwork yourself, putting your reminders on autopilot means collecting without a second thought.
Setting up appointment and payment reminders ultimately allows you to focus on what you love about your business rather than play the unwanted role of bill collector or receptionist.
Your Business Looks More Professional
Especially if you're flying solo, automated reminders give your small operation a big business vibe.
Think about it. If you want to signal that you're organized and run a tight ship, timely reminders reinforce the idea that you mean business.
Templates for efficient appointment and payment Reminders
If you're sold on sending appointment and payment reminders, your head is in the right place!
But the question remains: what should your messages look like, anyway?
After all, reminders need to be short, sweet and to the point.
And while a generic message is better than nothing, it pays to take the time to write messages that convey your business' unique voice and personality.
To help get you started, we've put together a few examples from different industries written in a variety of voices.
Fun and playful? Serious and straightforward? We've got you covered.
Feel free to copy, edit and "steal" these templates as you see fit. No guilt involved!
What do you say when making an appointment reminder?
SMS/Email Type: Appointment Reminder
These messages mean that it's almost time to do your money dance!
But the keyword here is almost.
We all tend to be a bit forgetful and your clients are no different. A friendly online nudge is a smart move to refresh your clients' memories and make sure that they show up on time.
Reminding clients anywhere between a few days, 24 hours or just a few hours before your appointment is totally fair game.
What really matters is that you include specifics such as the date and time of their appointment, where they need to be, who's providing the service and a quick point of contact in case they need to reschedule.
4. Industry: Nutritionist
Message: Hey [client name], it's Julie from Julie's Nutrition! Just a friendly reminder of tomorrow's dietary assessment scheduling for 2:00 PM at 21 Jump Street. Make sure to bring your food diary! Reply to this message if you have any questions or need to reschedule. Thanks!
5. Industry: Lawyer
Message: This message is to confirm your 10:00 AM consultation with John Smith at 123 Main Street tomorrow. If you need to cancel or reschedule, please call or text this number. We look forward to seeing you.
6. Industry: Online Marketer
Message: Just a quick reminder for tomorrow's web presence assessment scheduled for noon with Mark (@OnlineMarketerMark on Skype). We recommend logging on a few minutes early to test your connection. Feel free to reply to this message if you have any additional questions.
If you're using vcita you can edit your "appointment reminder" template by clicking Settings > Auto Client Messages > Reminders. Don't forget the check the "Send via text message (SMS) as well" for the text box to pop up!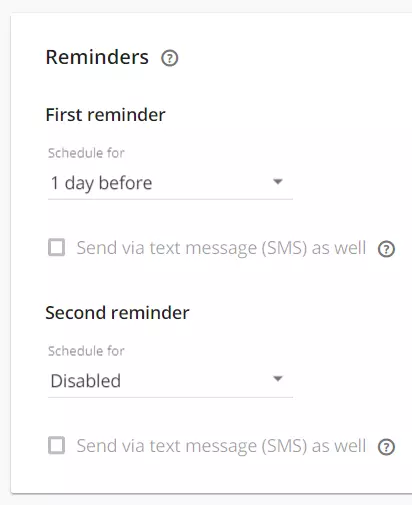 SMS/Email Type: Payment Reminder
Chasing unpaid invoices without chasing clients away is a tedious process that makes us cringe just thinking about it.
The good news? A simple, friendly SMS reminder can save you hours of unpleasant emails and phone calls.
7. Industry: Fitness Instructor
Message: This is a reminder that your payment for our one-on-one session from 9/26/2018 (Invoice #0041) is past due. If you have any concerns, please reply to this message or email me ([email protected]) ASAP.
8. Industry: Business Coach
Message: Hi [client name]. You're receiving this message due to a recent outstanding invoice. Please give me a call at (XXX) XXX – XXXX if you have any questions about this payment. Thank you – Jerry.
9. Industry: Family Counselor
Message: This is a late payment notice regarding our most recent session. To ensure that we continue working together on behalf of your family, please give us a call at this number ASAP to sort this out. Thank you.
If you're using vcita you can edit your "payment reminder" template by clicking Settings > Auto Client Messages. Choose the "Payments" tab on top of your screen. Now, choose "automatically remind client" for the text box to appear.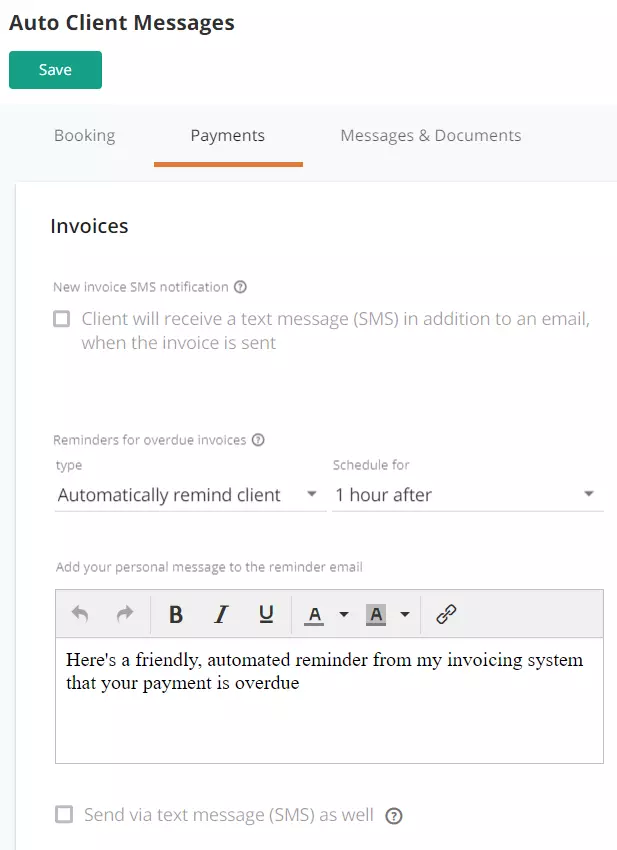 Are You Giving Your Clients That Extra Push?
Reminders are a low-hanging way to ensure that you get paid on time, every time.
And considering how easy it is to whip them up in vcita, there's no reason why your business can't be part of the reminder revolution.
Once you've done that initial legwork of setting them up, all you have to do is sit back and get paid.