"Free" is one of the most powerful words in just about any language, isn't it? And so it should come as no surprise that free consultation call represent one of the most effective ways for small businesses to attract new clients.
Think about it: When somebody's willing to hop on a call, they're prime candidates for becoming a long-term client.
That is, if you can score that ever-so-important initial appointment from your conversation.
Want to turn more of your calls into clients and cash? Good!
In this step-by-step guide, we're going to break down time-tested tactics and strategies so you can do exactly that.
Free Consultation Calls: A Quick Reality (and Mentality) Check
Let's kick things off with a quick reality check.
A free consultation call is a sales tool.
Just like any sort of sales tool, you need a strategy if you want it to work.
This mentality is so important but is also so easy to overlook.
Unfocused, disorganized sales calls inevitably result in wasted time on behalf of you and your prospects.
Because the potential money you're missing out on in just a few 15-minute consultations per week adds up fast.
And time is money, after all.
The time you spend on the phone with prospects is valuable, especially since these calls signal hungry, nearly-qualified leads. Approaching calls strategically is the first step to winning those clients who are almost there.
This mindset keeps you focused on your end-game: a fully booked schedule with lovely clients that are dying to work with you.
Don't Solve Your Prospects' Problems for Free
This is a big one!
The purpose of a consultation call is to understand your clients' situation to see how and if you might be a good fit to help them.
But remember that the actual "helping" part should come after they've paid you.
Consultations are not and should not be brainstorming sessions where you take care of your client's problems for nothing.
For example, if you're a lawyer, your free consultation might explore whether a client has a case or need for counsel. Likewise, it's a chance for you to provide a kitchen table explanation of how you work with clients and how your process can help.
No more, no less.
As such, it quite literally pays to set boundaries during sales calls to keep prospects from scoring free advice from you without ponying up.
Don't assume that someone who wants to hop on a call is trying to dupe you, though. People are going to take free advice if it's offered up: it's your responsibility to set expectations regarding your calls beforehand.
And hey, that leads us directly to our next point!
Set Expectations for Your Consultation Calls
For the sake of closing more callers and setting both parties up for success, it's a smart move to make your consultation expectations crystal clear. Here are some pointers that need to be outlined before someone sets up a call:
Length of the Consultation Call
If you're advertising a 15-minute free consultation, you need to stress that once time's up, well, times up. Be friendly but firm about it.
Again, time is money.
When your calls drag on, the conversation tends to go off-topic which isn't good news for anyone involved.
The Scope of Your Consultation Call
To avoid freebie-seekers and scattered calls, outlining what you're willing to discuss during your consultation is a smart move. This could be advertised on-site or through your appointment booking platform.
For example, a nutritionist might want to know a prospective client's diet history, past weight loss efforts and any health conditions they might have. Such information is valuable for assessing the client and framing a future relationship.
And on the flip side, make it clear that your consultation will not include sample diets or workout routines which are for committed clients only.
What You Offer
On a related note, it's important that you communicate throughout your marketing what your business does and doesn't do.
For example, a life coach is not a doctor. You're not responsible for recommending medications or anything that's outside the scope of your work. If a prospective client isn't clear on this, a free consultation would be a waste of time for both of you.
Setting expectations does double duty of deterring people who wouldn't be a good fit while also reassuring relevant leads that you're offering up what they need.
3 Preparation Hacks for More Successful Consultations
Okay, now onto the good stuff!
Below are three crucial tips to help you prepare for and run successful consultations time and time again. Whether you've done them in the past or are totally new, these tips are fair game.
1. Learn As Much As You Can Before Your Call
The more you know about prospects before you get on the phone, the better.
A great way to filter out irrelevant prospects and figure out what your callers want is to have them fill out a short application form before hopping on the phone.
This clues you in on your prospects' needs and expectations without hearing their life story. Additionally, relevant form fields can provide you with some key talking points which can help guide and prepare for your call.
For example, a life coach might ask a clients' prior experience with coaching or key areas of their life they're looking to improve. With these answers handy, you can offer a comprehensive solution to the problems keeping them up at night.
With tools such as vcita, you can create a customized intake form that prospects can fill-in while booking their free consultation call.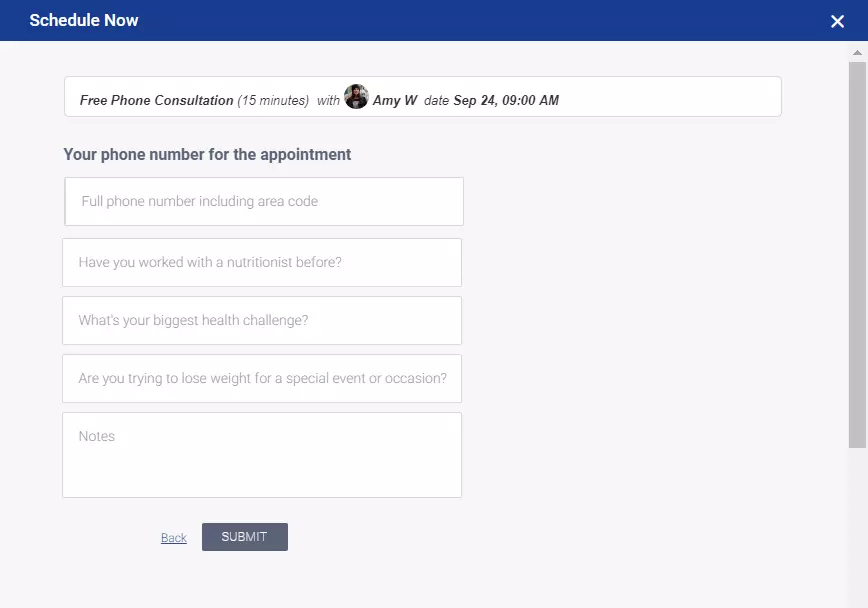 Since vcita's online scheduler integrates with your calendar, your prospects can see your availability and instantly book a mutually compatible time. All that's left for you to do is to review the intake form and prepare great talking points ahead of the call. It's a win-win!
2. Come Up with a "Soft" Script
No two clients are the same, which is why coming up with a hard script often isn't always a good idea for most business owners.
However, structuring your call with a "soft" script can keep things moving without forcing you to sound like a robot.
For the sake of efficiency and touching on all the necessary points to convert a caller into a client, a step-by-step approach to your calls can be a game-changer.
The following is a free consultation format that any appointment-based business owner can adapt to their calls.
Introduce yourself and ask for a brief introduction in return. Briefly explain who you are and what your business does. This is a good opportunity to highlight your track record (years of experience, for example) and signal yourself as an expert.
Address the prospect's main pain point. Based on the customer intake form, reiterate the prospect's main concern to convey your comprehension (or to clarify a misunderstanding). Listening and signaling that you understand the problem is a great way to build rapport with new clients.
Reassure the prospect you can solve their problem. If you feel you're the right person for the job – great! Share the good news with your prospect. Tell them that based on your past experience and expertise, you are confident you'd be able to help them. This is the perfect moment in the call to pop a success story about a client who was facing a similar problem. Success stories go a long way in reassuring prospects that they've come to the right place.
Tell them what to expect. Explain how you typically work with clients so they can get an idea of what your relationship will look like. If a successful resolution requires the prospect's active participation in the process, let them know what you need from them and when.
Ask them if they have any questions. Allow your prospects to discuss any objections they might have and hopefully end the call with confidence and peace of mind.
Empower them before getting off the phone. Thank them for their time and stress that you think that you'd be a good fit for each other (if that is indeed the case).
And that's that!
That wasn't so bad, was it?
3. Predict Objections in Advance
Don't be surprised when you hit a snag during a consultation. Clients rightfully have doubts and objections and it's your responsibility to diffuse them.
Unlike communication via email, however, you're tasked with responding to objections in real-time. You should understand those objections in advance so you can be quicker on your feet and keep the ball rolling.
Some common objections you'll likely face during your calls include:
Pricing. When in doubt, emphasize the big-picture value and return on investment that your client gets from working with you. Money-back guarantees and payment plans can ease your prospects' minds, too.
Proof. If you have positive reviews and testimonials in your back pocket, don't be shy about sharing them with skeptics.
Time. Note that getting started with your business is a total breeze, not a complicated process. The easier you are to work with, the less clients need to stress about whether now is the "perfect" time to do business with you.
Approval. If a prospect says they need to speak to their spouse or partner before committing, it's often a good idea to let them. Be willing to follow up and likewise hop on a call with that very person to get them involved with the process if necessary.
Every client is different, but at least having these approaches in mind is part of being prepared.
Making Your Consultation Call Stand Out
Last but not least, how can you make your call feel like a million bucks to your leads without giving too much away?
Good question! Here's a quick checklist to run against your free consultation strategy to make your calls more enticing:
Emphasize value. In short, use benefit-driven language that makes something as simple as a few minutes totally worth their while.
"Call for a free consultation to see how much you can save!"
"Our free consultation is the first step toward turning your life around."
Make sure your calls are the right length. There is no "right" length for your free consultation, but 15 minutes is fairly standard.
However, you might be able to benefit from guaranteeing a 20-minute call if your competitors are keeping them shorter.
Additionally, just because a call is listed as being 20 minutes doesn't mean you can't get the job done sooner. Advertising longer calls highlights the lengths you're willing to go to on behalf of your customers.
Put prospects at ease before the call. Reality check: most people are terrified to get on the phone in the first place. Anything you can do to make people more comfortable is a plus.
That's why the ability for prospects to pick times based on their schedule and book consultations online is so, so important for modern businesses. With the help of tools like vcita, you ensure that your clients feel comfortable and confident before the phone rings.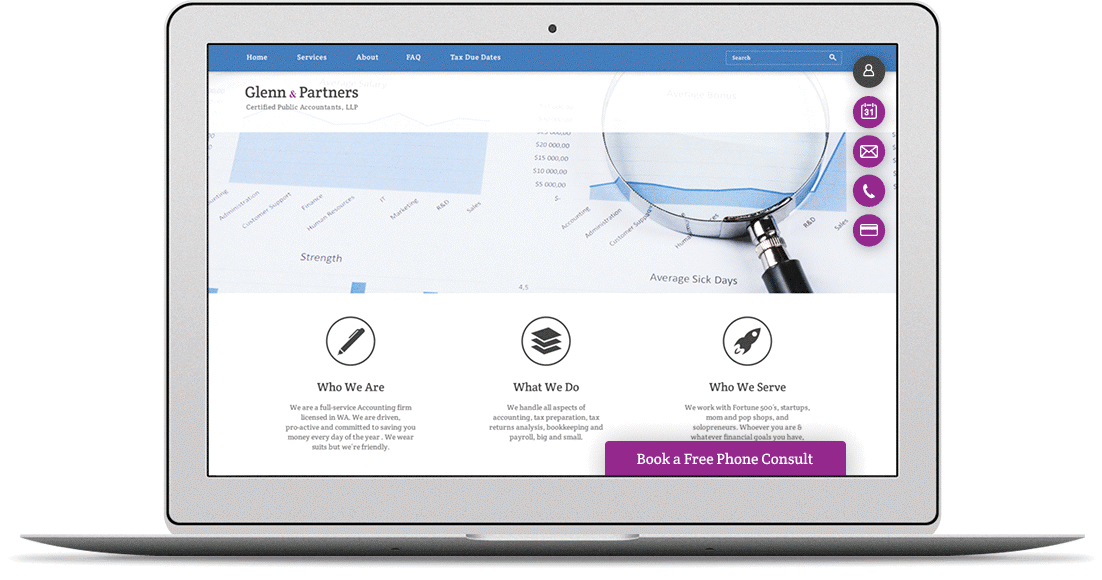 How Are You Scoring Clients with Consultations?
Free consultations are a great way to win long-term, qualified clients if you go about them the right way.
Hopefully this guide served as a much-needed dose of inspiration and know-how for your consultation strategy.
With these tips in mind, you can go into your calls more prepared and turn what-if clients into more bookings!