With consumers making more online purchases than ever before, digital payment solutions are becoming more and more essential. If you didn't accept credit or debit cards online before, there's no better time than the present to start!
Once you've decided to accept online payments, you'll need to decide what payment processing system will work for you. The number of options can make the choice seem daunting, but usually there's a payment solution that fits your business type, depending on how you need to accept payments. Below are a few scenarios, but first, some general points:
A quick primer on online payments
Competition among payment service providers like PayPal, Square, Stripe, Apple Pay, and Google Pay have made for a more integrated, user-friendly experience from both sides of the transaction. Setting up an online shopping cart or online invoice payments isn't the hassle it once was, and customers increasingly expect a seamless online checkout.
Although you might choose to have a dedicated merchant account, many small businesses are opting to go with payment service providers instead becase they're easier to set up, and more intuitive to use. Payment service providers are already PCI compliant, so there's no need to worry about how you're storing information. They do, however, tend to be more expensive, so aren't as great for bigger companies processing large volumes of payments.
Get Paid 60% Faster with vcita –
Securely Collect Payments from Anywhere in a Few Clicks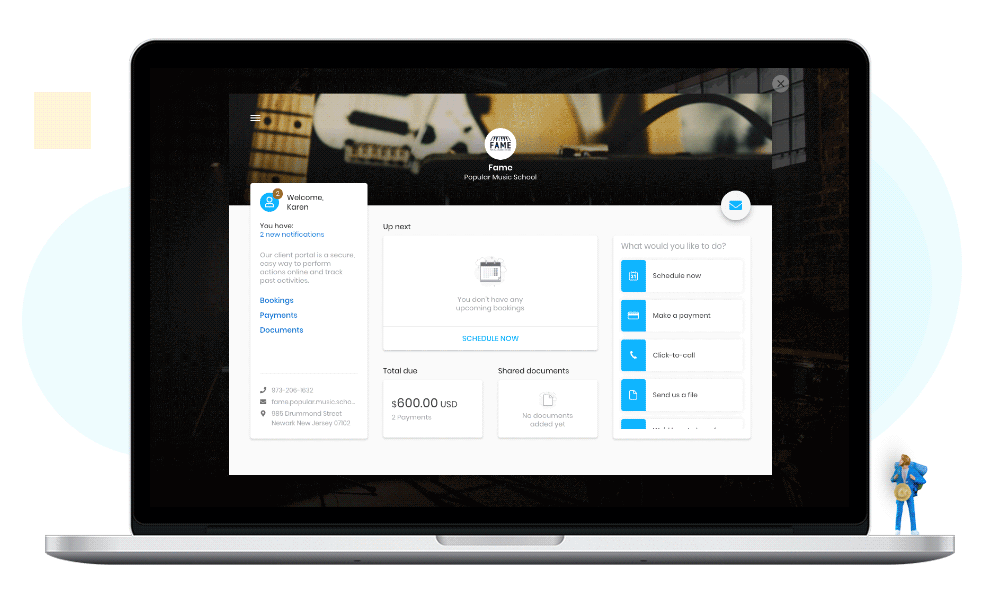 Below is a breakdown of a few different scenarios when you might want specific payment processing solutions, and how to find them:
How can my clients pay their invoices with a credit card?
 Professionals who send invoices manually get caught in the bad habit of only accepting cash or cheques, especially if they have Net 15 or Net 30 payment terms. Even with an online payment portal, it can be tough to redirect clients who are used to paying via cheque. A great solution for this is click-to-pay email invoicing; better yet, most payment service providers have some version of this as an option. Here are the first steps to introducing click-to-pay invoices:
Take a look at the invoice template setup: for each service provider, take a look at the way each invoice is set up, including what details are included and how customizable the form is. Think about your brand identity in addition to the practical features. Can you make an invoice using the software that looks like something you'd want to send out?
Think about other payment features you might need: what if you're looking to open an online store in the future, to sell things in line with your services? In that case, you'd want to make sure the software you choose has options for point of sale payments as well.
Find out how much you can integrate: waiting on payments and keeping track of what's been paid is a huge part of this type of invoicing. If your payment notifications are integrated with your billing, it's a lot easier to keep track of what has been paid and what hasn't.
Can I accept checks online?
 eChecks, the digital version of regular checks, are accepted by some payment service providers. Often, they are used to accept ACH (automated clearing house) payments—or recurring payments that are drawn from your client's bank account. eChecks are more secure than regular checks, and might also be a good option for transitioning clients used to paying via cheque to paying online. One thing to note with eChecks is that their similarity to regular checks extends to their processing time—meaning you may have to wait a few days to see the payment hit your bank account.
How can I charge for a membership or subscription?
Businesses that charge monthly membership fees, like gyms, coworking spaces, and clubs, need ways to accept recurring payments. You also might want to consider this option if you're offering clients long term payment plans on big-ticket items or services, like legal fees or a large cleaning job.
Decide how you'll set up recurring payments: would you like clients to be able to sign up for recurring payments right on your website? Or will you be the person to instate a recurring payment after meeting with them?
Create a payment gateway: if your client is buying a subscription online, you'll need a specialized payment gateway with subscription features. You may find that your payment service provider has an option that works for you, but look into the options before you settle on one, particularly if you're planning to offer subscription-based services.
Decide how you'll manage them: if you're only charging a flat fee, you might be satisfied with a standard payment service provider. For more complex subscription management (like time-based discounts and evolving pricing), a service like Chargebee might be a better option.
How can my clients pay me in person with a credit card?
If you are a therapist, hairdresser, or anyone else providing an in-person service, you might feel stuck either accepting cash or cheques. But it's easier than ever to accept mobile payments with card readers that plug right into your phone and integrate with your payment processing software. To get started:
Do a little comparison shopping: how do you want your customers to pay you? There are a number of solutions on the market, some of which plug right into your phone, and others that operate wirelessly.
Sign up with a provider: you'll need both a card reader and a subscription, which will cost a monthly fee. Some companies, like Square, offer a free reader with the subscription. It may also come with checkout links you can place in your online store, if you have point of sale merchandise advertised online.
Test the reader: before you plug in your reader and charge your clients, it's a good idea to make sure it works properly! Like any hardware, readers can have factory defects and malfunction. Charge yourself a dollar on your own card, and make sure it goes through.
What if I need to require prepayment for my services?
 Cancellations and no-shows are frustrating, and service-based businesses are dealing with them now more than ever before. As a solution, you might decide to require prepayment for the services you offer. It can be tricky to implement, since prepayments for services aren't quite the same thing as a payment for an item. Your customer isn't just paying for the service; they are paying to reserve a particular time slot. In order to accept prepayments, you'll need to think about how to structure them:
Make it clear: when you're requiring prepayments, make sure there's an option for the date and time to be prominent on your payment gateway and receipts. This will help reinforce the idea that they've committed to a specific time as well as a specific service.
Integrate your payments with a scheduling solution: with software like vcita, your client can select a time right from your schedule, in a widget on your website. You can modify your gateway to require prepayments when your client checks out, with the option to revert to post-service payments if you find they aren't working for you. The software will also track your client's payments on their portal, making it easier not to accidentally try to charge someone who has already paid.
How can I offer one-click payments?
One-click payments are ideal for point of sale retailers. Even if your primary business is a service, you might offer complementary products—for example, a hair salon that offers shampoo and styling products online. When you offer one-click payments, your client's payment information is stored securely on your website, making it easier for them to make future purchases.
Think security: with one-click payments, security is paramount. You'll need a PCI certified payment gateway and an SSL certificate for your website—you should have both of these regardless, but they're especially important if you're saving payment information.
Make it simple: make sure your customer portal is easy to navigate, so clients can update their payment information or delete it without any problems.
A few more tips
 However your payment processing is structured, you'll want to make sure you accept the most common payment methods. Accepting Visa and Mastercard is a good place to start, but in some situations it might be important to accept eChecks and debit cards as well. Think about how your clients might want to pay you, or look to similar online businesses and see what their payment options are.
Another thing to keep in mind is potential fees. Every payment solution will have monthly, percentage, or per transaction fees. In general, payment service providers will charge a combination of both monthly and per transaction fees, depending on the type of payments you're accepting. Credit card companies will usually charge a percentage of the total sale.
Online payments mean better cash flow
The easier it is to pay you, the faster that money will hit your bank account. When your budget is tight, that can mean the difference between being able to pay your own bills on time and taking out a loan just to scrape by. Accepting payments online means you'll breathe a little easier with the knowledge that you're doing all you can to help your business grow—and your clients won't stress about having to hunt down their checkbook!