COVID-19 has changed the way that millions of people live and do business. A sense of uncertainty, combined with the need to improve their earning power and financial resiliency, has motivated many of them to seek lifestyle and/or business coaching to give them direction.
If you are a coach, you may already be thinking about how you can transition your business online. When you've always counseled clients in your office, you're probably also wondering whether you can deliver the same quality of service over the Internet.
Online coaching has made significant progress in its delivery methods over the past decade. It has evolved from office visits and telephone sessions to fully-remote coaching services that can be scaled without compromising on support quality. The key is to adopt an online coaching platform with the features and functionality that meet the needs of your practice and your clientele.
They include:
Video conferencing software for online coaching sessions
Online scheduling capability, so clients can book time slots that are the most convenient for them.
Online billing and payments feature
Document sharing to facilitate business contract and therapy material exchanges
A CRM system to store client data such as session history
Depending on the type of coaching business you run (e.g. lifestyle, nutritional, fitness), you may need special client support features like:
Weight loss tracking
Exercise plans
Diet plans
In this post, we will review 5 digital coaching solutions that make it easy to support your clients anywhere and anytime.
1. Vcita
Vcita is an all-in-one business scheduling app with everything you need to manage your coaching practice from a single platform. Whether you are an independent lifestyle coach or employ multiple business coaches to support your thriving enterprise, vcita has you covered.
The online scheduling feature lets you embed an appointment calendar on your website and social media pages or share it via email. When clients reserve a time slot, it immediately becomes unavailable to anyone else and your Google calendar is automatically updated, preventing the hassles associated with double-booking. The client receives a confirmation message with the Zoom video URL for their upcoming session and, as the appointment time approaches, automated reminders reduce the likelihood of a no-show.
What makes vcita stand out from most scheduling apps is the customizable client portal. In addition to scheduling, cancelling, and rebooking appointments, your clients can:
Pay online
Share and access files such as invoices, workbooks, and exercise or menu plans
Review their past communications with your office
This combination of convenience and transparency inspires the trust that encourages a repeat clientele.
Features
User-friendly dashboard
Zoom integration for video-based sessions
Secure payment processing via credit card or PayPal
Direct and private messaging between coach and client
File uploading and sharing
Two-way syncing with Google Calendar
Email and SMS meeting reminders
Pricing:
Vcita offers four pricing plans, all of which offer a 14-day free trial.
Online Scheduling ($12 USD per month): Support up to 300 clients with online coaching services. Client portal included.
Essentials ($19 USD per month): Includes powerful client management features such as billing, invoicing, and automated reminders.
Business ($45 USD per month): Features useful and effective marketing tools like email and SMS marketing and online coupons.
Platinum ($75 USD per month): All of the client management and marketing tools of the lower plans, plus advanced features such as individual client portal domains and customized email and notification templates.
2. TrueCoach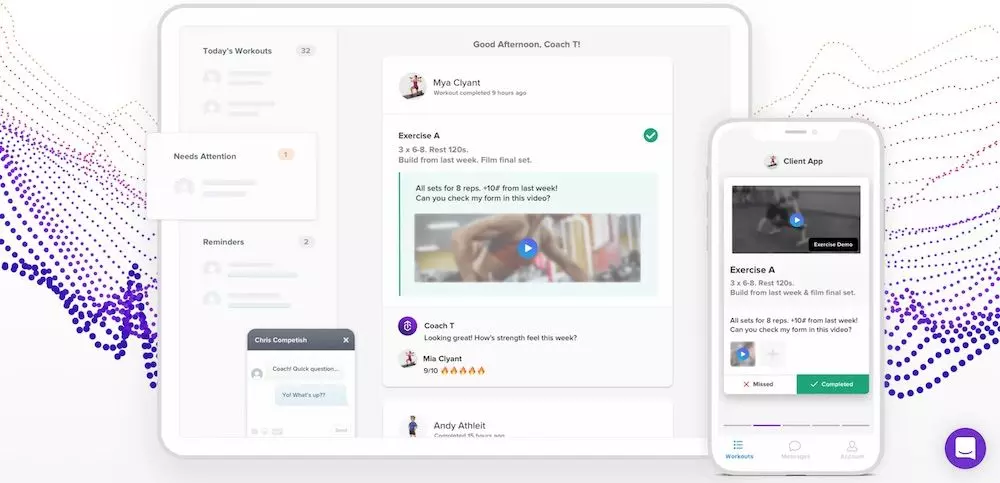 Designed to meet the myriad client management needs of personal trainers, TrueCoach makes it easy for fitness professionals to communicate with their clients, create and deliver personalized exercise plans, and monitor progress.
You can use the free-form Workout Builder to create client exercise programs. The built-in calendar lets you see their past workout regimens at a glance, making it easy to increase resistance or repetitions. As you type exercises in, the builder automatically links to preloaded videos that illustrate how to do them. You can use these fitness library assets or create and use your own videos.
The TrueCoach client management system is robust. The email notification system alerts your clients of scheduled workouts ahead of time, making it less likely that they will miss sessions. Both sides can track exercise and nutrition history, log results, and adjust goals over time.
Perhaps the biggest drawback to TrueCoach is that clients can't pay online for sessions, but according to its website, this feature is currently in beta. Live video conferencing is also not available, but if clients have any questions about their workouts, the app has a real-time messaging feature.
Features
Free-form workout builder
Video exercise library with over 1200 preloaded videos
Real-time messaging through the app
Email notification of upcoming workouts
Easy tracking of metrics and progress history
Nutrition tracking
Compliance tracking for 7, 30, and 90-day periods
Pricing:
TrueCoach has three plans available. Only trainers have to pay: their clients can use the platform free of charge. All plans have free 30-day trials available.
Starter ($19 USD per month): For smaller fitness practices with up to five active clients.
Standard ($49 USD per month): Covers up to 20 active clients and allows you to customize tools with your brand.
Pro ($99 USD per month): Covers up to 50 active clients and includes branded themes capability.
3. Nutrium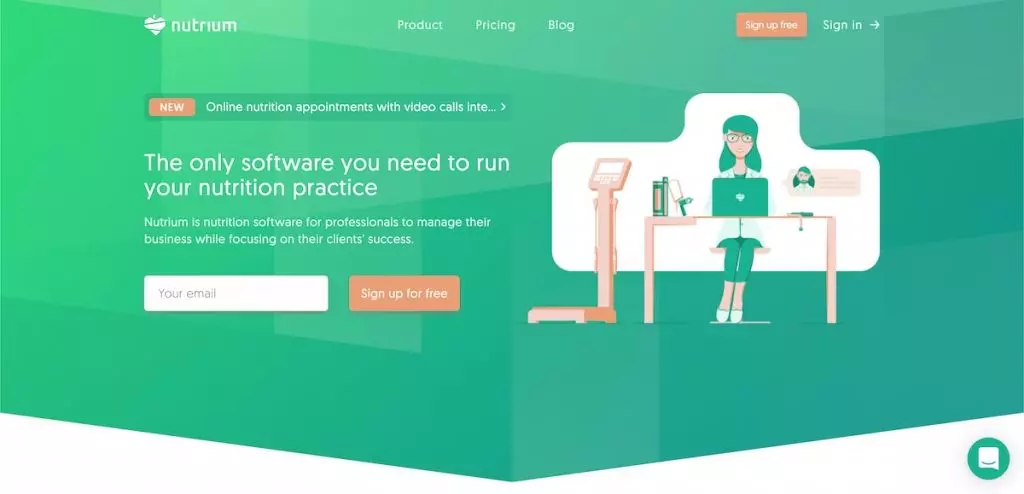 If you are a dietician or offer some form of nutritional counselling, Nutrium makes it easier for you to work with your clients online and help them reach their health or lifestyle goals more quickly. Although intended to provide client support between in-person consultations, you can use it to transition your nutritional coaching online.
After collecting client information and inputting it into the Nutrium dashboard, you can create and email meal plans and send automatic plan reminders, such as "Drink more water." The client can use the system to record weight, water intake, and physical activity (either manually or via the AppleHealth or GoogleFit integration). The built-in messaging feature ensures quick and easy communication if either of you has questions or needs to follow up.
Like vcita, Nutrium has a user-friendly online booking system, and virtual consultations are available using services such as Google Hangouts, Zoom or Skype. The one drawback is that online payment processing is not available through the app: you have to bill clients separately.
Features
Create and maintain client health records
Video conferencing integration
Telehealth integration
Online appointment booking
Mobile app for clients
Meal planning and tracking
Appointment reminders to reduce no-shows
Pricing:
Nutrium offers two packages, both of which have free 14-day trials available.
Meal plan ($28 USD per month): This introductory plan has everything you need to set up and manage client appointments, meal plans, and nutritional assessments.
Follow-up ($44 USD per month): Designed to encourage client retention, this package has all the features of the Meal Plan plus interactive tools like real-time messaging and client monitoring.
4. CoachAccountable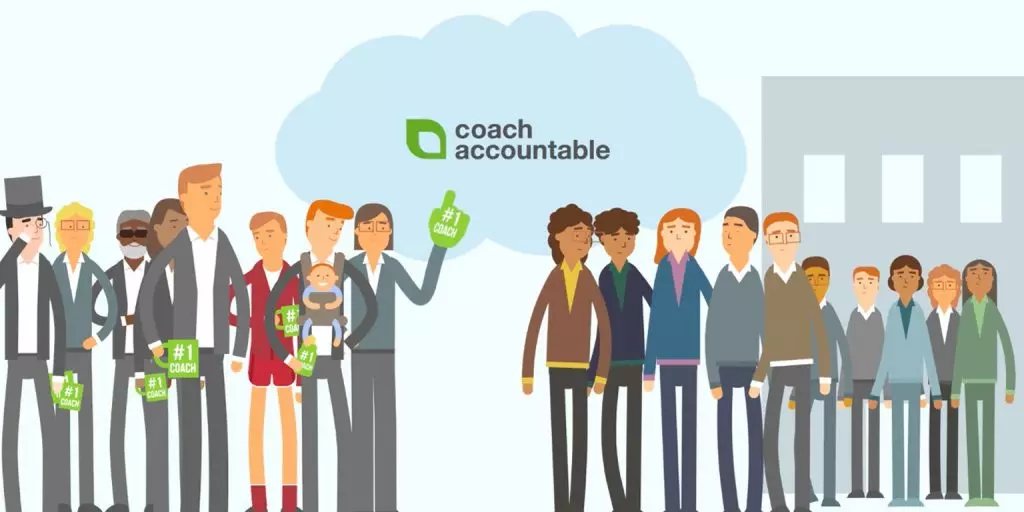 CoachAccountable is a cloud-based coaching management platform that helps all kinds of coaches manage their practices online. From personal trainers and nutritional counselors to lifestyle and business coaches, its features keep you accountable to your clients and your practice in great shape online as well as off.
The online booking software lets current and prospective clients book sessions with you and have their personal calendar (and yours) reflect the new appointment. As the appointment date draws near, both coach and client receive email reminders to ensure that no one forgets the event.
CoachAccountable reduces the time you spend on administrative tasks. You can:
Generate one-time or recurring invoices that clients can pay through your Stripe or Square account.
Sign and manage client contracts
Send intake paperwork and assignments to clients
The Zoom integration feature supports effortless video conferencing from anywhere. If you need to share videos, embedded media, links, and other coaching assets, you can do so through a client portal and see if and when your client has accessed an item. If you own a multi-coach enterprise or decide to expand your solo practice, CoachAccountable has group coaching capability that supports your growth.
Features
Branded client portal
Video conferencing via Zoom integration
Online appointment booking with two-way calendar sync
Automated appointment reminders
Online invoice payments through Stripe or Square
Share documents and other files online
Appointment reminders to prevent missed appointments
Pricing:
There are two types of plans, each one offering a 30-day free trial.
Single Coach: Designed for solo coaches, pricing ranges from $20 USD a month for two active clients all the way up to $400 per month for 100 clients.
Team Edition: If you're part of a team, pricing starts at $100 USD per month for 10 clients and scales up to $4,000 per month for 1,000 clients.
5. Satori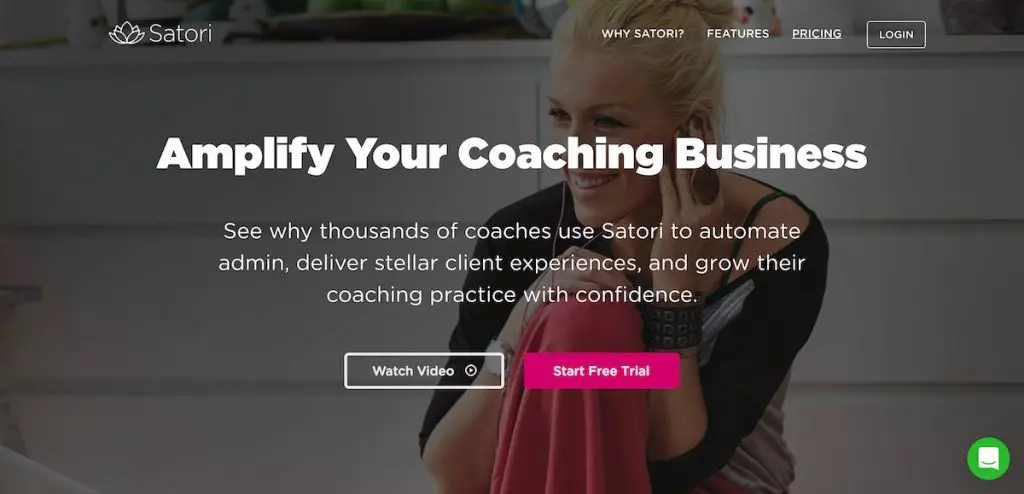 Satori combines multiple aspects of coaching client management into a single platform that's packed with powerful yet user-friendly features. Build detailed client profiles, personalize their coaching sessions, and deliver a seamless and professional experience.
Designed to support all types of coaches and their clients, Satori lets you invite bookings from your site, blog, social media platform, or email signature. Clients who sign up can receive a pre-session questionnaire that gives you the information you need to help them get the most out of their initial appointment, and the ability to pay online helps ensure that you don't have to deal with no-shows.
The secure client portal increases engagement by letting people manage their own schedules, update their profiles, and access their agreements and billing history. Although there does not appear to be any video integration, you can still email a Zoom or Skype link prior to the session and coach clients online.
With its effortless client onboarding experience and automated administration and follow-up, Satori makes it possible for you to grow your online coaching practice without compromising on quality of service.
Features
Secure client portal
Online appointment booking
Online invoice payments
Syncs with personal calendar software
Easily schedule and manage multiple sessions
Group sessions available
Pricing:
There are three Satori plans, each one with a 30-day free trial.
Starter ($35 USD per month): Includes 10 active offers, 20 active client agreements and up to 60 monthly sessions.
Trailblazer ($59 USD per month): 20 active offers, 40 active client agreements and up to 120 monthly sessions.
Pro ($99 USD per month): Unlimited active offers, active client agreements and monthly sessions.
Conclusion
As a professional coach, you'll appreciate how these 5 best online coaching platforms can help your business make the transition from in-office appointments to virtual sessions. You'll enjoy access to a larger client base and, by automating some features and empowering your clients to assume others, you'll no longer have to waste time and energy on tasks that don't add value to your clients and your practice.