Operating a small business requires sending your customers invoices in which you ask them to pay for your services or products. This is how you get your payments, keep proper records, and deal with your accounting and taxation requirements.
Creating an invoice that shows off your business in the best possible light includes following a set of simple procedures virtually anyone can do, and we'll go through them in detail.
Oh, you already have experience in this area? Well, we suggest you bear with us anyway, as you still might learn a few tips and tricks to polish your invoices.
How to create a professional invoice – step by step
Although invoices may differ depending on the business, there are some basic steps you should follow in creating one that easily catches the attention of your clients, thus facilitating faster payment.
1. Make your invoice is easy to identify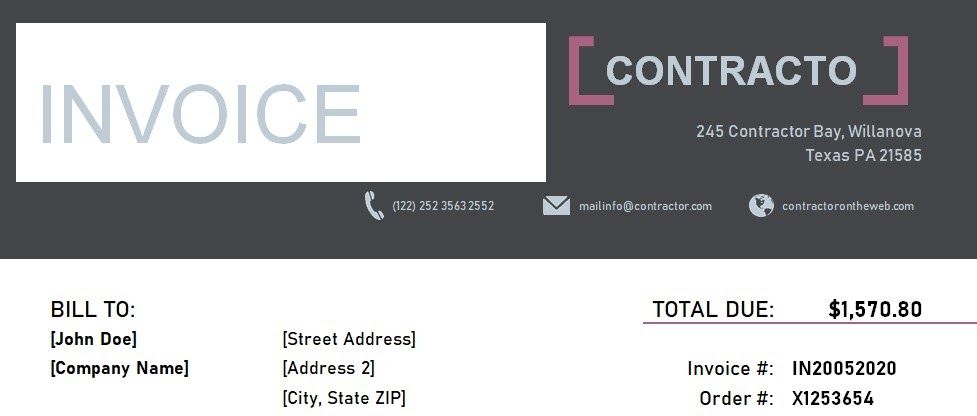 The simplest way to make your invoice documents stand out from the many other documents your clients probably receive daily is by clearly displaying the word 'invoice' at the top of the document. You'll also need to assign it a unique identification number for your own record-keeping requirements.
2. Include both sides' information

Your invoice needs to contain essential contact information for both your business and the business you're invoicing, including:
your and/or your business' contact information – name, address, phone number, and email

your client's contact information
3. Add the dates

Your invoice also has to include the supply date – the date when you provided your service or goods, and the invoice creation date. The supply date can stand in the description of your items and the invoice creation date near the top of the invoice – next to yours and/or your customer's contact details.
4. List and describe the invoice items

In addition to throwing the names of goods or services on paper, you'll also need to provide a brief yet precise description for each of them. Each item and its description needs to be followed by the item's quantity, hours worked (if applicable), price, and subtotal for each service.
5. Write the total amount of money due
In addition to writing the price or rate of each item in the invoice, you'll also need to add them up and write down the total amount due, along with any discounts and applicable taxes.
6. Remind about the payment terms
Even though you've probably discussed and agreed with your client about the payment terms, you should still make a note of them at the bottom of the invoice. The terms may concern the payment due date, methods of payment, late fee policy, and the like. If you're using bank transfer as the payment method, you'll also need to include your account number and other relevant details.
Extra tip: Give your invoice some personality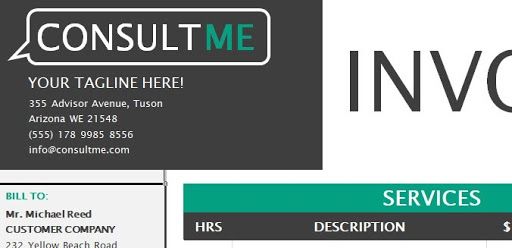 Your invoice should look professional and represent your brand visually. To make sure you stay on brandachieve this, you'll need to use the fonts and color scheme of your business wherever possible, as well as place your logo at the top and bottom of the invoice.
How to create an invoice with Microsoft Word?
As one of the handy platforms that can help you create your invoice, you can use an invoice template from Word's library or start from scratch if you feel like it. Let's look at the procedures involved in each method.
Using Word invoice templates
1. Open a Microsoft Word invoice template
Open Microsoft Word and click File. Select New and filter out the offered choice of templates by entering the word 'invoice' in the search bar. Pick the one that best fits your brand and requirements. You can also choose from vcita's big selections of invoice templates for Word.
2. Customize the template
Double-click on your chosen template to open a new Word document. Fine-tune its details to your needs, incorporating all the steps we listed above – dates, invoice number, contact details, items, the total amount due, payment deadlines, and payment terms.
Using a blank Word file
1. Open a new Microsoft Word blank document
Start by opening your Microsoft Word app, clicking File, and choosing New Document, which will open a blank document for you.
2. Add a header
The first thing your invoice needs is a header. Here you'll add your brand's logo, business details, and insert the word 'invoice'.
3. Include all the relevant details
This means including all the steps described above: the date, invoice number, client's contact details, total amount due, payment terms, and payment deadline. The invoice date and unique number should be right below the header.
4. Create a table for items
The easiest way to list the items being charged, their descriptions, lengths, quantities, and prices, is by creating a table in Word.
5. Add a footer
Here you can add any special notes, reminders, signatures, thank-you messages, and so on.
How to create an invoice in Microsoft Excel
Just like Word, Excel offers existing invoice templates but also allows you to make an invoice from scratch. Follow these steps to make an invoice in each of the methods:
Using an Excel template
1. Open a Microsoft Excel invoice template
Open Excel on your computer. Click on File, select New and find templates for invoices or type 'invoice' to see them immediately. Select the one you want to use. You can alternatively use one of vcita's pre-designed invoice templates for Excel.
2. Customize the template
Incorporate all the steps described in the first part of the article. This means adding the logo, contact information, invoice and supply date, items, descriptions, rates, etc. – all using your business' colors and fonts.
Using a blank Excel file
1. Open a new Microsoft Excel blank document
Start Excel, click File, and choose New Document to open a blank Excel document.
2. Insert a header
Add a header with your brand's logo, your business contact details, the invoice date, and its unique invoice number.
3. Add the rest of the details
Do all the steps and insert the rest of the necessary details we described above – the supply date, your customer's contact details, items you're charging for, quantity/hours worked, rates, payment time frame, and payment terms.
4. Calculate and add the total amount due
Excel allows you to easily calculate your total amount due, thanks to its SUM function. You just need to add up the subtotals in the relevant column and cells, by typing something like =SUM(D1:D12). This adds up the amounts in Column D, from cell one through 12.