As a financial service provider, you may not have considered a CRM as essential for your business. The bricks and mortar of financial providers are Quickbooks and other fintech tools, right?
Actually, the right CRM can help you boost your revenue, maintain relationships with existing customers, get paid faster and avoid admin and scheduling time. Here's a breakdown of how vcita's all-in-one business management solution can help you manage and maximize your business, even after tax season is over.
Streamlined scheduling when it matters most
During tax season, scheduling can feel like putting out a series of fires. Former customers, current clients, and people who are potentially interested in retaining your services are likely bombarding you with requests for meetings, both in-person and virtual.
Tax season is the bread-and-butter time for your business, but keeping track of competing scheduling requests and leads can be overwhelming. Although this is the time where following up with every single customer, potential or current, matters most, many financial service providers find themselves scrambling to sort through leads and book consultations or appointments that will result in sales.
A generic contact form on a website for a potential customer to reach out and express interest in working with you is a decent stopgap measure. But as a tax provider, if someone left you a message or voicemail and is waiting for you to respond, you've already missed a critical opportunity to speak with them.
vcita's online scheduler ensures that connections with leads or returning and existing customers are never squandered. With an automated scheduling feature that lets clients set up a meeting nearly instantly, including booking confirmations and reminders via email and texts, your customers feel seen and heard by you.
They can choose whether they want an in-person or digital meeting, and gain the security of knowing that they have dedicated time and space with you. Existing and returning customers, along with leads, get the message that they are valued by your business.
That's not to mention that in today's world, where people have a strong preference for interacting with businesses through texting and other message-based channels, rather than phone calls, an online scheduler meets the needs of the current customer experience landscape.
The traditional method of scheduling – a back-and-forth which sees both parties toggle through their calendars until they find the ideal time – creates a situation in which you or your office staff waste valuable time on a task that can be streamlined via vcita's solution. Tax seasons means using your resources and manpower hours as wisely as possible, and an online scheduler frees up you and your staff from the manual scheduling process that can slow things down.
Payment collection for peace of mind and an eased workload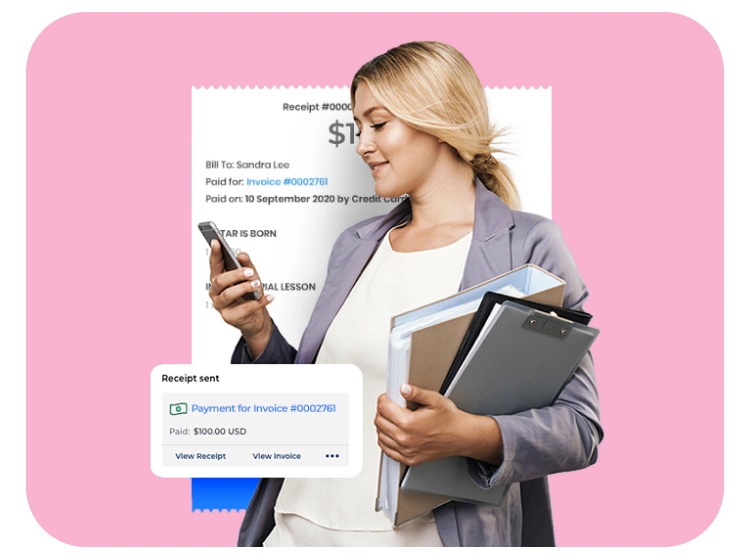 Even if you're a financial service professional, managing invoices, billing, and payment collection can be a time-consuming slog – especially during the chaos of tax season, when your business' daily operations have spiked. Whether it's from a lack of hours in the day to chase down customers and collect on their bills, or a reluctance to approach a longtime client regarding an overdue payment, dealing with payments and accounts receivable is often cited as one of the biggest challenges facing small businesses.
vcita's online system for payment authorization and processing is a game changer. This single source of truth contains your entire billing history, organized by customer and date, along with documentation and any message history between you and the client. Clients will also love the ability to pay online, via their email or even through a text message link sent to their mobile phone. Seamless payment collection eases the burden on both you and your customers, and puts the power back in your hands to ensure that you can collect the compensation you're owed in a timely, stress-free way.
With vcita's payment processing, you can charge your retainer or full amount up-front, send estimates, collect a deposit, or issue an invoice after your service has been performed. For ongoing matters, you have the ability to store a credit card on file and charge the customer as needed. Because everything you need is available in just a few clicks, you can take the guesswork out of payment processing for you and your clients.
An intuitive CRM so your business can grow to scale
A solid CRM (customer relationship management) platform is a must for modern businesses in any industry, but this is particularly important for financial service providers contending with an influx of inquiries during tax season. vcita's CRM gives you crucial visibility and an organized space for your clients. As an accounting or tax firm, your goal is to retain both existing clients and win new ones. Our CRM provides the ideal place to keep crucial information about leads and long term clients in one place, rather than siloed in scattered emails or Google sheets.
Imagine being able to see your entire contact history with a specific lead or current customer, all the details of their business, estimates you've sent, documents you've shared with them, and other pertinent information, with just a few clicks. You can work better and smarter when it comes to outreach, customer retention, and lead generation with a CRM in your marketing and customer service arsenal.
You can also automate vcita's CRM to ask important questions when onboarding a new client or screening a lead, such as how long they've been in business, what services they're seeking, and their timelines. This information gives you a clear pathway to actionable next steps, so you can more quickly and accurately demonstrate your value to potential and existing customers.
Marketing campaigns for maximum impact, year-round
Because accounting and tax businesses are seasonal, many businesses have resigned themselves to the idea that outside of tax season, their clients will disappear. But that doesn't have to be the case. If you leverage a robust and well-targeted marketing campaign, you can enjoy business from your clients even outside of tax season.
First off, with so many competing services ahead of tax season, it's key that you remain top-of-mind among your former customers and leads. You need to get ahead of the pack and reach out in the summer, being the first to remind your clients about the upcoming deadlines.
An automated marketing campaign can help you stand out from the crowd and keep you ahead of the competition in a saturated market. The best thing about vcita's marketing campaigns is that they're template-based, meaning that you don't need to be a marketing wizard to use them. You can segment and target customers on your lists, using straightforward tags, so that messages will reach the right eyes.
You can even set up "happy birthday" campaigns, which will reach out to your customers on their birthdays. Even without a specific agenda in mind when doing this, you can foster a sense of brand loyalty in your customers simply by reaching out to them on their special day.
Other automated marketing campaign features include messages automatically triggered by a lapse of a set period of time since interacting with the customer. If you haven't been in touch for 9 months, for example, you set vcita's automated campaign feature to send them a friendly nudge checking in on them.
Refer a friend campaigns are also an effective way to generate new leads. These campaigns enable you to tap into your existing client base, giving them the ability to refer a friend to you and receive a reward for doing so. You'll gain the natural sense of trust that comes with a word-of-mouth referral, as well as save money on lead generation.
A powerful business management platform for tax season and beyond
vcita helps financial service providers both during and after tax season. If you're interested in learning more about how we can help you optimize your business all year round, schedule a demo with us. We'd love to show you more about how we can benefit your business.