There are loads of benefits to being an independent service provider. You can set your own hours, be your own boss, and choose which jobs to take on. But there's also a downside, and that's… having to find the jobs. By yourself. 🎃
You're great at what you do. So in an ideal world, people would be banging down your door, begging to pay you to fix their sink, style their hair, or train them to run a marathon.
But this isn't an ideal world. Shucks.
In this cruel, cruel world, you usually have to put in effort to draw more clients. If you could do with a little more paid work (couldn't we all?), try these 7 tips to securing work as an independent service provider.
1. Boost your Search Engine Ranking
"Where's the best place to hide a dead body so that no one will ever find it?"
"Page 2 of Google's search results."
Take note: If you don't want your business website to end up keeping company with cadavers on page 2, you need to work at it. Simply having a website is good, but it's not enough. You need to optimize for search engines, too.
Including the right keywords and getting quality links from other websites makes the difference between your business getting plenty of customers from page 1 of Google, or getting buried on page 2.
It doesn't take long to learn the basics of SEO online, and tools like Yoast SEO help you put in the meta tags and keywords that boost your ranking.
Additionally, if you don't already have a Google My Business listing, you should set one up ASAP. Google gives extra SEO points to businesses with a GMB profile, especially if you make a point of getting Google reviews from your customers.
If someone searches for your business name directly, a full Google My Business profile will show up on the side of the search results and impress customers.
This is particularly recommended for service-based businesses with a physical location, like a plumber's company or a hair stylist. If you run a web-based business like graphic design or copy writing, then Google My Business – while still a good idea to set up – won't drive the same amount of benefit.
2. Enable customers to book your business right away
Have you ever met someone who needed assistance procrastinating? (If so, tell them to send us their resume; we want to hire them.)
You don't need to help your customers procrastinate; they can do it well enough on their own. If a potential customer has decided that they want to book a visit or make an appointment, they should be able to do so straight away. If they need to wait several hours – or days – until someone is available to answer your phone and schedule them, you've as good as lost them.
Just imagine that Clara Customer decided on 10pm Wednesday night that she needs a haircut desperately. She finds your hair salon online, but – alas! – finds she can't make an appointment until you get to work at 9 o'clock the next morning. Well before 9am Thursday morning, Clara has been recommended by a friend to a different local hair stylist – who has a booking system that's available 24/7.
Ouch. Don't let that be you.
If you use an online scheduling software like vcita that integrates with your website, social media channels, and Google My Business profile, there's no chance of missing out on the customer. She can immediately see your schedule, choose the most convenient appointment slot, and make her booking, directly from her smartphone or other device.
That's the 21st century way to do things.
3. Join Forces with Other Businesses
One of the best ways to secure more work is to form strategic partnerships with other businesses. Search for small businesses which complement your line of work and give you the opportunity to direct clients to each other.
If you're a nutritionist, make a deal with someone nearby who's a personal trainer. If you're a wedding planner, connect with a cake decorator. (Judging by how many brides say, "I just need to lose 15 pounds to fit into my dress!", nutritionists and wedding planners could probably form very lucrative alliances, too.)
It's a win-win-win situation: you'll get more customers, the other business will get more customers, and your client will be happy because they got a recommendation for an excellent independent service provider without having to search through reviews and ratings.
4. Ask for Reviews, Recommendations and Referrals
We've become suspicious folk in the 21st century. We don't trust marketing, advertising, big business, or even the government. What do we trust? Online reviews by ordinary people, even if we don't know them. Strange but true.
That's why it's very important to build up a series of positive reviews. Don't feel shy about asking a happy customer to leave a 5-star rating and a positive review on your Facebook page or Google My business listing.
The easiest and fatest way to get referrals from customers is to send them a nice email asking for their support. Don't make them work hard though! Make it easier for customers to drop a review by adding a link that will land them directly on your social media or Google listing.
If you want to go full professional, you can use tools like vcita to set up an automated email campaign that will be sent to your clients right after they visit with you, when their satisfaction is at its highest.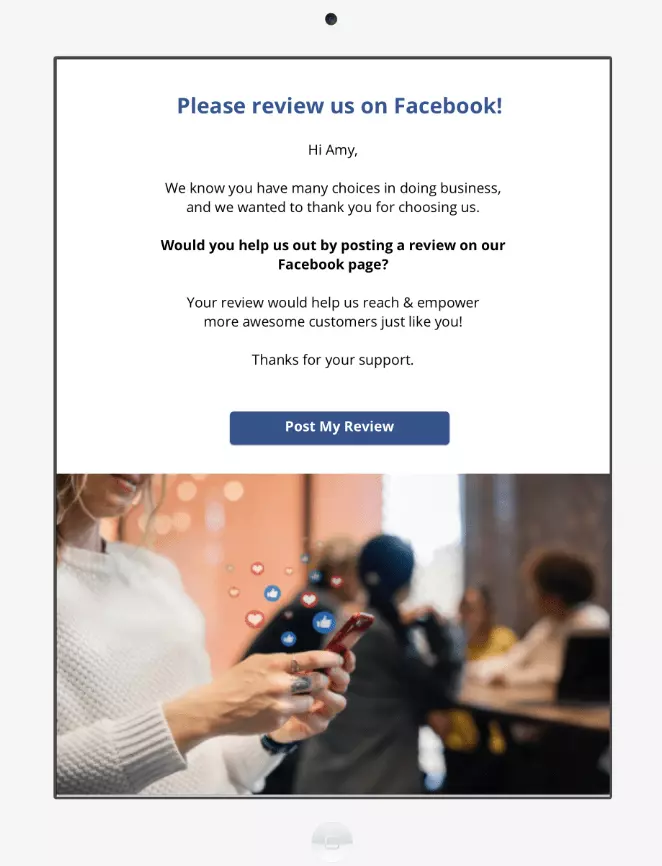 In the same vein, it's important to ask previous customers to reach out and share your business with their contacts.
5. Get Involved in your Community
If you're a local service provider, you have a built-in community: the place where you live! Get involved and make yourself and your business known in the local community:
Sponsor a local baseball team
Donate a weekly massage session for parents of children in the local cancer ward
Run a yoga class at the local old age home
Create a local meetup and share your expertise
Community involvement raises the profile of your business and helps people not only remember your name, but associate it with positive feelings.
In addition, be social! No, not Twitter and Facebook. Old-school social. Attend local events, like craft fairs, sports events such as triathlon webinars, or seasonal celebrations. Whenever the community gets together, you want to be part of it. Once someone has interacted with you in person at a Thanksgiving fair or Veteran's Day march, they are more likely to trust you to repave their front drive.
6. Be Ubiquitous
You want to make it super easy for new and old customers to find you, so try to think of as many ways as possible that someone might look for your line of business.
For example, if you run a DJ business, you need to have a strong social media presence on more than one platform. You'll want to make the most of your Facebook page, Instagram feed, Snapchat stories, and maybe even put some videos on TikTok.
On top of that, you want to be sure that you're listed in all the industry-specific sites, like sites for weddings, graduations, birthday parties, etc. Then there's your local chamber of commerce, community discussion boards, and online directories like Yelp. The more places that your business is listed, the more chances there are that potential customers can find you when they need you.
. Give a Little Love – for Free
Free? Did you just say free? Where is it? Let me at it!
There's nothing like a freebie to get people's attention.
Offer a free manicure to the first 20 people who respond to your Instagram ad. Give a free hand massage to attendees at a local event. Give away a free dog walking session to everyone who books a dog grooming appointment.
Another "give away" option is to run a contest, where everyone who signs up to receive your marketing emails is entered into a drawing to win a free 1-hour personal training session.
These freebies help you attract more work in two ways:
Once someone tries your business for free, they'll love your service, and want to carry on paying to use it
People who hear about your freebies will remember your business name, and get in touch when they need your services
Dr. Drip coffee gave free samples of their self-brewed coffee to students at NYU during finals week. It seems to have worked, because there are some rave reviews of Dr. Drip coffee out there now!
Time to Get to Work!
If you have some down time, you can relax with a cup of Dr. Drip coffee (that brew looks tempting!) and dream about hoards of clients who come battering down your door, begging to pay you top dollar for your services.
But eventually the coffee break is done, and it's time to wake up and move back into the real world, where a steady stream of clients requires effort. So pick one, two, or all seven of these tactics for securing more work as an independent service provider, put them into action – and then wait for those clients to come knocking at your door.