Online bookings are the bread and butter of small businesses today.
Don't just take our word for it, either.
Recent consumer data tells us that a staggering 70% of people prefer to book appointments online when working with a service business.
And hey, we totally understand why.
Because booking online is quick, convenient and can be done from just about anywhere.
But simply accepting appointments online doesn't guarantee a flood of new business.
The good news? Oftentimes, getting more bookings means finding ways to give your clients a little "push."
In this guide, we'll break down six subtle strategies to help you score more appointments!
1. Put your "book now" button front-and-center
This might seem like a no-brainer, but don't be shy about letting clients know that they can book online.
If you're waiting for your visitors to find your "Contact" page or phone number, you're unfortunately wasting valuable time. Ideally, your booking options should be loud and clear as soon as your prospects land on your site.
Perhaps the easiest way to put your booking options front-and-center is through your website design. For example, you can feature colorful booking buttons on your homepage, header or footer.
Another option is to hit your visitors with an appointment pop-up after they've landed on-site. Although this is obviously a can't-miss, the downside is that your first-time visitors might click out or otherwise feel like you're being a bit too forward.
This is exactly where a tool like vcita's booking widget comes in handy. Our widget represents the best of both worlds as our eye-popping booking button is obvious to your visitors without interrupting their experience on-site.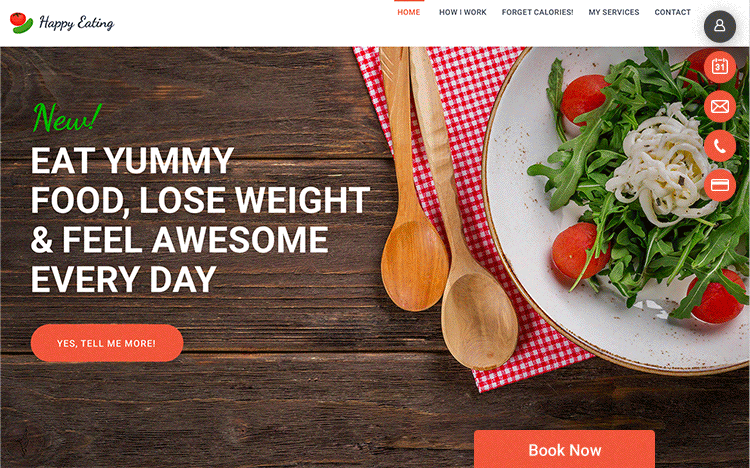 Upon clicking through, prospects can see which services you offer and move directly into the booking process rather than just browsing endlessly.
2. Make your booking process as quick and painless as possible
This is a big one.
Again, people generally prefer online booking because it's simple.
Or at least it's supposed to be. Many businesses unfortunately shoot themselves in the foot by making their scheduling process needlessly complicated.
Reality check: if your booking process takes minutes rather than seconds, you're probably requiring your prospects to do too much.
For example, here are some must-dos to make your online booking process quick and painless:
Reduce the number of form fields that clients need to fill out
Allow clients to see your calendar and availability without having to leave your site
Require as few clicks or taps as possible to move clients from screen to screen
And guess what? vcita's solution manages to tick all of these boxes and then some.
Our self-serve solution seamlessly moves clients through the booking process without having to break a sweat. Rather than require needless sign-ups or needless back-and-forth for booking confirmations, everything takes place in a matter of seconds in-browser.
For example, clients using vcita's online scheduling clearly see which services you offer, how much they cost and what your availability looks like.
Empowering clients to book on their own terms not only gives them a sense of freedom but also ensures you never have to turn away business because you aren't available to take a call or email.
3. Level up your Facebook Page with a call-to-action button
Spoiler alert: clients love looking up businesses via Facebook.
It's the perfect place for prospects to check out who you really are beyond your website. For example, they can see reviews, testimonials, and how you interact with your clients directly.
It's also a place to win bookings with a call-to-action (CTA) button.
Chances are you've seen this widget on Facebook before. This button might not seem like much, but it's a proven way to encourage direct bookings or drive traffic to your website.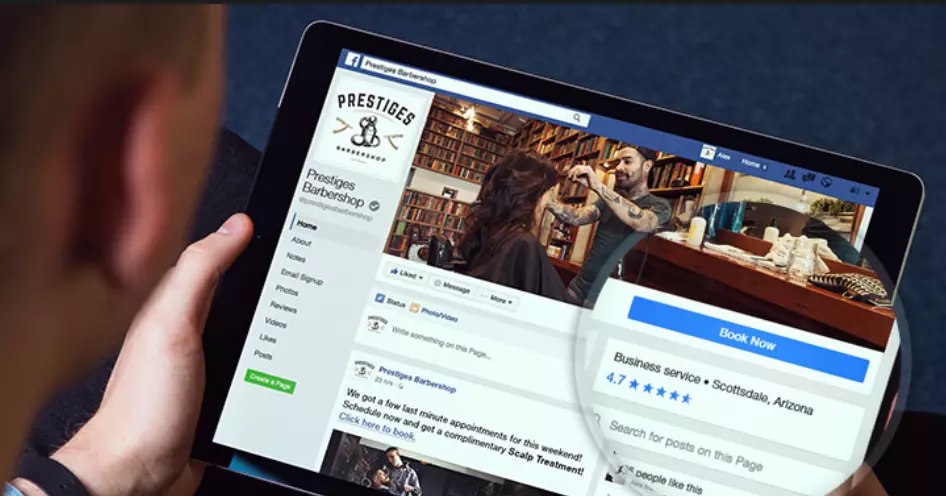 Facebook allows you to choose between a variety of call-to-action objectives, including:
"Book now"
"Call now"
"Contact us"
"Get quote"
"Request time"
"Order now"
Choosing a call-to-action makes your Facebook Page more interactive and serves as an invitation for prospects to get in touch, so don't waste this space! This is especially true for mobile visitors who are often eager to purchase services in real-time.
To increase your chances of converting random visitors into paying customers, you can connect your Facebook Page "Book Now" button with vcita's online scheduler. That way, prospects who click on your "Book Now" button will see a beautiful list of your services and will be able to book and pre-pay on the spot.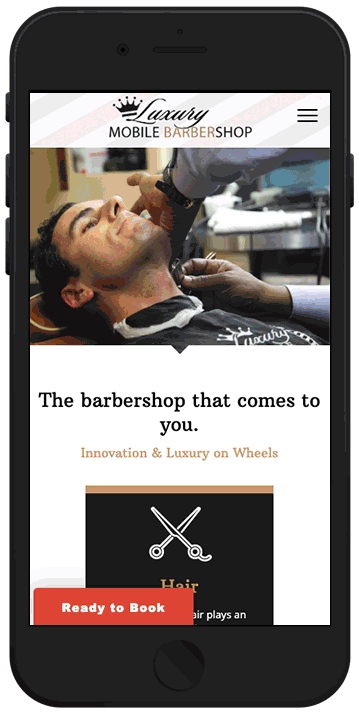 Either way, the end-goal of your Facebook CTA is to push your visitors to set up an appointment ASAP rather than hunt for your contact info.
4. Offer exclusive deals for people who book online
Nobody can resist a good deal, right?
That's why you should consider coupling your online booking options with offers and discounts. This is a surefire way to push digital appointments versus calls, especially if you're pushing a particular service.
Anything you can do to imply that your clients are getting a deal is a plus. For example, coupling your booking options with a coupon code or discount is something we see businesses both big and small do.
You can likewise promote bigger, steeper specials – like service packages – to grab your clients' attention and encourage repeat business from people who might otherwise be one-offs.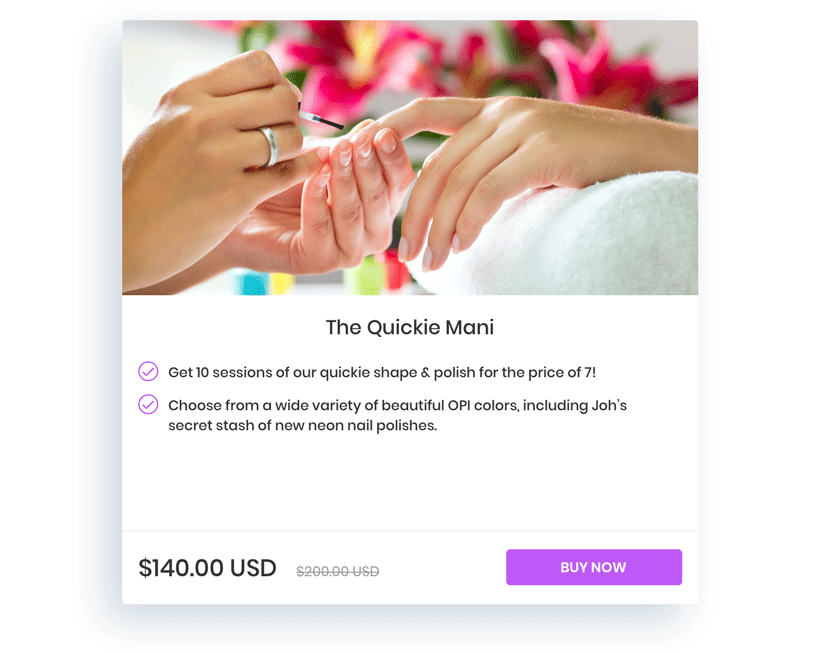 Keep in mind that online booking discounts don't have to be anything mind-blowing. For example, something as small as a few bucks off is totally fair game to sweeten the deal.
5. Promote online booking beyond your site
Remember what we said earlier: don't be shy about asking for bookings.
Your website and Facebook Page are solid starting points for promotion, but you definitely shouldn't stop there.
For example, consider how other social media platforms like Instagram are awesome for hyping up your services. Many service businesses include "Book now" in their Instagram bio as a way to push people to get in touch with them.
Think you only get one chance to link through Instagram? Nuh-uh. With the help of tools such as Linkt.ree, you can add multiple links to your bio and create yet another avenue for your social media followers to find your booking page.
When it comes to avenues to promote your online booking options, think "the more, the merrier." Another great way to continuously hype up new appointments (including your latest services and packages) is via email. Yes! Email!
With vcita, you can regularly craft these sorts of messages and continuously fill your schedule with the help of clients and followers who already know and trust you.
Oh, and don't forget good ol' word-of-mouth as a way to secure online bookings.
The more clients you have in your booking system, the easier it is to automate your email campaigns and make sure you consistently stay in touch so they keep coming back. This translates into more revenue and peace of mind.
6. Make every page on your website a "booking" page
The common thread between these tips? Make it as simple as possible for clients to book.
As noted earlier, clients shouldn't have to dig for your contact information. Our attention spans are shorter than ever and people will rightfully bounce from a site that's too "busy."
Bringing us fill-circle, this is yet again where vcita can help. With our widget, you can literally turn every page of your website into a booking page. The upside of using vcita is that there's no coding required and our platform integrates instantly with your site regardless of who your host or CMS is.
And with that, we wrap up our tips!
What are you doing to encourage more online bookings?
Listen: online bookings don't happen by accident.
If you're already accepting 'em, your head is in the right place. That said, it's up to you to find ways to give your clients that ever-so-important push to set up an appointment.
With the tips above and features baked into vcita, you can do exactly that! 🎃