Looking to entice new clients and delight the ones you've already got?
Don't we all! That's exactly why you need to start thinking about packaging your services.
Service packages don't only highlight what your business has to offer, they also encourage your clients to spend more money while sticking with you long-term. 🎃
Below we've broken down why packages matter for small businesses and how you can use them to win over clients.
Oh, and this is also the perfect time for you to test-drive vcita's brand new "Packages" feature, tailor-made to help you put together the perfect service bundle, fast!
So why offering service packages is a must for small businesses?
Before we get into the nitty-gritty, let's quickly review what a package is.
The concept is simple. Rather than sell a single booking to your clients, you can bundle multiple appointments or services (typically at a discount) and sell that as one "package."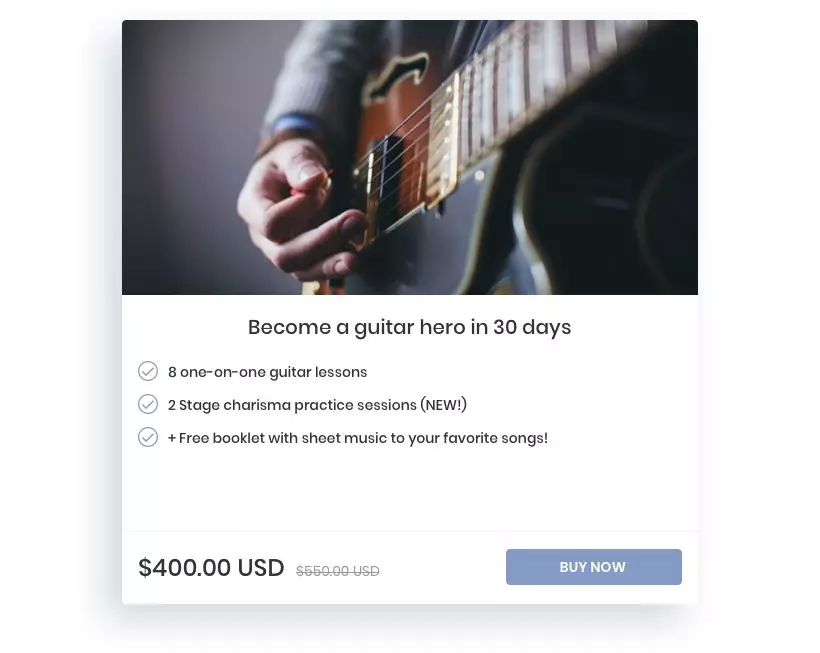 For example, a life coach might sell a one-off session for $125 but also offer a four-session package for $400. Similarly, lawn care companies will often offer a discount to clients who book weekly service over a multi-month period versus a single landscaping job.
Although packages aren't exactly "breaking news," they're a totally underrated way to grow your business with minimal effort. They're also fair game for just about any type of business.
Let's look at some of the key benefits of putting together packages and why you should start offering them ASAP.
1. Every package is an instant injection of cash (cha-ching!)
Raise your hand if you could use more money in your pocket, like, right now.
This is especially important as both businesses and buyers bounce back from COVID-19. Packages are a prime way to demand more money upfront without having to raise your prices on clients unexpectedly.
Instead of waiting for bookings to happen down the line, packages are something you can charge for immediately.
For example, check out how nail artist June from June & Joh's presents her packages as something clients can buy right now.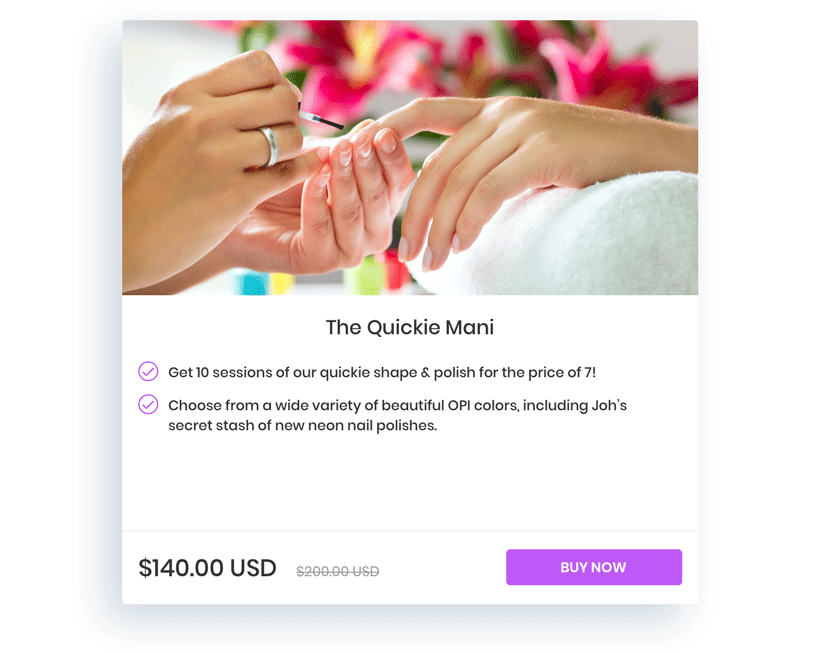 A nice added bonus of upfront payments is that you don't have to worry about chasing clients for payments. This guarantees that you get paid on time without any question marks about whether or not someone's going to book again.
And hey, that actually leads us to our next point…
2. Packages create a steady, consistent stream of income
Imagine a world where you didn't have to sweat over where your next client is coming from.
Packages can take you there! Predictable income is a huge stress-reliever and should be a priority for any healthy business.
By offering packages, you do double duty of increasing your monthly income with higher-tier offerings while also committing to clients long-term. This ultimately helps you escape the trap of moving from one-off client to the next.
This speaks to the importance of offering packages that span different time-periods (think: monthly packages, three-month packages, annual packages) to create multiple, steady streams of income that carry you beyond next week.
For example, many companies "lock in" clients to longer-term packages which makes for predictable income for the entire year: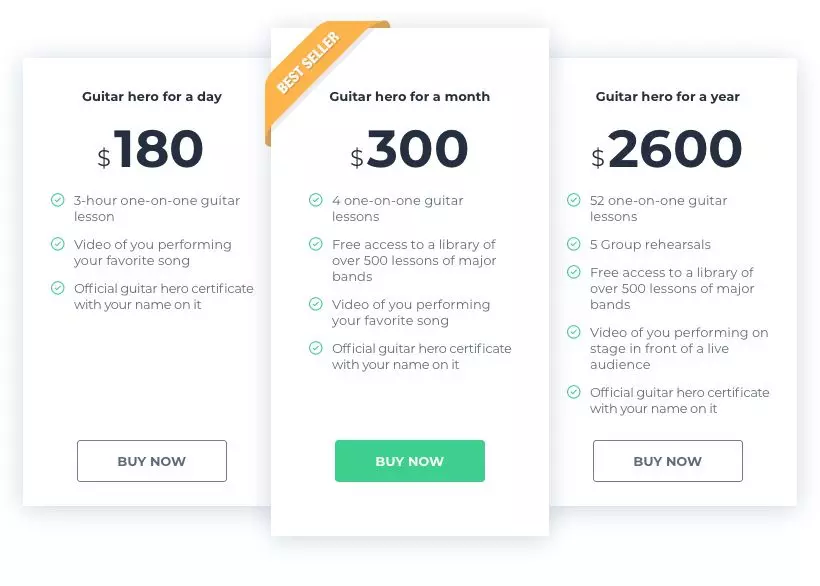 Consider also how packages can help you understand your overall revenue goals and how much money is coming in month-to-month. Oh, and when someone's committed to a package, they're likewise less likely to no-show: even if they do, you've ideally already been paid.
3. Packages make it so much easier to plan your schedule and workload
Another upside of clients booking via packages is that it's easier to understand what you can handle in terms of your workload.
Packages allow you to commit time to clients that book ahead while also leaving you some flexibility for new or one-off customers. This ensures that you never have to turn away new business and can find time to schedule clients as they roll in.
Although offering packages does require some organization on your part to avoid scheduling conflicts, this is exactly where a tool like vcita's scheduling calendar comes in handy. Managing appointments for packages and new clients alike, and having your client calendar and bookings in one place guarantees never having to wonder "what's next?".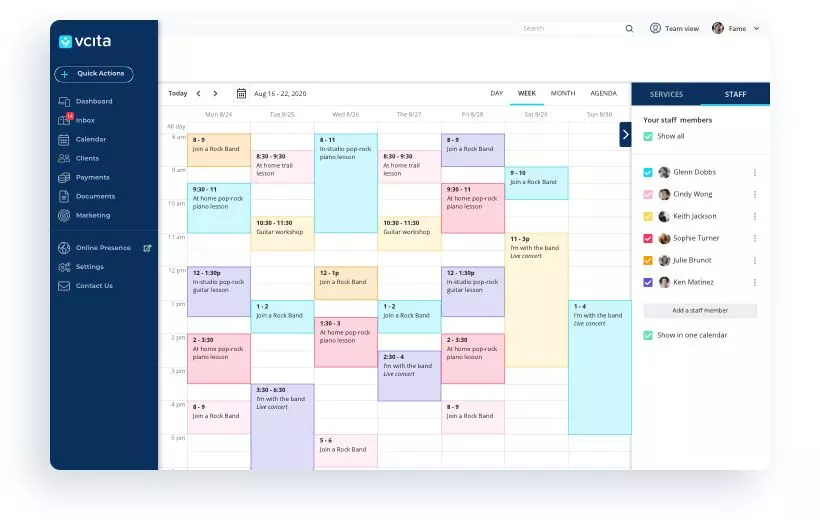 4. Packages transform would-be one-off clients into loyal customers
This is arguably the biggest benefit of offering packages.
Building customer loyalty starts by empowering clients to come through your door time and time again. Offering packages is key to doing exactly that, providing your clients with a discount in exchange for repeat business.
The trade-off is totally worth it, by the way. Once a client is satisfied with your service and you've had a chance to form a relationship with them, they'll be less likely to bounce to competitors. Heck, they could even become a lifer for your business!
5. Packages are perfect for generating referrals and word-of-mouth
Piggybacking on the last point, satisfied customers will spread the word about your business without even being prompted to.
However, consider the role that packages play in positive word-of-mouth:
Let's say you run a salon and you encourage your clients to show off their latest cuts on Instagram. The comment section is the perfect place for someone to rave about your cut, color and blowout package and recommend it to all of their friends.
Listen: everyone is eager to save money these days. If someone hears through the grapevine you've got a killer package deal, they'll want to learn more.
But how do packages provide more value to your clients?
Fair question!
The beauty about packages? Selling them isn't great just for you. It's a classic win-win for both you and your clients. How so, though?
Longer-term booking means commitment and trust
Business relationships are still, well, relationships.
And your prospects and clients alike want to work with businesses who are going to commit to them.
Packages are perfect for businesses who want to prove that they can produce positive results for their clients. This is why packages are all-the-rage for coaching, fitness and health businesses which center around long-term goals.
By putting together a package, you highlight what you're specifically going to do to ensure that your clients succeed. For example, check out how Relationship Counselor Anna Gianforte's coaching package breaks down exactly what clients get week by week.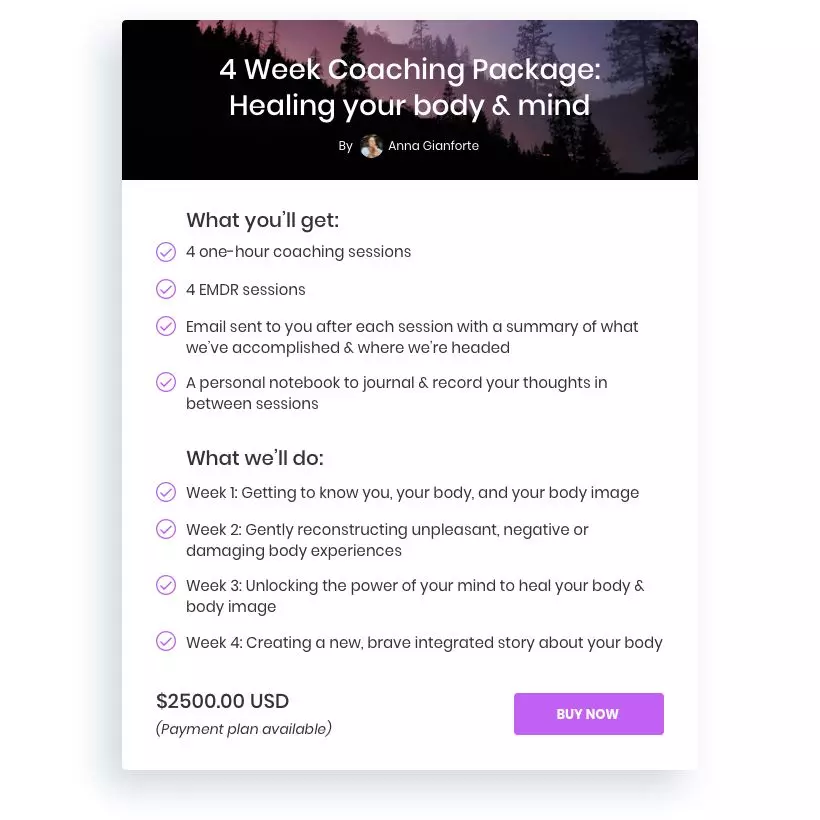 See how that works?
Put an end to pesky hourly rates (hint: clients hate them!)
Spoiler alert: most clients aren't crazy about hourly rates.
With package pricing, your customers don't have to worry about sessions running late or jobs going long. They know exactly what they're paying for and hey, that means peace of mind. That's something we can all use right now.
Remind your clients that they're getting an awesome, discounted deal
It might be cliche, but everyone loves a good deal.
And good deals are all about presentation.
By presenting your services as a package, you can bullet-point the benefits that your clients get from your service. Not only that, but packages allow you to highlight exactly how much money your clients are saving by booking for the future.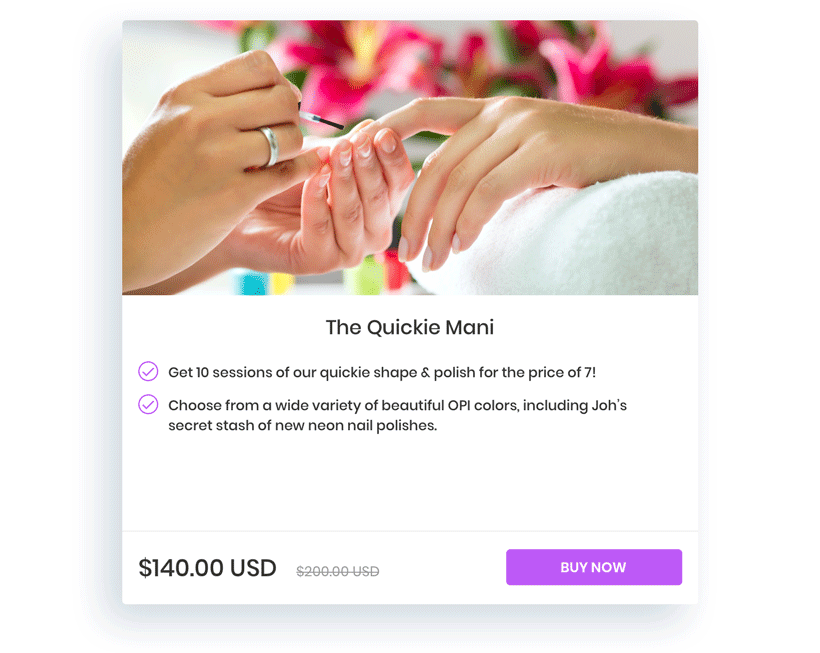 In terms of how much you should discount your packages, we see 10-15% as a sort of "sweet spot" for most businesses. Remember: your goal isn't to eliminate your more expensive one-off bookings, but entice folks to stick with you for longer.
Fixed and predictable pricing means no surprises on their end
Just like business owners prefer predictable income, clients don't want to deal with any surprises when it comes time to pay for services.
No add-ons. No hidden fees. Just what they paid for.
Packages and upfront charges guarantee just that. Additionally, this gives your clients some much-needed flexibility based on their personal needs. Offering multiple packages and different pricing tiers means that you can appeal to a variety of customers regardless of their budgets!
Packages give your clients the "VIP" treatment
If nothing else, packages are a great way to make your clients feel like they're being given special treatment.
For example, many businesses frame their packages as "memberships" that present clients as VIPs. In a day and age where clients are spoiled for choice, putting them on a pedestal is a smart move to keep them loyal.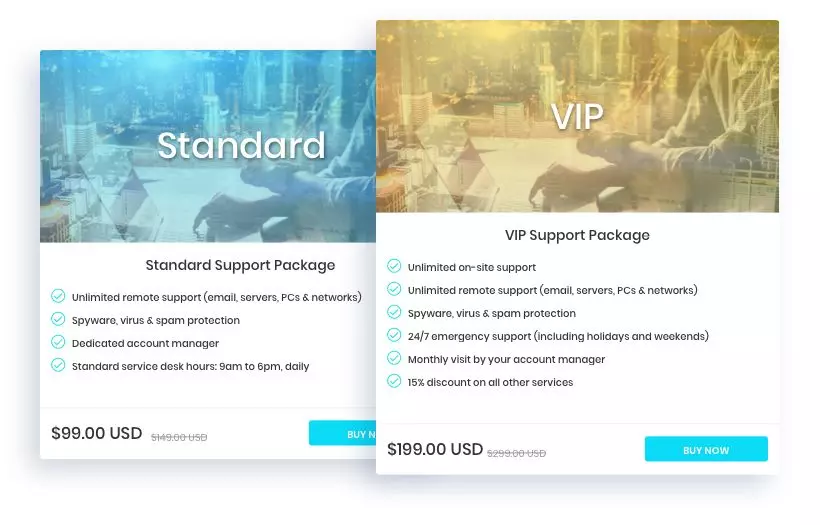 "What's the best way to package my services, though?"
The short answer? It depends!
If your business offers multiple services, you can pick and choose complementary ones to "bundle" together. Doing so is an alternative to selling hourly work and makes it easy for clients to price out what they want before they give you a call.
However, businesses should create packages that require a longer-term commitment if they want to see all of the benefits we noted above.
Putting together package deals such as visits or services per-month at a discount versus one-off sessions is a smart starting point. This gives clients a crystal clear understanding of how they can save money and likewise benefit from working with you more than once.
But really, the best way to package your services is with the help of vcita!
Our platform makes the process of putting together packages quick and painless. Regardless of what you're selling, you can choose services and price points based on your business, all integrated with our booking and scheduling solution.
The end result? More options for clients, more opportunities to make money and a big step closer toward a totally full schedule.
Ready to put together the perfect package for your clients?
If you're the kind of person who loves to know how things work, our new Help Center article dives deeps into Packages: How to create them, where to advertise them, or how to assign them privately to VIP clients.
However, if you're a "hands on" kind of person, the best way to start selling packages is to go ahead and create one!
And hey. If you're new to Packages and want to enjoy some crowd wisdom before you give it a try, join our Facebook group to share and learn from the wisdom and experience of business owners just like you.