Ever wish you could gather all of your local prospects in one place rather than chase them down one-by-one?
Believe it or not, that place exists. It's called Facebook.
Kidding aside, Facebook is an absolute goldmine when it comes to finding local clients. As the most popular social network by far, there's a pretty good chance your prospects are already there.
That said, you need a Facebook page that isn't just nice to look at (though that helps) but one that actually sells your services and converts your page visitors into real bookings.
The good news? Building a top-selling Facebook Page is easier than you might think.
Below we've highlighted specific steps to ensure that your Facebook Page is driving new and repeat business like clockwork.
1. Fill Out Your Profile 100%!
This might seem like a no-brainer but we can't emphasize it enough!
By totally filling out your profile, you can highlight your business' strengths and target terms that are relevant to your clients.
For example, a well-crafted "About" section can not only highlight your essential location and contact information but also what sets you apart from the competition.
From unique services to client testimonials, consider what you can stick in your "About" section to help you stand out from the crowd.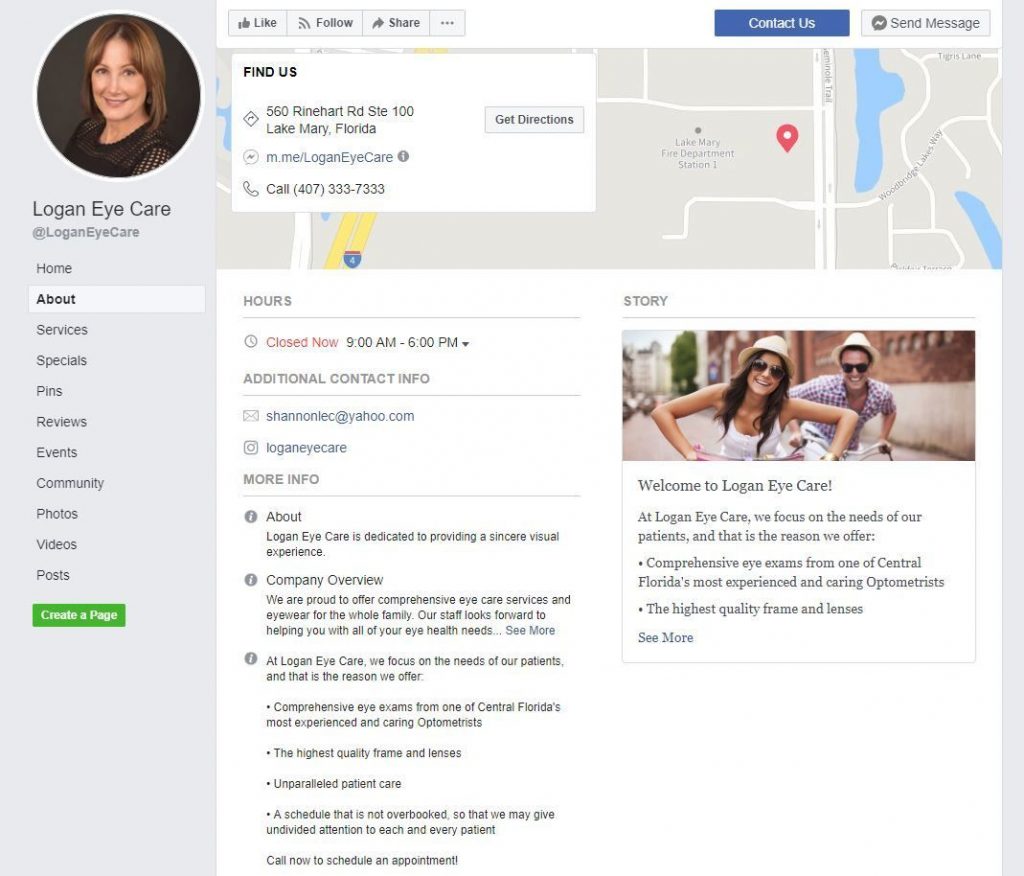 Another critical piece of your Facebook Page is the "Services" tab. Here you're able to elaborate on specific services and areas of expertise that you offer, including pricing information and your scope of work.
If you don't already have it, make sure to add a services tab to your Facebook Page.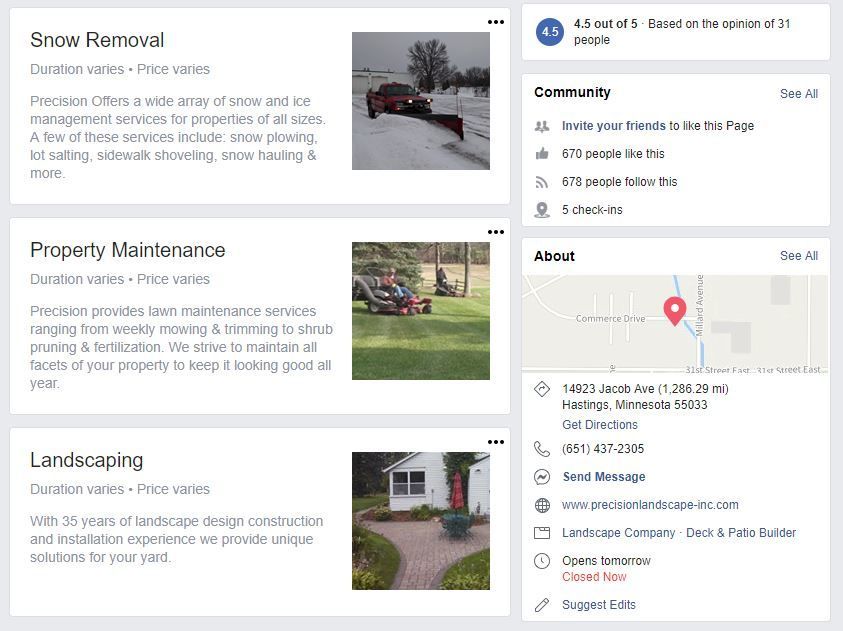 Speaking of which, it's important to choose the right Facebook Page template depending on what type of business you're running. Facebook has a default "Services" template that's ideal for any type of business that accepts bookings.
You can find the "Services" template under the "Templates and Tabs" section of your Page Settings.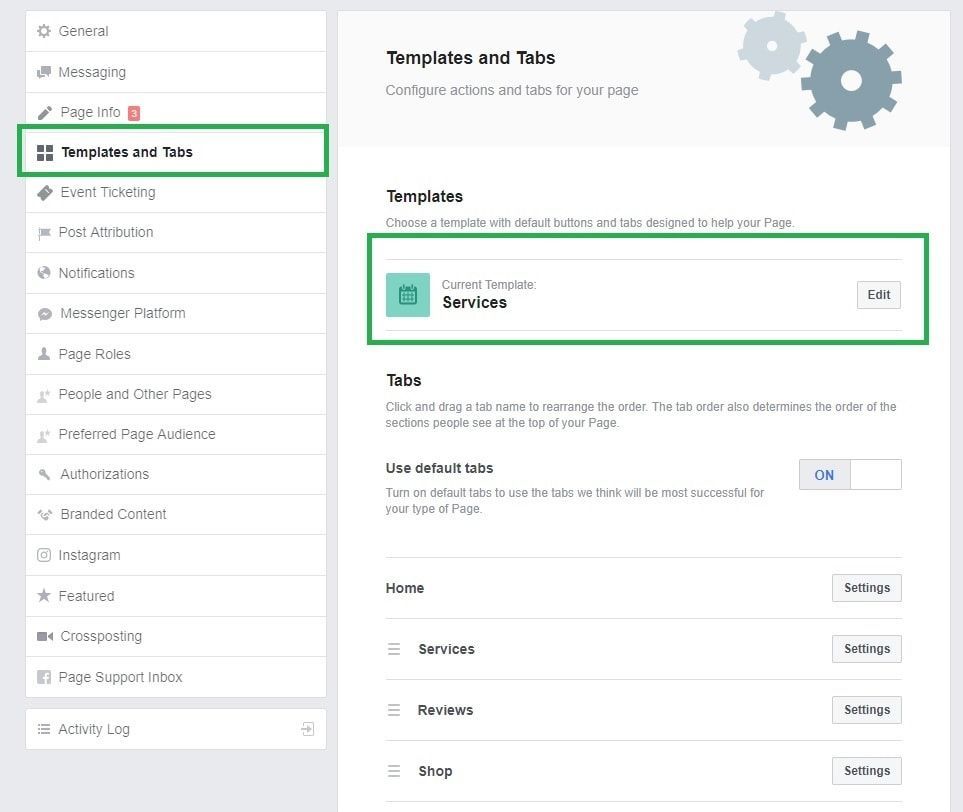 You can also add and remove tabs based on your business, but you can start with the basics and branch out from there.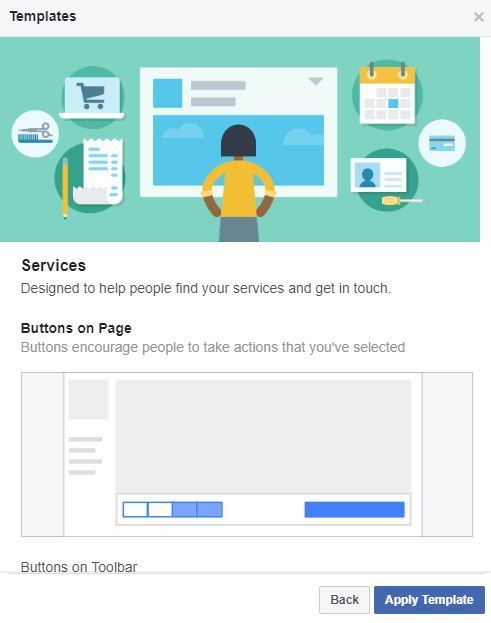 The more content and information on your Facebook Page, the better.
Remember: your Page should be designed to convince prospects you're the right fit for whatever they need. That means answering their questions and providing them with peace of mind without having to leave Facebook.
2. Pick Out Compelling Page Photos
If your Page's photos are polished and professional, your business will look like a million bucks by proxy.
Facebook is pretty straightforward in terms of imagery. Of course, there are some design choices that you need to make.
Which company logo do you want to use for your profile photo? If you're a solo business, do you want to use a headshot or logo? Should your cover photo include your contact information or be something more flashy?
There is no "right" answer here. As long as you're using attractive, high-res imagery that signals your professionalism, you're golden.
For example, you can keep your page simple while scoring style points with a minimalist logo and photo of your team.

Or you can use your cover photo to hype up a specific promotion for your Facebook profile.

The choice is yours! For reference, the recommended image sizes for Facebook are 180×180 pixels for your profile photo and 820×312 pixels for your cover photo. Always double-check your photos when you upload them to ensure that they aren't grainy or cut off.
As a side note, you can always experiment with graphics with the help of tools such as Canva. With social-specific templates, you can whip up a logo or cover photo without being a graphic design genius.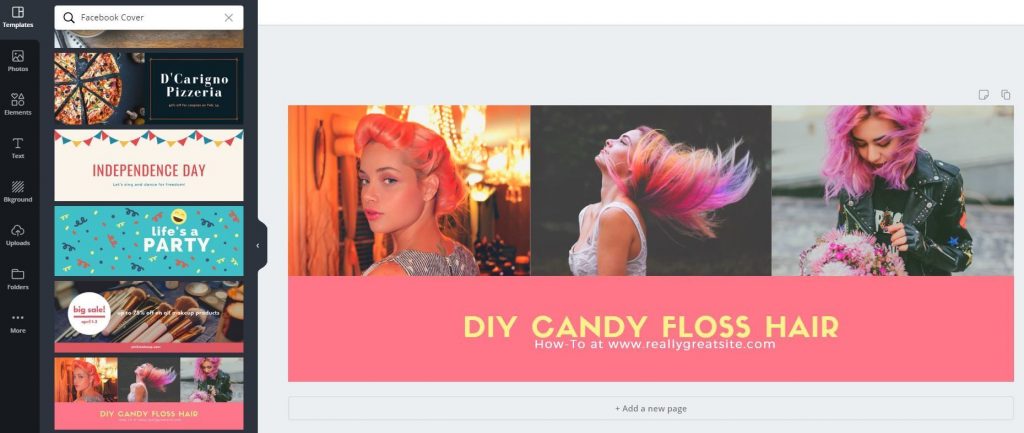 3. Set Up Your Messenger to Handle Client Questions
Anything you can do to make life easier on your prospects is a plus – this includes answering their questions directly from Facebook.
That's why it's a smart move to set up Messenger for your Facebook Page. Clients might be more comfortable messaging through Facebook versus a phone call and likewise may not feel like writing a full-blown email.
By having default Messenger queries highlighted in addition to responding in real-time, you make yourself even more available to clients. You can also promote Facebook-specific offers here if you have 'em.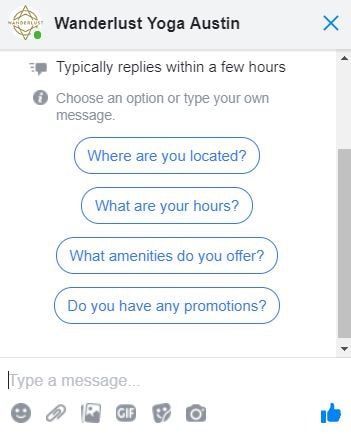 4. Publish Posts on a Regular Basis
Spoiler alert: the Facebook algorithm is fickle.
You've probably heard horror stories about Pages losing organic reach over the past year or so, right?
However, we do know that Facebook rewards consistency and engagement.
Even if you don't regularly pop up in your followers' feeds, regularly posting content lets prospects know that you're alive and well. On the flip side, letting your Facebook Page gather cobwebs is a bad look.
Oh, and posting regularly can also help serve as the "Aha!" moment to encourage your current followers to come back through your door.
If you're strapped for content ideas, don't panic. Below are some low-hanging ideas that are perfect for local business:
Interesting industry news
Fun facts
Lighthearted local news (not political!)
Seasonal tips
Customer success stories
Company milestones
Behind-the-scenes team photos
Memes
Holiday celebrations
5. Run Facebook-Exclusive Offers and Promos
If you want to encourage more followers and fans for the long-term, promotions specific to Facebook can help.
For example, many local businesses highlight their seasonal or monthly promotions in a pinned post that's front-and-center for anyone who visits their Page.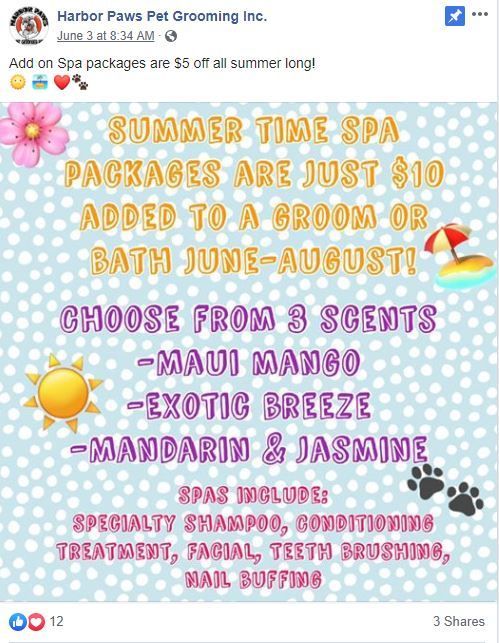 Ideally, you can come up with a promotion that gets people talking. Perhaps the most popular option is a giveaway that involves tagging friends for entries. These types of posts can help introduce your business to new prospects and score points with the Facebook algorithm, too.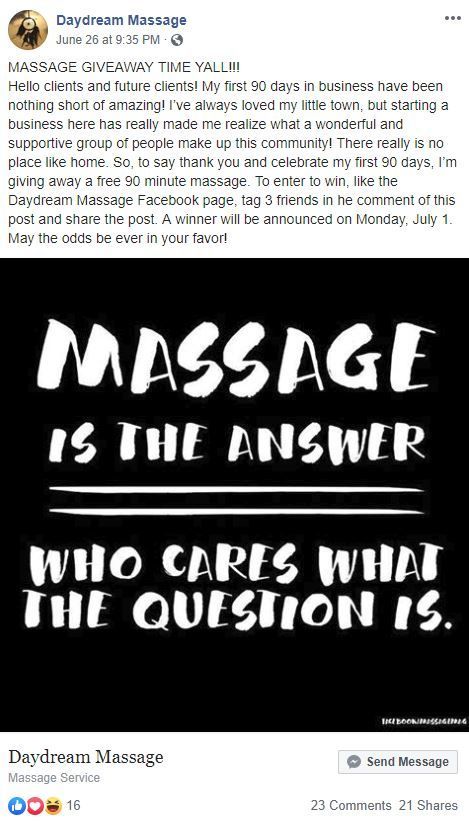 6. Enable (and Encourage!) Client Reviews
Depending on what statistic you look at, nearly 100% of people read reviews before making a purchasing or choosing a business to hire.
The importance of having positive feedback plastered on your Facebook can't be overstated.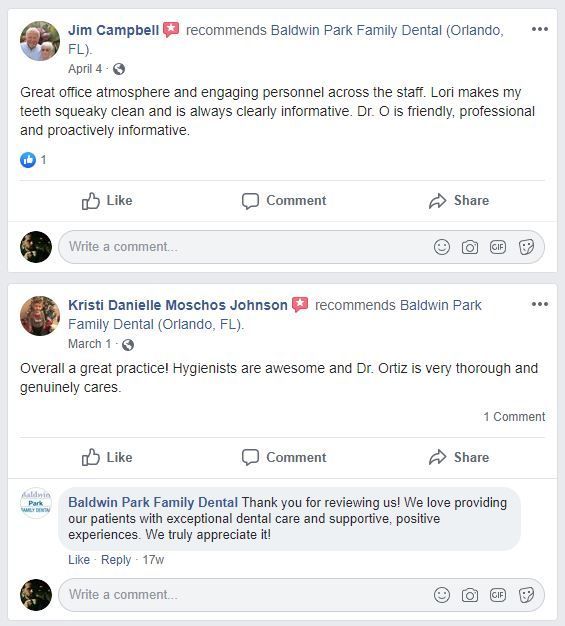 Double-check that you have Reviews enabled to encourage engagement and likewise ensure that your reviews show up in Google results. As a rule of thumb, make sure to reply to any and all reviewers and consider ways you can secure more Facebook reviews over time.
7. Empower Clients to Book Directly Through Facebook
Facebook isn't simply a place to promote your business: it's also another avenue for you to score bookings.
Booking directly through Facebook provides your prospects with fewer opportunities to fall out of your funnel. In short, you make yourself more available and likely to win that ever-so-important initial appointment.
Having a "Book Now" call-to-action is a subtle yet significant way to let people know that there's room in your schedule for 'em.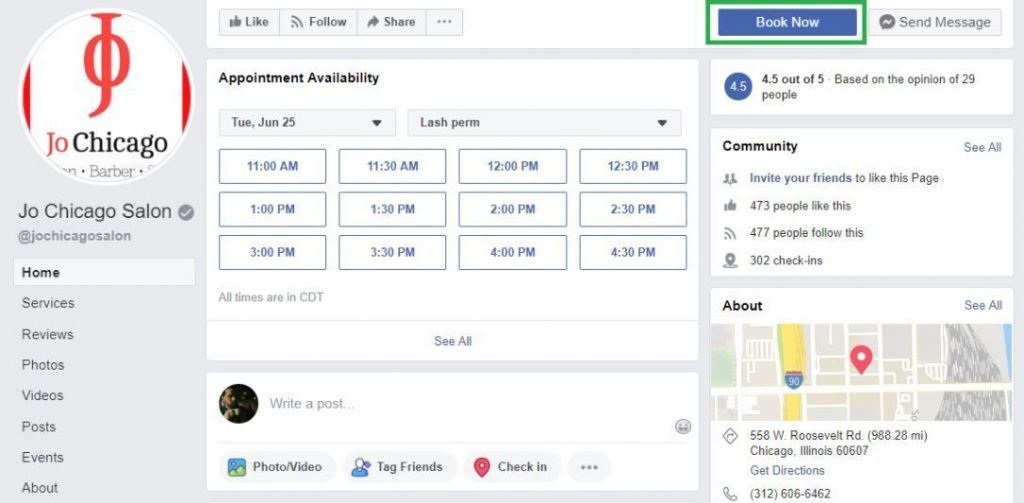 As your "Book Now" button is above the fold, it's incredibly valuable real estate. Check out our quick guide to learn how to add a "Book Now" button to your Facebook page.
8. Promote Your Page Beyond Facebook
Lastly, don't be shy about promoting your Facebook page.
Sure, the tips above can help you optimize your presence to show up more often in Google and native Facebook searches.
But that shouldn't be the be-all, end-all of promotion. For starters, here are some options to consider to let folks know they can find you on Facebook:
Buttons and banners on your business' site
Email marketing (including your email signature or review request emails)
Business cards, stickers, and in-store signage (see the example below from Zazzle)
Word-of-mouth ("Oh, make sure to check us out on Facebook!")
Paid Facebook ads to introduce yourself to new leads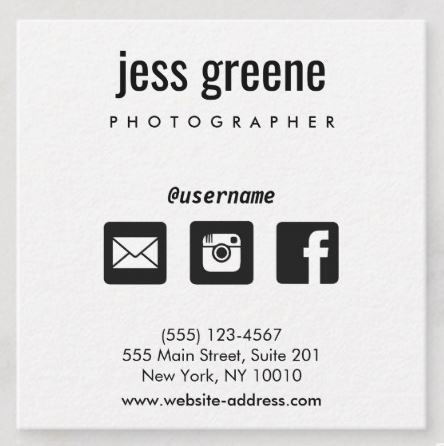 Bonus: Promote Yourself on Facebook Marketplace
Before we wrap up, home service provides should look into Facebook Marketplace as another highly-trafficked hub to list your business.
Simply put, you'll be hooked up with Facebook users looking for home projects: everything from quotes to job details can be handled within Messenger. How's that for availability?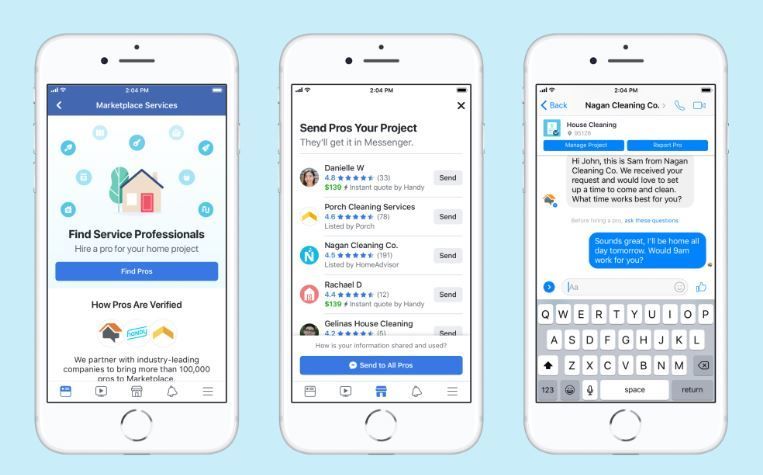 Ready to Start Winning More Clients via Facebook?
As a place to attract and book new clients directly, Facebook is a powerful hub for your business.
By sticking to the tips above, you can rest assured knowing that your Facebook Page is set up to sell your services like hotcakes.
And with the help of tools like vcita, you can guarantee that you're ready to handle your next wave of clients without breaking a sweat.