Chances are your clients could use some love right about now.
Good thing Valentine's Day is around the corner, right?
But this upcoming V-Day is going to hit a bit differently for most folks. With the "new normal" we're in, traditional Valentine's plans and outings are either on pause or out the window.
That said, a holiday's a holiday.
And so your clients are still going to be on the hunt for offers, deals and gifts to celebrate. You better believe they'll be looking online to find 'em, too.
The good news? vcita can help you deliver deals and offers to delight your clients just in time for V-Day. Below are five promotional ideas you can roll out ASAP.
1. Get cutesy with a Valentine's Day coupon
Special offers are always a safe bet during the holidays and Valentine's Day is no different.
In fact, we've actually talked before about how V-Day is the perfect time for an email promo campaign. Coupons are a solid place to start, especially if you've never run a holiday campaign before.
Below's an example of a Valentine's Day email from The Bouqs that could easily be replicated by a small business. The 2x offer is sweet enough but the time-sensitive headline ("Eek, Valentine's Day is Next Week") makes the deal even more enticing. In short, time-sensitive coupon offers are tried and tested.
Here's another simple example of how to push a simple, last-minute discount to your subscribers. A surprise 10%, 15% or 25% sale is a great way to pop into your clients' inboxes and put a smile on their faces. Reminding clients not to wait on your offer works especially well here since people notoriously procrastinate when it comes to Valentine's Day.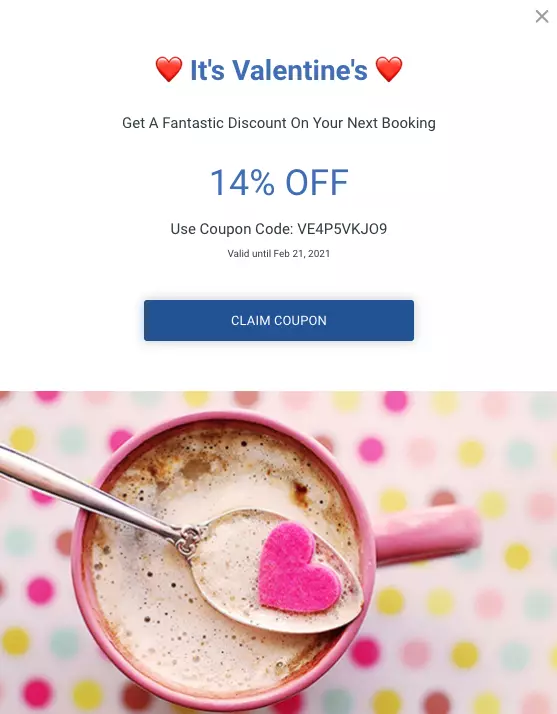 Putting together a campaign like this is seriously simple, especially if you're taking full advantage of vcita's email marketing features. For example, you can quickly whip up a brand new Valentine's Day message with custom creatives and bright colors in a matter of minutes. You can likewise choose between our pre-built email templates or adapt one of your past offers.
By generating your coupon code within our app, you can send it directly to clients on your list without having to juggle multiple tools or copy-and-paste codes by-hand. vcita does all of the heavy lifting for you!
The beauty of Valentine's Day campaigns is that they're a prime opportunity to not only remind your clients how much you care but also show off your business' personality.
So, don't be afraid to get a bit cheesy with your clients with your email copy and subject line. Get colorful! Oh, and emphasize appreciation and frame your offer as an opportunity to spread some love.
2. Put together a special Valentine's Day service package
Beyond straight-up offers and discounts, brainstorm some potential Valentine's Day specials and packages that make sense for your services.
Some sample ideas which can easily be branded for V-Day include:
Two-for-one specials
Mix-and-match service bundles
Packages for couples (or two people)
For example, couples packages are all the rage for spas and salons. Think about services you offer that your clients might be able to share with a friend or significant other. Since COVID-19 restrictions are still up in the air, also consider offering packages with a generous timeline that don't need to be redeemed immediately. Your clients will appreciate the flexibility, especially if they're still locked down.
The upsides of packaging your services are well-documented. Not only are you able to offer higher-ticket specials to your clients, but also make them feel like they're getting an awesome deal.
vcita's Packages make it a cinch to create a custom package and sell it to clients in just a few clicks. Spelling out your offer terms with a friendly description, holiday packages can really reel in new business when you emphasize that they're limited and exclusive.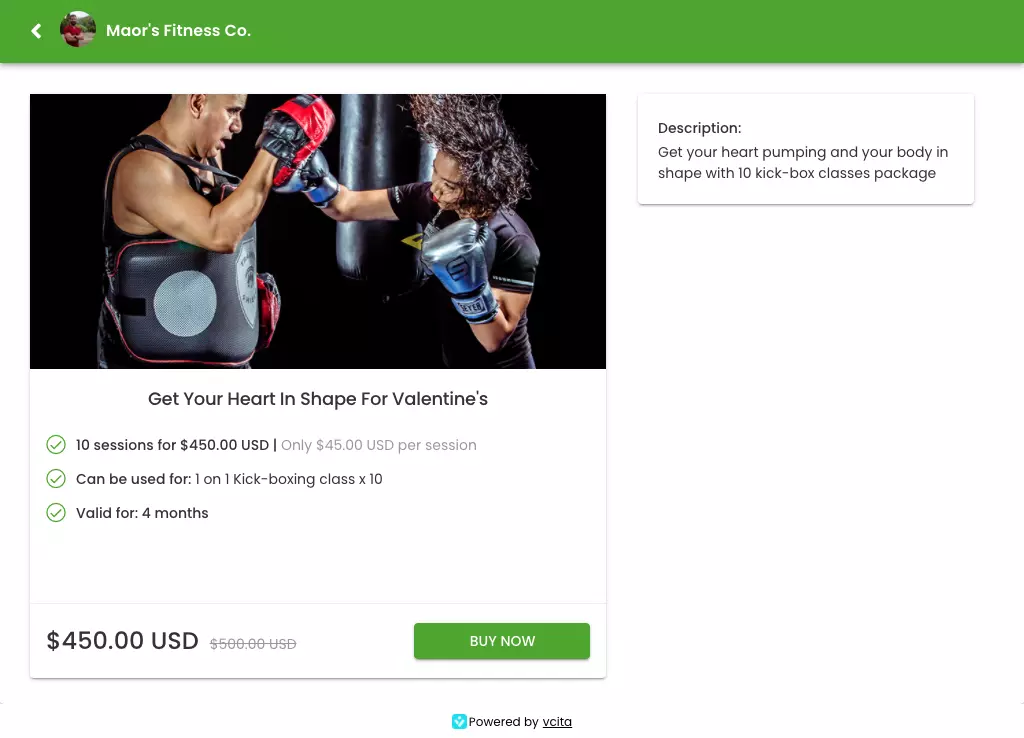 3. Host a virtual Valentine's Day event
As noted, many people are still holding digital get-togethers either by choice or necessity. The classic dinner and a movie or romantic getaway just isn't happening this year.
And so it only makes sense to offer something special that couples and families can enjoy from the comfort of their own homes.
These are plenty of creative video appointment ideas that would work beautifully for Valentine's day, such as group classes or lessons. You could likewise hold a community get-together.
Here's a great example of a "Palentine's Day" pottery workshop that serves as a fun but safe stay-at-home date night for couples or an activity for the kiddos.
Despite popular belief, holidays on Zoom don't have to be a drag! Granted you keep the energy high and come up with an appointment that can be done virtually, you're golden.
People need advanced notice for these sorts of events, so start brainstorming! If you want to speedily spread the word and get more bookings for your virtual appointments, don't forget about vcita's Zoom integration.
4. Run a raffle or V-Day giveaway
Looking to build some instant buzz for your business around Valentine's Day? Raffles and giveaways are always a safe bet.
People love freebies, after all. Holiday-themed giveaways are ideal for businesses that have products or services that can easily be given as themed gifts (think: spas, foodservice, flowers). That said, vouchers and gift certificates for your services are also fair game.
Below is an example of an enter-to-win V-Day giveaway. You could put together something similar in vcita, guiding entries to a form page or simply asking clients to respond to your initial message for a chance to win. The less work required to get people in on your contest, the better.
Valentine's Day giveaways are the sort of promotions that blow up on social media, so make sure you cross-post there as well!
5. Sell Valentine's Day gifts related to your service
Last but not least, consider tacking on some Valentine's Day gifts or products onto your existing service offers. This could be anything from a styling shampoo or a laptop cleaning kit to your latest book or webinar featuring valuable tips and advice.
We make it quick and painless to add individual products so your clients can snap 'em up right then and there. For example, vcita lets you include products to your Packages, invoices and even directly onto your client portal!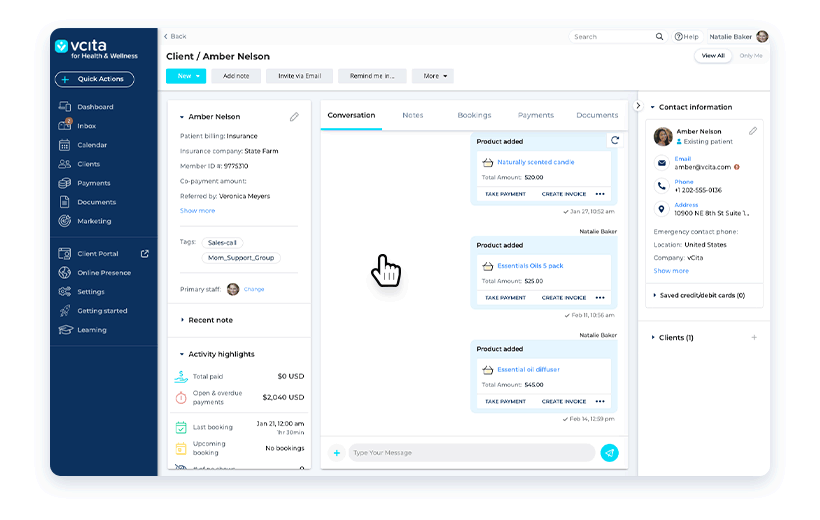 See how easy it is?
How are you showing your clients some much-needed love this Valentine's Day?
Listen: just like you shouldn't wait until the last minute to get something for your sweetheart, don't sleep on offers and deals for your clients!
Again, now's a great opportunity to delight 'em and win some extra sales on the side.
And if nothing else, these promotions are a positive way to check-in with your clients and show a bit of holiday spirit.
With vcita, you have tons of options to put together offers that make an impression on your clients. Whether you want a simple coupon or a full-blown Valentine's Day package, we've got you covered. If you haven't already, make sure you try out all of the features highlighted above to help level up your business' offering on V-Day and beyond!