What's the one document your customers won't ignore?
Hint—it's not an email.
Yes, email marketing is the go-to for many small businesses. Although it has major advantages and can be an important element of your marketing plan, email engagement rates aren't stellar. They vary between platforms and industries, but email open rates almost always fall within the range of 10-25%.
Even when you invest a lot of time and effort in crafting engaging messages and making the emails look pretty, your customers are busy people. Plus, you're competing for their inbox attention with people they can't ignore like their kids' school, their boss, and the millions of other newsletters they've signed up for and don't read.
So, back to our question. The document your customers aren't likely to ignore is… your invoice. Yep, you read that right. Those boring, technical docs you use to request payments and keep your books balanced are actually one of the best opportunities you have to market to your customers.
It makes sense. Although they may ignore your latest newsletter when it lands in their inbox, your customers want to make sure that they haven't been overcharged, so they're going to look over their invoices carefully. For a brief window of time, you have a captive audience.
So take advantage of their undivided attention! Leverage the opportunity to engage them, make your business memorable, encourage them to give you a positive review, and even sell them additional services. When it's done right, invoice marketing can be one of the best tools you have to increase customer value.
How to turn invoices into marketing opportunities
Not only is invoice marketing effective, but it's also surprisingly easy to do.  Let's look at some simple ways you can use invoices to boost your business.
Get personal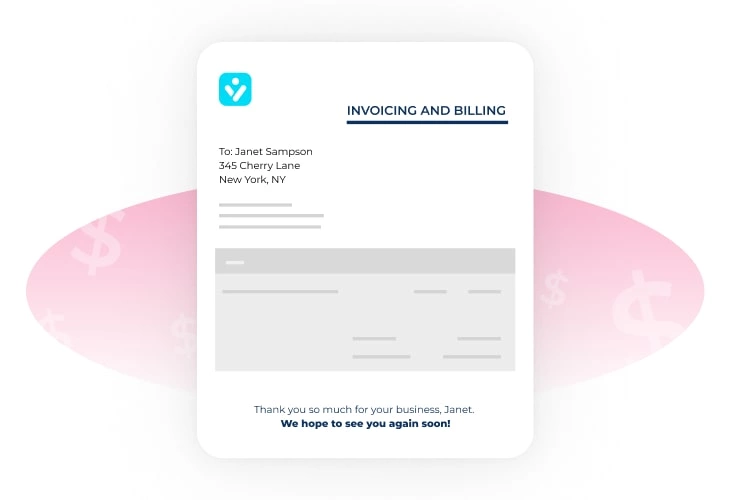 Start with the basics and ditch the "invoices are dull and technical" mindset. Instead, think of your invoice as a thank you note, like the kind you would send to your grandma for your graduation gift.
Your thank you note wouldn't be generic, and your invoice shouldn't be either. Make yours friendly and personal by adding your customer's name at the top. Include a note at the bottom thanking them for using your service, and sign the note with your own name rather than that of your business.
Personalization is a key element of invoice marketing and a great way to make your customers feel special. That feeling will keep them coming back, and increase their lifetime value to your business.
Make it memorable
"Hey honey, what was that company we used last time called?" I'm pretty sure the name started with a B. Or maybe an L…"
Even if a customer had a great experien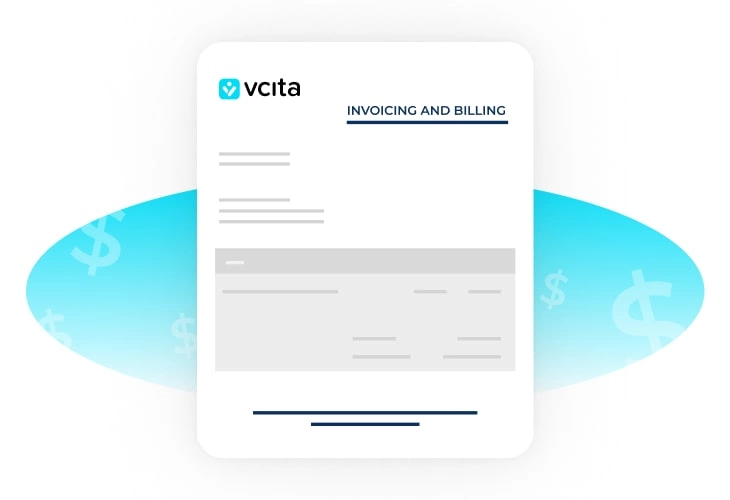 ce with you, the next time they need a service you offer they might draw a blank on your company's name. So help reinforce their memory with an unforgettable invoice! Invoice marketing is a great way to bolster your branding and help your business details stick in their mind.
Many people have visual memories, so adding visual elements to your invoice can help customers remember your brand. At the most basic level, that means making sure that your logo is displayed prominently.  But you can even do more than simply adding your logo—try adding your brand colors to the invoice to make it stand out. Not only will colors make your invoice more friendly and engaging, but they will also help your customers remember you in the future.
Give them a reason to come back
Who doesn't love to feel like they've saved money? We all want to feel like smart shoppers which is w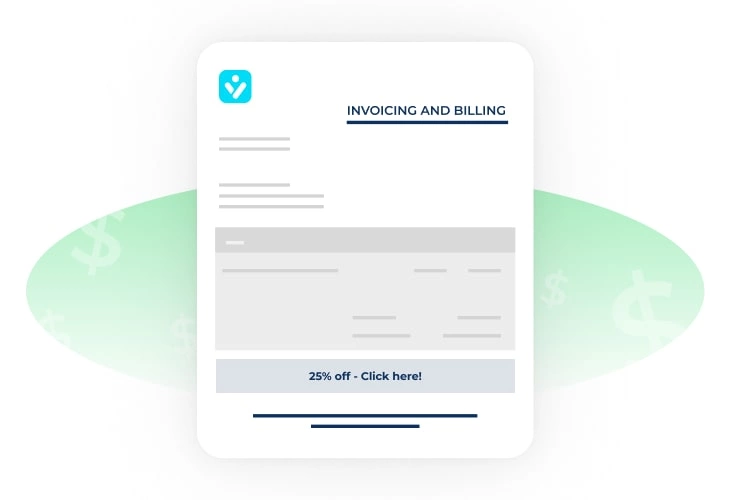 hy discounts or coupons are a powerful marketing tool in almost any field. In fact, Valassis Research's 2020 annual consumer report showed that a discount or coupon can convince more than half of consumers to purchase something new, or something they hadn't previously planned to buy.
Invoice marketing is a great way to deliver coupons and incentivize repeat purchases. Just add a coupon at the bottom of your invoice, and you'll be giving your customers a reason to choose you above your competitors next time they need what you have to offer. If you have a new product or service, including a coupon for it on your invoice can encourage your existing customers to give it a try.
Ask for a review
Reviews are critical for any small business because customers trust other customers more than they trust business owners. Studies show that a mindboggling 98% of customers read online reviews of local businesses before they use their services. And reviews do more than build trust. They also give you feedback and help you understand your customers' preferences and needs so you can better serve them in the future.
If you don't have a Google review or Yelp page set up for your business, drop everything and create one now.  Don't wait for a customer to set one up—when you do it, you have more control over the page content and can play a more proactive role in managing and responding to reviews.
Once you have a reviews page up and running, the challenge is getting your customers to sit down and write. The key is often making the process as easy and frictionless as possible, and here again, invoice marketing can help.  Simply add a direct link to your chosen review site on the invoice itself, and a brief text where you gently ask for reviews, so all the customer has to do is click.
Promote your products or services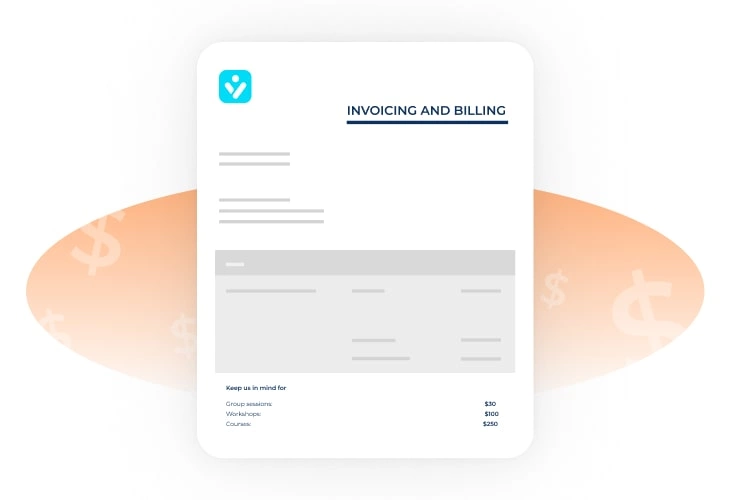 It's common knowledge that it takes a lot less time and fewer resources to get an existing customer to make a repeat purchase or buy additional services than it does to acquire a new customer. The exact numbers vary between industries, but some research has shown that it can cost up to five times as much. That's why it often makes more financial sense to invest in marketing to your existing customers instead of focusing solely on acquiring new ones.
If your customer was happy with your service, they're more likely to use your business for additional services as well, and invoice marketing is one of the best cross-selling opportunities out there.  Add a list of your other offerings and their prices on your invoice to encourage your customers to do more business with you.
Why not tell a friend?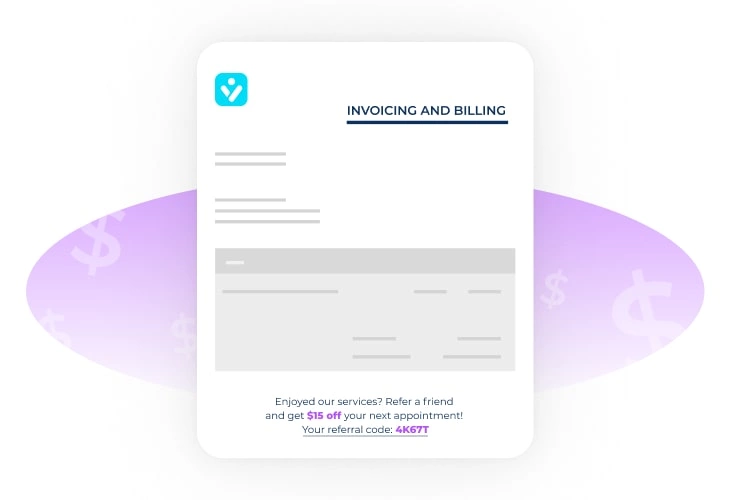 If online social proof content like reviews is great for your business, a personal recommendation is worth its weight in gold. So give your customers a reason to tell their friends about your services! Invoice marketing is the perfect way to do this—all you have to do is add a referral code at the bottom of your invoice.
Referrals are also an extremely effective way to support purpose-driven marketing. If your customer supports your cause, they'll be even more motivated to encourage friends and family to choose you over your competitors.
Share news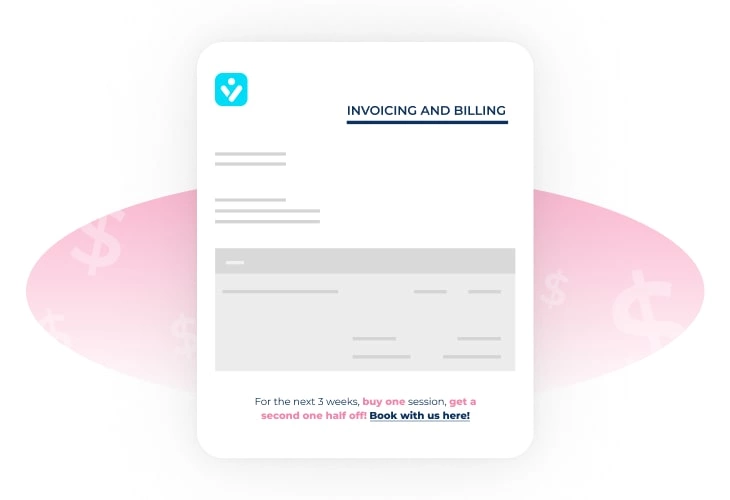 Sharing is caring! Customer retention is all about making your customers feel like part of the family, so keep them in the loop about what's going on in your world. Got new services? Promotions? Was your business featured in the local news? Add the updates to your invoice!
Try out invoice marketing with digital tools
That wasn't too scary, was it? All it takes to harness this powerful marketing tool is a few tweaks to the invoices you're already sending out,  and no time is better than now to get started. As always, we're here to help.
With vcita you can create beautifully branded invoices that send out automatically, so you can set it and forget it. Automated payment reminders stop you from needing to chase your clients for payment, and payment links make it easier for you to get paid on time and in full.