What if you could create a whole new revenue stream just by spreading the word about vcita?
Sounds nice, right?
With our brand spankin' new vcita xperts reseller program, you can do exactly that.
But keep in mind that this is no average reseller program. With xperts, you can expand your business' current service offerings and build a real, reliable income stream.
And all the while, all you have to do is promote a tool that 100,000+ small business owners already know and love.
In this guide, we'll highlight the benefits of the vcita xperts program and why you should get on board ASAP.
What exactly is vcita xperts (and who is it for)?
vcita xperts is our affiliate program designed specifically for business consultants and marketing agencies.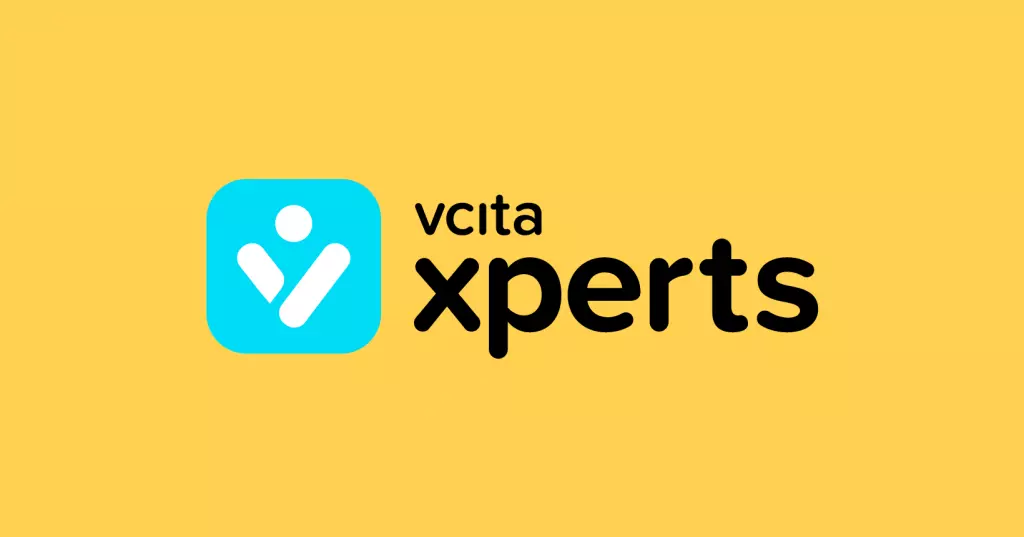 The goal behind xperts is to help our partners run healthy, innovative companies and encourage their own clients to do the same with the help of our technology tailored for small businesses.
As an xpert, you're certified to resell the vcita app and offer a variety of new services to your existing and future consulting clients.
What's great is that with vcita being such a treasure trove of marketing and business management features, you can add new services to your core offering literally overnight, without disrupting your normal work routine or having to make costly hires.
If anything, becoming a vcita xpert gives you a great sense of freedom and flexibility when it comes to how fast and how far you want to grow your business.
For example, you can create and sell any kind of bundles and packages that you want. You may choose to offer the service on a month-to-month retainer basis or set your own terms, it's your call.
You can also choose to either sell training hours and teach clients how to use vcita independently; offer remote or no-site tiered support packages, or suggest a complete (and friendly) "takeover" where you take full ownership over clients' accounts and do all the heavy lifting for them.
To recap, joining vcita xperts gives you the power to mix and match perfect, on-target solutions for your clients without stretching your resources or compromising the quality of your work. Whether your clients are looking for a new injection of leads, polishing up their payments strategy, or a dedicated full-time marketing consultant, by joining vcita xperts you can offer them all that, and more.
How does vcita xperts work?
Let's be clear, though. This isn't your average reseller program.
We're not asking you to start slinging an affiliate link and call it a day. We don't want you to just "sell" vcita, either.
Our end-game is to help you create a meaningful, long-term revenue stream while leveling up your service in the process.
For example, let's say you run a marketing agency. You'll likely be laser-focused on selling training packages that focus on features such as lead capturing and nurturing. If you're a business consultant, you might be more focused on our CRM features.
Either way, we're flexible and you can choose accordingly. Rather than try to force your clients to learn everything about vcita, you have the freedom to pick and choose features a la carte based on your business.
And the commissions offered from xperts are nothing to scoff at: 30% commission on account sales which is lifelong as long as the sub-account continues paying.
Oh, and a personal account manager will work with you step-by-step to put together a sales plan to win over clients.
Not only do we allow you to customize what you sell via xperts to better fit your business' goals, but we also actively work with our partners to ensure their success.
What are the benefits of becoming a vcita xpert?
We get it: you might have been burned by reseller programs in the past.
And setting up a new one might not seem like a top priority right now.
Thing is, vcita xperts doesn't require you to retool your business to be able to resell our services. Quite the opposite, actually.
Let's quickly run down some of the big-picture benefits of becoming a vcita xpert.
1. You can immediately expand your business' services to win more clients
Okay, this is the big one.
Consultants and agencies should constantly be on the lookout for new services and ways to "wow" prospective clients.
Because let's be honest: the space is crazy competitive. To ensure that your prospects don't go elsewhere, you need to offer anything and everything you possibly can as part of your services.
Let's say you don't already offer marketing, CRM or client communication management to your clients. Through vcita xperts, you can do so in a snap.
Best part? Instead of overwhelming your clients with Excel spreadsheets and reports, you can wow them with a visual snapshot of their business that cuts right through the clutter and delivers straight answers to game changing questions like:
Where are my leads coming from?
Is my cash flow positive each month?
Do I have the right customers?
Armed with these mind blowing insights, you can train your clients to use vcita's actionable platform to drive ROI in just weeks or months. To get them started, you can teach them how to:
Automate their marketing
Create top-selling service packages
Get bookings from Facebook and Reserve with Google
The list goes on and on!
This unique ability to offer services that are baked right into vcita's ecosystem feature another distinct advantage to your business: it "locks" your customers into the platform (not in a creepy way!) and keeps them from bouncing to competing services and products. This is especially true since vcita is so easy for small business owners to access and understand.
2. Setup is seriously quick and seamless
If you already offer consulting services or you already love vcita, setting up your xperts account is a breeze.
Why? For starters, you don't have to fit a round peg into a square hole when it comes to selling our platform. After all, the features baked into vcita are already perfect for your target audience. If you're familiar with the platform and its perks, you can talk them up to your clients organically.
Besides, we totally hook our xperts up when it comes to selling! Below is a quick snapshot of some of the resources we provide to put you on the path to scoring sales:
A pitch deck (see below)
A client cheat sheet
Social buttons and ads
Onboarding materials
An account manger to help you get started
3. You can give your existing service packages a much-needed bost
Again, our reseller program doesn't require you to totally transform the way you do business.
We've talked about the importance of offering packages in the past. As an xpert, you can add additional training sessions to your current packages and plans. This allows you to charge a premium, too.
Likewise, you can be as hands-off or hands-on as you want. We're all about flexibility! For example, you can either onboard new clients yourself or let us do the legwork for you. This means you can earn revenue and bring new clients onboard at your own pace.
4. Save time by confining all of your client interactions to a single platform
vcita is a massive time-saver for businesses looking to manage all of their client scheduling, payments and appointments in one place.
Well, the same rings for the clients you work with via vcita xperts. Rather than jump between emails or spreadsheets to inform clients of new meetings or leads, they're all logged directly in our platform, where the magic happens.
5. Track your clients' performance (and take action to help them)
Another added bonus of working within vcita with your clients is that it encourages a more proactive relationship with them.
By monitoring their successes and struggles, you can both document their wins and determine actions and interventions to help them with their business. This means that clients never go too long without help and that you're consistently guiding them to do better business.
6. By partnering with vcita, you instantly establish your business' credibility
Not to toot our own horn, but we're pretty proud of what we've built here at vcita.
Our 100,000+ customers, industry partners, and various accolades would seem to agree.
With us, you don't have to worry about working with some sketchy reseller program that's going to potentially damage your reputation or flake out on you. The ability to associate with our brand and co-opt our totally sleek suite of tools makes your company look stronger by default.
Much like we have total confidence in what vcita is capable of, we have total confidence in our xperts!
7. More money in your pocket!
And yes, extra revenue is an enticing aspect of any reseller program.
The importance of having a variety of revenue streams really can't be overstated. In a day and age where so much is uncertain and retaining clients can be tough, extra income anywhere and everywhere is welcome.
Again, we help increase your earning potential by leveling up your consulting service and giving you a hefty commission cut at the same time.
How do I get started with vcita xperts?
Ah, the most important question!
Right now, there is no self-service option for getting started with xperts. Joining requires a discovery call with one of our vcita xperts account managers. During this call, you and the account manager will agree on the terms of your xperts agreement and initiate the setup of your account.
And then you'll be good to go! Upon entry in the program, you'll be hooked up with the following:
A complimentary vcita Business subscription
An onboarding session to gain familiarity with our platform's features
An advanced partner dashboard for tracking subaccount progress
Access to marketing collateral to kick-start and support sales
Already a current partner? No problem! All resellers, solutions providers and existing partners will be migrated to the new xperts program soon enough.