CRMs have been with us for a long time. In 1987, two early tech disruptors, Pat Sullivan and Mike Muhney, released the first CRM ever.
Appropriately named "ACT!", Sullivan's and Muhney's CRM was an innovative digital Rolodex, efficiently storing and organizing customer contact information in a single unified system.
Fun fact: Sullivan's and Muhney's glory lives on to this day among early adopters and die-hard fans.

Fast forward to 2020 and the CRM business is booming. Our own company, vcita, launched its CRM product in 2010, back at a time when the industry was dominated by big players like SalesForce who were selling robust, enterprise-focused CRM systems.
Our unique contribution to the market? Bringing the gospel of CRM to solopreneurs and small businesses, packaged in a quick, shiny app.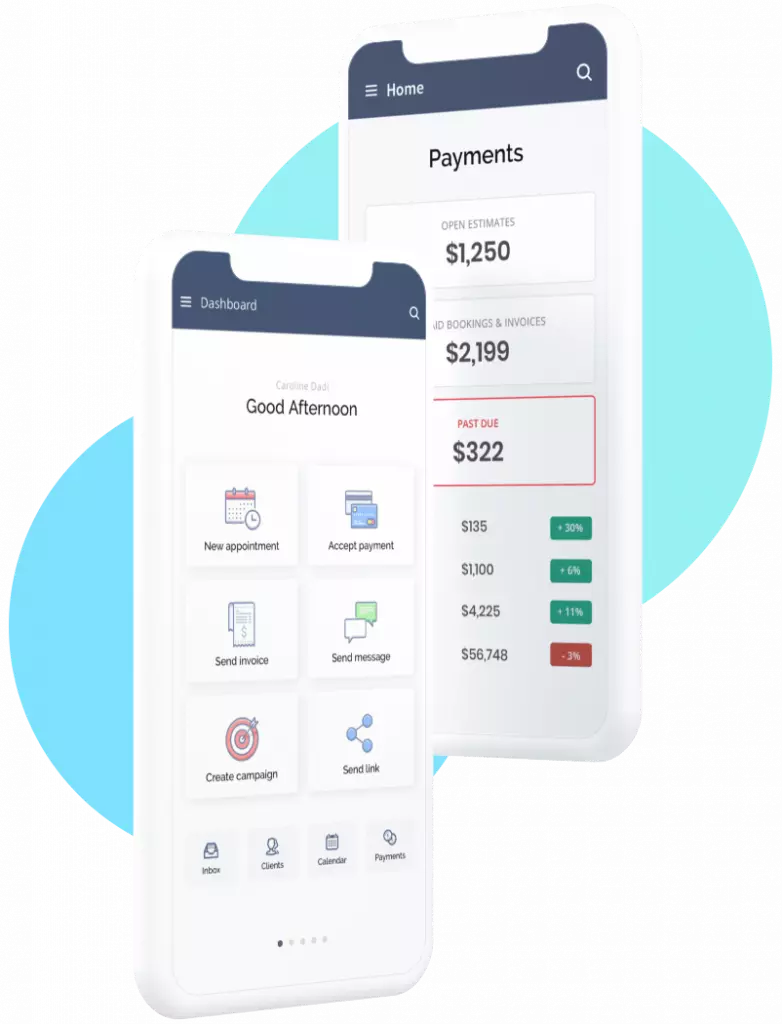 Truth be told? We thought we had it made. And then came MasterCard.
MasterCard and vcita: The Encounter
A few good months ago, when Corona was still just a beer, we chanced on a meeting with MasterCard's Europe Small Business Segment team.
It was an interesting meeting. Through our shared experience of working with small business owners, we were able to compare notes and see that our teams were both seeing the same picture:
While small businesses' interest in moving their daily business tasks online has never been higher, far too many small business owners were still struggling to make or stick with the transition.
The problem, we all agreed, wasn't with access to technology. There are many great online solutions for managing your customer relationships today – and unlike the CRMs of the 90's, they're super affordable, too.
But this abundance of tools and solutions also has a downside: It creates confusion, lack of focus, often throwing at small business owners much more than they can chew.
While small business owners are constantly being told to "hurry up and digitize", no one's stopping for a moment to check in with them, find out who they are and what they need, or help them bridge the gaps required to support the transformation.
We were wondering: Can a CRM software do all that?
We all agreed that if it could, we were yet to see one.
Next thing that happened?
We're not sure if it was the vodka in the Gazpacho or one of those rare "Eureka!" moments. But MasterCard and us decided we were going to create that CRM.
Our very first joint project, "Business Unusual", was born.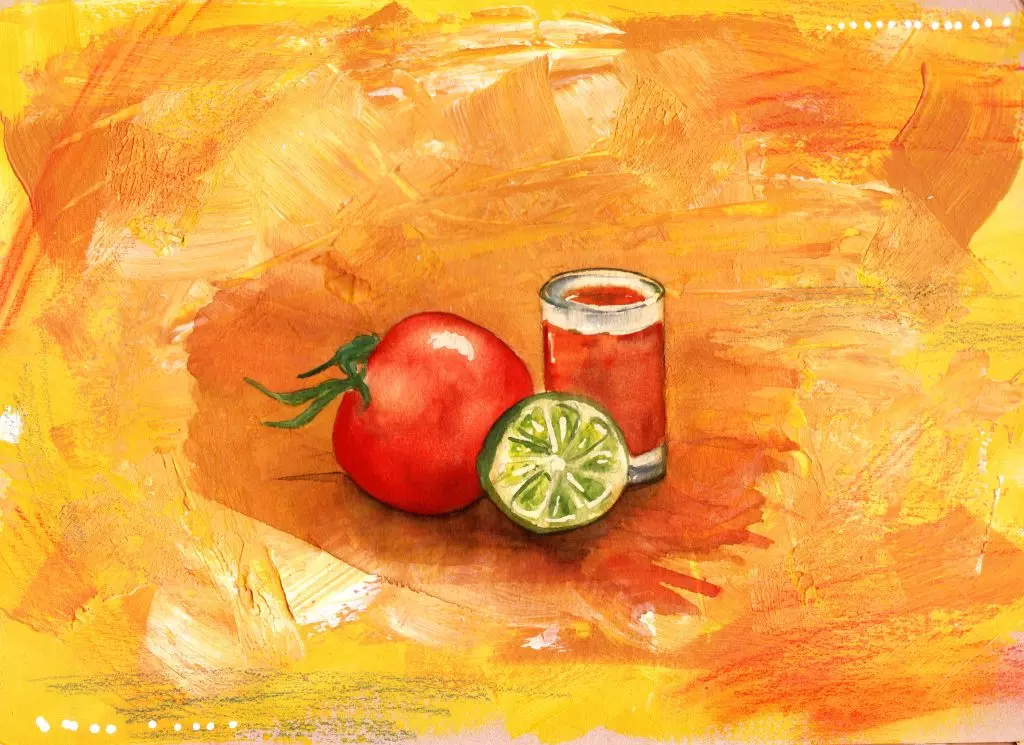 What is Business Unusual (Or CRM: RELOADED)
On a first look, "Business Unusual" is a seemingly regular small business focused education hub.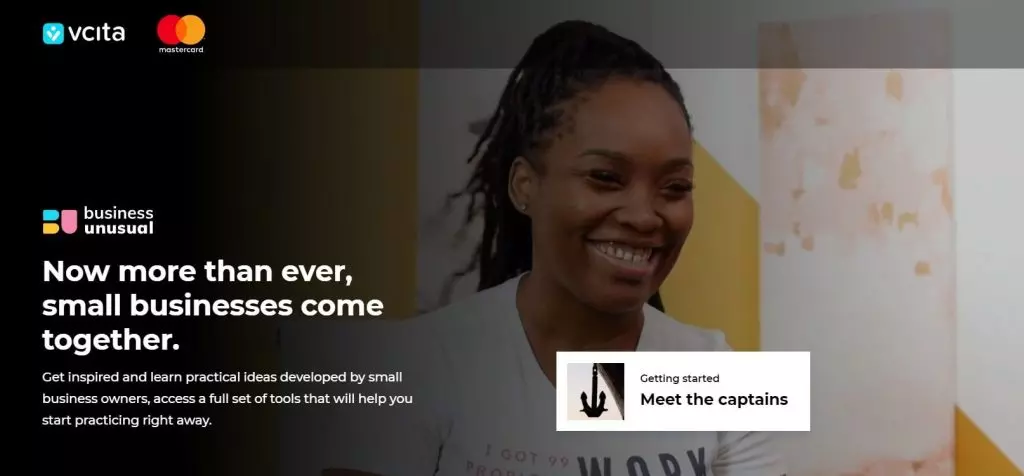 But like an onion, the deeper you look, the more layers emerge.
Our joint think tank with MasterCard landed us with 3 key valuable insights:
Small business owners have a (healthy) suspicion of brands and are far more likely to trust and accept decisions that their own peers – namely, other small business owners – make
Small business owners are only interested in learning practical skills they can put to good use in a short amount of time
Small business owners can't be expected to make the leap from theory to practice on their own when no support is offered
Based on these insights, we developed an entire new methodology for onboarding small businesses to the cloud.
It starts, naturally, with learning. The Business Unusual hub features short and simple video lessons that teach small business owners practical, on-target skills: how to price their services; accept online payments; generate more recurring business.
You'll find no traditional business instructors on board either. Instead, each lesson is led by a "Captain": a small business owner who's already transitioned their bookings and payments online and is happy to share their experience casually, first-hand, from one business owner to another.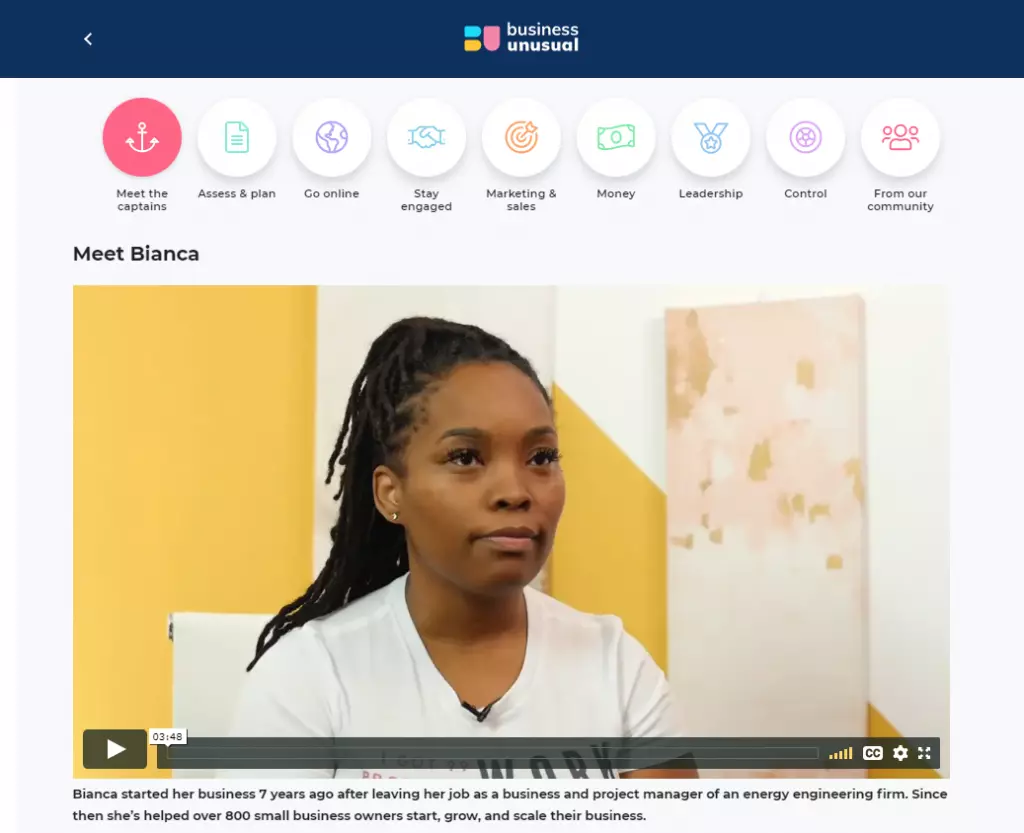 All lessons are followed up by interactive quizzes and surveys to help small business owners assess their current situation and choose what they want to do next.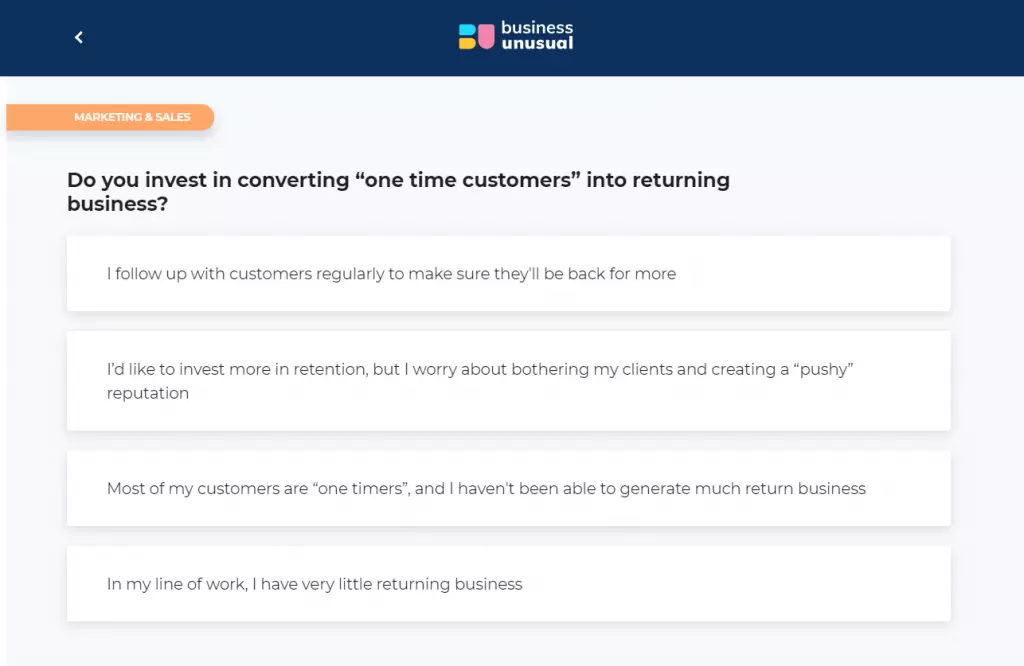 But here comes the real icing on the cake or what makes Business Unusual so, umm, unusual:
Based on the feedback they provide, small business owners are encouraged to take instant actions within vcita's CRM.
So, for example, if you've just watched a video on how to upsell clients, your next click will land you straight in the CRM's marketing module. There, you'll be able to create your very first online coupon and send an email marketing campaign to your clients.
Business Unusual isn't just a business education hub. It's a shortcut to the Cloud. By learning with Business Unusual you are effectively upgrading your business to a digital operating system, without even noticing.
Why just learn, when you can Learn and Do?
How to Join Business Unusual
If you're a small business owner
If you're a small business owner, go ahead and click on https://www.businessunusual.io
Business Unusual is open to any and all service-based business owners who want to go digital while not losing sight of the big picture, maintaining control of their business, and taking it one step at a time.
Even if you're not ready to go full digital, you can choose one step you're most interested in making, say, sending online invoices, and gradually scale up from there.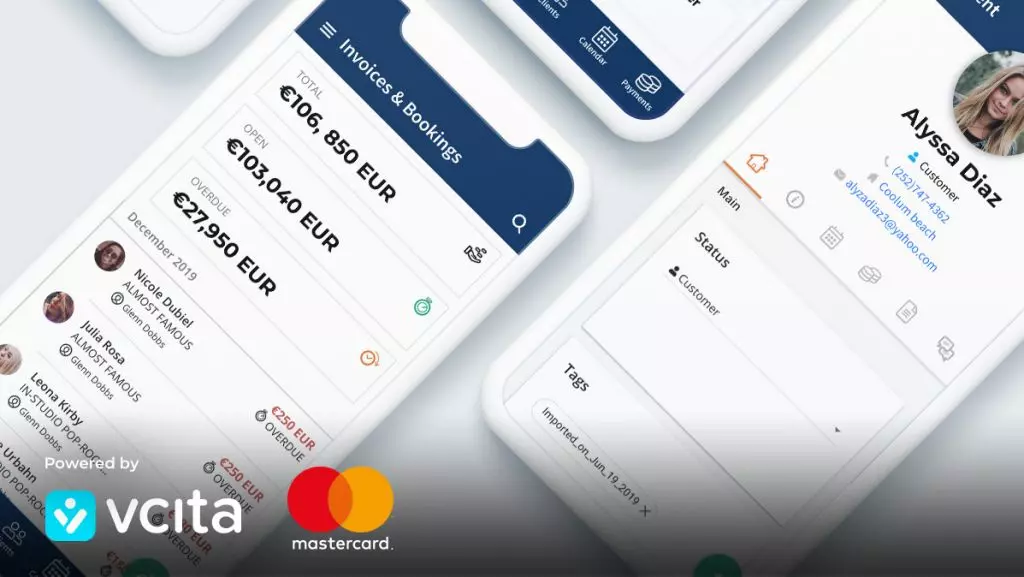 Eventually, Business Unusual is here to help you put your most time-consuming, repetitive office tasks on auto-pilot (think of it as a virtual assistant on steroids).
We have easy, intuitive solutions for all your business needs: Client management, billing & invoicing, scheduling, and email marketing.
Sounds good? Your small business Captains are waiting for you on board.
If you're an enterprise, corporate or financial company
Business Unusual is our first education-based CRM product, designed to transition traditional business environments into a digital operating system.
We realize that your clients, just like ours, may be resistant to new technologies. They fear the learning curve; fear the unknown, and some are scarred by previous failed experiences.
We can help. We specialize in creating friendly, user-centric digital business solutions for micro and small businesses. We work with telco and financial companies, local business directories, and advertising agencies and will be happy to bounce off ideas with your team.
For more information, please contact us via our Partners hub.