Once COVID-19 was officially declared a global pandemic, businesses everywhere scrambled to address the crisis. Those that could do so started transitioning their workforces online while many service-based businesses in nonessential industries began laying off their employees indefinitely.
Perhaps this happened to you. Maybe you worked in a clothing store or movie theater that was ordered closed, and you're now exploring work from home opportunities. Alternatively, you may be craving the work-life balance that accompanies self-employment and want to explore the online opportunities that appear to be growing.
Whatever your reasons for wanting to freelance, there are several options available to you, one of which is sure to match your interests and capabilities. In this article, we will review the 7 best work from home jobs for 2022.
1. Online teaching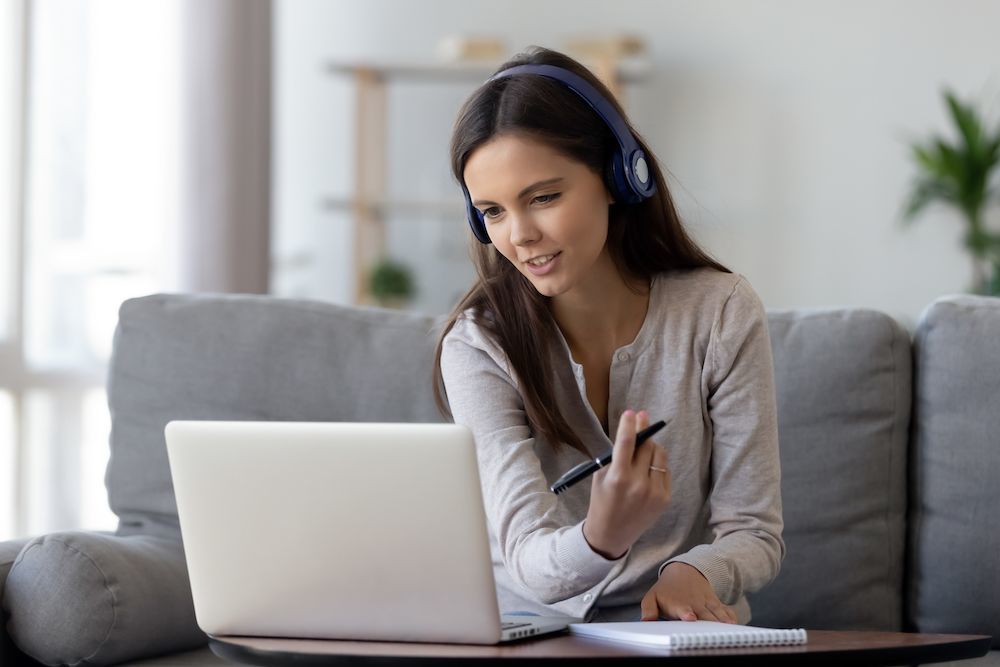 There are multiple opportunities to make money teaching online. While some jobs require a degree or other form of accreditation, others are open to anyone with talent and commitment. In this section, we'll go over the following options:
Language teaching
Art instruction
Mindfulness and meditation instruction
The platforms you sign up with will indicate their technical requirements. At the bare minimum, you will need a broadband Internet connection, headphones, a microphone, and a web camera. If you'll be scheduling and billing for classes yourself, you'll benefit from online teaching software like vcita, which offers a video conference platform, class scheduling, online payments, course material sharing and everything you need to run an online teaching service online.
Language teaching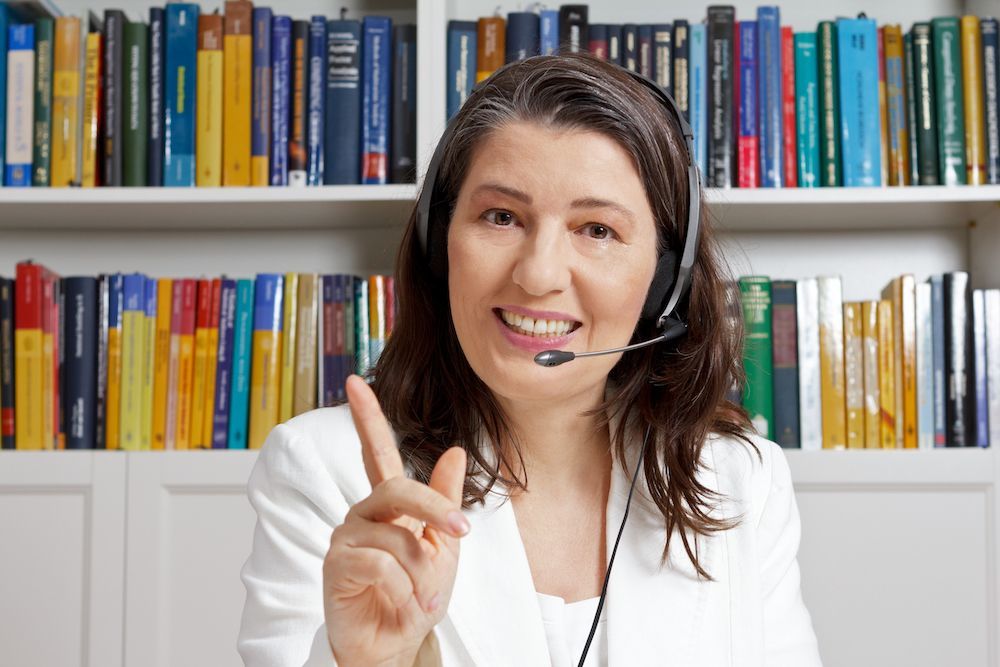 English is the official language of 53 countries and remains the dominant language in international business. Therefore, schoolchildren and business professionals alike make learning English a priority. While some do so in classrooms, others have such a demanding schedule that they study online. This is where you can help, and enjoy a regular income in the process.
Qualifications
Most English instruction platforms want you to have some form of accreditation before accepting your application. For example, VIPKid only accepts those who have a Bachelor's Degree and a year of relevant experience while Lingoda requires ESL certification. Others, such as Cambly, require no degrees or certifications from their online instructors.
Where to find work
Depending on what credentials you hold, you can find work on websites like the following:
VIPKid: Pay range is $7-9 USD per 25-minute class, with an additional $2 for each one if you teach at least 45 classes a month and are never late.
Lingoda: Teachers average $7.85 – $12.34 USD per hour.
Cambly: Pays $0.17 USD per minute, which comes to approximately $10.20 USD per hour.
Art Instruction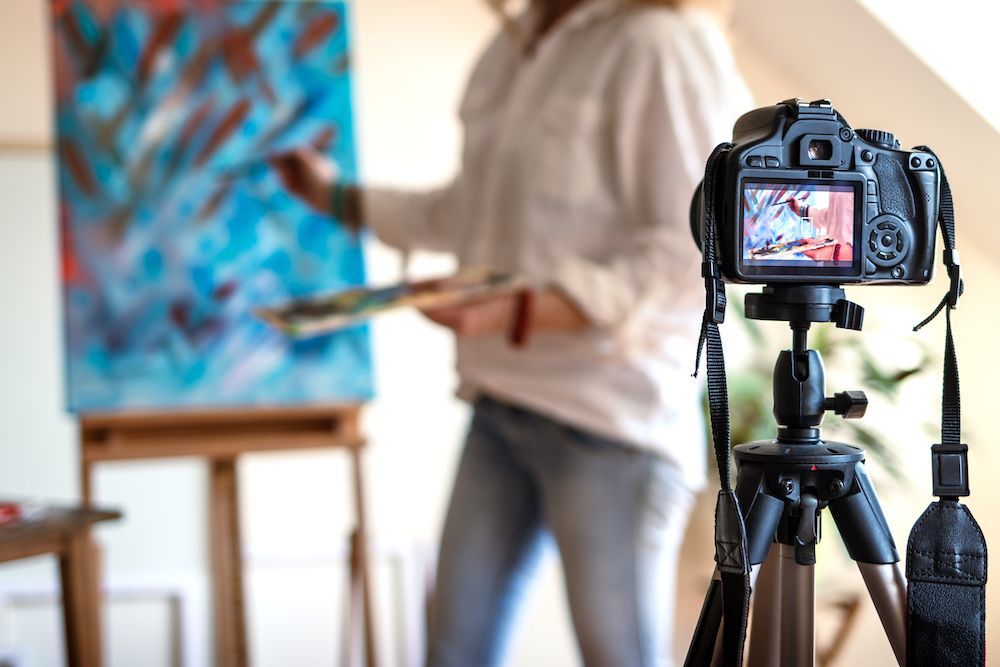 Art tutorials are popular on YouTube because they allow viewers to learn at their own pace. While some people limit their virtual art instruction to these generic videos, others prefer one-on-one guidance or a series of classes that lets them gradually develop their artistic ability.
If you have an artistic skill, such as drawing, knitting, or ceramics, you can have an enjoyable work from home job teaching others how to master your craft.
Qualifications
Unlike language teaching, you don't need a certification or a degree to provide online art lessons. What IS essential is that you provide evidence of your skills by doing the following.
Setting up a website: A well-designed website lets you show off your work and provide class information. WordPress is beginner-friendly and comes with free hosting. Another popular option is Wix, a free site builder that's easy to master.
Posting video tutorials: You can use your smartphone to record engaging and informative tutorials. Post them on your site (most hosting packages include video plugins) or start a YouTube channel to attract a following and encourage registration.
Where to find work
As an online art teacher, you can decide whether you want to work on an established platform or market your website directly to potential students. If you prefer to register with a course website, your choices include:
If you would rather teach through your own website, you can attract students by joining Facebook Groups, posting your work on Instagram, and emailing friends and family to see if they or anyone they know may be interested. We may be living in a digital age, but word-of-mouth still works!
When you opt to teach directly through your website, your income will be based on what you charge for lessons and how many courses are booked. While there is no firm data on online art teacher salaries, a review of instructor websites can give you a decent idea of how much you can earn. Deep Space Sparkle, for example, has its workshops priced at $99 USD while renowned artist Glenn Vilppu charges $600 USD per six-week course.
Mindfulness/meditation teacher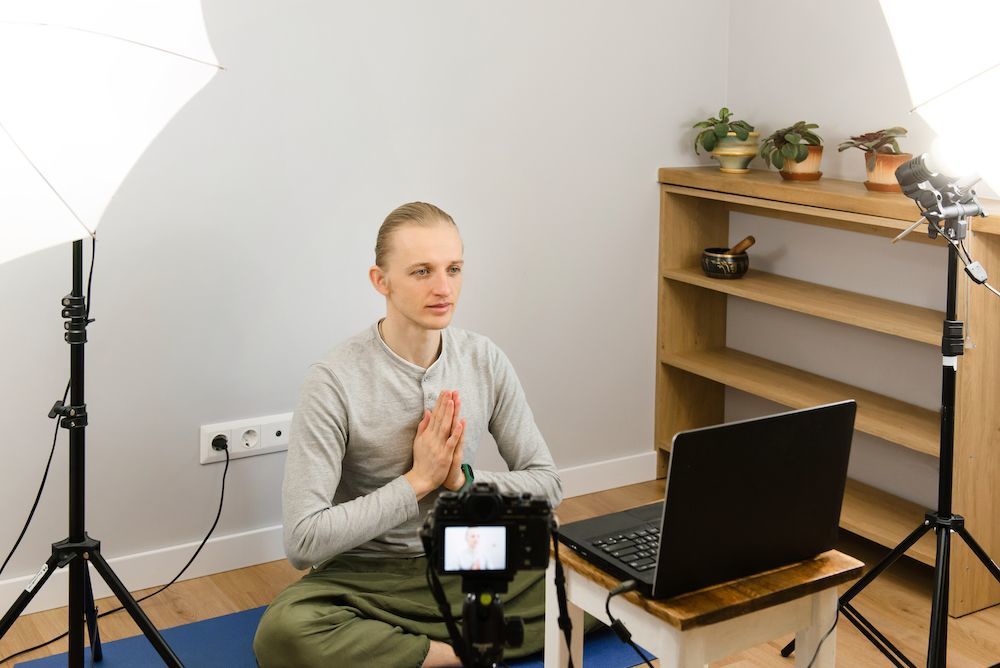 With so many studios temporarily closed, mindfulness and meditation students are eagerly searching for online instruction. If you are a regular practitioner, you can share your knowledge with others from your home studio.
Qualifications
In most cases, you don't need official certification as a meditation instructor, although obtaining it can give your business more legitimacy to prospective students. One noted exception is transcendental meditation: being a trademarked practice, you have to complete a training course before you can teach it.
Where to find work
Like art, you can teach mindfulness and meditation on platforms like Udemy or Skillshare or teach via your own website. You can also write guided meditation scripts, record them, and make them available through audio hosting sites like the following:
SoundCloud: The free plan has a three-hour upload limit per month. If you need more, paid upgrades are available starting at $8.00 USD per month.
PodBean: Like SoundCloud, PodBean has a no-frills free option that gives you five hours of upload time per month. Upgraded plans run from $9.00 to $99.00 USD per month, depending on the features you want.
You can advertise your mindfulness/meditation courses on social media as well as go the tried-and-true word of mouth route. To boost registrations, offer free sample meditations on your site, so people who aren't familiar with your work will be inspired to take a class.
According to ZipRecruiter, meditation teachers in the U.S. make an average of $65,024 per year. (The statistics, however, do not differentiate between online and in-person teaching.) Lifestyle Meditation charges $19 for a recorded class while the Quiet Company encourages voluntary contributions for use of its virtual studio.
2. Create an online course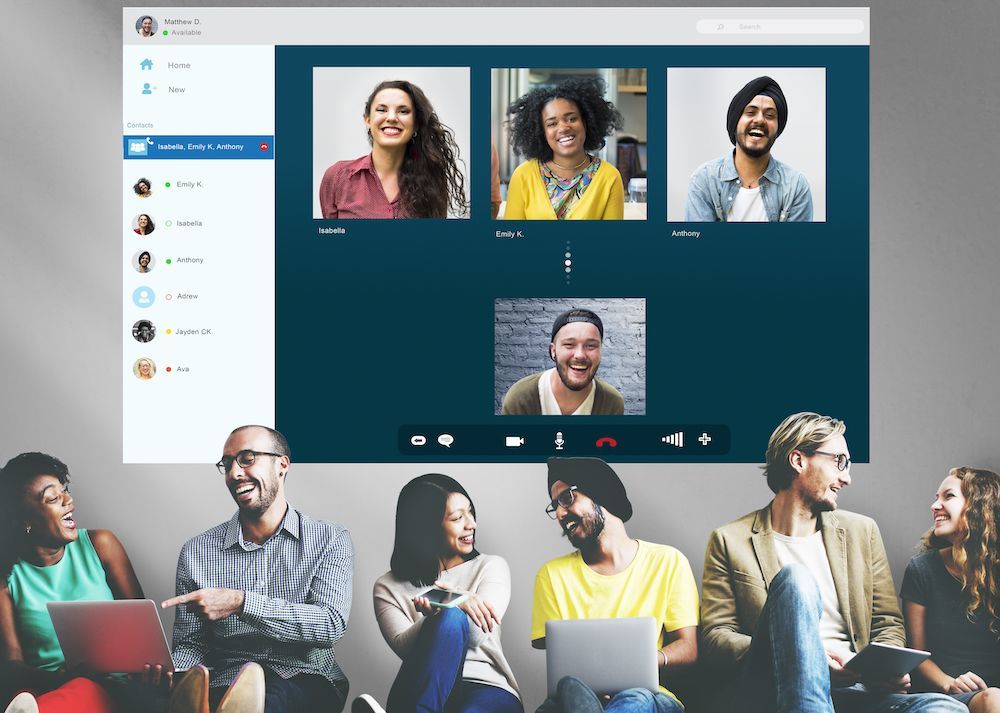 People take online courses for both personal enrichment and career advancement. A BestColleges.com survey found that 79% of those who study online find the process to be equal to or better than classroom learning. A Forbes article predicted that the e-learning industry will reach $325 billion by 2025, so if you've been thinking about creating an online course, now is an ideal time.
According to passive income website Persuasion Nation, the top niches for online courses are:
Computers and technology
Business and entrepreneurship
Arts and crafts
Health
Fitness
Qualifications
Depending on what you're teaching, you may have to be qualified to offer a course. If you want to provide online aerobics instruction or nutritional counseling, you'll need the appropriate training and certification. Subjects that rely on personal ability or experience, such as writing or starting a business, don't generally need professional qualifications.
Where to find work
If you've never run an online course before, Udemy or Skillshare are popular and trusted platforms for a wide range of course subjects. Depending on how many students sign up, you could potentially earn up to $3,000 on either site.
3. Online tutor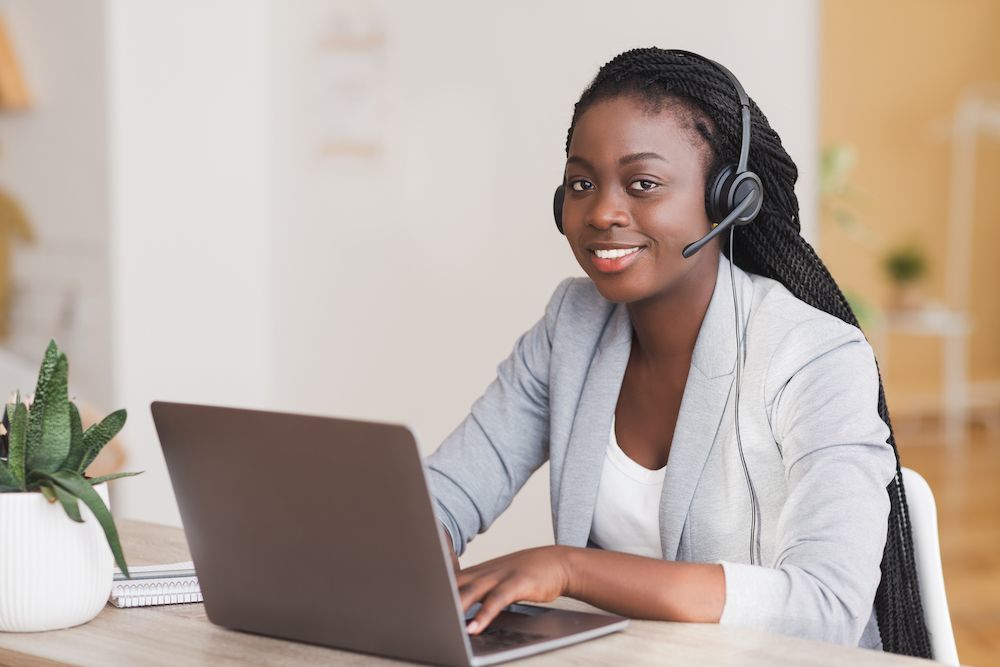 In 2018, industry analyst Technavio published a study suggesting that demand for online tutors would grow at an annual rate of 14%. With school pupils everywhere now studying from home, you have an opportunity to tutor them in any subject you've mastered.
Qualifications
Online tutoring has one core requirement: subject expertise. Beyond that, necessary qualifications will vary depending on what platform you use. Some only want you to have a high school diploma while others will ask for a teaching license or Bachelor's degree.
Where to find work
You can find jobs for online tutors at the following sites:
Tutors.com: If you have a high school diploma or a GED, you can sign up to tutor your preferred age groups at times that complement your personal schedule. You set your own prices. According to the site, average tutoring prices range from $25 to $80 per hour. Signing up is free and the site claims to take no commissions or percentages.
Skooli: If math is your passion, you can earn $25 USD per hour tutoring on this site. Applicants must have a Bachelor's degree (or higher) in a related field, teaching license, or mathematics certification.
Special Ed Tutoring: If you enjoy helping children overcome learning challenges and have a degree in Special Education, this platform offers tutoring opportunities in a variety of subjects. Pay scale is not published on the site, but is likely comparable to or higher than other tutoring platforms.
4. Content writer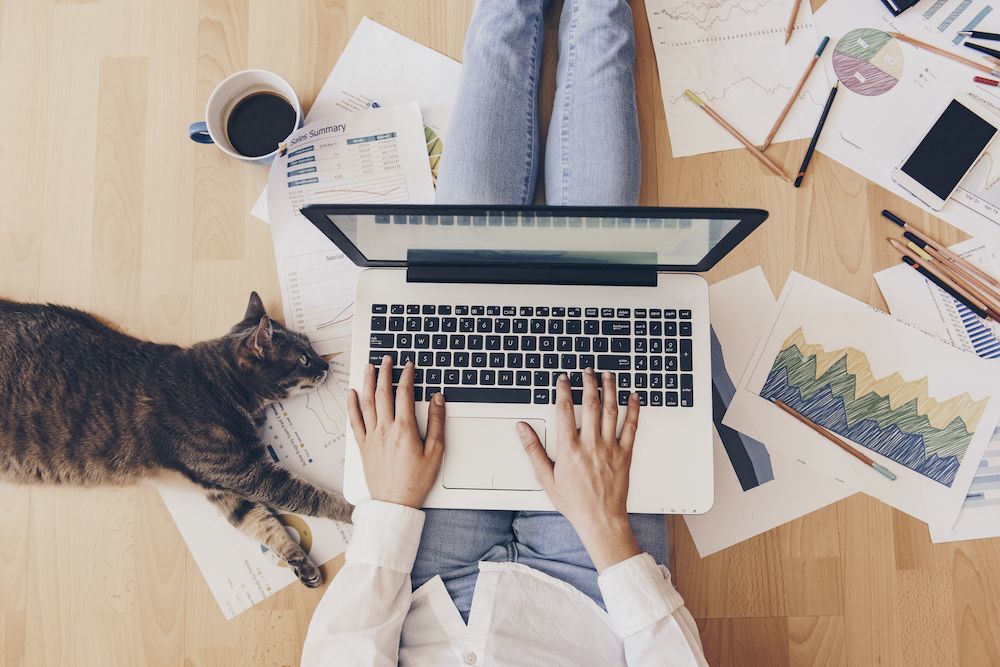 Thousands of people across the world write for a living. If you have professional writing experience or even an excellent way with words, you can produce blog posts, web copy, eBooks, and social media posts for clients across the globe.
Qualifications
In most cases, proficiency in English, a good grasp of grammar rules, and excellent customer service skills are all you need to succeed as an online content writer. There is a lot of competition out there, but if you write well and consistently deliver good work, you can grow your client base and enjoy a sustainable income.
Where to find work
Practically all sites that bring freelancers and clients together offer work opportunities to writers. Be aware that you will probably have to go through an approval process that includes submission of writing samples and online tests.
Upwork: Upwork connects freelancers and clients in multiple disciplines, writing included. You will have to complete a profile and have it approved before you can start applying for jobs. Some opportunities pay by the hour while others are fixed-rate, and payment varies from one client to the next. Upwork currently takes 20% of the project fee for the first $500, with the percentage lowering the more you make with a single client.
Freelancer: While not as well-known as Upwork, Freelancer is used by thousands of freelance writers. It charges 10% of each fixed-rate project cost or $5.00 USD, whichever is greater, and 10% for hourly projects.
Cloudpeeps: If you have previous writing experience, Cloudpeeps is a platform that pays $30 to $80 USD per hour. There is a free version that allows clients to find you, but if you want to search and apply for available jobs, you have to upgrade to a Pro account.
5. Create how to videos on YouTube
According to Tubics, there were an estimated 31 million channels on YouTube in 2019, with creators uploading 500 hours of content every minute. You'd think that the market would be saturated, but more and more new channels are appearing daily, attracting loyal viewers, and earning money for their creators.
Qualifications
You don't have to be famous to enjoy an income on YouTube. All it takes is a quality working camera and ideas for creating engaging content. Below is an overview of the most popular channel subjects, according to Lifewire.
Vlogging: This is one of the easiest ways to start. Vloggers treat their channels like a visual blog and use it to share their opinions, perspectives, and personal lives with viewers.
Product unboxing: When new products are launched, viewers flock eagerly to unboxing channels to learn more about the items from consumers like themselves.
Video games: Enthusiasts love watching experienced gamers play online while giving commentary on how to master a particular game.
Tutorials: When people want to learn how to do something, they turn to YouTube for tutorials on everything from iPhone troubleshooting to DIY home repairs.
YouTubers make money by running ads on their channel content. Advertisers pay an average of $0.10 to $0.30 per view, which equates to around $3 to $5 USD per 1000 video views. However, there's a catch: the YouTube Partner Program requires you to have at least 1,000 subscribers to monetize your account, so you'll need to promote your content on social media or spread the word among friends and family.
6. Virtual assistant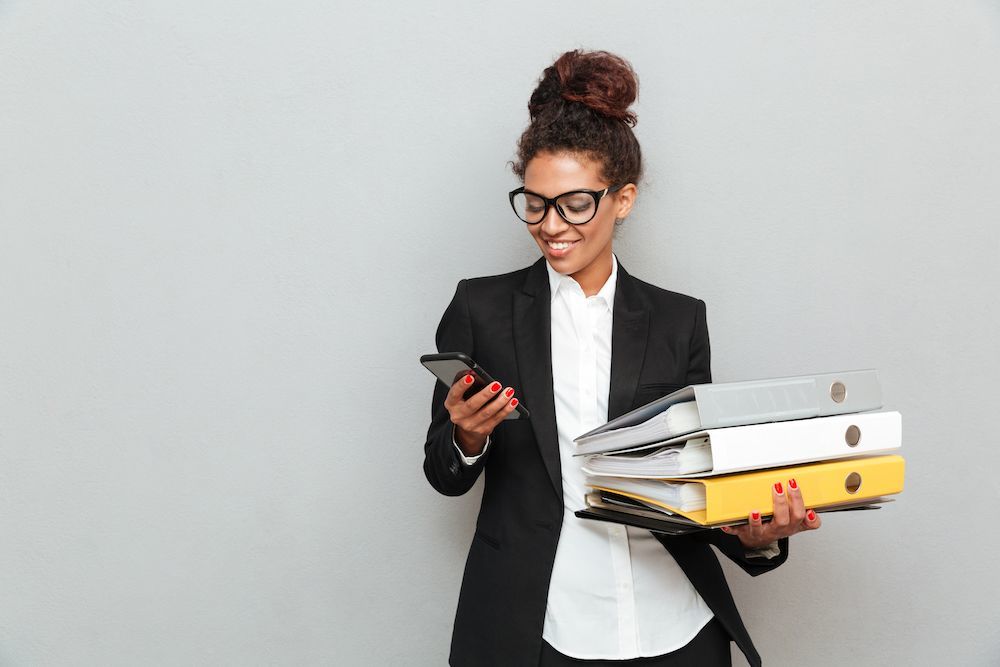 Even before the pandemic, virtual assistants (VAs) were in demand to support clients who lacked the office space or financial resources to employ in-house help. Although they often serve as remote executive assistants, some VAs have special skills, such as blog writing, graphic design, video editing and social media marketing.
Qualifications
Although some employers have their own criteria (e.g. experience booking executive travel or MS Office certification), there are no universal qualifications for becoming a virtual assistant. To succeed, you have to be proficient in the services you offer. Joining an organization like The International Virtual Assistants Association or the Association of Virtual Assistants can give your business additional credibility with clients.
Where to find work
Freelance platforms like Upwork and Fiverr have categories for VAs, but rates tend to be lower and both sites take 20% of the first $500 USD you earn per client. The sites below also feature opportunities.
FlexJobs: This job board lists over 50 categories of flexible and remote work options, VAs included. Rates are agreed upon by you and the client.
PeoplePerHour: Applications have to be approved before you can access the job opportunities available, which are either fixed-price projects or hourly work. The site takes 20% of the first $350 USD you make with a single client.
Hire My Mom: If you're at home with the kids, you'll love this site, which is dedicated exclusively to moms. Pay is $10 to $35 per hour and you'll work with clients who understand the demands of a family.
Once you establish yourself in a specific niche, you can potentially earn $20 to $40 per hour. VAs who work with Fortune 500 companies and other higher-profile clients can command $50 to $100 per hour.
7. Transcriptionist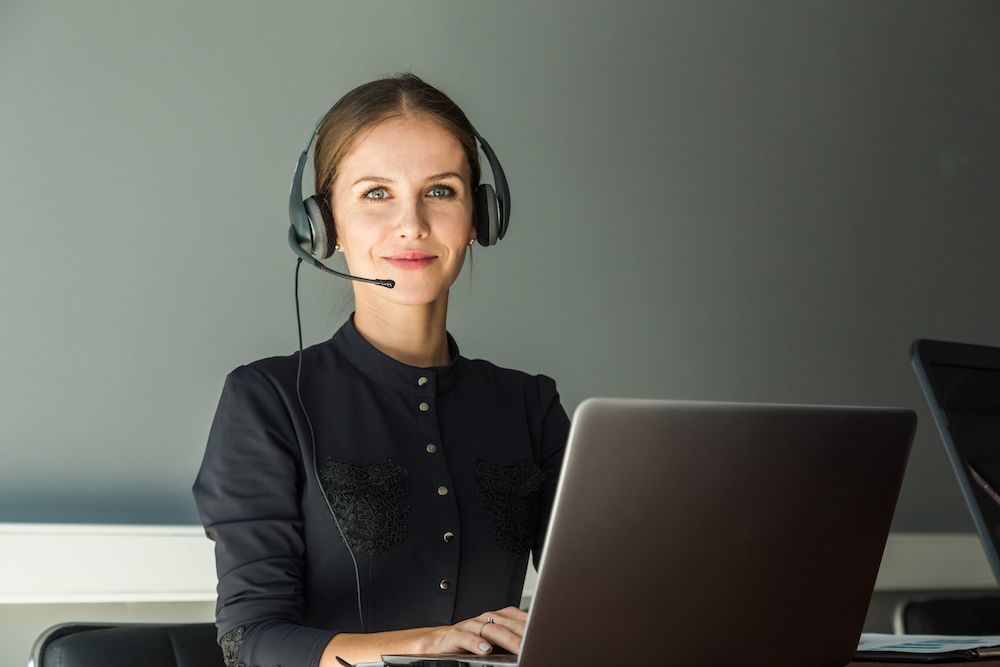 If you're detail-oriented and a speedy typist, remote transcription work can bring in additional income or even become a full-time business. You will be asked to transcribe audio or video files into written form, sometimes using programs that the client provides.
Qualifications
General transcriptionists don't need certification, but you should be capable of accurately typing at least 60 words per minute and proofreading your work afterwards. In terms of equipment, good headphones are essential, as some audio files can be unclear.
Where to find work
Remote transcription work can be found on sites like Upwork and Fiverr, or on dedication transcription platforms like the following:
Rev: Pays 36 to 65 cents per minute.
188-Type-It-UP: Pays up to $2 per minute based on experience and subject complexity.
TranscribeMe: Starts at $15- $22 per hour of audio.
Conclusion
The coronavirus pandemic has impacted the way we live and do business. The number of opportunities for making money working from home is practically unprecedented, and long after the crisis has receded, you may find yourself with a flexible and enjoyable career that you want to continue.