When you think back to customer events you've attended, how many were you glad you went to? Chances are, there were a lot of them that just felt like a sales pitch—which is unfortunate, since customer events work wonders for businesses when they're done right.
Using events to help grow your brand is a type of experiential marketing, an advertising strategy that uses an interactive experience to create a personal connection with a brand. It's a growing trend for a good reason: it works. A well thought out customer event strengthens ties with existing customers and helps create new ones at the same time.
In order to make a great customer event, you need a solid strategy. Below is a step-by-step guide to creating a winning event that will get your customers talking!
Step 1: Figure out what you (and your customers) want from your event
Presumably, the main goal of any business event is to see an eventual return on investment. Having a more specific plan will help you achieve that return, since it will give you an idea of how to focus your efforts. A mediocre event tries to do everything, but a really great event does one thing well. Before you start planning an event, make sure you can answer the five w's:
Who: even if invitations are open to everyone, you'll probably want to tailor your event marketing messages to your ideal attendee. Is it an exclusive event for your regular customers, a promotional event to entice new business, or a networking event to meet other people in your industry? Your event will be the most successful if it's designed specifically for the people you're inviting.
What: is your event a product launch? A holiday celebration? A webinar? Is it a formal affair or a casual one? Eventually, you'll want to be able to sum the "what" up with a catchy event name that's memorable and communicates its spirit.
When: when you host your event will depend on a number of considerations, including your target attendees and what your event is. If you're a business consultant hosting a webinar, you might decide to host it in the middle of a business day; however, if you're hosting a charity gala, you might decide the evening is a better time.
Where: during these times when social distancing has become the norm, the "where" of these events is often online. However, as in-person gatherings resume in certain areas, you might also consider options like drive-in events and using outdoor spaces to meet. Whatever you decide on, event safety should be a top priority.
Why: are you holding the event to sell products, or just to engage your customers with your brand? Take some time to think about what action you'd like your ideal attendee to take; then you can structure your event around guiding them toward that action.
Keep in mind that the best customer events are ones that hold value for your customers. Ask yourself: why would your customers come? It's easy to get so caught up in your marketing strategy that you don't pay enough attention to the parts of your event that are important to your customers. This can include things like special discounts, freebies, or a chance to learn something new. Whatever it is, make sure you spend time crafting something your customers will appreciate.
Step 2: Map out the details
Once you've figured out the basics, it's time to move on to the details. Plan all of them out thoroughly before you do any booking:
Budget: The first detail you figure out should be a budget for the event, since everything else will depend on how much you can spend in total.
If your event idea exceeds your budget, you can always consider the option of finding another business to partner with for the event. While an event partnership will increase your budget and could be mutually beneficial, you should also be prepared to hand over some of the creative decisions. If you're going this route, make sure you find someone you work well with.
Make a list of everything you need and its cost before you buy anything for the event. This will give you the freedom to make budget adjustments before you're tied down to any particular feature. Include an advertising budget, and set money aside as an emergency fund in case you need to scramble to find alternatives at the last minute.
Venue: Research your venue carefully so you'll be able to follow proper social distancing measures, or opt for a virtual event instead.
Any in-person venues will need to be large enough to accommodate the number of guests you plan to invite, with enough room for social distancing. If you plan to host your event outside, you may opt to rent a tent, seating, tables, or other equipment to make the space more comfortable and weather-proof.
Virtual events still need a physical venue; if you're hiring a virtual event production company, it will be in their studio—or if you're doing it yourself, in your business or office. Keep in mind that you may need some basic sound and lighting equipment to produce a professional quality digital event.
Supplies: If you're selling a product or handing out free samples, you'll need to stock up on these. Also make sure to include the cost of any food or drinks if you're hosting the event in person.
Just because your event is digital doesn't mean you can't offer swag bags! Mailing out a small package to each attendee with a thank you card attached is a nice touch that can make a digital event feel more tangible. You could even email a gift card with a branded thank you note attached.
If you're hosting an in-person event, it's a good idea to plan to provide hand sanitizer or masks for your guests.
Team: Team members could be your employees, or they could be people you've contracted to work at the event doing catering, playing music, or taking pictures.
Will you interview paid guest speakers at your event? For a digital event, you might decide to have an illustrator doing digital live scribing or contract an animator to make explainer videos to break up your live feed.
For more complex events, it might be wise to hire an event planner to organize it. In spite of the fact that their services come with a price tag, they might be able to find shortcuts that save you money in the long run.
Once you've ironed out these details, your next step is getting the word out!
Step 3: Promote your event
Promoting your event isn't just about the information your customers get about you; it's also about the information you get from them. When you promote your event, collecting the contact information and demographics of attendees will help you plan future events and will expand your contact list for other promotions. Here are a few tips on how to make sure your event gets noticed:
Event landing page: Make a simple event landing page with your business name and logo, the name and description of you event, time and place, and any other relevant pieces of information. Include a link on your landing page to register, making it clear and bold so visitors know exactly what to do. Make sure to also include lead capture fields like email addresses, so you can save their contact information.
Email marketing: Design an email to send to your contacts with the event description and a link to register. If you're selling "early bird" tickets to your event, you can send a second email reminding clients when their time to save on tickets has almost run out.
Social media ads: Paid Facebook ads are a great way to put information out there. Even if you don't have a budget for paid ads, you can make an event on your Facebook page and share it with relevant groups. Keep reminding your followers with sneak peeks of event content, swag, and other tidbits that give them a new incentive to register.
Integrated scheduling software: With all-in-one software like vcita, you can create a call to action button right on your Facebook page, and let customers navigate to the registration and payment page in one click. Integration with zoom means your clients will get an automatic zoom invite once they've registered. You can even schedule automated reminders about the event, eliminating the hassle of reaching out to each individual registrant. This is especially useful if you have a large number of guests.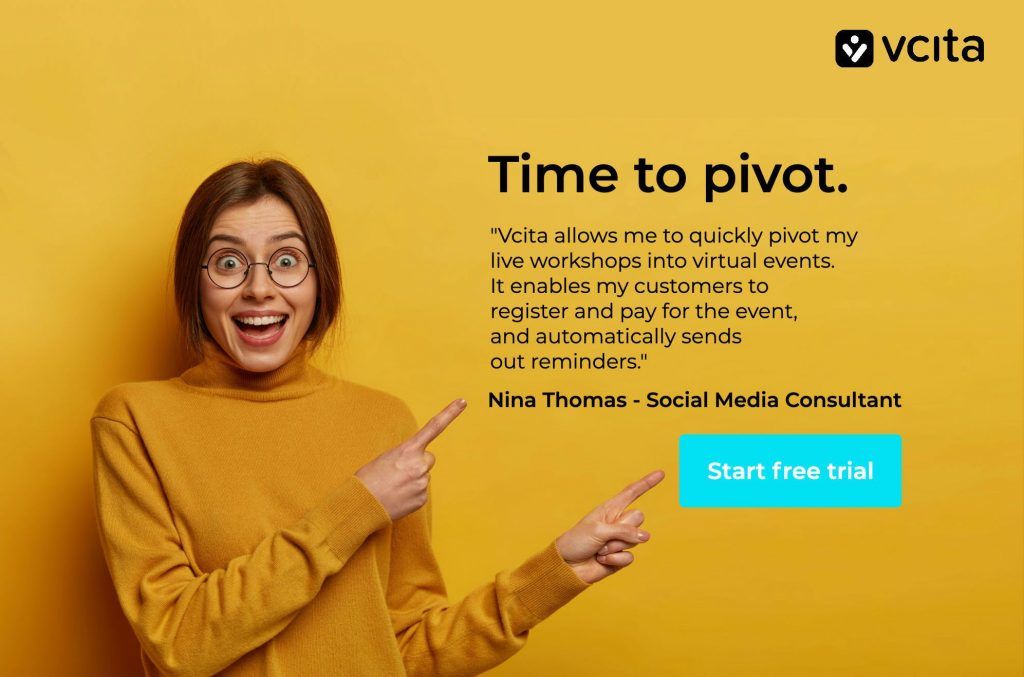 Once your event is over, follow up with thank you emails or cards. It's a small gesture, but one that helps you and your event stick in the minds of your attendees. You could also try sending out a survey asking for feedback on the event, or links to your next one!
Connect with your customers
 While experiential marketing is going digital, that doesn't mean you can't connect; you just need to find creative ways to do it. In some ways, the shift towards digital events has made it easier than ever to create unique events—and made it easier than ever for your customers to join them!