If you love being a contractor, it's easy to see why.
You do work that you enjoy for a wide range of clients, which keeps things interesting and provides multiple sources of income.
Best of all, you're in charge.
However, contracting is a business. You need to invoice clients and see what's been paid, what's coming due, and what requires immediate follow-up. Since you're a smaller business, you also need to be able to do it quickly or, even better, automatically.
The great news is that there's a lot of excellent invoicing software available for contractors. You can use it to:
Instantly send estimates, invoices, and receipts
Let clients pay directly from your invoice
Manage everything in one place
In this guide, we provide an overview of 10 popular invoicing platforms and how they can make your contracting business even more profitable.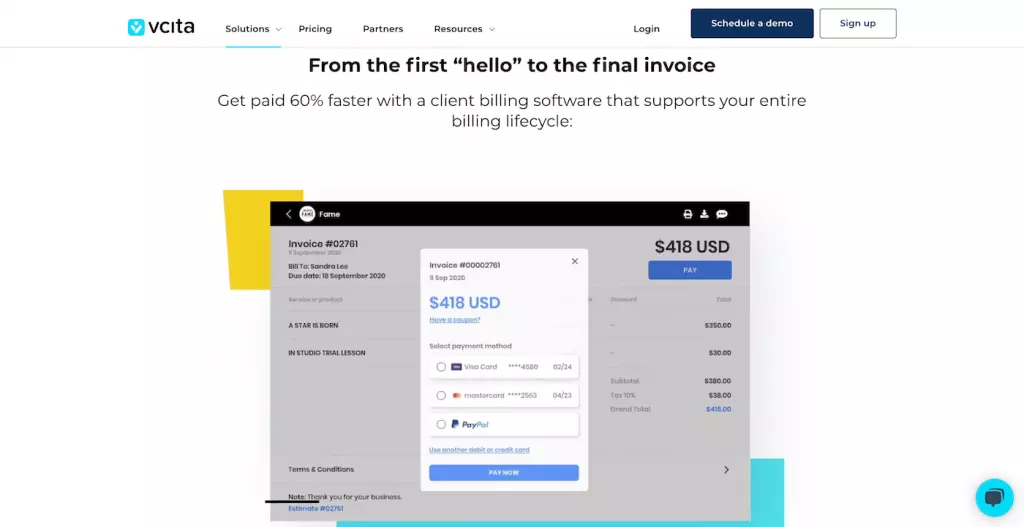 With vcita, you have everything you need to invoice your clients, collect payments, and follow up on past-due accounts. Features include:
Detailed and customizable estimates, invoices, and receipts
Email and SMS invoices
A mobile app so clients can pay on the go
Automated payment reminders- no time-consuming collection calls
If we had to describe vcita using just one word, it would be 'convenient.' It integrates with a wide range of payment gateways, so that you can accept credit cards, PayPal, and other common mediums.
Unlike a lot of invoicing software for contractors, vcita gives you a full CRM system with features that go beyond billing alone. You can basically manage your entire contracting business from a single user-friendly dashboard that lets you-
Accept appointments and service requests
Send email campaigns
Manage clients and sales pipelines
Maintain HIPAA compliance in client communications and information storage
If you're already using a different invoicing or contact management system, you can easily transfer all information from your existing system to vcita via the contact sync feature.
The vcita pricing structure is divided into solo and team accounts. With the basic Essentials plan, you get all the invoicing and CRM features you need to run your contracting business for only $19 USD per month! (If you want the marketing module, however, you'll have to upgrade.) A 14-day free trial is available.
See how existing users review vcita on Trustpilot, where they are ranked 4.6/5.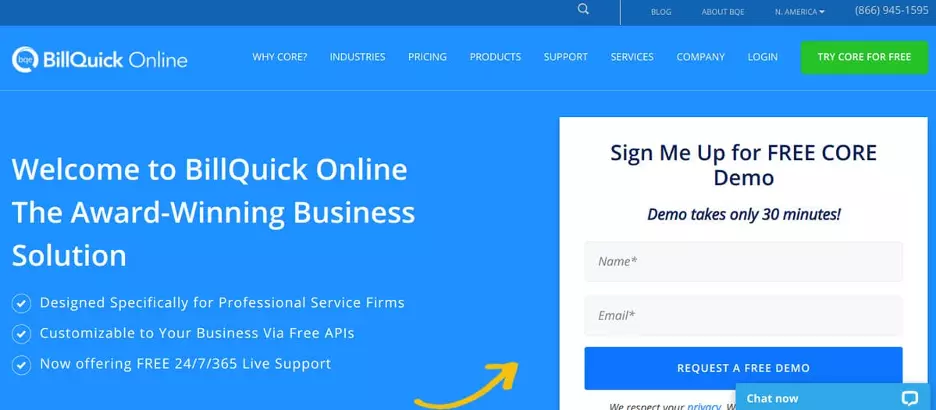 BillQuick Online is an award-winning software designed to help professionals like engineers, lawyers, and accountants manage their billing needs more easily. Features include:
A comprehensive collection center
Color-code different jobs for easier tracking
Batch-send invoices to a single client
Accept credit card payments
The focal point is the collection center, which stores critical information like customer details, payment history, and account notes for easy access and review. The invoicing feature includes over 500 regular and customizable templates, all of which can be emailed to your clients in PDF, Excel, or Word formats. Thanks to an integrated payment gateway, recipients can pay immediately via credit card, keeping your cash flow strong.
BillQuick is similar to vcita in that invoicing is only one of its robust features. You can use it to manage and monitor projects, control the work hours of subcontractors or employees, and store client communications for easier reference and retrieval.
BillQuick Online has two pricing plans: Professional, which is $19.95 USD/month/user, and Enterprise, which is $24.95/month/user. A 15-day free trial is available for both plans.
Unlike vcita, BillQuick Online does not have file-sharing or collaboration capabilities, but it definitely shines as a scalable solution for contractors wanting to manage their billing, invoicing, and accounting functions on a single platform.
See how other customers review Billquick on Trustpilot, where they are ranked 4.4/5.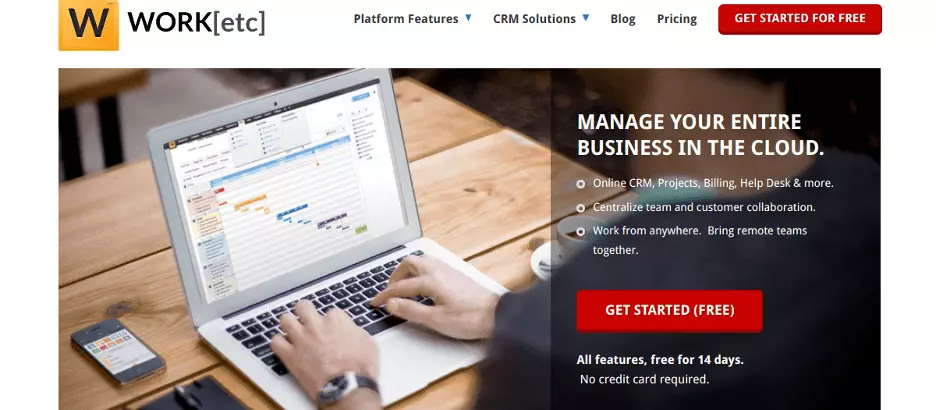 WORK[etc] advertises itself as an all-in-one cloud computing platform. It has an integrated CRM that presents one software solution for your entire business.
Features include:
Quickbooks, Xero, and CSV integration
Company-wide billing capability
Subscription product management
Accept credit card payments
WORK[etc] helps contractors overcome their billing and invoicing challenges by building powerful financial software directly into its unified business management platform. The central invoicing dashboard ensures all of your invoices can be approved, created, and tracked from one convenient location. If you run a subscription-based business, you'll love how easy it is to manage recurring billing and automatically generate invoices.
WORK[etc] has three pricing plans: Starter, which is $78 USD per month for two users; Team, which is $195/month for three users, and Professional, which is $395 per month for three users and includes a contractor portal. A 14-day free trial is available for all plans.
Although it has more business-critical features than BillQuick, WORK[etc] is considerably more expensive than vcita, which also offers a client portal. It has a lot of great customer reviews, but you'll have to decide whether the benefits justify the expense for your contracting business.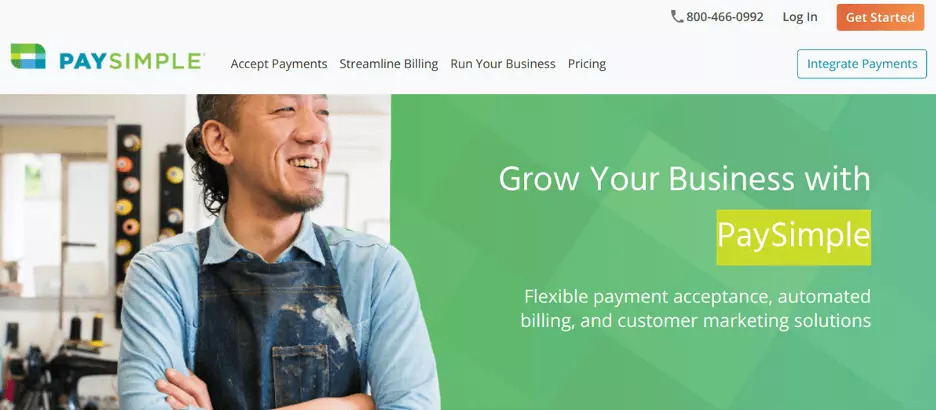 PaySimple is exactly what its name implies. You get a comprehensive yet easy-to-use billing and payment software that also happens to have some great marketing features built in.
Features include:
Recurring billing
In-person payment solutions
Accept credit card payments
Customer portal
A self-described "service commerce platform," PaySimple is a merchant processing software that is robust enough to meet the needs of the most specialized industries, such as legal, medical, and education. You can easily accept payments, issue one-time or recurring invoices, and track customer information from a single, uncluttered dashboard. Like vcita, there is also a client portal that empowers your customers to access their account and pay their bills online.
With PaySimple, you get all features for a flat rate of $59.95 USD/month. There is a credit card processing fee per translation and an ACH/eCheck processing fee of $0.65 + .20% of the total. A 14-day free trial is available.
Although it's not an all-in-one business solution like WORK[etc] and doesn't have project management features like BillQuick, you get a lot of value for your monthly fee, especially if you do a lot of credit card payments and online sales.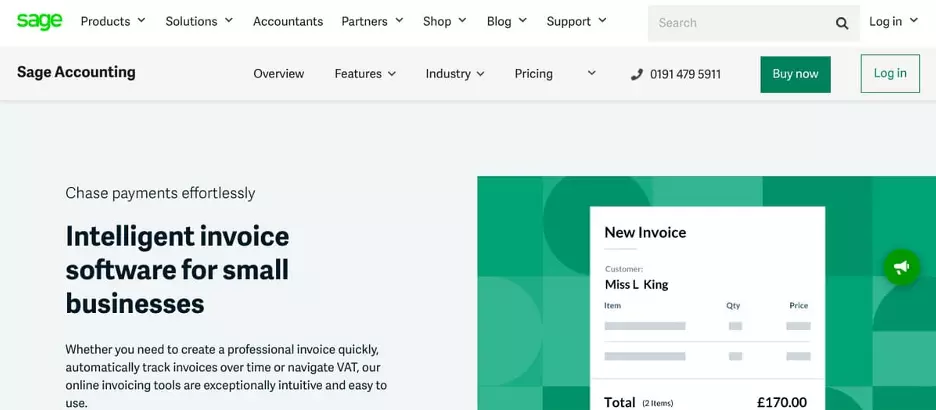 Sage makes it easy for contractors to generate professional invoices quickly, track payments, and even navigate tax requirements.
Features include:
Calculate and submit VAT
Manage purchase invoices
Send quotes and estimates
Snap receipts with AutoEntry feature
Sage is another great business management program that has an equally capable invoicing and billing feature. You can send single or recurring invoices as a PDF or online and strengthen your cash flow by adding Pay Now buttons that connect to a Stripe gateway. If you opt for the Plus package, all exchange rates and adjustments are taken care of automatically so that you don't have to waste time doing it manually.
Sage pricing starts at £12.00 per month for the Starter package, but it is VERY basic and doesn't include the invoicing features you're going to want. The Standard package is £24.00 per month, while the Plus package, which has all the premium features, is £30.00 per month.
All told, Sage is a well-rounded invoicing software that meets the unique needs of different industries. The biggest drawback is that the most valuable features, like quotes, invoices, and purchase orders, are not available in the Starter package.
See how other users review Sage on Trustpilot, where they are ranked 4.7/5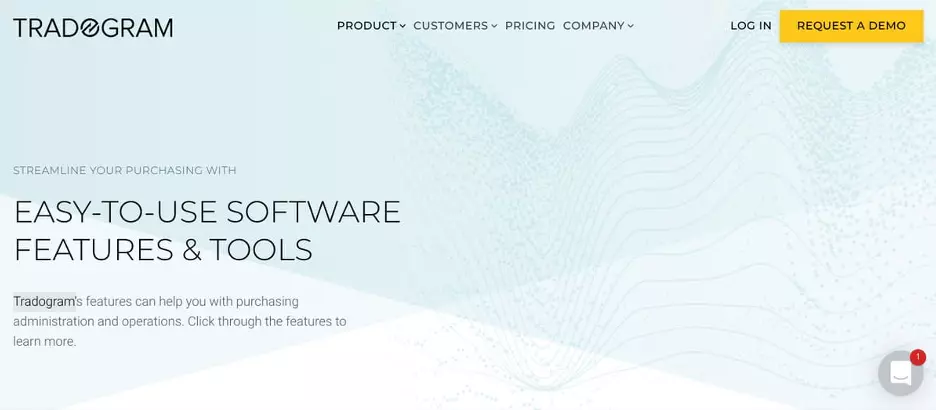 Tradogram is primarily a purchasing administration tool, so if you work in a supply chain business, it can streamline your purchasing and inventory management functions.
Features include:
Contract repository
Automated 3-way match invoice processing
Requisition forms
Inventory control
If you are a general contractor working in supply-based industries like construction and retail, Tradogram presents a host of features you will find valuable. You'll be able to create requisitions, generate invoices, put together purchase orders and contracts, and more. The result is a better-organized procurement and administration system.
Tradogram has a free basic package that covers 10 purchase orders a month. The Premium package, which costs $18 USD per month, allows unlimited purchase orders and multiple users. There does not appear to be a free trial for the paid version, but you can request a demo.
Unlike the other invoicing software for contractors in this article, Tradogram is not aimed at customer or client transactions, but if you work a lot with vendors, it's definitely worth looking into.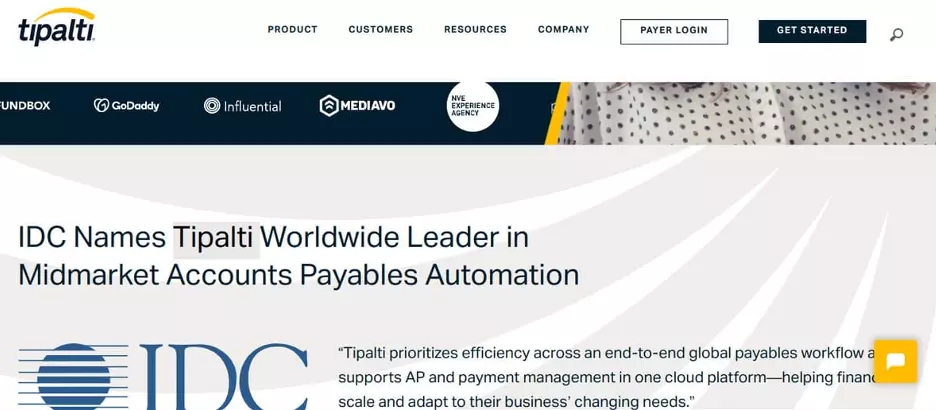 Tipalti is a leading accountable payable software that can take over the more complex part of your business financials. According to user reviews, it also lets you get a lot done more quickly.
Features include:
Receive supplier invoices via email or web portal
OCR to make data entry easier
ERP Integration
Supplier portal
When you're growing your contracting business, you need invoicing software that's capable of scaling too. However, Tipalti doesn't stop there- in addition to invoice processing, it supports the full payment and reconciliation process in highly innovative ways. For example, the OCR feature lets you bypass time-consuming data entry while suppliers can submit their invoices directly to their secure portal and track payment progress.
In terms of pricing, the Tipalti Express platform starts at $299 USD per month and the Pro package starts at $447.
Like Tradogram, Tipalti is not aimed at service-based contractors, which might be better served by vcita or PaySimple, but if you practice a thriving trade or profession, it will support your growth.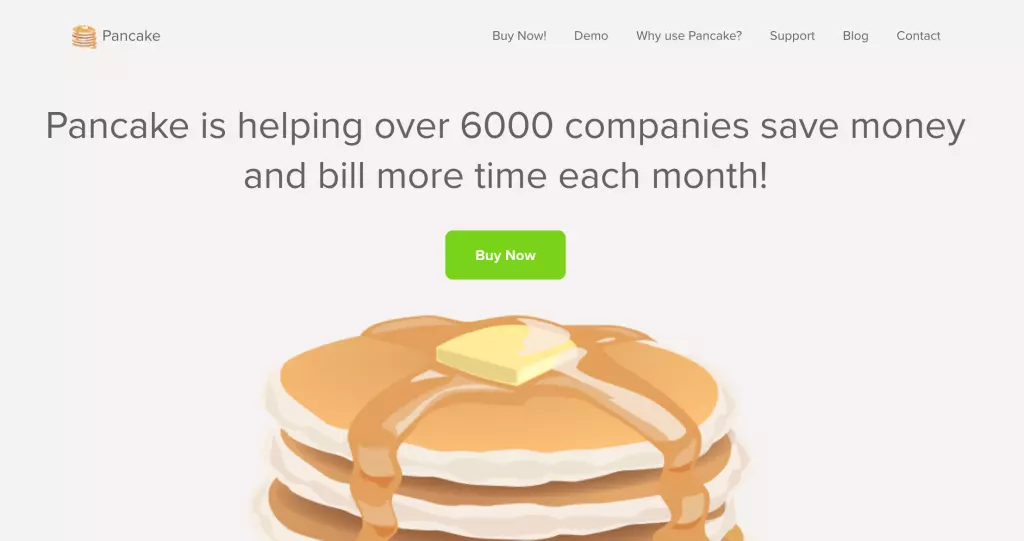 Pancake is a nicely stacked software package that bundles invoicing, time tracking, proposal creation, and other essential business functions.
Features include:
Online invoice payments
Automatic file delivery
Project management
Client portal
With Pancake, your invoicing and payment system can practically run itself. Once you've created and emailed the invoice, your client can pay it online and download any files associated with their purchase. This is an excellent feature if you sell digital products like apps and eBooks. You can also set up recurring invoices for repeat clients or a subscription-based business model.
Like vcita, PaySimple, and Tipalti, Pancake has a secure client portal so that your customers can manage their invoices and payments themselves. It's one less step for you to worry about, which is ideal whether you're a startup or an established and fast-growing business.
Pancake has a one-time fee that starts at $179 USD. While there doesn't appear to be a free trial available, there is an online demo that you can take for a test drive.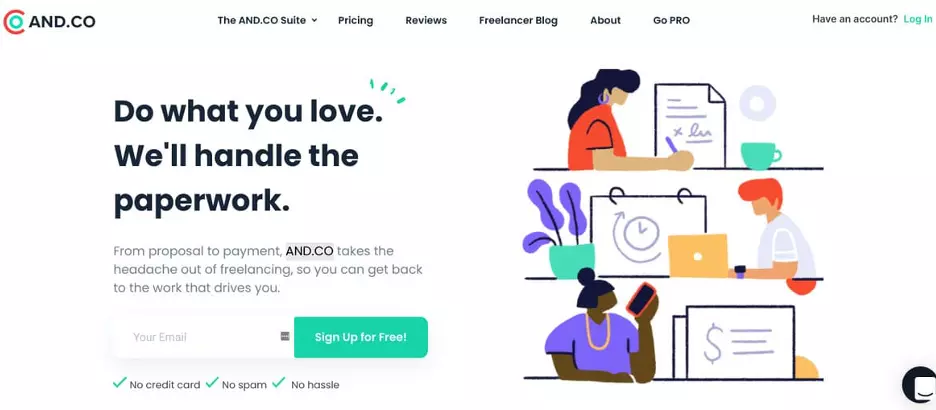 AND.CO provides ambitious freelancers with the tools they need to keep their cash flow strong as they grow.
Features include:
Support for all types of payments
Recurring payments
Contract and proposal generation
Task management
AND.CO is the invoicing software of choice for freelancers across the globe. It's easy to use and the mobile and desktop interfaces give you a complete overview of your financials. You can accept credit cards, ACH and PayPal in multiple currencies and automatically transfer the proceeds into your bank account.
Like Tradogram, AND.CO has a free starter package, but you can only use it for one client, so you'll probably want to upgrade to Pro, which is $18 USD per month. There is also a fee of 2.9% + 30 cents for online payments. There does not appear to be a free trial, but AND.CO offers a 30-day money back guarantee.
Unlike programs like Sage, there is no tax support and the features are more suited to the service industry than a product-based business. However, with a lot of contractors working in the gig economy, AND.CO is an affordable option for your invoicing needs.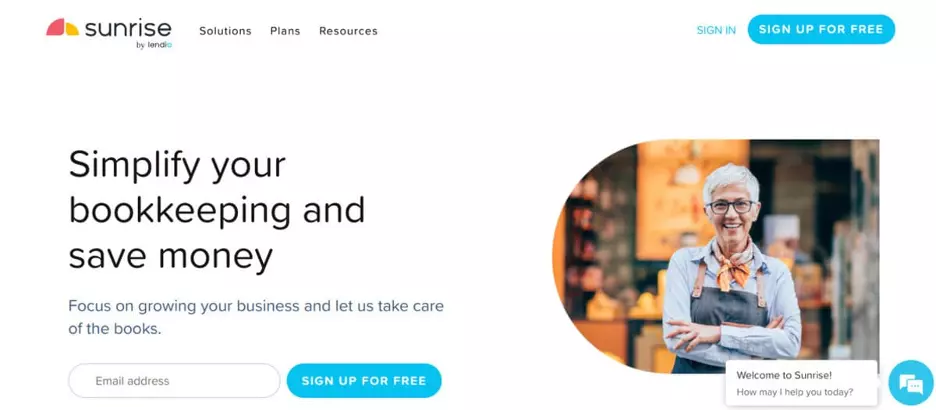 Sunrise is a bookkeeping app with an unusual proposition: if you're financially-savvy, you can manage your own billing and invoicing for free! However, if you need professional support, it's available in the affordable paid plan.
Features include:
Easy estimate to invoice conversion
Recurring invoices
Accept online and mobile payments with SunrisePay
Tax estimator
Sunrise gives you the choice of doing your own books or letting a professional take care of it for you. Regardless of which option you go with, you can use customizable templates to create branded invoices and estimates, accept credit cards and payments through Sunrise Pay (same day deposit if you have a Chase bank account), and send email reminders to make sure you get paid on time.
There is a free version of Sunrise for those who want to manage their own financials. Otherwise, you can sign up for the Professional Bookkeeping Service package, which starts at $149 USD per month and includes services and support from a professional bookkeeper.
Which Invoicing Software is Best?
As a contractor, maintaining cash flow and knowing where you stand financially is critical. An estimated 18% of small businesses don't use accounting software and only 21% use a solution that integrates accounting and invoicing. The right software for you will depend on your industry, business model, and financial strengths, but the programs highlighted in this article give you a lot of excellent options.