Practically all businesses, from huge multinationals to freelancers in home offices, are affected by the coronavirus outbreak. Those that don't provide essential services have to either close or change the way they make their goods and services available.
This reality has put a lot of service-based businesses, such as nail salons, hairdressers, coaches, and lawyers, in a difficult position. Face-to-face interaction has traditionally been a fundamental part of service delivery, and for the time being, that's been suspended.
Do you have to close up shop completely? Absolutely not. Despite the headlines, social isolation, and overall unease, people still want and need what you offer. For example:
They can't get divorced or file a personal injury claim without a lawyer (or shouldn't, anyway).
Those who sought coaching or counselling services before may need them more than ever now.
People who want beautiful hair and nails aren't going to lose that pride in their appearance all of a sudden.
If you can deliver your service in ways that don't contradict the present restrictions, you can stay in close touch with your current clientele and even attract new customers. Below is an overview of how different service-based industries can meet and overcome the challenges imposed by coronavirus, followed by recommended tools for success.
Nail technicians and hairdressers
Many beauty academies include hair and nail art training in their online education programs, so it is indeed possible to transition your services online. Nail technicians can offer online tutorials on how to do gel nails, French manicures, and advanced nail decals to paying clients while hairdressers can show their clients how to color their hair, apply highlights, or do a balayage.
If you sell products like nail polish and hair color kits, you can make them available to tutorial attendees via your website and offer free delivery, so they don't have to hunt down the necessary tools themselves.
Below is an overview of some of the top-rated online tutorial solutions for 2020:
Hippo Video: This program lets you create quality tutorials using your webcam, computer audio system, and screen capture. As an added bonus, Hippo Video lets you track how many clients have watched your tutorial, as well as from where. The basic version is free, and paid plans start at $15 USD per month.
FlashBack: Make engaging tutorials and service demos using built-in special effects and interactive buttons. Once you complete the tutorial, you can upload it straight to YouTube or export it in a format compatible with the delivery platform you intend to use. Pricing starts at $49 USD for a lifetime license. Free 10-day trial available.
DemoBuilder: Take your service demonstrations and tutorials to the next level by adding 3D effects that include animated presenters who talk with your voice and move/act realistically. A regular lifetime license costs $298 USD.
Lawyers, coaches, and psychologists
According to the ABA Journal, demand for certain legal services has increased despite the coronavirus. They have been advising companies on how to implement appropriate safety measures and respond to employees who have tested positive for COVID-19.
Business coaches and psychologists may also be facing more need for their services. Business owners will want to know how to transition to a remote workforce and make the most of online opportunities while those who need help dealing with social isolation will seek advice from psychologists.
Although coaching and counseling services have traditionally been offered face-to-face, the popularity of apps like Talkspace and TrueCoach have made remote delivery a familiar concept. If your work is in these fields, you can meet with your clients via video conferencing services like:
Zoom: The free version offers unlimited one on one meetings. If you work with groups, your time limit is 40 minutes, but you can upgrade to the Pro plan for only $14.99 US per month.
Google Hangouts for Business: This business webinar software is user-friendly and features file sharing, HD streaming, and customized pages. It is included in the Business GSuite package, which starts at $12 USD per month per user.
What you'll need for the transition online
When you move your service business online, there are resources and platforms you'll need to make the most of the change. They include a website, active social media presence, and an email marketing strategy that keeps you on your customers' radar between online appointments.
Website
Your website is now your primary point of contact with customers. If you don't have a site or want to make your existing one more effective, the vcita business management app has features designed to increase engagement and manage client relationships 24-7. They include:
A personalized and secure client portal that lets clients connect with your business outside of regular hours.
An appointment calendar that syncs with Google Calendar to constantly reflect your availability. Clients can choose a convenient time slot and book instantly.
Automated appointment and payment reminders that cut down on no-shows and past-due invoices.
Stripe and Paypal integration that lets you accept deposits and payments online.
Creation and maintenance of detailed client records.
You can also use vcita to run beautiful and compelling marketing campaigns and entice clients with irresistible last-minute offers. Because they can schedule appointments and pay online, the time you spent on admin work is cut down significantly.
Online scheduling
Studies have shown that the majority of consumers prefer to interact with businesses online, so online scheduling capability encourages more appointments than phone or email contact. When someone wants to book a virtual fitness training session, they're more likely to do so if you have an availability calendar with time slots they can choose from.
vcita presents your clients with accurate and up-to-the-minute appointment options. Once they book and pay for a session, they'll be able to easily access your Zoom or Google Hangouts video delivery, as vcita integrates with both options.
So what does this look like in practice?
If you're a lawyer, coach, or psychologist, a client can visit your website, check your availability on the vcita calendar, and instantly book the time that works for them. If they are repeat clients, they can upload any important documentation, such as legal paperwork or written tasks assigned during the previous session, and pay in advance if you don't have them on retainer. They will then receive a link to the Zoom or Google Hangouts meeting address and automated reminders before the scheduled appointment time.
If you're a hairdresser, nail artist, or other professional offering tutorial videos, the process is similar. The client can book a session date that gives them enough time to receive their nail or hair service kits and access the tutorial link when the time comes.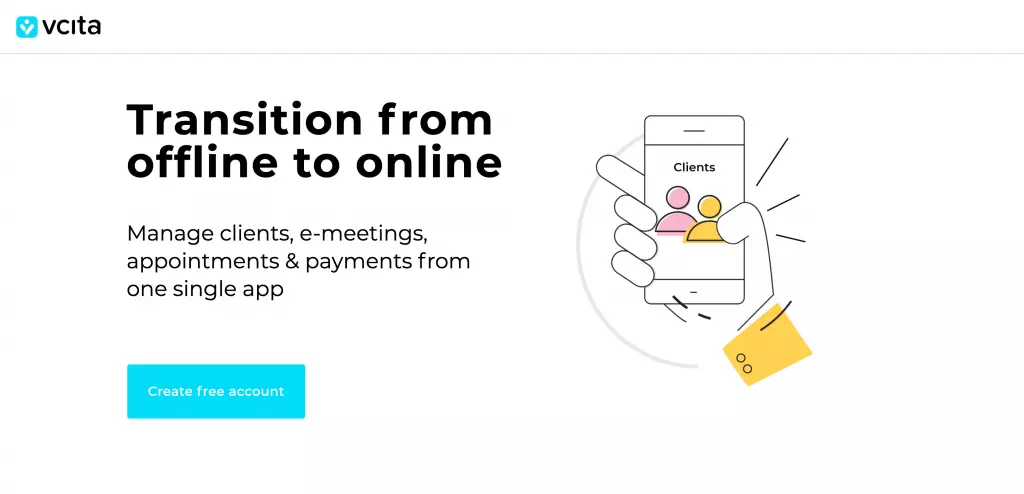 Social media
It's time for businesses to be more social than ever. Use Facebook, Twitter, and Instagram to strengthen the conversation flow with your existing customers and spread brand awareness among those who may not be familiar with you yet but are interested in what you offer. For example:
Showcase your hair and nail art on Instagram and embed your vcita calendar beside the beautiful images, which will encourage viewers to book a tutorial on the spot.
Share your professional practice's blog posts on Facebook and Twitter and mention that you offer online appointments.
Share testimonials from clients who benefited from your online offering, to offer social proof that you can deliver value online as well as off.
Email marketing
With people now doing most nonessential consumer interactions online, you have an unprecedented opportunity to reach them with email marketing campaigns, spread awareness of your online services, and build strong customer relationships.
vcita lets you maximize your email marketing efforts using high-conversion assets, automated delivery methods, and user insights. The email campaign software includes:
Call-to-action buttons that let clients book an appointment, pay, and take other desired actions from any device.
Coupon promotions that inspire excitement and increase sales.
Customer segmentation based on interests, location, and other insightful data.
You can easily create email campaigns and manage subscribers anywhere and on any device, as well as get real-time results on the success of each campaign. If something isn't working, you can change your focus right away and minimize waste of your resources.
Conclusion
Transitioning your business online is an exciting opportunity that can continue to pay off after the current situation subsides. With the right customer management and marketing resources, you can gain new clients and be even more successful than you were before.