Small business grants for women are non-repayable funds provided by governmental bodies, corporations, or nonprofits to support women entrepreneurs.
The aim of these grants is to level the playing field, addressing gender disparities in business ownership and funding. In today's economy, they're essential when it comes to driving innovation, diversifying markets, and promoting gender equality. Ultimately, they help to strengthen the overall economic fabric of the country.
In this article, we take a deep dive into small business grants for women, looking at a number of different funds available. Regardless of your background, if you're seeking funding for your business, there should be something here to help you.
Understanding small business grants
There are all sorts of available grants for women starting a business and those seeking a financial boost. Some are administered by the federal government, while others are governed at a state or local level. They often target specific types of business owners. Some are focused on helping companies operating in a particular sector, while others could be aimed at stimulating growth in a geographical area or community.
Local vs. national grants: finding the right fit
| | |
| --- | --- |
| Local grants | National grants |
| Administered by organizations at a town, city, or regional level | Managed by federal agencies or major corporations |
| Tailored to specific needs and challenges of a community | Award larger sums of money and wider recognition |
| Good for businesses that have a direct impact on their surroundings | Good for businesses looking to scale or go beyond their local community |
| Less competition for these types of grants depending on geo-location | More competition to attain these grants |
When starting out on the journey to secure funding for their business, entrepreneurs often find themselves at a crossroads: should they apply for local grants or cast their nets wider to tap into national opportunities? Is one funding type better for sole proprietorships and small-to-medium businesses? The answer isn't always that simple, as both local and national funds have unique perks.
Local grants, as their name suggests, are administered by organizations at a town, city, or regional level. These grants offer the benefit of being more tailored to the specific needs and challenges of a community. They can be particularly beneficial for businesses that set out to have a direct impact on their immediate surroundings. Given their specific geographical focus, entrepreneurs may find that there's less competition for local grants.
On the other hand, national grants are often managed by federal agencies or major corporations and come with a broader scope. While potentially more competitive, they can award larger sums of money and wider recognition. These grants are often a better fit for businesses looking to scale or venture beyond their local community.
When deciding between local and national grants, consider your business's goals, scope, and the impact you want to make. With a clear understanding of these aspects, you'll be better positioned to select the right grant source for your venture.
Small business grants for women
Here are some of the available grants for women starting a business. They also apply to existing, female-owned companies that want to further expand their reach. As you'll see, these funding programs cover a number of different demographics, sectors, and locations.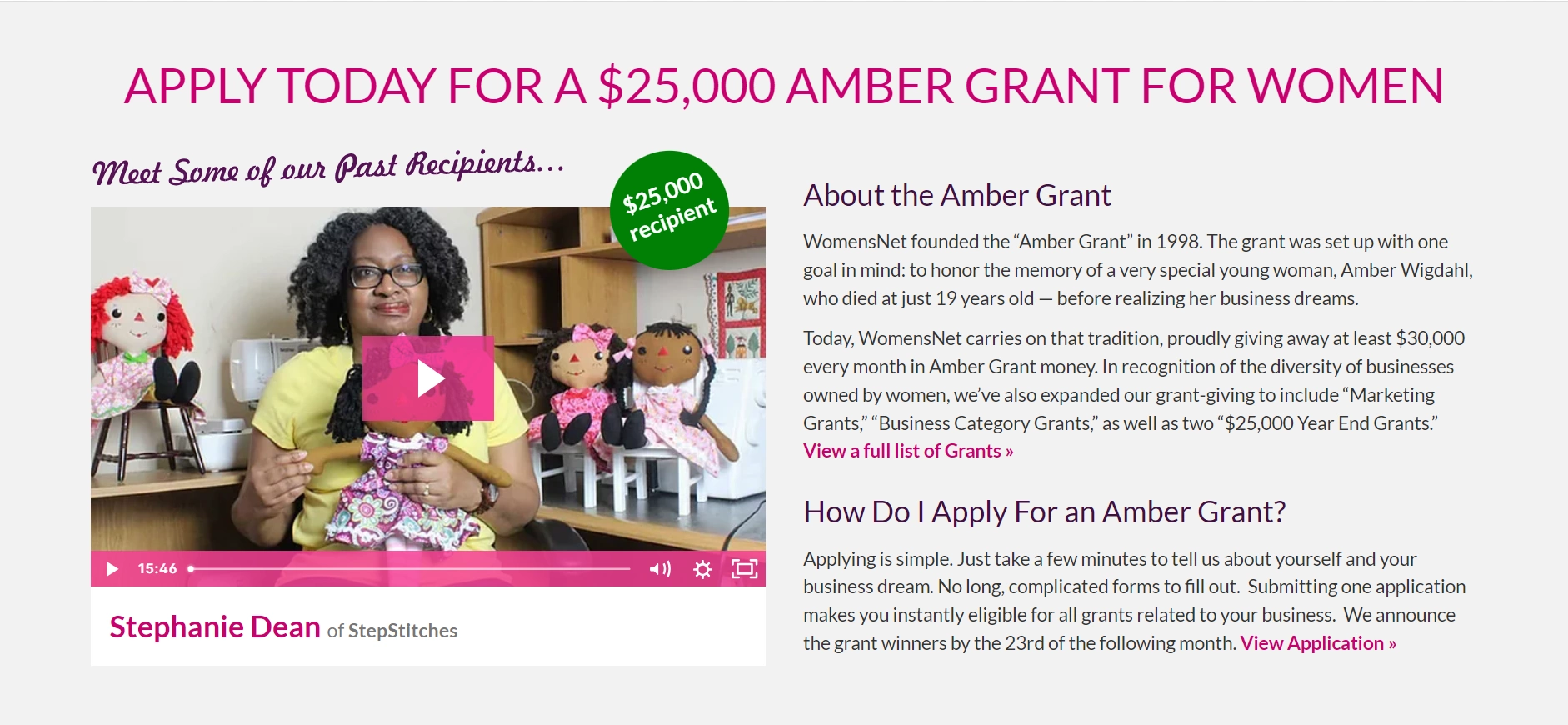 The Amber Grant is an initiative by the non-profit WomensNet, which aims to help female entrepreneurs realize their business plans. The application process only takes a few minutes. All you need to do is write a few words about you and your business dream. Every month, the organization awards two $10,000 grants to women-led businesses. Once a year, two of the 24 monthly awardees receive an additional grant of $25,000.
A $1,500 microgrant is offered to women-owned businesses along with some one-on-one coaching sessions. The grants are awarded on a quarterly basis and applications are rolling.
IFundWomen is a grant marketplace that focuses specifically on grants and coaching for women. After submitting an application to join IFundWomen, they match the entrepreneur with a grant that is in line with the applicant's criteria, and they're invited to apply for that specific grant.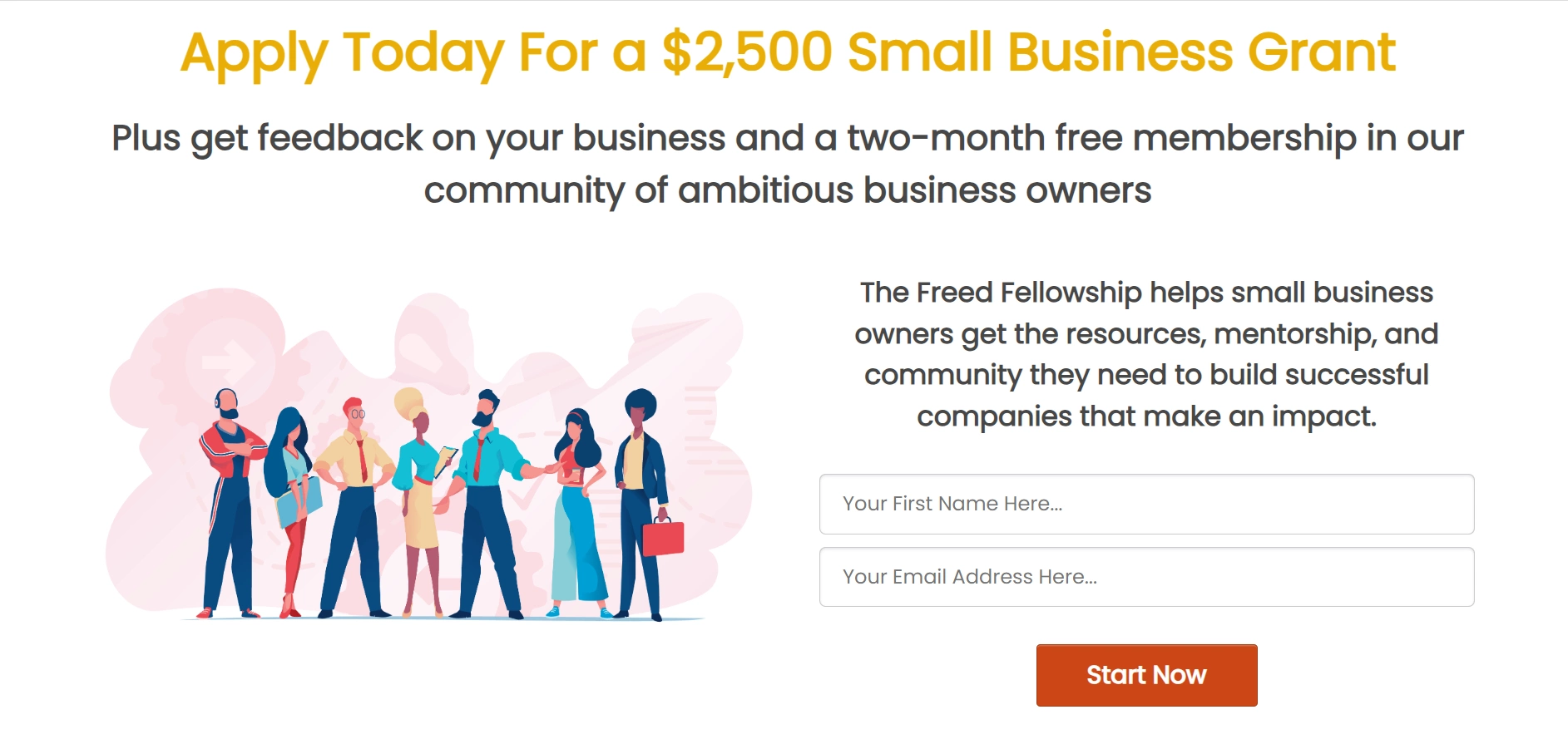 Each month small business owners can apply for a $500 micro-grant. They can also apply for a yearly one, which amounts to $2,500. Applications are rolling.
This is a competition rather than a grant, and the first-place winner gets $10,000. All businesses with females as majority owners can apply, provided that they operate in one of the following categories: food & beverage, wellness, or beauty. On top of that, businesses must be product-based and direct-to-consumer.
Cartier Women's Initiative Awards
The Cartier Women's Initiative is a multinational program for women entrepreneurs. Established in 2006 by the luxury jewelry brand Cartier, it offers a variety of global and regional awards to female business owners. Three companies are chosen in each of the regions, with the first-place awardee receiving $100,000 in funding. Finalists also gain access to a loan fund, offering favorable interest rates.
The StartHER Grant is an initiative by the Texas Woman's University Center for Women Entrepreneurs (CWE). Every year, they award 25 female business owners from the state with a grant of $5,000 each. To apply, you need to submit a description of the project you're looking to acquire funds for, along with an explanation of how it will contribute to the economy of Texas.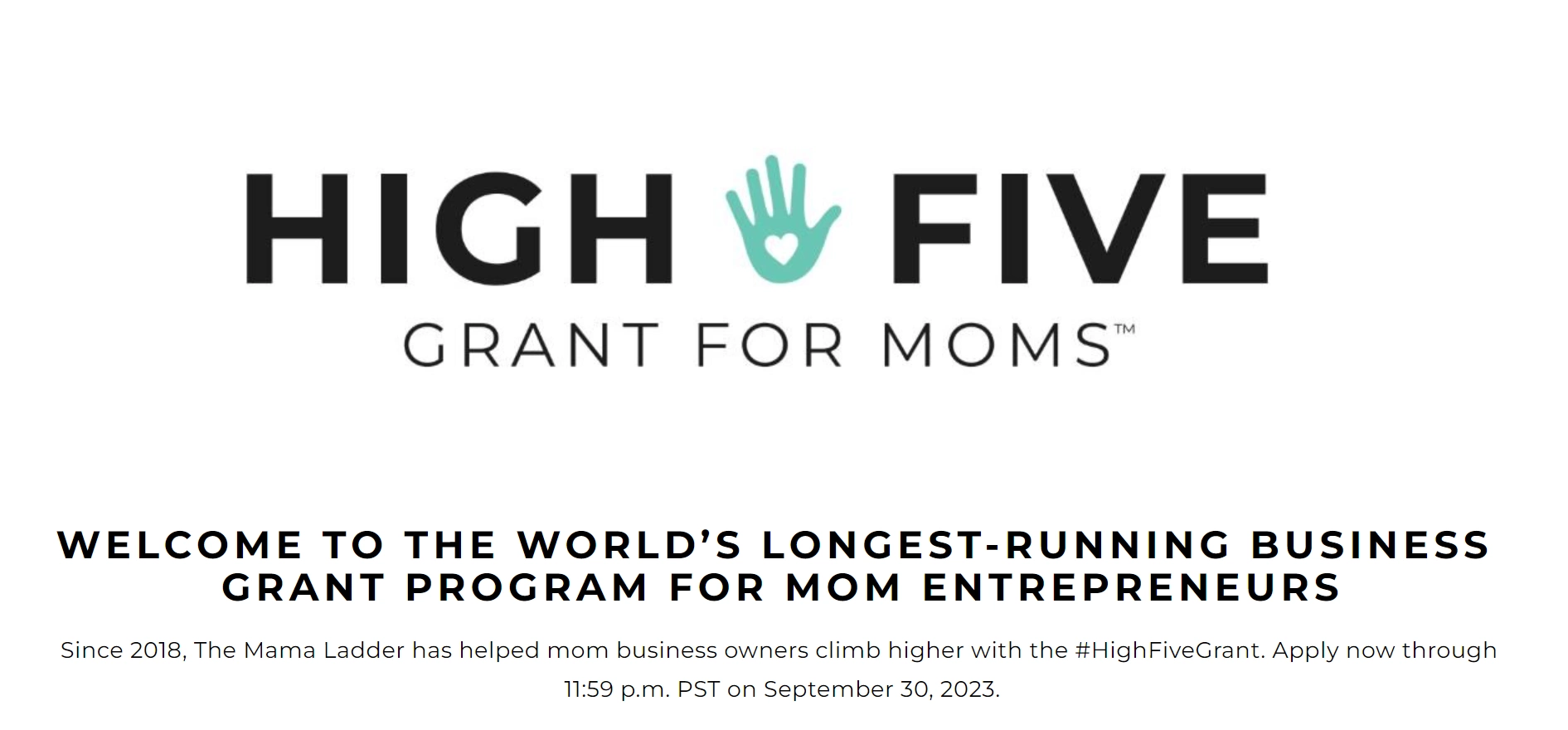 HIGH FIVE is the longest-running grant program for mother entrepreneurs, launched in 2018. Every year, a panel of judges composed of entrepreneurs goes through all the submissions and selects eight finalists. Three businesses are chosen through a mix of public, judge, and sponsor votes. So far, the grant has supported mom-owned businesses with $32,000 in funding.
Small business grants for minority women (Black, Latino, and LGBTQ)
Funds specifically designed for Black, Latino, and LGBTQ+ communities promote inclusivity and level the economic playing field. They often address systemic barriers, fostering growth and empowerment for underrepresented entrepreneurs, ensuring diversity and combating historical inequities in business.
This fund helps LGBTQ+ businesses, providing resources to help boost their impact on the local community. To date, more than 50 LGBTQ+ businesses across the US have benefited. As of late-2023, the fund is now backed by SHOWTIME® and the Human Rights Campaign, which have pledged to support at least 25 additional LGBTQ+-owned entrepreneurs.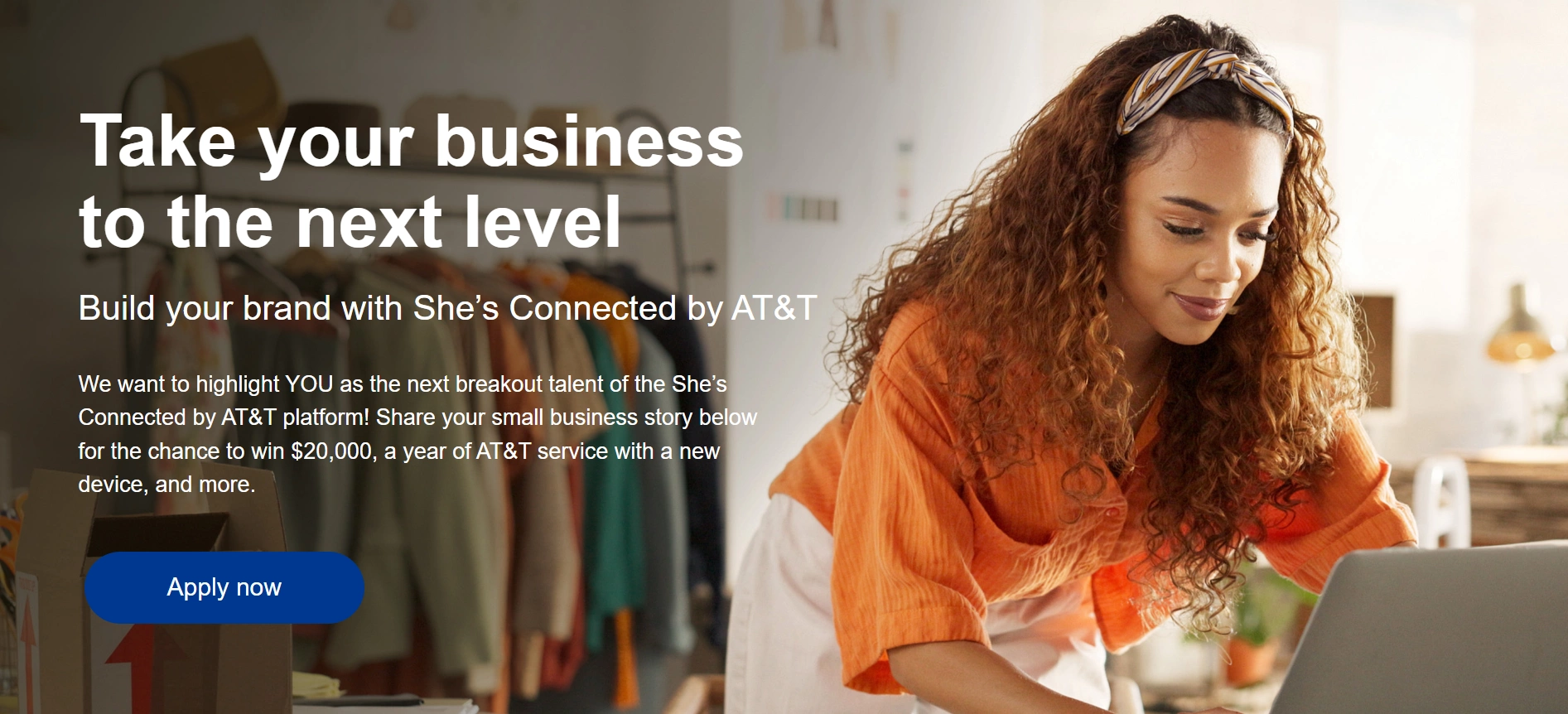 This small business grant for women, set up by cell phone network provider AT&T, celebrates inspiring female entrepreneurs. Eligible women-owned U.S. businesses with 50 or fewer employees can apply by sharing their stories. Winners receive $20,000, a year of phone service, a new device, along with other benefits.
The Black Founder Startup Grant
Provided by the SoGal Foundation, which accepts applications on a rolling basis, this is among a number of small business grants for black women. It's aimed at helping black, multiracial female and nonbinary entrepreneurs. It offers support to scalable, high-impact businesses with plenty of ambition. Recipients can receive between $5,000 to $10,000.
digitalundivided's BREAKTHROUGH Program
Backed by JPMorgan Chase, this is another example of the many small business grants for black women. It awards founders $5,000 plus mentoring, growth strategies, and networking to boost their tech-oriented businesses.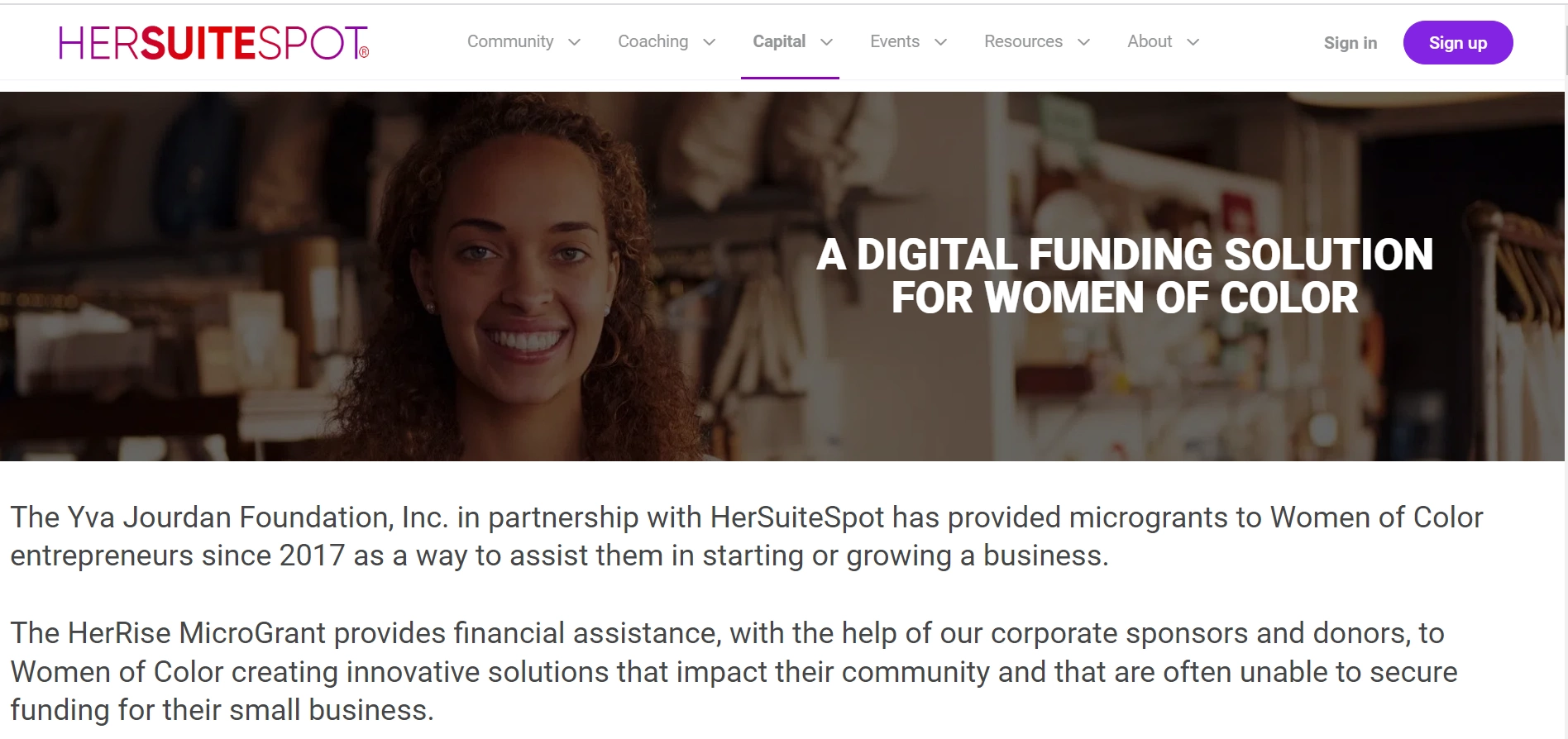 Created by the Yva Jourdan Foundation, this fund provides monthly $500 grants for small businesses owned by women, specifically women of color, aiding their business growth and community impact.
The Astraea Lesbian Foundation for Justice 
U.S. and global nonprofits can apply for a grant of up to $30,000 from this fund, which promotes climate justice for queer, transgender, and intersex communities.
There's also no shortage of government grants for women's small business. For a list of more than 1,000 other grant opportunities, visit the Grants.gov website.
Finding the right grant
Unpicking grants for women starting a business takes a lot of work. It's worth keeping a record of potential opportunities in a spreadsheet. Remember to tailor your application to fit each grant's unique criteria.
Uncovering lesser-known grant sources for women
Some small business grants for women fly under the radar, so it's worth digging deep to avoid missing out on finance packages designed to support projects like yours. These sources are well worth checking out:
Local community foundations often provide funding for businesses operating in their area, helping entrepreneurs grow within their communities.
Chambers of commerce are another potential source of support. As well as grants, they can help provide valuable resources to boost business growth.
Industry-specific associations sometimes offer financial packages to help businesses within their sector.
Crowdfunding platforms — for example, iFundWomen, provide expertise to help female-run businesses raise money for their projects.
Women's business centers, supported by the Small Business Administration, offer training, counseling, and sometimes funding, to help women entrepreneurs start and grow their businesses.
Minority business development agencies are another source of help for women entrepreneurs and diverse businesses, offering training, networking, grants, and more.
Nonprofit organizations are also worth researching — particularly those that focus on women's empowerment or entrepreneurship.
Organizations frequently host innovation challenges to uncover creative service business ideas, with grants awarded to the winners.
Steps to securing your ideal grant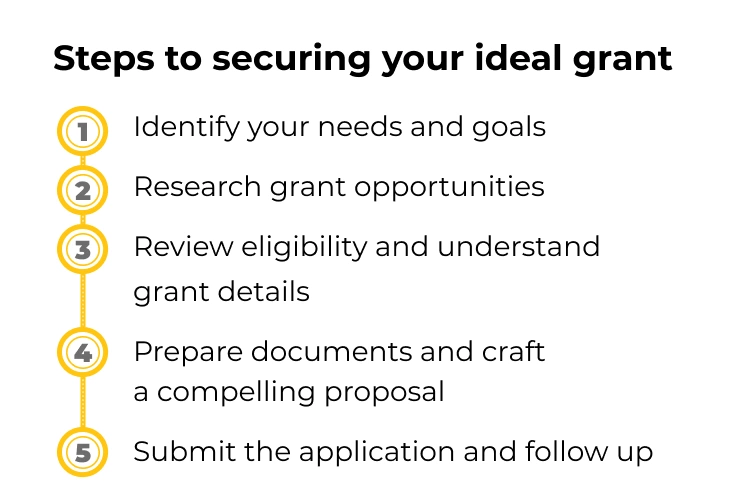 To successfully secure grants for women owned small business, you'll need in-depth research, thorough preparation, and a solid strategy. Follow our step-by-step guide and give yourself the best chance of funding your project.
Identify your needs and goals.
Start by understanding what your business needs both now and in the future and set clear goals. When you do this, you're more likely to apply for grants that align perfectly with what you want to achieve, maximizing the benefits.
Research grant opportunities.
Spend time exploring available grants — it's worth considering local, national, and even international options. The harder you search, the better your chances of discovering opportunities uniquely suited to your business type and specific needs. Search engines are a great place to start, but it's a good idea to trawl online databases and grant directories, too.
Review eligibility criteria and understand grant details.
Always read the details of each grant closely and make sure your business meets every requirement. This step is crucial because understanding the ins and outs of the application process stops you from wasting time on unsuitable options.
Prepare the required documents and craft a compelling proposal.
Collect all the necessary documents early on in the application process. This may include business plans, financial statements, and tax records. When writing your proposal, be concise – make sure every word you write carries meaning. This is your chance to showcase what makes your business special and why you deserve the funding.
Submit the application on time and follow up if needed.
Punctuality matters, so ensure you submit your application BEFORE the deadline. After submission, make sure you check your inbox regularly for updates or feedback. Also, don't hesitate to follow up; it shows you're genuinely interested and proactive about securing the grant. Another important tip: be prepared to talk about your business idea and what you plan to do with the funds. And if your application is unsuccessful, don't give up. Learn the lessons and explore other opportunities, or reapply next year with a stronger proposal.
Maximizing grant benefits beyond financial support
Clearly, being awarded a grant is a financial boon. But the benefits often stretch beyond the money that lands in your business bank account. Here's how you can fully tap into the potential of a grant:
Leverage credibility.
Small business grants for women should be seen as a stamp of approval. The recognition you receive can be used to boost your business's reputation. Highlight the award in marketing materials, on your website, and in communications to build trust and attract new customers or partnerships.
Tap into networks.
Organizations awarding grants often host events or workshops for recipients. You should go out of your way to attend these, as they offer a chance to meet industry peers, potential collaborators, and even future investors. Connections made here can be invaluable.
Seek out mentors.
Some grants come with mentorship opportunities. Even if they don't, the grantor organization can still offer a wealth of industry knowledge and expertise. Reach out, ask questions, and seek guidance. It could make all the difference in navigating business challenges.
Reinvest in growth. 
While a grant can help meet your business's immediate financial needs, think long-term. Allocate a portion of the funds to areas like research, staff training, marketing, or a subscription to small business management software. This ensures sustainable growth and could even position you for larger grants or investments in the future.
Share your story.
People buy into success stories. Share your grant journey on social media, in press releases, or at community events. It not only amplifies your brand visibility but can also inspire and guide budding entrepreneurs in their efforts.
Unlocking the potential of grants for women owned small businesses
As we've seen, small business grants for women offer more than just money. Without a doubt, they're a great source of funding for women who want to start a service business but lack the funds.
But not only that; they're also a wonderful resource for those who already operate a company and wish to further expand and build credibility for their venture. Every funding, from government grants for women's small businesses to those targeting companies in specific sectors, provides essential support.
By taking full advantage of everything these grants offer, women entrepreneurs can drive their businesses forward, make important connections, and elevate their profile in the business world. It's about using the funds wisely and maximizing every opportunity that comes with them.