Chances are your business is already on Facebook, right?
Good! You totally should be.
However, there's a not-so-secret weapon for small businesses on Facebook that often flies under the radar.
Drum roll, please.
Reviews.
If you really want to sell your services to prospective clients, you're going to need to put your satisfied customers' feedback front-and-center on your Page.
And if your business is currently lacking in the review department, don't panic!
In this guide, we'll break down a simple, straightforward strategy for scoring more Facebook reviews like clockwork.
Why Facebook Reviews Matter So Much
Before we get down to the nitty-gritty, let's quickly highlight why Facebook reviews are pure gold for small business.
For starters, 86% of people read reviews for local businesses. Whether you think about it or not, folks are doing their homework on you before they book that ever-so-important first appointment.
The more positive reviews you have to put on display, the better. Your Facebook reviews and star-ratings aren't just confined to Facebook, either: they also show up in Google searches.

Also, consider how your business looks stacked up against other competitors in your space. Reviews represent some serious positioning power no matter what service you might be providing.
Oh, and Facebook reviews allow your clients to provide specific feedback regarding why your business is so awesome.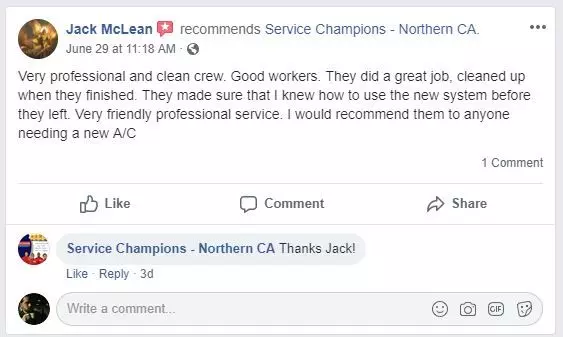 What's the Best Way to Win Reviews?
No "hacks," tricks or surprises here.
If you want more Facebook reviews, you're going to have to ask for 'em.
And you shouldn't be shy about asking, either. Fun fact: 70% of people will leave reviews for a business if asked.
Translation? Your clients are more than happy to share their experiences if you give them the chance to.
How should you ask, though?
Is it by begging for reviews in-person? Or bugging your clients with follow-up phone calls?
Nope. There's a much better way. Enter email marketing with vcita.
Why Email is the Bomb for Scoring More Facebook Reviews
Asking for reviews may seem obvious, but so few businesses actually go through the process of sending follow-up review emails.
The benefits of email for winning Facebook reviews is threefold.
Perfect Timing
Asking people to leave a review in-person is like adding another tedious task to their to-do list. How likely are they to actually remember to write a review later? Not likely and we don't blame 'em.
In contrast, when sending an email, you score big points on the timing. Think about it: Your clients are already glued to their laptop or smartphone, looking for something to do. Your email empowers them to drop a review in a matter of clicks directly from their inbox.
To build an even stronger case for emails, review emails are the perfect way to touch base with clients after an appointment to ensure that everything is on the up and up. With vcita's email marketing, you can schedule those emails in a snap.
Scale and Measure Your Review Campaigns
Email makes it a cinch to ask for reviews from all of your clients rather than just the ones you remember to ask on your own. The ability to ask all of your clients all at once means you're more likely to score a greater volume of reviews.
Oh, and vcita lets you see exactly who opened and clicked through your review request emails. This lets you know who you might want to follow up with in the future and likewise who doesn't need another review request down the line.
Email is "Set and Forget"
If nothing else, email frees up so much time in your schedule by being "set and forget."
Don't worry about awkward conversations or what you're going to say when asking for a review. Instead, you can send a thoughtful, personalized email template in a matter of seconds.
And speaking of which…
We actually have a new review request template as part of our awesome email template library.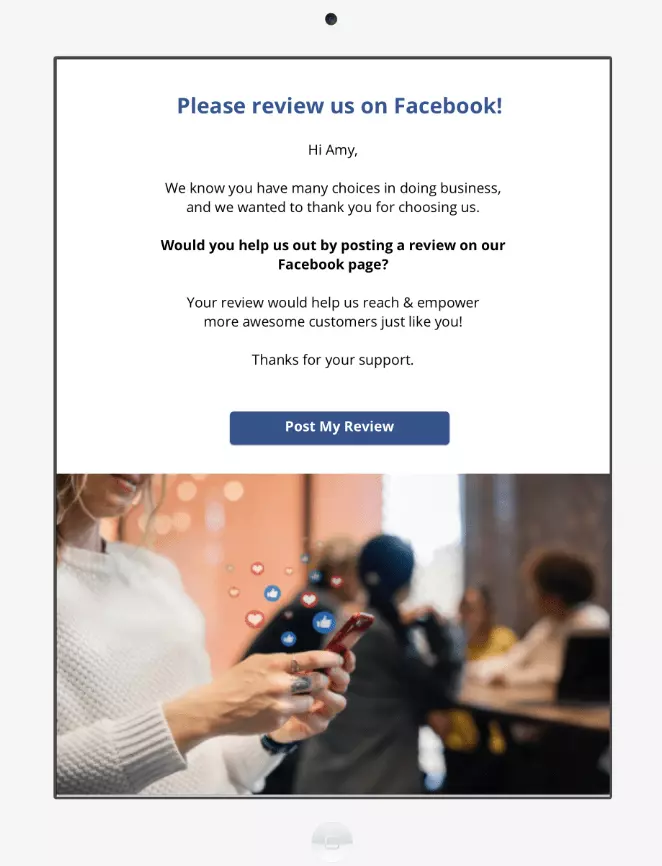 With the help of this Facebook reviews email template, you can start requesting Facebook reviews from your clients right now. Even better: with vcita you can automate the review process completely and never have to worry about where the next review would come from.
Tips for Making the Most of Your Review Request Emails
As a small business, your goal should be to send warm, welcoming review invitations that result in glowing feedback.
That means paying special attention to how you craft and send your email. Our template is solid as-is, but here are some optional tweaks that can help you squeeze more out of your messages.
Send Your Message at the Right Time
First thing's first: how long should you wait to send your request for a review?
Good question!
We'd recommend waiting between 24 and 72 hours for most small businesses. This allows your clients some time to reflect on the job you've done and see the positive results of your work.
For example, a hair and beauty salon might send a next-day email. However, it might take a few days before someone decides whether or not they were satisfied with an HVAC business.
Conventional wisdom tells us that sooner is better because you're still fresh in your client's minds. Waiting weeks or months could cause your clients to lose the "buzz" of a job well done.
In terms of the actual time of day to send your messages, there's a ton of research out there on the best times to send an email. Late mornings and early afternoons are considered ideal for most businesses.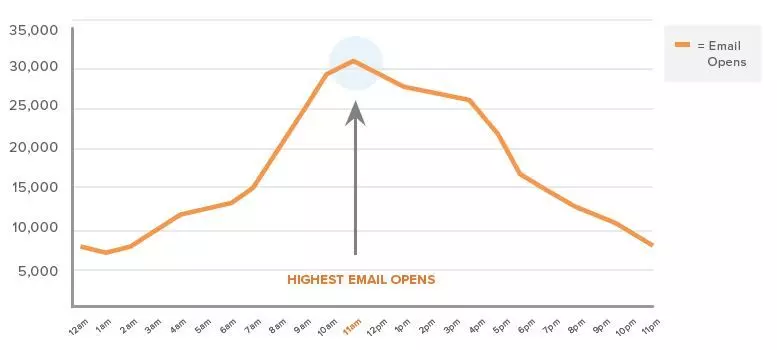 Come Up with an Incentive for Writing Reviews
If you know that your clients are totally in love with your business but aren't writing reviews, you have a right to be frustrated.
Sometimes even your most satisfied clients need a little "push" to drop a review.
As part of your review request email, consider tacking on a small incentive in exchange for a review. Those incentives might include…
A percentage-off discount on their next appointment
A freebie
Entry into a contest for clients who leave reviews
These types of incentives won't break the bank but can certainly sweeten your emails to encourage more reviews.
Mind Your Words When Asking for Reviews
When it comes to emails and especially email subject lines, every word counts!
Again, your review email should feel personal and warm. Here are some best practices for your review message's subject line and overall tone as you craft your message based on recent research.
Including your business' name can increase your response rate ("[Business name] wants to hear from you!"
Incentives ("discount," "coupon") in your subject line increases your likelihood of winning a review significantly
Question-based subject lines perform better than subject lines without them ("Did we do a good job?")
Emotion-based words ("like," "love," "happy") might surprisingly decrease your response rate
To double-check your subject lines before sending, you can use tools such as this subject line tester. Such tools can test your subject lines against the best practices of email marketing.

Although this test isn't the be-all, end-all of your subject lines, it can certainly help you brainstorm ideas.
Ready to Score More Facebook Reviews?
The importance of Facebook reviews can't be stated enough.
The tips and best practices outlined above can help you drive more satisfied customers to leave feedback on your Page.
And of course, vcita's email marketing features are key to making it happen! Make sure you check 'em out in addition to snagging our latest Facebook reviews email template.