When it comes to marketing, your Facebook page is one of your biggest windows onto the world. It's your opportunity to show off your brilliant small business to each and every virtual passerby; but what do you do when nobody is looking your way?
It's not always easy getting the attention that you deserve for your Facebook page, but there are proven strategies that you can use to help boost your likes and increase shares and followers. If you're struggling to turn your FB page into a social media sensation that attracts leads and drives business, this is the guide for you.
1. Refresh your page
The first step is to take a long, hard look at your Facebook page and see what can be improved. Here are some suggestions, but you might see even more improvements that could be made.
Revisit your About section
Begin with the basics: check that all your contact details are correct, that you've completed every relevant section, and that the URL to your website is right. Nothing would be more annoying than missing out on business because you forgot to update your business phone number.
Next, move on to your business description. If you haven't checked this since you first set up your page, it's probably long due for an overhaul. You only have a couple of sentences, but make them count. Describe what makes your business different from all your competition.
Make sure that you include keywords for your industry. If someone searches "plumber in central Chicago," you want your business to be at the top of the results page, so use local SEO keywords like "Chicago," "Lincoln Park," or "South Chicago," as well as "plumber" or "sinks unblocked."
Now, update your Facebook call-to-action button. This is the blue button that's just below your cover image.
Instead of the standard "Learn More," you can customize it move potential customers closer for doing business with you.
For example, how would you like it if customers were able to book an appointment or a free consultation with you, directly from your Facebook page?
If you're using an online booking software like vcita, you can link it to your Facebook CTA button, so that your button reads "Book Now." When a customer clicks on the button, they'll be redirected to your online scheduler where they can see your availabilty and book on the spot.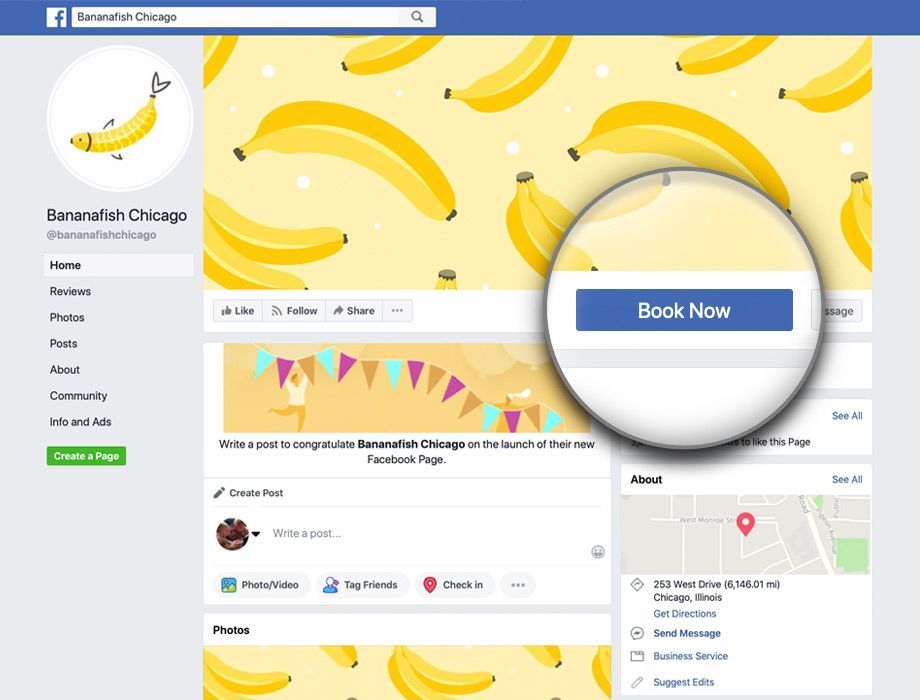 You can even ramp it all up a level by turning your cover image into a visual CTA!
Use design software like Canva to create a cover image with a short, compelling invitation to book. Facebook's blue button can only hold a two-word CTA, but on your cover image you can expand upon that, like "Schedule a visit from our expert plumber now," with arrows dragging attention to the button:
See what we mean?
2. Boost your visuals
A picture is worth a thousand words, so it's time to apply that to your Facebook page.
First, make the most of the branding opportunity of your cover image and profile picture. Are they all they could be? Do you have more staff now, a bigger and more imposing office location, or a sharper, newer logo?
It's a good idea to use a logo as your profile image, but if you can, include an in-focus, welcoming photo of at least one real person somewhere in the cover image. Giving your business a human face helps people to feel a sense of connection and increases the trust they feel towards your company.
Make sure that your feed is filled with high-quality, atmospheric, appealing photos of your business. We're talking photos of happy clients, awesome hairdos, lush lawns, neat and tidy spreadsheets – ok, this might be easier for some businesses than for others…
If you do revamp the photos on your page, don't post them all at once. Gradually add another image every day or two, so that you'll keep people interested.
3. Connect YouTube
Video needs to be a key part of your Facebook recovery program. Did you know that video content is among the most effective content formats around? It grabs people's attention, keeps them interested, and converts at a high rate. 64% of consumers say they're more likely to buy something after watching a video about it, and one study concluded that one minute of video is worth 1.8 million words.
To lay the groundwork for good video content, you need to begin by adding the YouTube video app to your Facebook account. This creates a YouTube tab and/or an Instagram tab on your Facebook business page that displays your latest YouTube and Instagram content. It saves you time cross-posting, and makes sure that all your best videos and images are right where they should be.
Once you've jazzed up your Facebook page, that's the first part of your page recovery project done. But you ain't finished yet!
4. Revisit your FB content strategy
The next stage is to ramp up your content so that it's engaging, converts well, and has a good organic reach. Facebook's organic reach for business pages has been in decline for a very long time, so you need to do all you can to encourage people to like and comment on your posts so that they'll show up more on everyone else's feeds.
First, add more content types
There are loads of different content types and styles out there, so why limit yourself to just one or two?
Everyone is different, so by sharing different content formats you'll be able to appeal to people who love video, people who prefer to read posts, people who share funny photos, etc. Here are some suggestions for you:
Image posts
Posts that have photos, illustrations, and infographics enjoy engagement levels that are 2.3 times higher than posts that are text only.
Remember, they don't all have to be photos. You can use cartoons, memes, and gifs to grab the eye and spice up your content.
Inspirational posts
Everyone needs a little boost from time to time, so why not give someone a lift with your content? It can be an inspirational image, a quote, or a graphic that brings someone hope, touches the heart, and makes someone's day.
Bear in mind that the posts that get the most engagement are the ones that make people feel something, so don't shy away from touching the heartstrings.
User-generated content
User-generated content, or UGC, earns an average of 6.9 times as much engagement as brand-generated content. That's worth pursuing.
User-generated content includes things like customer reviews, a happy client sending a photo of her new kitchen, or someone sharing their photos from the wedding that you planned.
Obviously, you can't create UGC yourself, but you can encourage it. Reach out to happy customers asking them to post a photo of their new hairdo or updated driveway.
Video content
Great videos don't have to be long; in fact, a Buzzsumo study found that the ideal video should be 60-90 seconds!
The simplest way to make video content is just to use the video camera on your smartphone, and then upload it to Facebook, YouTube, or Instagram. That said, it's worthwhile to invest in a good quality camera that can take both videos and photos, and then use one of these tools to edit and enhance your video content:
Adobe Spark Video has a range of templates to help you create and edit longer videos.
Animoto offers both a desktop and a mobile video editing tool to make your videos look more professional.
iMovie is simple and easy for beginners to use, although it's only for Mac users.
There are also clever ways to make a video without actually shooting a video. Confused? Here are some examples:
Facebook Live video – Boom!
Facebook Live video deserves its own slot. Marketers have already discovered that six times as many people watch live video content than regular videos, and that they spend three times as much time watching live streams.
Your live video can be:
A peek behind the scenes in your busy catering kitchen
A live stream of your experience at a high-profile event
An interview with a leader in your industry
Your expert advice on topics that relate to your business, like how to deal with a patch of weeds in your lawn, how to make your manicure last longer, how to get rid of split ends, etc.
New Facebook formats
In the last year or two, Facebook has rolled out some new post formats. Some marketers think that the Facebook algorithm prioritizes these new format posts in order to boost adoption, although Facebook itself has never confirmed this. Still, it's worth a try.
Here are some new post types to play with:
360-video makes your video immersive and captivates your followers.
Facebook stories are limited-time video or photo posts that tell a story to your followers
Looping Videos are video segments that are under 30 seconds long that play on a continuous loop, which keeps the viewer's attention for longer
Live 360 is incredibly experiential video content that is not just livestreamed, but also shot in 360 degrees to make the viewer feel like they are right there with you
5. Make the most of your content
Once you've gone to all the trouble of creating great content, you want to make the most of it.
Get employees to share the love
Start by getting your employees to share your posts as well; it's surprisingly effective. Research found that brand messages get an average of 561% more reach when they're shared by employees.
Promote live video before and after
When you share live video, make sure that everyone knows about it. Promote the upcoming live stream well in advance, and invite people to subscribe so that they won't miss it. This also gives you a useful list of leads for retargeting. Don't forget to send everyone a reminder shortly before you go live!
Once your live stream is over, it's still not gone. Save it and share it for on-demand viewing after the event.
Use Facebook Boost Post
You can also bring your content before more eyes by using the Boost Post option. You can either do this for a new post, or you can boost an existing post that you think deserves a bit more attention.
When you boost a post, you're in total control. You can set the budget, choose how long the campaign runs for, and select the parameters for who should see your boosted post.
You don't want to boost every post that you make though. Be selective about which content you pay to boost:
Choose posts that announce a contest, new service line, or important information;
Pick posts that have already reached a certain number of likes, because they show that they have the potential to generate more engagement;
Boost posts that will increase your brand reputation.
Pin a post
You can also pin posts to the top of your Page timeline so that it will be the first thing that someone sees when they land on your page. It's a good idea to do this for important announcements and really eye-catching videos.
6. Be consistent
Consistency is an important value when it comes to Facebook engagement. Once you've decided on your posting frequency, you should stick to it, whether that's once a week, every Tuesday and Thursday, or every day at 4pm. People will learn when to expect new content from you, so don't let them down.
You also want to make sure that all your images are consistent with your brand voice. Find or create a template image to keep everything in line with your central brand messaging.
Using a template also helps you make sure you don't accidentally break Facebook's image requirements for ads and posts, and helps keep all your graphics, like a CTA and logo overlay, lined up neatly.
7. Be personal
Your Facebook page is your golden opportunity to establish a personality for your small business. You want to build a relationship with your clients so that they feel loyalty to your brand.
Use your Facebook posts to show your human side, like how much you love fried eggs, how far you'll go to get rid of dust bunnies under the couch, and what you like to do to relax.
For most businesses, however, it's a good idea to avoid very contentious topics, like anything to do with politics or religion. Yikes.
8. Run a contest
Facebook contests are a great way to boost engagement. Everyone has an opinion and is just bursting for an opportunity to share it, so why not hand it to them?
For example, you could run a contest like this, asking everyone which logo they prefer.
If it seems like the stakes are too high, you could request help naming your new office potted plant instead.
Other contest ideas include:
A free massage for whoever shares your post and gets the most likes
A prize draw for a free makeover, with everyone who comments on your post entered into the draw
A challenge offering a free home organizing session to whoever sends a photo of the messiest living room
It doesn't even have to be a contest. You can just ask people for their opinions about this year's funkiest dance beat, the best pick me up when you're feeling down, or their favorite nail color this fall.
Who can resist answering that question?
9. Be responsive
Everyone appreciates being heard. That's why it's important to respond to comments, thank people for their likes, and acknowledge feedback, whether it's positive or negative. When you respond to comments on Facebook, it gives you a valuable opportunity to build your relationship directly with current and future clients. This kind of interaction is gold.
10. A/B test your ads and your content
Finally, reviving your Facebook business page isn't only an art. It's a science. There are real experiments that you can and should be running to find out which type of content gets the most engagement, when is the best time to post, and which demographic you should target when you boost posts.
Use A/B testing
Instead of relying on your intuition, rely on A/B testing. A/B testing content for your business page involves running two different posts which are almost the same. For example, you could try posting a weekly roundup with a photo one week, and then without a photo the next week, and see which one gets more likes.
Consult your Facebook page insights
If you aren't already using Facebook page insights, you should be. Facebook insights tells you solid data about things like:
The age, gender, and location of your most loyal followers
What action people took for each of your posts (e.g. Liked, commented, shared, clicked through to your site, made a booking)
Post reach
Page likes
Story reach
How long on average people spent watching your videos
To really make the most of Facebook Insights, you need to also keep track of:
Which content format you post
What time of day and week you posted
What kind of CTA you included in your posts
So that you can verify which content types, posting times, CTAs, and more bring your page the best results.
Analyzing your Facebook metrics will help you discover things like:
The best time to post to your Facebook page
Which type of posts perform the best
Which demographic you're missing with your content
Let's get crackin'
Are you feeling ready to perform some miracles and bring your page back from the dead?
We've given you plenty to do. Let us know how it goes!