A lot of entrepreneurs will tell you that there's never been a better time to start a small business, and they're right.
As recently as 10 years ago, consumers still preferred to do their buying offline and looked up new service providers in the phone book. As you can imagine, renting a storefront and print advertising wasn't (and still isn't) cheap. Today, people are using their smartphones to source everything from food and fashion to life coaches and even new places to live.
What does this mean for you as a small business owner? It means that you have a ton of low-cost ways to grow your business, and they're all online. Let's take a closer look at 10 of them.
1. Build A Website
In 2017, Forbes estimated that 29% of small businesses had yet to develop their own website. Nearly one-quarter of the entrepreneurs in this group stated that they lacked the technical skills to develop a site and 22% said that they didn't yet have the finances to invest in web development. Some even pointed out that we're suffering from digital overload as it is and they didn't want to invest time and money into something that was just going to be lost in all the noise.
The fact is that if you want to grow your small business, you need a website to attract leads and drive sales. Even if you're not tech-savvy and your business startup budget doesn't yet cover web developer fees, there are options that deliver professional results while remaining low-cost and user-friendly.
WordPress: WordPress is one of the most beginner-friendly website and blog platforms, which is why it has been used to build 34% of all websites. It has over 350 templates that are suitable for small businesses, all of which can be customized with your own logo, images, and colors. The basic version is free, but a business version is available for $25 a month and if you plan to sell online, the cost is only $45 per month.
Wix: In addition to being a simple website builder, Wix offers hundreds of free templates that cover various business categories, from food and restaurants to coaching and cooking. It also offers premium business subscriptions starting at $23 a month. Below is an example of a website created with Wix, using the vcita Wix plugin for scheduling appointments.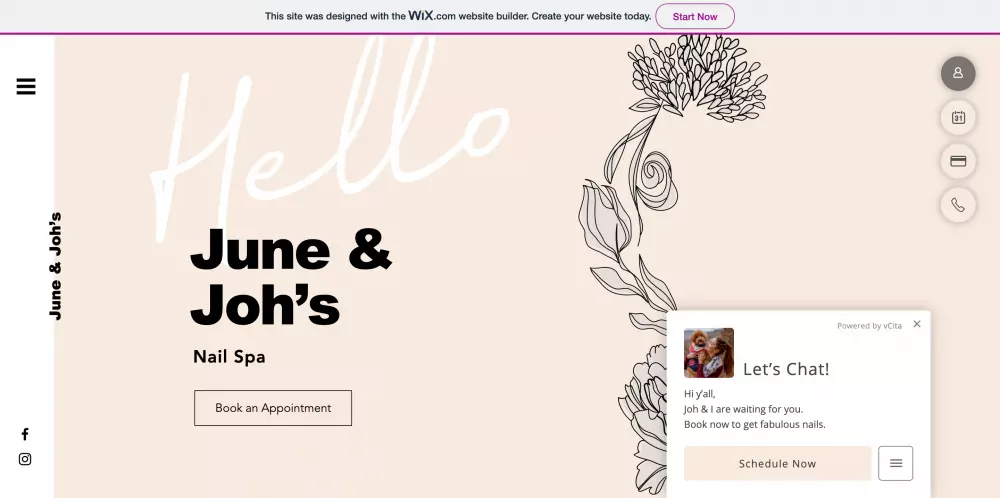 Shopify: If you want to run an online store, Shopify has everything you need to start selling. In addition to offering various ways to sell your products and services, it lets you integrate with other shopping environments, such as Amazon and Facebook. Shopify even equips you with tools to sell on the go, which is handy for trade shows and other networking events. Subscriptions start at $29 a month.
2. Calls To Action
In website terms, a call to action, more commonly called a CTA, is an invitation for a web user to take a desired action, like book an appointment, schedule a session, or buy a product, depending on your business funnel. Conversion occurs when the user takes this action. The more conversions you attract, the faster your business grows.
Examples of CTAs include:
Action-oriented buttons that state 'Buy Now', 'Add to Cart,' or 'Try It Now'
'Read More' links
Chat boxes
Intuitive address and payment input screens
You can -and should- have multiple CTAs on each page, which will increase your conversions. Just make sure that each one has a distinct purpose, so that they don't compete with each other. Place them strategically: eye-tracking studies indicate that site visitors scan pages in an 'F' pattern, so put your CTAs in headers, sidebars, and at the bottom of the page.
Below is an example of a fully-optimized Call To Action landing page created with vcita online scheduling software. It invites you to schedule a demo and keep a chat box open in the lower right corner in case you have questions.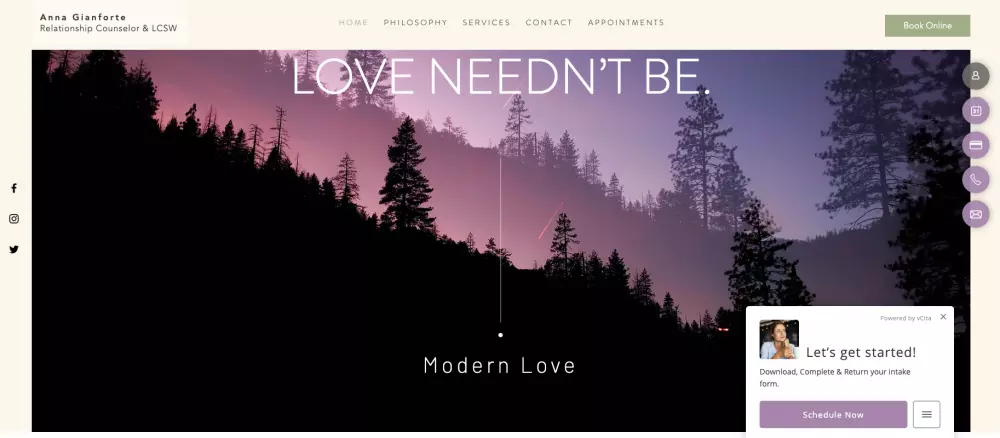 The next example of a scheduling call to action, created with vcita scheduling, makes it easy for users to select the service that meets their needs and budget.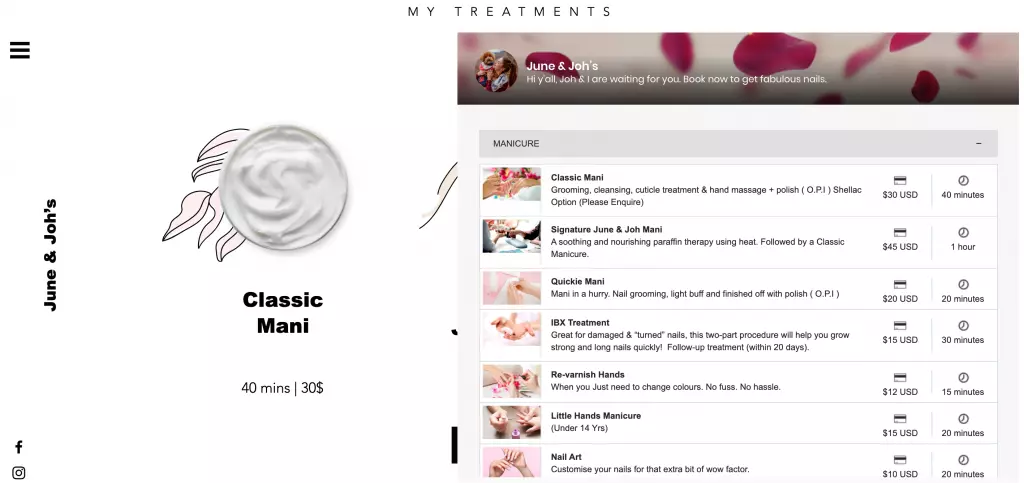 Other good practices include appealing color schemes and words that communicate value to the user and inspire action. Instead of 'Submit,' your button could state 'Get my free sample now!'
3. Use SEO For Small Businesses
Over 65% of U.S. consumers research products online before they make a purchase. If you want to grow your business, it is essential that you optimize your site for the search engines, otherwise you won't be visible to potential customers.
Search engine optimization, or SEO for short, is a strategy that can help your business site appear on the top of the search engine results pages (SERPs). Below are some SEO tips that can boost sales and brand growth.
Choose the Right Keywords: What terms are your customers likely to use when they search for your services online? If you run a leadership coaching business, they will likely use 'leadership coach' or 'business coach.' To find the right keywords for your services, you can use tools like Google Keyword Planner or Moz Keyword Explorer, both of which are free.
Create a Business Listing: A Google My Business listing gives you greater control over how the SERPs present your company online. You provide your business location, contact details, and photos of your office or products. What makes these listings especially valuable is how they optimize your website for local searches, such as 'find a business coach near me.'
Optimize Your Site for Mobile Devices. Mobile traffic continues to soar, and to keep pace with this now-mainstream consumer behavior, you need a mobile-friendly site design. Not only does a responsive design make the site accessible from multiple viewing resolutions, it also has a positive impact on your Google rankings. Incidentally, Google also has a free mobile-friendly tester you can use to assess your site.
Use Internal Links. Internal links on your homepage draw site visitors deeper into your site and encourage them to spend more time browsing your pages, which improves SEO.
SEO can be difficult to master, especially in the beginning, but you can conduct an SEO audit with tools like Pro Rank Tracker, which starts at $49 per month, or SEMrush, which is more expensive at $99 but shares the rankings, traffic sources, and social media results for your competitors too.
4. Use PPC
If you've ever noticed those ads on Google, Facebook, and Instagram, you have a general idea of what PPC (pay-per-click) advertising is. It's a popular form of digital marketing in which the advertiser pays the publisher a certain amount every time someone clicks on their ads.
Business owners bid on industry or audience-related keywords, with the highest bidder having their ad displayed when their chosen keyword is searched for.  How much you can expect to spend will depend on your preferred keywords as well as what industry you're in.
With Google Ads, the average CPC is around $2.00, but pricing can range from $0.20 to over $30. To control costs, you can set a daily budget limit, but if you're looking for a more modest entry into PPC, below are some additional options:
Facebook Ads: Facebook has over two billion users worldwide, and reaching them via Facebook ads averages $0.51 a click.
Instagram Ads: If you have a highly visual product, such as food or fashion, Instagram ads let you tell your story using crisp and clear photo displays. The average cost per click is higher than Facebook at $1.28, but still lower than Google.
You'll need a budget for a PPC campaign, but it doesn't have to be excessive, and anything you do spend will usually be worth it because PPC targets more qualified leads: people who are already searching for terms related to your business.
5. Create A Blog
Blogs are a popular and effective platform for posting content that can guide consumers through the buyer's journey and, of course, direct them to your website. Blogs also help you build trust with your target audience by presenting them with content that they will find useful and want to act upon.
According to MarketScale, B2B marketers who actively use their blogs gain 67% more leads. It's an impressive statistic that can work for practically all industries. If you run a coaching business, you can post tips about avoiding procrastination or developing an action plan. An organic produce business can feature recipes or stories about the local farmers who supply them with fruits and vegetables.
Many web hosts like Wix and WordPress include a blog option, but if yours does not, below are some user-friendly and affordable options:
Blogger: Blogger has been the forum of choice for personal and business bloggers since 1999. It's free to use and, because it's a Google product, integrates with Google Analytics so you can collect visitor information. It also integrates with Adsense, so you can monetize your blog by displaying content-relevant ads.
TypePad: Typepad offers a lot of flexibility, with custom and modifiable templates and the ability to publish from both email and web browser. After a free 14-day trial, the basic plan starts at $8.95 per month.
6. Email Marketing
Studies show that customers prefer to receive marketing materials via email instead of direct mail, and that emails offering discounts are seen as more influential on purchasing decisions than ads and reviews. In addition, Campaign Monitor noted in one of its annual reports that for every dollar spent on email marketing, you can expect a return of at least $44.
The following tips can help you get the most out of your email marketing efforts:
Make Signing Up Simple: Add signup forms throughout your website and even in your blog content so people can't miss it.
Send Compelling Content: If all the emails you send out are promotional, people will conclude that you're not offering anything of value and start unsubscribing. While it's fine to let them know when you have something to promote, mix up these announcements with discount codes, free upgrades, and invitations to seminars or product demos.
Include CTAS: Include a clear call to action in every email, which makes it easy and convenient for recipients to respond.
Segment Your Email Lists: If you find that your email marketing efforts are paying off, you can boost your click-through rates by segmenting your email list into groups and sending content that's especially meaningful for each one. Examples of groups include new subscribers, those who just bought something, and those who haven't made a purchase in awhile.
Some web hosts offer email marketing capability in their advanced hosting packages. If yours doesn't, below are some low-cost options:
Constant Contact: Founded in 1995, this email marketing software offers industry-specific templates and even lets you create coupons that you can share on social media. If you have up to 500 subscribers, Constant Contact will only cost you $20 per month. It goes up from there, to $95 a month for up to 10,000 subscribers.
MailChimp: Over a billion emails a day are sent out using MailChimp. The free plan covers up to 2,000 subscribers and 12,000 emails per month. After that, you'll have to upgrade to the Pro plan, which is only $50 per month for up to 5,000 subscribers.
7. Social Media Marketing
An estimated 3.5 billion people use social media today. That's nearly 40% of the world's population, so it's no surprise that social media is a marketing staple. Businesses that want to grow their brand and stay competitive use platforms like Facebook, Instagram, LinkedIn, and Pinterest to communicate with customers and inspire discussion about their product.
Before planning a social media marketing campaign, it's important to understand your audience so you can prioritize which networks you use. For example, most Twitter users fall into the 18 to 29 age range while 72% of teenagers use Instagram. Service or product type also matters: LinkedIn and Twitter work best for B2B services while products that lend themselves well to visual marketing, such as clothes and cosmetics, are better suited to Instagram.
If you want to save yourself time, you can schedule content. Tools like the ones below will let you bulk upload your announcements, photos, and videos and publish them according to a schedule that you specify.
eClincher: eClincher is a robust content publishing system. Its popular Auto Post feature allows you to automatically publish hundreds of social media posts for months in advance and even recycle content. Pricing starts at $59 a month for up to 10 social profiles.
HootSuite: HootSuite has been around since 2008. Its content features include organization, scheduling, and RSS integration. Pricing starts at $45 a month for up to 10 social profiles.
8. Push Notifications
Push notifications are messages that pop up on the mobile devices of your subscribers. They can be used to let clients or customers know about special offers, content upgrades, and other information that they will find useful.
Although many businesses worry about any marketing strategy that can be too (pardon the pun) pushy, 63% of smartphone users aged 18 to 34 frequently agree to receive push notifications from an app. The trick to successful engagement is keeping the messages highly personalized. For example, few (if any) Netflix subscribers object when they receive an alert that a movie in their favorite category has just been added.
If you'd like to give this evolving marketing tool a try, these resources will help you develop a push notification strategy.
OneSignal: Used by Adobe, Uber, and Conde Nast, OneSignal lets you send mobile, web, and in-app push notifications as well as email notifications. The basic version is free, and if you want advanced features like automation, pricing starts at $99 per month.
PushBots: When you don't have time to manually send notifications, PushBots has a streamlined automation capability that's easy to master. Pricing starts at $29 per month.
9. Pop-Ups
Annoying. Invasive. Distracting. Those are some of the more flattering terms used to describe pop-ups. But when designed to appeal to site visitors that are already engaged, they can inspire conversions.
If you want your pop-ups to inspire instead of frustrate users, observe the following best practices:
Make them easy to get rid of. Make that 'X' or 'No Thanks' option clearly visible.
Ensure that the content is relevant to the page they are visiting. If you're running a special on the products they're viewing, letting them know via pop-up won't disrupt their experience.
Make the value you're offering, such as free shipping, a discount, or add-on, clear.
Below are some tools that you can use to create pop-up ads for your business website:
Popstrap: This free app is cloud-based, meaning that no additional software is necessary. You just paste a generated code and the Popstrap servers take care of everything else.
Popup Maker: Popup Maker integrates with WordPress, Wix, Shopify, and other leading best Drupal web hosting services to generate pop-ups based on user actions like loading, clicking, and exiting. Pricing starts at $6.95 a month.
10. Retargeting and Remarketing
How many times have you visited your favorite retailer's site, added items to your cart, and clicked off without making a purchase because you were distracted or interrupted? If this happens to your business site, retargeting and remarketing can help you reclaim those sales.
Remarketing uses email marketing to re-engage customers. For example, you can send out an email when someone puts an item on their wish list or abandons their shopping cart and encourage a purchase by including a discount code.
Retargeting is the use of ad campaigns to appeal to those who have already bought something or otherwise interacted with your website. These ads can appear on search engines and even other websites. The Google Display Network lets you deliver retargeting ad content to those who are most likely to be interested in your product or service.
These 10 tools, combined with perseverance, will help your small business grow. Although it takes time to build any successful enterprise, a focused and strategic effort will yield reliable and profitable results much faster.