Let's have a moment silence for the contact form: it's been a long-time coming, but it's finally time to say goodbye.
Small businesses may have been able to get away with little more than a generic contact form to encourage client communication a decade ago, but times have changed.
Big time.
Why the Contact Form is a Relic of the Past
Don't get us wrong: contact forms were a great solution back in the day. The concept of having a dedicated spot for visitors to get in touch has been a cornerstone of SMB sites since the mid 90's (imgaine that!). Yet the shortcomings of contact forms, especially with clients and traffic in 2017, are impossible to ignore:
The first instinct of today's traffic is to be passive: if they don't find what they're looking for immediately (think: in a matter of

seconds

), they're likely to bounce

Contact forms are rarely friendly to mobile users who expect to be able to do just about everything on mobile, with desktop-like ease of use

There's no guarantee that your visitors' information is actually going anywhere: for all they know, their queries are going into the "virtual abyss"
Plain and simple, your potential clients don't have the patience for old-school contact forms. Consumers as a whole have shorter attention spans than ever and expect instant gratification. Think about the dawn of one-click shopping and same-day shipping: if we don't get what we want now, we're bound to look elsewhere.
And that's the big picture: if your business fails to respond to the needs of modern clients, you run the risk of losing business.
Why Modern Businesses Need a New Approach to Client Contact
"So contact forms have gone the way of the dinosaur. Great. Now what?"
The solution for small businesses looking to encourage contact is simple: Make your visitors want to contact you, and turn contacting you into a fun, memorable and easy experience.
How do you do that? Simple. Meet vcita's client communication tool, the simplest solution for increasing engagement and clicks between service-based businesses and their clients.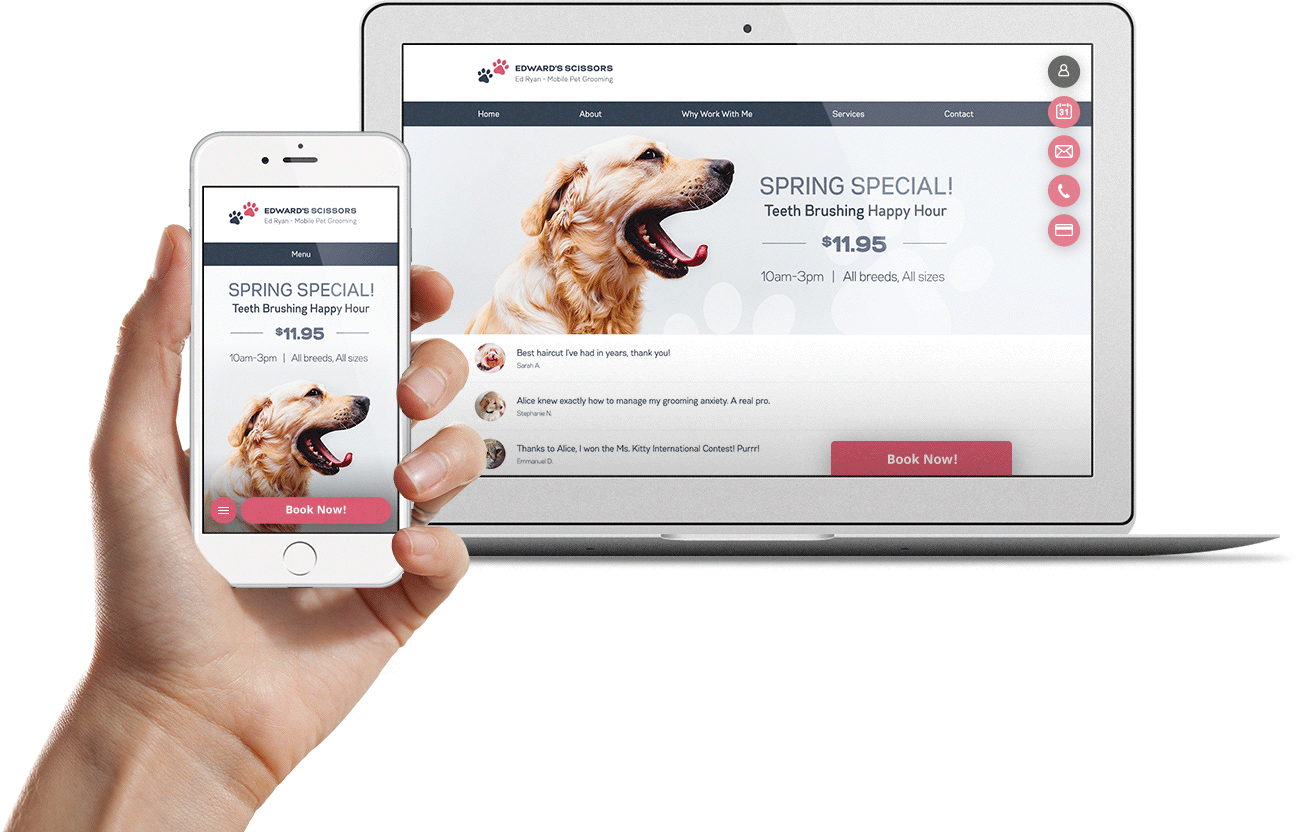 But why is vcita's solution so much more effective than a traditional contact form? Does it really matter to your clients?
Absolutely.
Here's why.
You're Giving Clients a Reason to Get in Touch
Sometimes prospects just need that extra push to become a client.
Through a client-facing solution like vcita, you remind your visitors that getting in touch is a positive step toward your services' benefits. In other words, you're not inviting them to contact you for the sake of it, but rather for the sake of value.
By having a customizable contact widget on deck, you can pick and choose which message you'd like to put in front of of your clients and what actions you want them to take. This allows you to get more specific than merely saying "Contact us" by offering up specific actions such as booking appointments, sharing documents and scheduling free phone consultations. vcita's widget isn't just a communication tool – it supports every and any action that can be translated into dollars and cents.
Think about it. Would you rather hit a bland "Contact" button or the button that entices you to "Smash your financial goals for 2017?"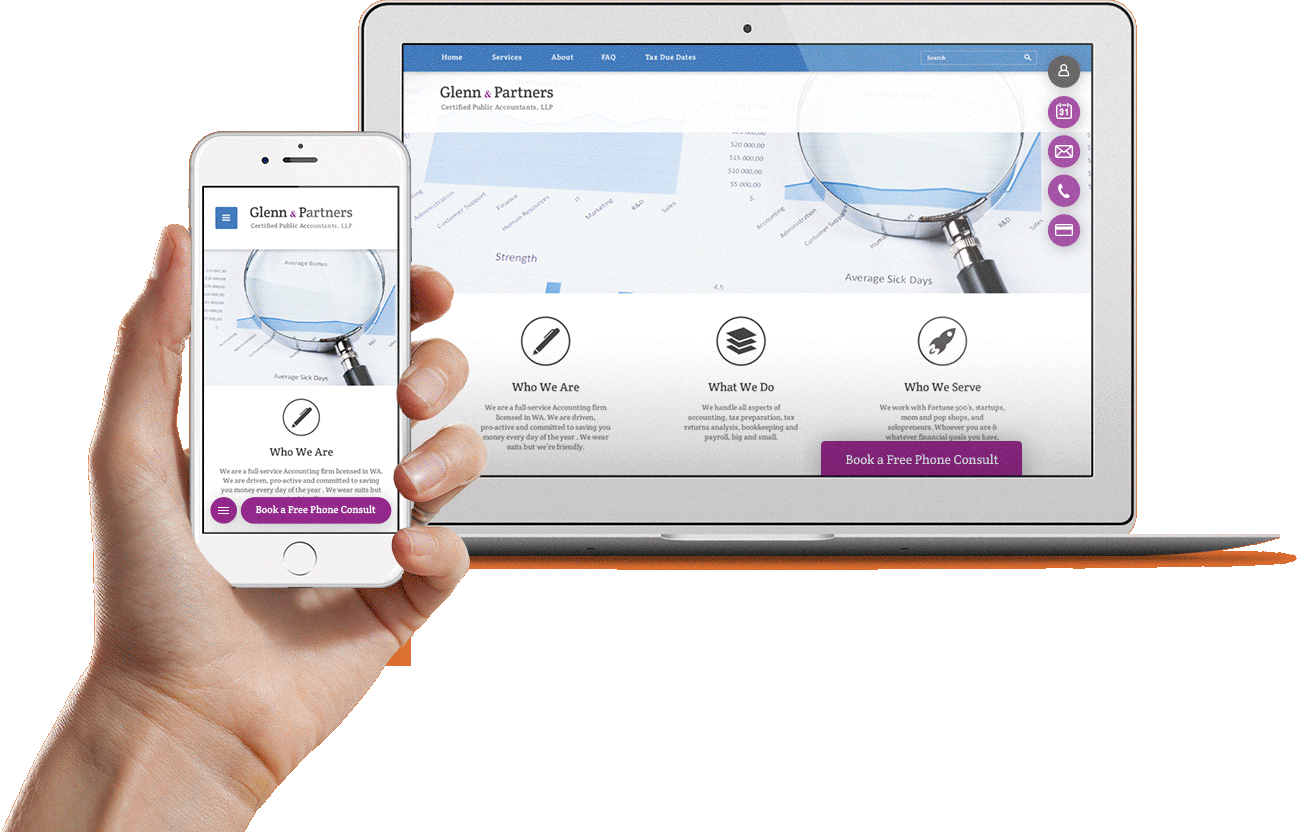 You're Doing the Legwork for Your Clients
Unlike traditional contact forms, vcita makes contacting you into a natural part of your visitors' browsing experience. It doesn't force visitors to leave your home page just to ask a question or clog their screens with an invasive pop-up. For visitors who land on your website, making contact becomes a natural and gratifying action that can be performed within seconds. vcita makes your website look conversational, and makes it super easy for prospects to respond to your initiatives. The widget is visible from every page on your website, works great on mobile and is too visually appealing for your visitors to ignore.
In other words, vcita makes sure that your calls to action are crystal clear and that your clients never have to ask "Where do I go now?"
But there's more.
You Never Miss a Lead
This is a big one.
Instead of bouncing around endless email chains and playing phone tag, wouldn't it make sense to keep all of your clients and prospects in one platform? vcita makes client relationships a breeze by organizing your communication for you so you can focus on getting down to business.
Each contact or appointment request through our widget creates a client card within your vcita account. This allows you to leverage that initial contact to form a future relationship.
Rather than having to organize your little black book, we can help keep tabs on your clients on your behalf. From sending offers and sharing documents to email follow-ups and personalized communication, the possibilities are endless to keeping clients around for the long haul.
You Look More Professional
Professionalism matters when it comes to standing out to clients and staying a step ahead of your competition.
Employing a client-facing solution is a win-win situation for you and your clients alike: you're giving your target audience good reasons to contact you, make getting in touch with you easy and fun, and free prospects from the need to call you during office hours.
If nothing else, having one-click contact shows your potential clients that you're equipped to accommodate them, no matter what issue, challenge or need had brought them to your website.
Are You Ready for the Future of Client Contact?
Client contact isn't a sure-thing, especially given the nature of today's busy consumers. As a result, modern small businesses must do everything in their power to ensure that their clients get in touch by making the process as seamless as possible.
We look forward to helping businesses step out of the past to meet the needs of modern clients: give vcita a spin for yourself to see how we can help you grow your client base.