"Sounds good! Could you send over an estimate ASAP? Look forward to hearing from you!"
These are types of conversations we all love having with prospects.
But when a client or customer asks for an estimate, sometimes we don't know whether to jump for joy or go into panic mode.
On one hand, you're so close to sealing the deal with someone who could turn out to be your new favorite client. Good news, right?
But on the flip side, there's the pressure to present the perfect price on a silver platter.
Relax! Don't stress out about second-guessing yourself.
Coming up with a price estimate that wins over clients is easier than you might think. That's why we're going to help you break down how to draft an estimate that'll result in repeat business time and time again.
Why Your Price Estimates Matter So Much
Despite popular belief, estimates are more than just price tags. Before you can effectively come up with a client-winning pricing strategy, you need to understand why your estimates matter.
Below the surface, there's so much that estimates say about both you and your business.
Your estimates represent a make-or-break moment in your client relationships.

A thoughtful, detailed estimate can win over someone who might be skeptical about what you have to offer. A messy estimate doesn't exactly signal that you mean business.

Your estimates help manage your clients' expectations.

When your clients know exactly what they're getting, there are fewer question marks and less back-and-forth. In other words, you get down to business

fast

.

Your estimates determine how much you get paid.

It may be tempting to "go low," but consider how you could end up underselling your services. Instead, empower yourself to charge a price that's fair and makes sense for your business.
Winning clients. Working smarter. Getting paid.
Sounds good, rigt? All the more reason to pay close attention to your estimates versus winging them.
The Do's and Don'ts of Your Next Estimate
Let's say you have a client that's interested in working together but wants to hammer out some details first. Good! This is your opportunity to make a positive first impression.
To increase your chances of turning your leads into long-term business, keep the following do's and don'ts in your back pocket.
Do: Ask Questions
You can save both you and your clients time and energy by clarifying any questions you might have prior to drawing up an estimate. There's no harm in hopping on a five-minute call or shooting over a quick email.
Don't: Treat Every Client the Same
Comparing the work you do for one client to the next might be apples and oranges, so don't treat your pricing structure the same for everyone.
For example, you might offer a price break for existing clients and package deals for services in bulk. While it may seem easier to treat clients as one-size-fits-all in terms of price, this usually isn't the most efficient use of your time.
And time is money, right?
Do: Keep Profits in Mind
While scoring a new client is nice, so is keeping the lights on!
Ask yourself: does your pricing structure revolves around a sensible profit margin in terms of your time and energy? If you have no problem filling your calendar as-is, it might be time to raise your rates for new clients.
Don't: Sell Yourself Short
And on that note, lowballing your estimates is never good news.
When in doubt, remember: you're worth it! Rather than treat your business as a race to the bottom, come up with prices that you're truly comfortable with versus settling for second-best. You'll be happier with your work as a result and your clients will likely respect you as a business owner.
What Makes a Good Estimate, Anyway?
Now that you're bursting with confidence and ready to come up with an estimate, it's time to break down what makes a "good" estimate on paper.
How can you guarantee that clients give your business the time of day instead of setting your proposal aside? Each and every estimate you write should be…
Scannable

– Clients should be able to glance at your estimate and sum it up in a matter of seconds.

Comprehensive

– Your estimate should cover every aspect of the job without being too wordy about it.

Professional – Proposals should be presented as a template with your business' essential information and logo, not just as a random document you threw together. To enhance professionalism, consider making a presentation in PowerPoint to lay out the estimate visually engagingly.
Complete –

No missing details and 100% accurate when it comes to names, dates, timing, address and price point.
Here's a sample estimate we whipped up in vcita that ticks all of these boxes and then some: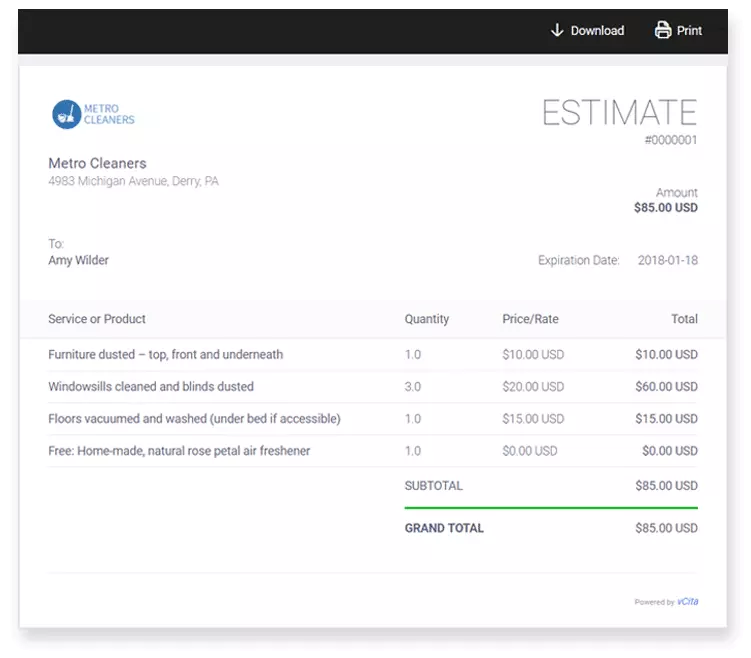 See all of our estimate templates here.
How to Make Clients Fall in Love with Your Estimates
Now that you have a good idea of what an effective estimate looks like, it's time to review the fine details that'll reel in prospective clients. The more you're able to stick to these principles with your proposals, the better.
Speedy Responses
By responding to clients in a timely manner (think: 24-48 hours), you signal that you're serious about working together and respect their time.
Throw in a Bonus
Providing clients a little something extra for "free" is both psychologically appealing and sets you apart from the competition.
For example, let's say you run a carpet cleaning business and assist customers with moving their furniture for your service at no charge. By throwing that added bonus in at $0 on your estimate, your customers will feel as if they're winners before you've even done the job for them!
Give Clients a Personal Touch
Referring to clients by name in your estimates is a subtle but significant aspect of making your pricing proposals stand out. Including any additional personal details based on your previous conversations or communications (think: notes, specifics on services) is also a plus.
Don't Leave Out Any Details
Finally, make sure that every necessary line item is filled in prior to sending off your estimate. Your clients should have a clear understanding of what they're getting instead of any sort of pricing surprises.
How to Make Your Estimates Work for You
Estimates are part of the daily lives of service business owners, but that doesn't mean they need to be time-consuming and tedious. That's exactly why we've just rolled out our very own estimate-builder to give our clients a helping hand.
Check out some of our favorite features of vcita's new price estimate builder:
– Convert Estimates into Invoices in One Click
With a single click, you can transform your estimate into a professional invoice. Save time and get paid faster.
– Duplicate Price Estimates for Future Use
Instead of juggling documents and going back-and-forth between templates, you can repurpose estimates immediately for your next client.
– Set Expiration Dates and Send Reminder Emails
Give your estimates the sense of urgency they deserve. Encourage quicker responses with automated reminders that keep your future clients from sleeping on your proposals.
– Track Your Estimate's Status
When your client accepts your offer, you'll be the first to know with an automatic notification directly to your smartphone.
– Easily Add Line Items, Terms and Conditions
Need to tweak an estimate? Something you forgot? No problem. Add line items and notes in a snap to meet your clients' needs.
– Download and Print as PDF
Show your clients that you mean business with a pristine, professional estimate in the proper file format the first time around.
Your estimates represent one of the most important aspects of making a strong impression on your clients. With the help of vcita, you can streamline your pricing proposals to score clients and save time simultaneously.
Got more tips for creating the perfect estimate? Share them in the comments below or bring the conversation to our Facebook group.