Thanks to COVID-19, most small business owners are working from home now. You might already be the proud owner of a home office, or you could be scrambling to carve out some quiet space where you can focus on your business growth.
Either way, we found the hottest home office gadgets that will complete your home office, each costing well under $50.
1. Humidifier
You're going to be spending a lot of time in your home office (even if you're there to hide from the kids) so it's worth it to create an environment where you feel comfortable. A humidifier might not be the first thing that pops into your head when you plan your home office, but if you live in a dry climate, or have to run the air conditioner most of the year, you'll thank us for this suggestion. 
Small humidifiers like this cute piggy-shaped one cost around $10 or less, and they'll improve the atmosphere no end — literally!
You can use it with aromatherapy oils if you want to scent the room, or just plain water for moisturizing and humidifying. Plus, the humidifier comes with a USB cable, so you can charge it at your computer or power bank. 
Not convinced? Just look at these images of Yoda before someone got him a humidifier for his office, and after a year of moisturizing steam. 
2. Mini-fridge
It's important to keep yourself hydrated when you're working hard, but sometimes the fridge is just too far to walk to get a refill on your favorite beverage.
Plus, we totally get it when you're hiding out from your partner or children and don't want to remind them that you're in the house at all, because then you'll be forced to settle an argument or prepare the 11th meal of the day, and find yourself unable to return to work, when all you wanted was a soda.
This mini-fridge comes to your rescue, at around $20-25.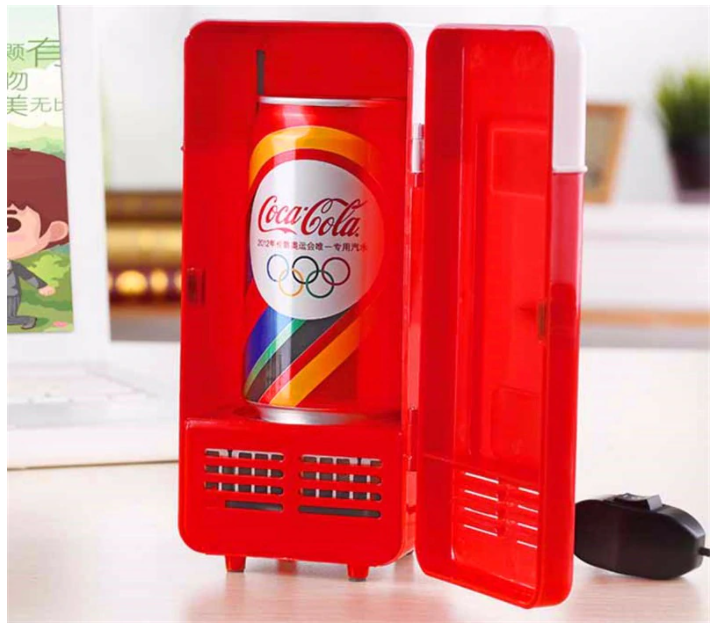 It plugs into the USB socket on your computer or power bank, and is exactly the right size to hold one can. This way, you'll be able to enjoy the perfect drink at the perfect temperature, without even having to get up from your desk and tempt… what's waiting outside your office.
3. Devil heater
No, it's not for warming up your devils, but it is for keeping you warm when winter is getting you down. Plus these devil heaters might just lift your spirits a bit when you come in to work on a Monday morning.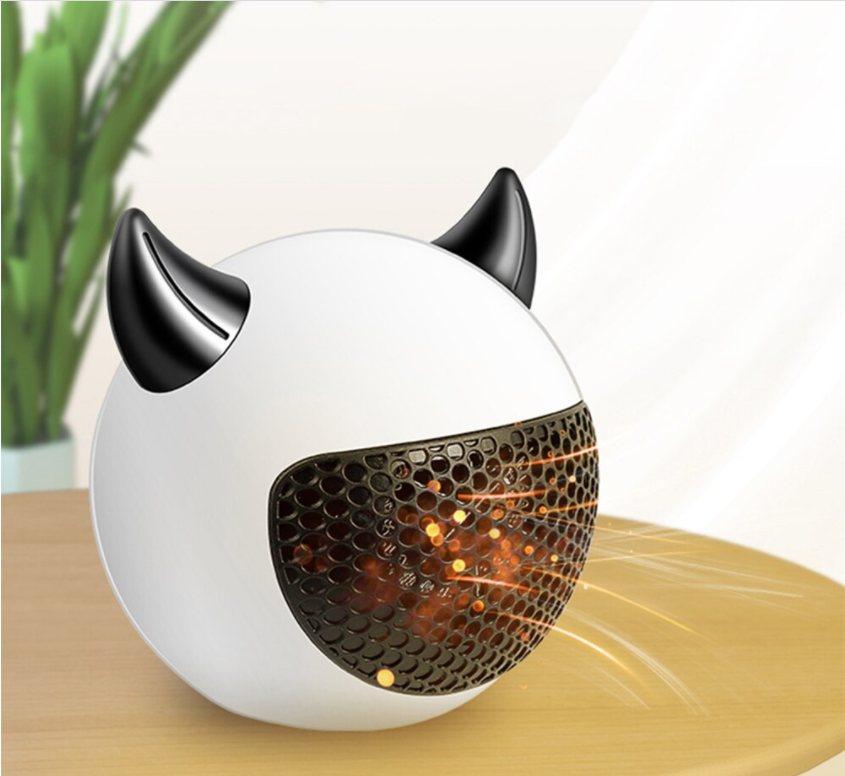 If your office is in a shed at the back of the yard, you'll really want to have one of these little devils on your shoulder — or perhaps sitting on your desk — to raise the temperature. 
Your brain gets sluggish when it's cold, and no one can concentrate on reports or strategy when they're shivering their fingers off. So consider calling the devil in to help warm things up. 
4. Laptop lap desk
In an ideal world, you'd have a separate room for your home office which no one else uses for any other purpose. But in an ideal world, we also wouldn't be managing through a global pandemic and attempting to remain sane. So let's get real and admit that very often, working from home happens from the kitchen table, the couch, or a large walk-in closet if you can put a lock on the door!
Even if you have an actual home office, sometimes you find yourself putting in hours from your bed, or sitting in the yard or a local park for a change of scene. "Have laptop will travel", as the saying goes, even if the only place you're traveling to is the living room.
But you still need to be comfortable wherever you're working, which is where these adjustable laptop desks make their entrance.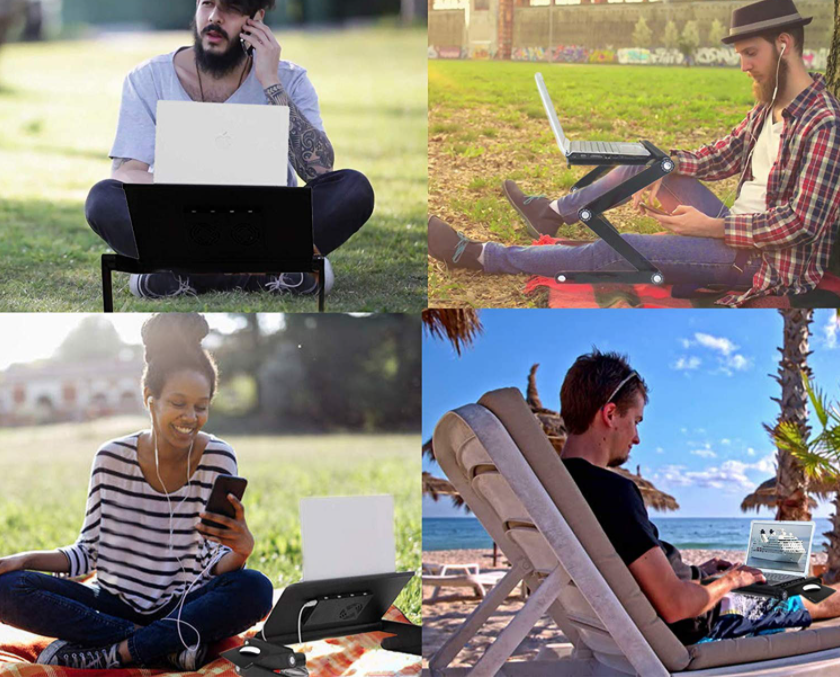 You can change the height and angle of the table so that it matches your position, making the screen easy to see and the keyboard easy to reach no matter where you are. 
There's a built-in cooling fan to stop your computer from overheating, and a separate mousepad conveniently located a little lower than the desk itself. They clock in at around $30-35, but pay for themselves in the amount you'll save on chiropractic treatment for your poor back.
5. Storage drawers
A tidy desk is a sign of a tidy mind, or at least of someone with enough storage options. These cute drawers are stackable, and come in attractive colors that make a change from executive steel and black and will brighten up your workspace.
They're also waterproof, in case you regularly have water fights in your office or perhaps get a bit careless with your morning coffee. 
We have to admit that no, you can't fit a bottle of whisky in them for when times get tough. But you can use them to store useful items like documents, notepads, pens, and other things that otherwise clutter up your desk.
6. Heated foot warmer
If you're working in a home office with underfloor heating, not only are we jealous, but also… you can skip this one. If you're not, and you often find that your feet slowly freeze as you sit at your desk, you'll know what we're talking about. Even when you've got central heat at home, you're liable to find that the rest of you is warm but your toes are still tiny little icebergs.
It's amazing how hard it is to think straight with cold feet. It probably affects your concentration and your business decision-making, so there's a solid business reason for getting a heated foot warmer.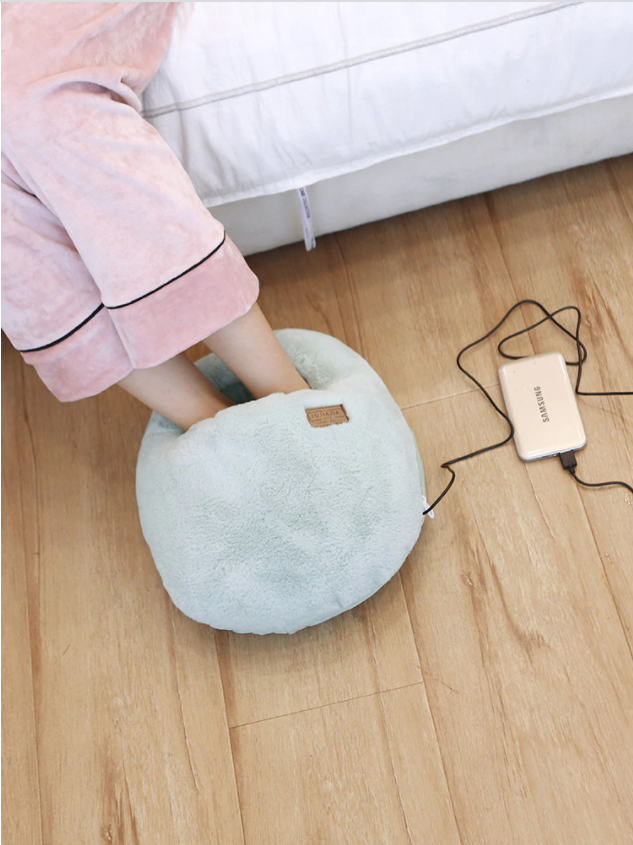 They are soft and fluffy, with plenty of space for both feet, and the USB cable plugs into any power bank or USB socket to keep your feet toasty throughout the winter. 
7. Secret whisky storage
As well as drawers for papers and pens, you also need storage for other, let's say, more… precious items. This safe really is big enough to hide a bottle of whisky, for when it all just gets to be too much and you need to bring out the big guns.
The fake dictionary locks securely, so you can keep your whisky safe from thieving fingers (and unseen by curious clients) along with other important items like backup codes to your private accounts.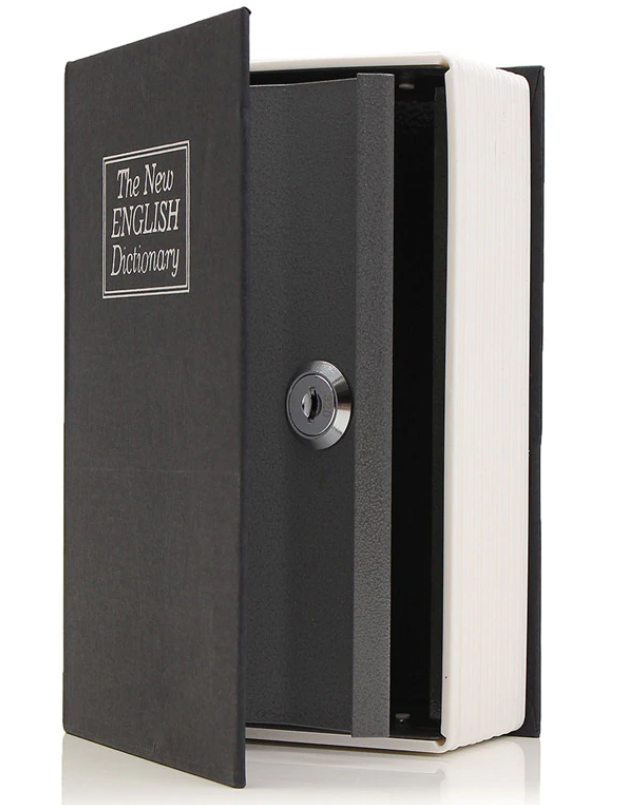 8. Handheld mini shredder
Security doesn't take a vacation when you're working from home. You still need to shred any documents with sensitive information, including papers with bank and personal details, but you might not want to shell out for a full office-size shredder for your home office. Many home offices are very short on space, so there might simply be nowhere to put a freestanding version.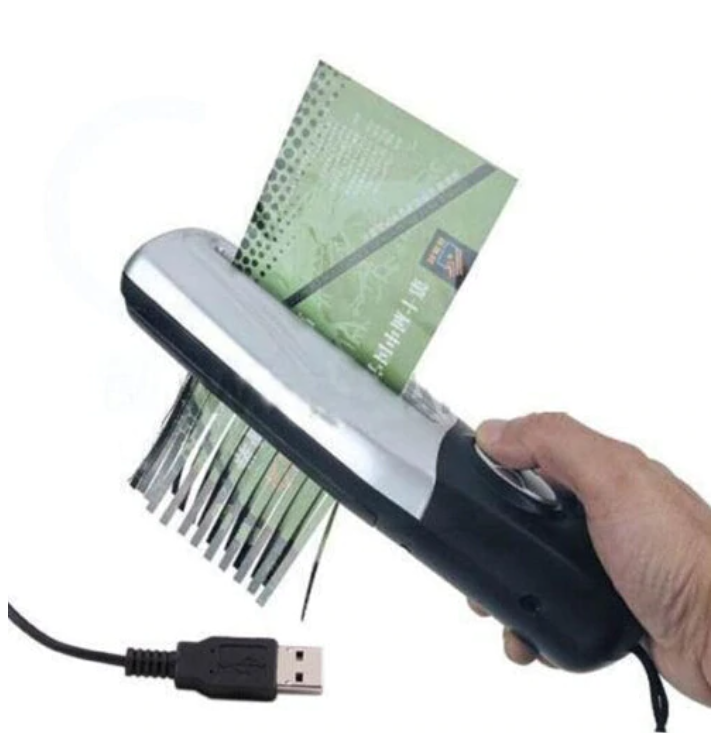 Handheld mini shredders can solve the problem. They cost around $15-20, plug into your USB port, and can be shoved into a penholder when you're not using them. They make it easy to protect your professional and personal privacy no matter where you're working. 
9. Office desk footrest
As any orthopedist will tell you, it's important to practice good posture when you're sitting at your desk. Many shorter people find that their feet dangle in the air, or only barely touch the ground, when they're sitting at a standard size desk. Some ergonomic office chairs come with a built-in footrest, but they can run very expensive.
If you're vertically challenged, your best bet is to shell out a few dollars for a footrest. There are loads to choose from, from very simple inflatable ones for just $3-5, up to fancy heated, vibrating, adjustable ones that cost $20+.
We like this adjustable stepper footrest, which costs around $12.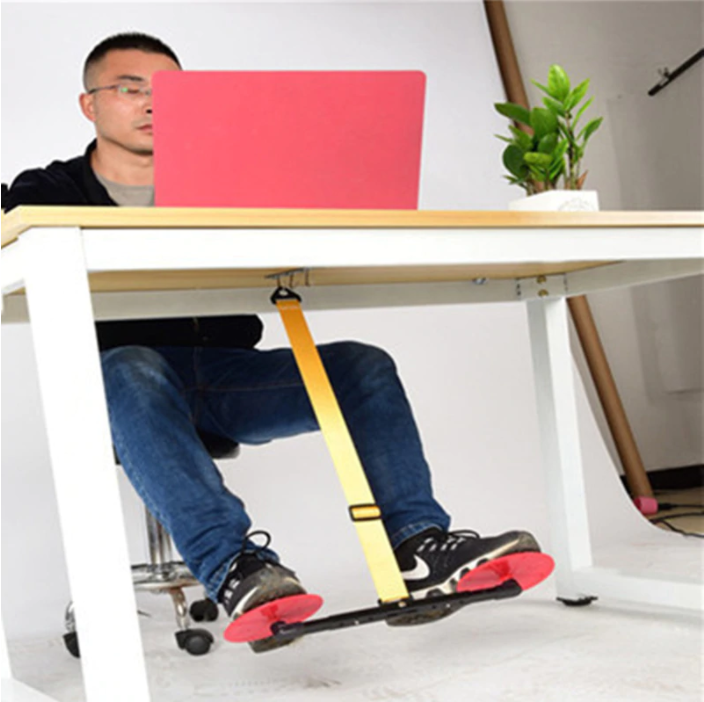 It's easy to attach to the underside of your desk, and then you can adjust it to the right height for your feet. Because the footrest is hanging, you can move your feet around and swing them back and forth, which is more comfortable for your back, keeps the blood flowing around your body, and allows you to exercise your leg muscles a little too. 
10. Stress balls
No office would ever be complete without some kind of a stress toy. You could go for those hyper-corporate suspended steel ball affairs, but what fun would that be?
These human face stress balls are creepy and weird, true, but they'd also be great companions during a 2-hour zoom meeting. Squeeze one, and watch it make all the faces you wish you could make at the people in your meeting.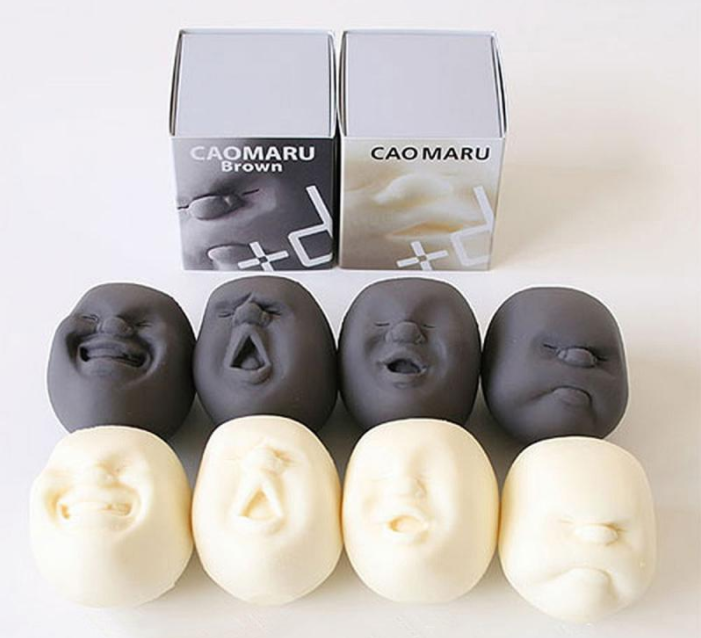 If it's a meeting with a particularly excruciating client or vendor, you could potentially turn one of them into a voodoo doll, which would be awesome multitasking. 
If you're more of a puncher than a squeezer, you could get one of these tabletop punchballs instead.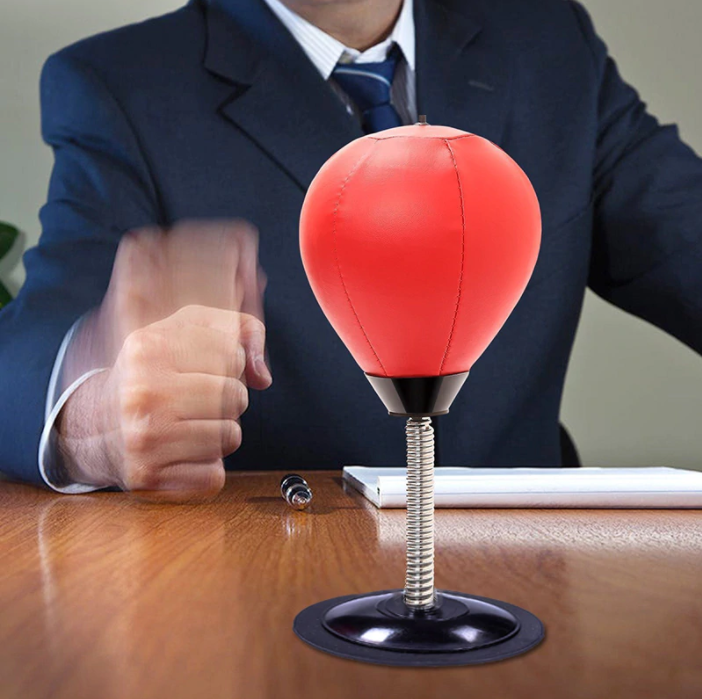 Just aim a one-two at it whenever someone gets on your nerves, and imagine their head instead of the ball. Instant calm. 
11. White noise machine
Let's face it, it can be tough to focus when you're working from home. If your kids are home, the shrieks and shouts are likely to disturb and distract you from your work. On the other hand, many people find that they miss the buzz of a busy office or workspace and find it hard to concentrate in a silent room.
White noise machines can answer this need for around $15-25.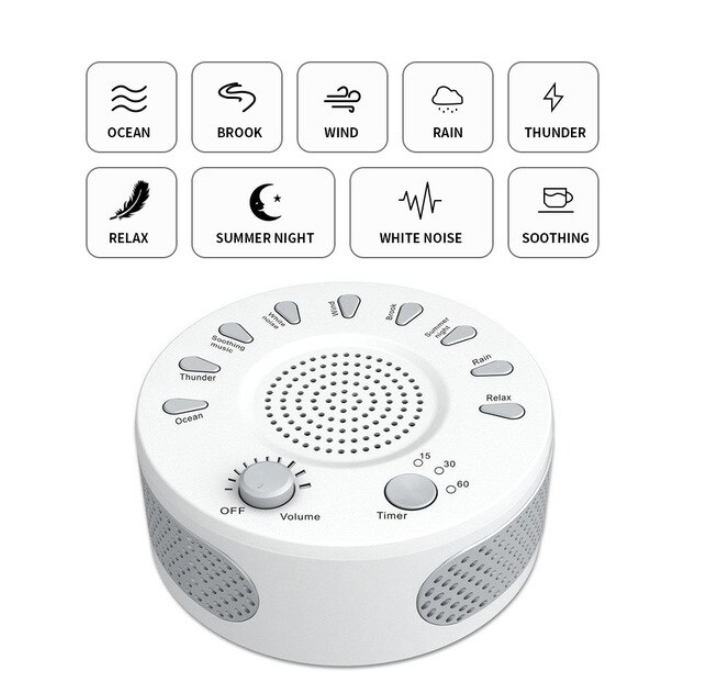 Granted, you could use noise-canceling headphones, but they can get uncomfortable if you're wearing them all day, every day. White noise machines can be small enough to sit on your desk, and come with a range of different background sounds that block external noise and help you focus. 
You can also use them to help you relax when you need a break, but have nowhere to go. Just set your white noise machine to a relaxing sound like waterfalls or ocean waves, and do some stretches in your office. 
That's a wrap!
With these low-cost, useful gadgets, your home office can be just as well-appointed as any large corporate office in a busy building. You'll be amazed at how productive you'll be once you've fully furnished your home office.