When you started your own business, you knew that there'd be easier times and harder times, but you didn't expect a pandemic.
Still, you're strong and determined.
Although the Corona virus, or COVID-19, is going to make things tough for a lot of businesses over the next few months, the strong ones will come through it stronger and more successful than ever.
You're going to be one of them.
And don't worry, you're not alone. We've still got your back, this time with suggestions for ways to help both your business and your clients during a turbulent time. Here are 7 ways that you can keep your business alive, support your clients, and even strengthen your community during the Coronavirus outbreak.
1. Take your Business Online
It's possible that by the time you're reading this, your town has already been told to work remotely and keep face-to-face interaction to a minimum. Even if that's not the case, most people are preferring to stay close to home these days, so the best way to provide your services is to do it online.
This is going to be easier for some businesses than others.
If you're a business consultant, a bookkeeper, or a life coach, for example, you can move your sessions online. You might already use Skype or Zoom to run virtual meetings and consultations. If not, it's time to learn how to use them. Google also just announced that they're offering free access to their advanced Hangouts Meet video-conferencing platform until July 1, 2020, so take them up on the offer.
If you're running a nail salon or you're a personal trainer, for example, things could be a little more challenging, but you can get creative. People are looking for ways to keep fit and stay occupied at home, so try offering webinars and tutorials through webinar platforms, YouTube, or Facebook Live. They could be live, or recorded for on-demand access.
You could create video courses for simple exercises that people can do at home to keep fit, or hold live virtual yoga classes for your clients to participate at home in real time.
Nail and hair stylists could teach people how to do a home manicure or do an intensive hair nourishing treatment, for example. Look for ways that you can share your expertise and knowledge online instead of face-to-face.
It's up to you whether you want to offer your virtual assets for free, to improve your business reputation and grab new leads, or place them behind a paywall so that only paying customers can access them.
2. Keep in Touch With Clients
Communication is everything. If you keep in touch with your clients and remain a part of their lives, they'll probably come back to you when the outbreak is over and we can all resume our normal lives. You can even grow their loyalty if you stay in touch and provide valuable support and information during this difficult time.
Keep your communication channels open by sending email newsletters with updates about your business, suggestions for ways to cope during self-isolation, and inspirational messaging that raises people's spirits. You can also send useful information that isn't related to your business, like advice about hand-washing, a summary of the latest recommendations of your local public health authorities, or recommendations about free online activities.
It's important to be open and clear about what changes you're making in your business. If you're replacing face-to-face sessions with virtual ones via Skype, let your clients know as soon as possible. If you have to reduce some of your services, cancel sessions, or make alternative arrangements, the sooner you tell your clients, the better.
Your clients will also appreciate hearing about the steps you're taking to keep up a high level of hygiene and prevent the spread of the virus. Let them know that you're promoting a strict regime of hand hygiene and respiratory etiquette, so that they feel reassured about using your business. It doesn't have to be sober or alarming; Look at this cute infographic that Seattle-based family dentist Dr. Diana Wu posted on her website: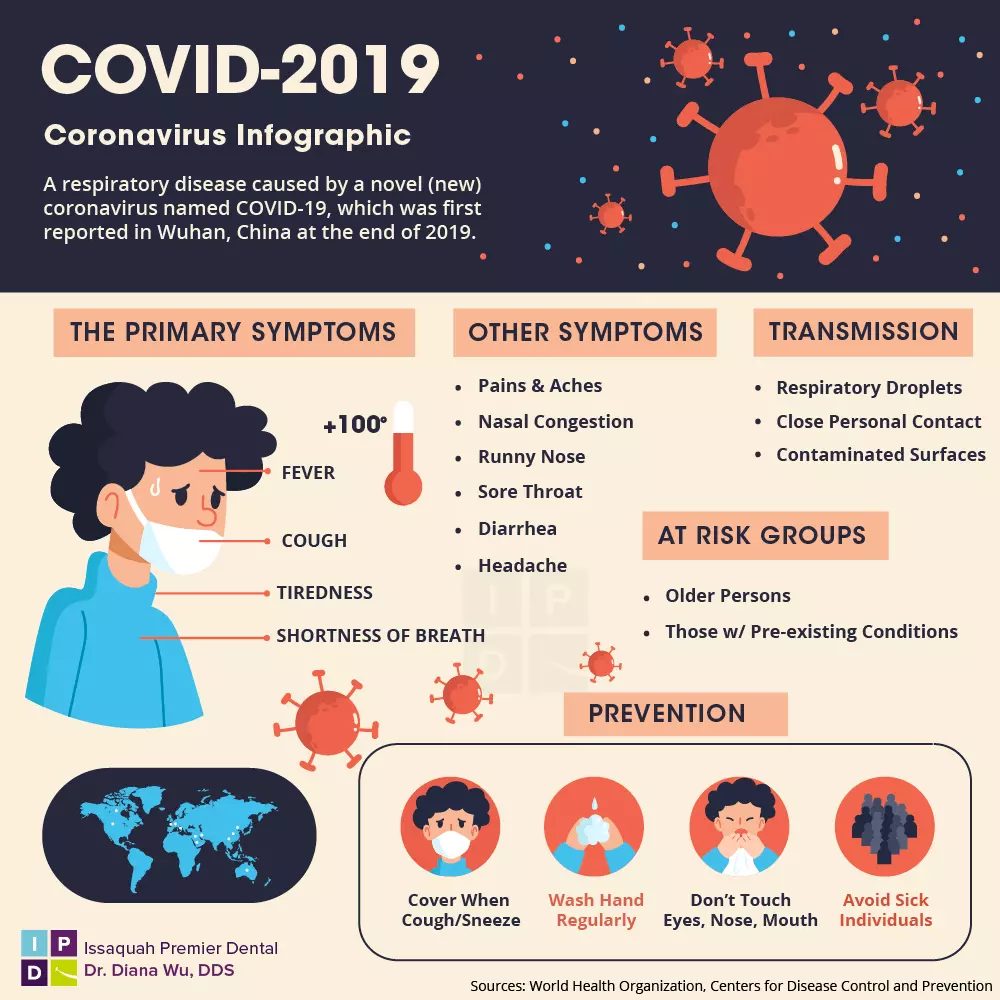 3. Improve On-Site Hygiene
If you're running face-to-face sessions, like hair styling, massages, or in-person therapy, do provide the necessary hygiene items. Make sure that your clients can access a sink with soap to wash their hands, provide plenty of hand sanitizer, and wear a mask to make your clients feel safe about sharing a room with you.
4. Support your Workers
Keeping your business healthy also means keeping your employees healthy. If you can, invite them to work from home using online collaboration and communication platforms like Google Hangouts, Google Drive, Trello, vcita, and other tools.
If you need your workers to come in to the office, tell them that you'll be enforcing strict hygiene rules, both to reassure them that it's safe to come in to work, and to prevent your team from catching COVID-19.
This includes:
Providing a sink, soap, and hand sanitizer
Posting reminders about frequent handwashing and maintaining a safe distance
Rearranging your workplace so that there are at least 2 meters between each worker, and no one is directly facing anyone else
Let your employees know that you're there to support them, both emotionally and financially. Make it clear that no one will be penalized for staying at home if they have any of the symptoms of COVID-19, because the last thing you want is a sick employee dragging themselves in to work to infect the entire business.
5. Focus on Business Development
If business is slow, take the opportunity to work on business development. If you can't spend time seeing clients, use it to think up improvements to your business, add service lines, and find ways that you can be more efficient.
A quiet period is a time to improve your marketing strategy, revamp and relaunch your website, and fine-tune your social media channels. Think of it as an opportunity to work through your business to-do list of all those things you've always intended to do, but never had the time.
6. Reach Out to Your Community
Part of succeeding as a local business means becoming a vital part of your local community, so that people don't just think of you as a faceless company, but as a caring neighbor. That's even more true during times of crisis.
Look for ways to support local residents, like checking up on your elderly clients and asking if they need help getting in groceries or taking out the trash. If you have clients in self-isolation, reach out to ask how they're doing and see if they need you to drop off some vital supplies.
If you run a childcare business or tutoring company and you had to cancel activities, or you're in a county where school was canceled, try recording videos to keep children entertained at home, or offer cut-price childcare in small groups or individually to help out working parents.
7. Network with Other Business Owners for Tips & Support
Living during the outbreak of COVID-19 can be scary, but with some creativity and careful planning, your business can make it through. Join the discussion on our Facebook group to connect with other small business owners and learn how to keep your company strong and safe.