You love being at home with your children and wish you could do it for longer. But, as you ruefully acknowledge, this isn't your mother's or grandmother's time. Many households today need two incomes, and daycare can be astronomically expensive. If only there was a way to make money as a stay-at-home mom….
Actually, there are several ways, 15 of which are outlined below. Any one of them can generate the income you need to say goodbye to daycare costs, stressful commutes, and office politics and hello to a financial freedom that your employed friends might envy.

1. Blogger
Do you love to write? Have people told you that you have a way with words? Blogging is one option that could eventually turn into a six-figure business. Blogging coach Raelyn Tan listed income reports for several top bloggers, one of whom earns over $6,000 a month running a parenting blog.
You don't need technical skills to start and maintain a blog, although you'll likely acquire some as you regularly post. Free or low-cost hosting solutions include:
WordPress: WordPress is beginner-friendly, which is why it powers thousands of blogs and websites and comes with free hosting. If you want to eventually make money running ads on your blog, you'll have to upgrade to one of the paid plans.
Wix: This free website builder is perfect for blogs. It has a drag and drop functionality that's easy to master. Bear in mind that the free version comes with Wix ads and branding, but you can upgrade for $17 per month.
Blogger: This free blogging platform has been around since 1999. It only takes minutes to set up, and hosting and maintenance are both included.
The most successful blogs are updated two or three times per week and feature content that is honest, fresh, and compelling. When you blog about something you love, that part will be easy.
2. Freelance Writer
Not too long ago, working writers were either journalists or bestselling authors. Not anymore. If you can write well, there are several sites where you can find clients looking for freelancers who can create blog posts, newsletters, eBooks, and other content for them. They include.
Upwork: Upwork is arguably the world's best-known freelancer platform. You can choose between hourly jobs and fixed-price contracts. Your account will have to be approved, but once it is, you can search for and apply for jobs.
CloudPeeps: Although not as well-known as Upwork, CloudPeeps is worth checking out because the pay appears to be significantly better than what's available on other platforms: $30 to $80 per hour.
FlexJobs: In addition to posting freelance writing jobs, FlexJobs lists part-time and full-time job opportunities, most of them remote.
According to content platform Contena, freelance writer income will fluctuate based on how much you charge and how often you work, but the average ranges from $24,000 to over $100,000 a year.
3. Affiliate Marketing
With affiliate marketing, you earn a commission by promoting products that you like. If you have a website or blog and post a positive review of (for example) an amazing car seat that converts into a stroller, you can include your affiliate link in the text. If someone clicks on it and buys that car seat, you get paid.
You'll need to join an affiliate network. Some of the best-known options include:
Amazon Associates: Commissions range from 4.5% to 8% per sale, and you have a vast line of products to choose from.
ClickBank: Clickbank features digital products, which is why commissions are higher: up to 70% per sale.
How much you make as an affiliate marketer will depend on your commission rate and how much traffic your blog or website receives. Top earners can make over $100,000 a month, but income is typically more modest in the beginning.
4. Online Teacher
Does everyone rave about your vegan Japanese cuisine? Are your homemade candles in demand during the Holidays season? Do you know how to create a budget for all income levels, thanks to your previous career in the financial services industry?
There are several study platforms that allow members to study everything from baking and basket weaving to foreign languages and professional skills. They include:
Udemy: This online learning portals has over 42,000 instructors teaching 130,000 courses. Instructors generally earn 50% of their course sales, but your earnings will vary based on course cost and number of students. Author Jessica Brody estimated that she makes $1,500 to $3,000 per month on Udemy.
Skillshare: Unlike Udemy, which has a course-based fee model, Skillshare is subscription based, with students watching as many courses as they want. Instructors are paid according to how many minutes their courses were watched by premium subscribers. According to Skillshare, new teachers earn an average of $200 in their first month and can go on to earn upwards of $3,000.
5. Voice Over/Voice Acting
If you have a smooth and pleasant voice or you can do fantastic impressions, you could make money supplying voiceovers for audiobooks, commercials, telephone greetings, and retail announcements. To find work, you can check out the following sites:
VoiceBunny: VoiceBunny is free to join and there are no commission fees. The site adds its margins on top of the rates that you set.
Snap Recordings: Snap Recordings specializes in phone greetings.
You will need a quiet space that can double as a studio, a quality microphone, and audio editing software, but once you're established, you could make from $100 to $300 per minute of audio.
6. Influencer Marketing via YouTube or Instagram
If you have a popular YouTube channel or Instagram account, there are companies that will pay you to promote their brand. According to Viral Nation co-founder Joe Gagliese, YouTube earns the most revenue for creators, but Instagram is catching up quickly.
YouTube influencers generally charge an average of $20 per 1,000 subscribers. If you have 10,000 subscribers, you could earn $200, while the price can go up to $2,000 once you reach the 100,000 mark.
With Instagram, you'll need to upgrade to a business account if you haven't already and tag your favorite brands in your Instagram stories. If any of them are known for working with influencers, you can message them directly with an offer to collaborate. According to a survey by Influence.co, Instagram influencers with 6,000 to 10,000 followers make an average of $88 per post.
7. Website Tester
Webmasters know that successful sites need to be user-friendly. They also know that it can be hard to detect your own shortcomings, so they hire people to test their sites and provide feedback. You would be required to visit a website, complete some tasks, and record your impressions about the user experience.
Websites that are currently engaging testers are:
User Testing
Try my UI
User Feel
Each one pays $10 per test. User Feel states that its top testers earn $100-$200 a month.
8. Virtual Assistant
Virtual assistants (VAs) are independent contractors who provide administrative, creative, and technical support services from a home office. Typical services include data entry, bookkeeping, social media marketing, and customer support. If you have skills in any of these areas, you can find clients on the following platforms:
Upwork: This ultimate freelancer platform connects virtual assistants with clients who need help.
Zirtual: Zirtual is dedicated to sourcing VAs for entrepreneurs, businesses, and teams. Beginner assistants average $12 to $15 per hour.
HireMyMom: HireMyMom is a niche platform that provides VA opportunities exclusively to moms. Unlike Upwork, it is subscription-based (currently $29.99 for three months), but you keep what you earn: HireMyMom doesn't take a commission.
Financial planner and coach Scott Turner estimated that virtual assistants who establish themselves in a particular niche can earn $20 to $40 per hour. If you get the chance to work with blue-chip clients, you could command upwards of $50 to $100 per hour.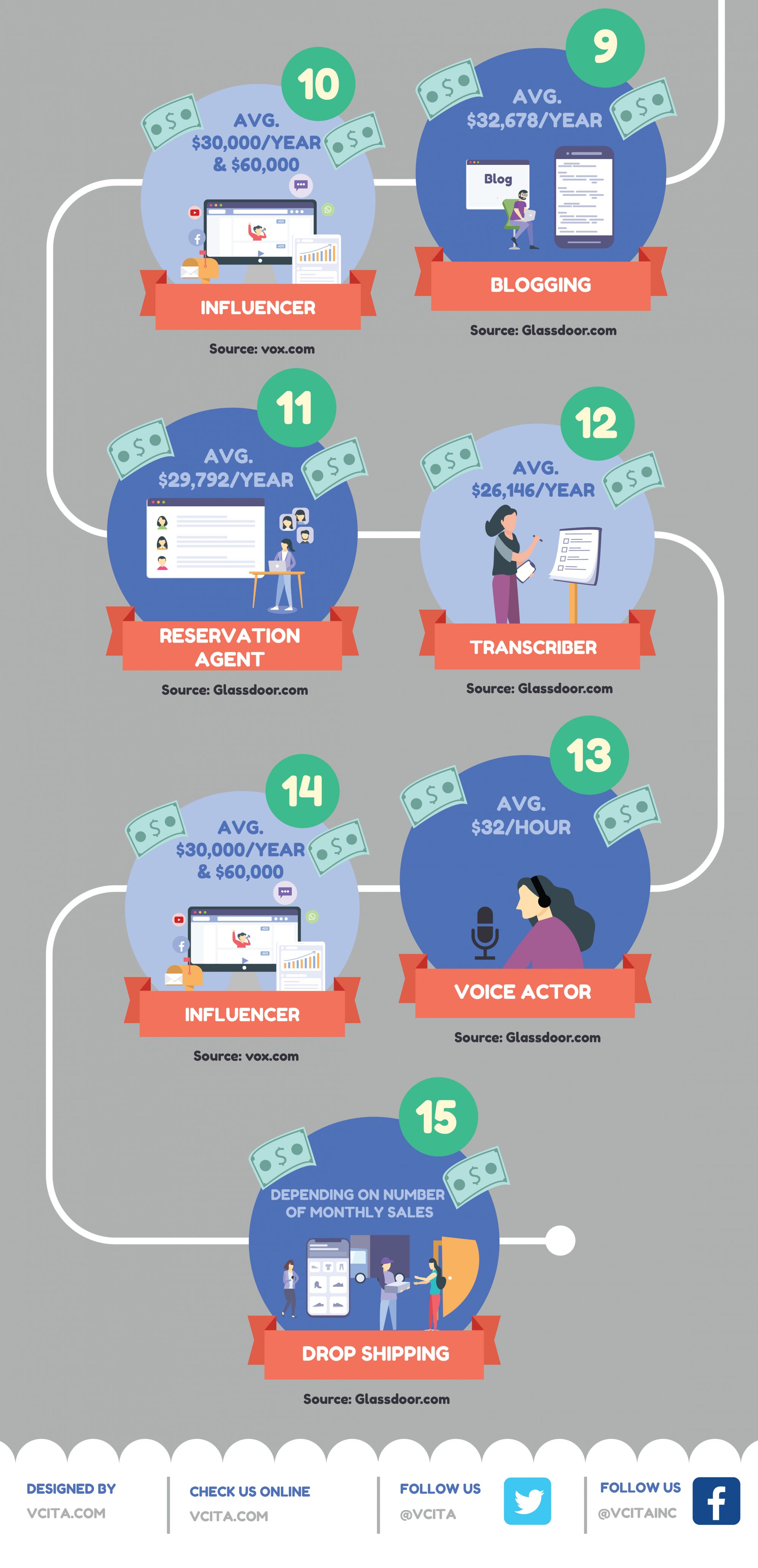 9. Translator
If you speak more than one language, there are work-from-home opportunities for translators. The most popular job resource sites include:
Textmaster: This freelancer website is dedicated to copywriting and translations. Payment ranges from 40 cents to $1.40 per word.
Tethras: Mobile app specialist Tethras hires regularly hires translators, so if you're fluent in tech terms, there are jobs available.
VerbalizeIt: Pay is on the lower end at $6 per hour, but you have an opportunity to meet clients and build a portfolio.
You can also find translation jobs on the TranslatorsCafe job board.
Full-time freelance translators reportedly make an average of $45,000 per year, but if you become certified by the American Translators Association, your earning potential can jump up to $54,000.
10. Social Media Manager
If you have professional experience in social media marketing or your own accounts are thriving, you can use those skills to become a social media manager for entrepreneurs and businesses. Your responsibilities will include representing the brand across a variety of channels by posting content, creating campaigns, and responding to comments.
Upwork and FlexJobs regularly post opportunities for social media managers who want to work from home. Depending on how often you want to work, you could earn an average of $50,835 per year.
11. Reservation Agent
If you have a customer service background, you'll likely shine as a home-based reservation agent. Your job is to listen to the customer's needs and provide appropriate solutions in a friendly and upbeat manner. If you need special equipment to complete reservations or requests, most companies provide them to you.
Reservation agencies that use remote agents include:
Alaska Airline
Enterprise
Hertz
Hilton
Dream Vacations
World Travel Holdings
Depending on which company you work for, your hourly wage will average between $12 and $18, plus commission and possibly bonuses.
12. Drop Shipping
Drop shipping makes it possible for you to open and run a store without needing to hire staff and get a business loan. You open a Shopify account and use the Oberlo app, which is Shopify's drop shipping supplier network, to stock your store and fulfill orders. You don't keep any inventory on hand: all order information is sent to your drop shipper, who takes care of everything.
How much you make will depend on what you sell. Some items (typically the more expensive ones) offer a small 5% margin while others pay a margin of 100%. To maximize your earnings, you also need to regularly market your business and have excellent customer service skills.
13. Medical Billing
A growing number of companies are outsourcing their medical billing services. Responsibilities include creating medical claims, submitting them to insurance companies, and following up to ensure that the providers are paid. Some medical billing positions also involves coding, which is the assigning of numerical codes to healthcare procedures.
This is one remote employment opportunity that requires a special certification. The American Academy of Professional Coders has an online certification program that can be completed in four months while the American Health Information Management Association offers a self-paced online program you can complete in 15 months. Once you're certified, you can find remote medical billing jobs on Indeed or professional networks like LinkedIn. According to Ziprecruiter, you could potentially earn an average of $59,349 per year in this speciality occupation.
14. Search Result Evaluator
Search engines use powerful but complicated algorithms to produce results, but even Google makes mistakes. Search result evaluators improve the quality and ranking of search results by verifying that results are accurate, timely, and relevant to the search terms. (In other words, no spam!)
You typically need to undergo training to become a search result evaluator. The credentials required depend on the employer: Google requires its 'ads quality raters' to have a relevant college degree or similar experience while Appen applicants must take a series of exams. Another employer, Lionbridge, only hires those who pass an online assessment. Once hired, you can make an average of $12 to $15 per hour.
15. Transcriber
If you have excellent typing skills, there are several companies that will hire you to transcribe audio files. These recordings include interviews, podcasts, and radio broadcasts.
Pay varies from one company to the next and usually depends on the length of the audio. For example, Rev pays 36 to 65 cents per minute while 188-Type-It-UP offers up to $2 per minute and TranscribeMe starts at $15- $22 per audio hour.
Being a full-time mom is highly rewarding, but when you need some help paying the bills, these opportunities can help you earn extra money without having to choose between going back to the office and spending as much time as possible with your children as they grow.