How much time do you spend traveling to see clients for appointments?
Whether you're traveling by car or public transit, it can certainly be a hassle to get the best directions and make the most of your commuting time.
In recent years, Google Maps has gotten beefed up with awesome features that make commuting easy… or at least, easier.
Here are 10 tricks to help you make the most of Google Maps to make it on time for every client appointment.
1. Get Poked When it's Time to Leave
Don't get stressed out about missing the last bus or getting surprised by unexpected traffic.
When you're logged to in Google Maps, go to your settings and click 'Notifications', then on 'Commute'. Toggle the 'Time to Leave' option to turn it on.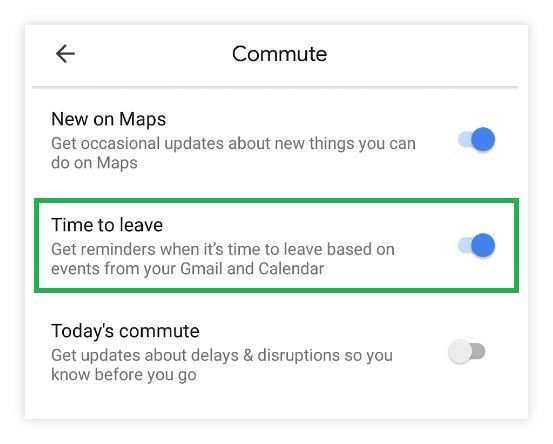 You can also toggle the 'Today's Commute' option to get live updates about any delays and disruptions. Just be sure to have your phone notifications turned on, and Google Maps will take care of reminding you when it's time to go.
2. Send Directions to Your Phone in One Click
Let's say you're sitting at your desktop, chatting with a client via email or Messenger. They need an urgent appointment and you need to leave right away.
You check directions on your desktop and find the perfect route – but now, you don't want to waste time printing the instructions or copying them into your phone.
Google Maps to the Rescue! With a single button, you can send the directions straight to your phone!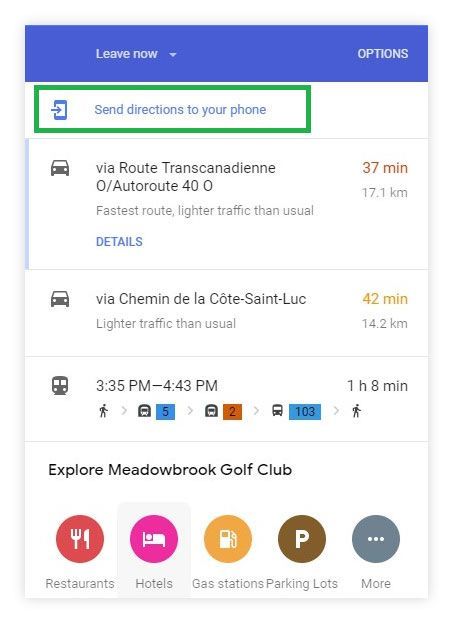 3. Make the Most of Your Time By Viewing Live Traffic
Traffic situations may not be the same while you travel compared to when you left.
Google Maps shows you live updates to let you know which route is best in real-time, which means you can choose to change directions if traffic is worse than expected.
It can even tell you the traffic trend, and if it's expected to get better or worse. Nice!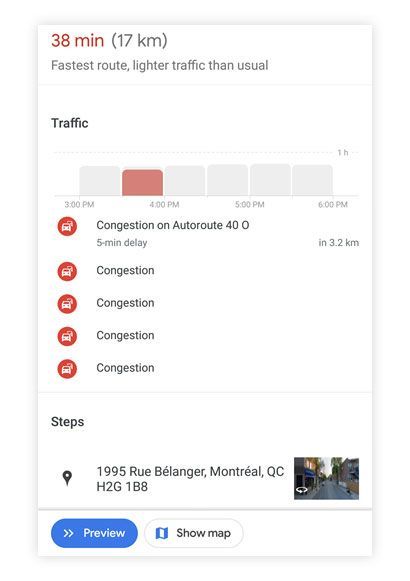 4. Customize What 'Prefered' Route Means for You
Google Maps will show you a preferred route when you ask for directions, but what defines 'preferred' is totally up to you.
For instance, if you know you want to travel by train because it allows you to get work done before your meeting with a client, you can pick 'Train' as your preferred mode of travel.
Or if your appointment requires heavy equipment, you can pick the route that has less walking or fewer transfers to make it easier on you.
By doing this, you won't have to manually look through every option to get the best one for you – just get what you need without a fuss.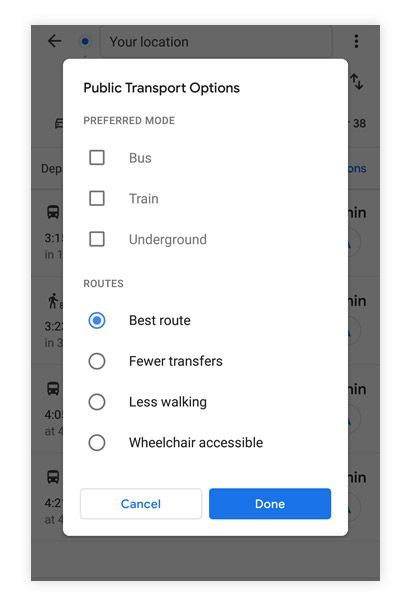 5. Find Uncrowded Places to Eat on the Way
Juggling so many appointments that you don't have time to stop and eat? It happens to all of us.
To keep yourself energized and nourished, simply schedule a food break into your commute! You heard right: Google Maps will feed you live data on how busy you can expect restaurants to be on any given time and day.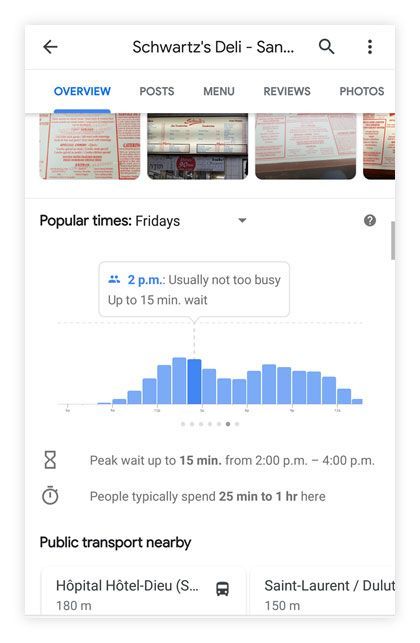 If the app tells you there's usually no wait, you're good to go, even if it says it's typically busy. But if it specifies wait time – and you're in a rush – consider choosing another spot for your grub.
6. Running Late? Call Lyft or Uber
Sometimes you plan your client appointment with the best intentions, but the bus turns up late and you're left to dry on the side of the road.
Google Maps makes it easy to call an Uber or Lyft directly from the app.
What's great is that Google Maps overrides the route to a location to give the best option possible, since the default routes from these apps are not always the best.
7. Download Your Maps To Avoid Coverage Oopsies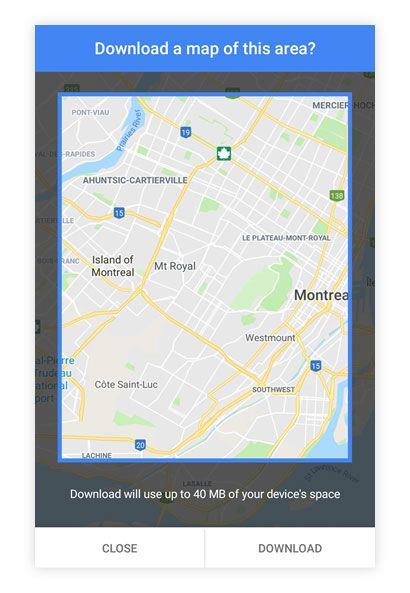 Depending on where you live, coverage can get spotty in certain areas, especially if you travel underground using the subway.
Or you might have run out of phone data for the month.
And if you need to make a sudden change to your route that you didn't account for, good luck pulling it off without live data!
Thankfully, you can download your maps directly to your phone and access them without using data.
You can go to the Offline Maps setting on your phone and click Select Your Own Map. From there, you can drag and drop until the image covers the area you want to download. The app even tells you how much data the map will take up on your phone.
8. Take a Comfortable Route and Work on the Go
Ever feel like traveling is a huge waste of time?
We get it.
Thankfully for everyone, Google Maps shows you how much space you can expect on public transit depending on the time you travel.
So you can opt to go for a route that takes longer, but has more open seats, and allows you to get some work done. Win-win!
9. Figure Out the Parking Situation
If you plan on driving to your destination, you need to figure out where to park. The parking situation alone can eat up tons of valuable time.
Google Maps will tell you whether or not it's easy to find parking near your destination. If this is the case, you can click on 'Find Parking' and redirect your route according to your parking destination instead.
The app even specifies what type of parking locations you can get (parking garage or parking lot) and tells you how long you'll need to walk to get to your destination.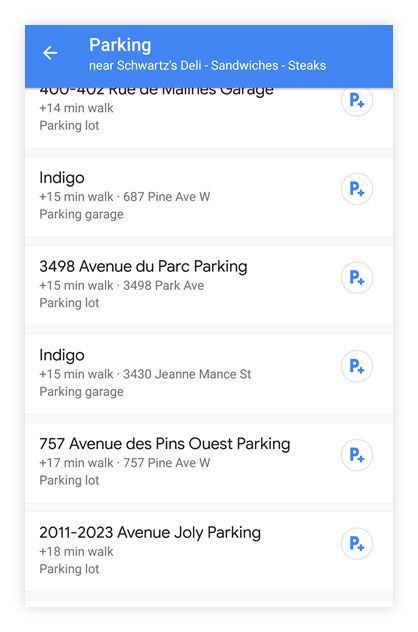 10. Plan Your Escape
So you followed your commute plan and took live traffic into account – but your bus broke down, or a car crash is blocking the highway, or worse – the subway is completely stopped. So what do you do?
The last thing you want is to arrive late and seem unprofessional in front of your client!
No worries – Google Maps uses pretty advanced dynamic multimodal routes you can take as an alternative if your plans go sour.
And if there's a problem on a certain road or a block in the subway, Google Maps will let you know before you take that route, via a yellow alert icon.
Own the Road Like You Own Your Business
And that's it – with all these tips and tricks up your sleeve, you'll put all odds on your side to get to your clients on time for every appointment.