"Work life" today is like living inside a snow globe. Someone picked up our normal work-life balance and gave it a good shake, and we're still waiting for everything to settle again. It's clear that we're not going back to the same "normal" we experienced before COVID-19, but nobody is exactly sure if we're looking at snow angels or forts or a hybrid of the two.
There are a few broad trends that you can't avoid noticing, like:
Remote work is here to stay

Employees won't give up more flexible working practices

Talking about mental health has lost its stigma

Digitalization has raced ahead, changing everything
The Pew Research Center supposes that having tasted the benefits of working from home, barely anyone is going back to a culture that gives points just for showing up. The days of winning a promotion just because your rear end is in your office chair more hours than anyone else's are gone for good. Only 11% of employees who worked from home during the pandemic said they prefer to return to the office full time.
Assessing employees based on productivity, instead of presence, is great news, but it requires a lot more trust from managers, and they're going to have to step up. Sarah Forbes, co-director of the Equal Parenting Project, told the Wall Street Journal that "against managers' expectations, the majority of employees can be trusted to work flexibly, and employees are more productive." By stepping back, she insists, "managers were getting better results." Now bosses have to learn how to give their direct reports elevated levels of autonomy, delegating effectively while offering support and resources, rather than traditional supervision.
But other trends are still emerging. Thought leaders have a lot of questions about the future of work, but they don't (yet) have answers. In the words of Stewart Butterfield, co-founder and CEO of Slack, "We all know that work will never be the same, even if we don't yet know all the ways in which it will be different."
We know that we are going to need to manage differently, support differently and measure success differently, but how that's going to end up looking depends on the following dynamic ingredients and potential dichotomies.
Balancing autonomy with support
One of the many benefits of the shift to work from home was that employees could plan their own time. What mattered was that assignments got completed by the deadline, but no one was forcing them to work 9-5 instead of from 6-9, and then from 12-1, and then again from 8-12 (which was a pretty common schedule for anyone with young children during lockdowns.) Employees became accustomed to independence and didn't turn to managers for guidance, direction or approval as much as they used to.
This has forced managers to unclench and trust employees in terms of assignments. But every manager's staff still needs both support and validation, especially when it comes to mental health and wellbeing.
Low morale is a critical issue this year, whether it's due to bereavement, isolation or anxiety. Managers must rapidly learn how to spot and address mental health issues, and executives may need to roll out new initiatives and offer the mental health guidance and support their employees need to remain productive in our new culture.
Balancing remote work with the social workplace
It's amazing how many employers discovered that remote work was possible once COVID-19 arrived. Pre-pandemic, only 20% of the workforce were employed from home, but in December 2020, 71% were. And the majority aren't about to give that up.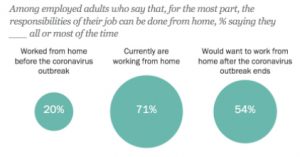 Now that remote work is the norm, a lot more could change too. Jobseekers with disabilities won't be blocked by inaccessible offices. Hiring doesn't have to stop at the border, and as recruiting grows more geographically diverse, it's likely to also become more culturally diverse. Real non-discriminatory hiring practices may be part of our new culture!
But the more everyone works from a distance, the harder it is to build a sense of community. We're still social beings (even the introverts!) and we crave human interaction. A lot of people missed face-to-face chats over the water cooler, even though they want to keep working from home most of the time. Managers and employees are going to have to find the right balance between in-person conversation, and the convenience of remote work.
Balancing flexibility with boundaries
Let's get real: WFH isn't some kind of nirvana that brings us all to inner peace. For people who are naturally organized and/or need flexible working hours, it's been a godsend. They can fit work time in around other demands like childcare or study. Now that many meetings have finally become emails, they don't have to rearrange their schedules just to show up.
But others are stressed out. They're not sure how to manage their time without prompts from managers, and they're struggling to switch off from being "at work" without the ceremony of leaving the office. They find that they're always "on" and the work day never ends.
Hybrid offices that are open for workers who want to come in might help, and management training to help people balance their work and leisure time is the new trend in continuing education.
Balancing rising digital skills with the skills gap
COVID-19 forced the C-suites to accelerate their digital transformation and empower employees to master the digital project management platforms, communication channels, and other tools that make remote working possible.
It's had mixed results; on one hand, most employees have gained a lot of new skills from being thrown in the deep end, not just in terms of using digital tools but also managing projects and tasks by themselves. On the other hand, swift digitalization has widened skill gaps.
Skills gaps are the (sometimes significant) differences between the skills an employee needs to do their job, and the skills they actually possess. Businesses can also have skills gaps; the gulf between the capabilities the entire workforce needs to meet the company's goals, and those it actually has at the moment.
Employers might need to roll out new upskilling and retraining programs to bridge those skill gaps, but first they need to know what everyone's skills and abilities really are. It's a mistake to assume that everyone is in the same place they were 12-18 months ago, so managers need to find tools to reassess everyone's capabilities, even if they're still working remotely.
Further evolution is coming
It's difficult to predict what work is going to look like in another 12 months. We can see the trends, like hybrid workplaces, increased mental health support, and more manager/employee trust, but only time will tell how it's all going to play out.