You've always had an entrepreneurial spirit and a knack for fixing things. Now you're ready to start your own HVAC company, even without years of experience in the field. It's an exciting new adventure where the possibilities are endless if you go in prepared. With some planning, networking, and old-fashioned hard work, you'll be well on your way to being the owner of a thriving HVAC business in no time.
The key is doing your research to understand the industry inside out. Learn what licenses and certifications are required, how to price your services competitively, and the essential tools and software to run an efficient operation. Build a professional network by joining local business organizations and don't be afraid to ask more established HVAC companies for advice.
When you're ready to launch, start small by offering basic installation and repair services to residential customers. As your reputation and experience grow, expand into commercial work and hire additional technicians and installers. Within a year, you'll have a steady stream of loyal customers and be able to call yourself an official HVAC entrepreneur. The opportunity is there – now go after your dream!
First step, obtain HVAC licenses and certifications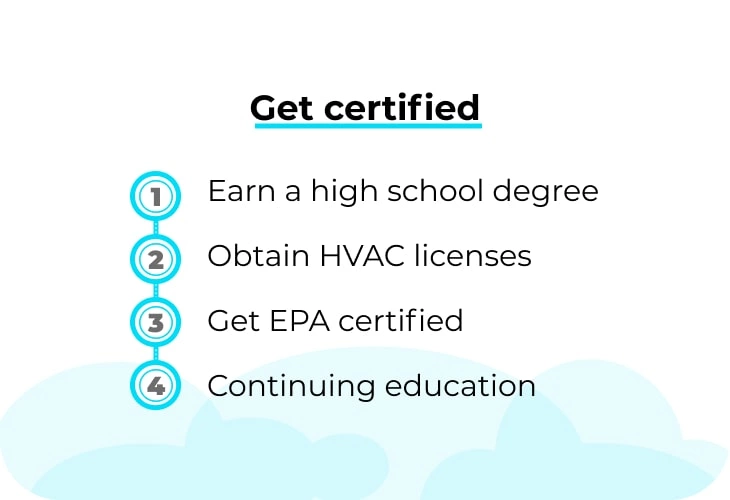 To get your HVAC business up and running, the first thing you need to do is earn the proper licenses and certifications. This shows your customers you're qualified and ready to handle their heating and cooling needs!
Earn a high school degree
The minimum education requirement to become an HVAC technician is a high school degree or equivalent. This provides a solid foundation for understanding the mechanical systems you'll be working with.
Obtain HVAC licenses
Most states in the US require HVAC contractors to obtain a license to operate. License requirements vary, but usually involve a certain amount of work experience, completing an exam, and paying a licensing fee. Do your research to determine your state's specific HVAC licensing requirements.
Get EPA certified
According to US federal law, anyone handling refrigerants must obtain EPA Section 608 Technician Certification. This involves passing an exam on proper refrigerant handling. Many HVAC technicians also earn NATE or HVAC Excellence certification to demonstrate their knowledge and skills.
Continuing education
Some states require HVAC technicians and contractors to complete a certain number of hours of continuing education each year to maintain their licenses. Continuing your HVAC education is also important for keeping up with advancements in technology and best practices.
With the necessary degrees, licenses, certifications, and ongoing training, you'll have the credentials and expertise to launch your own HVAC company. Your customers will have confidence in your abilities, and you'll have the satisfaction of building a business in a hands-on, in-demand field.
Create a business plan for your HVAC company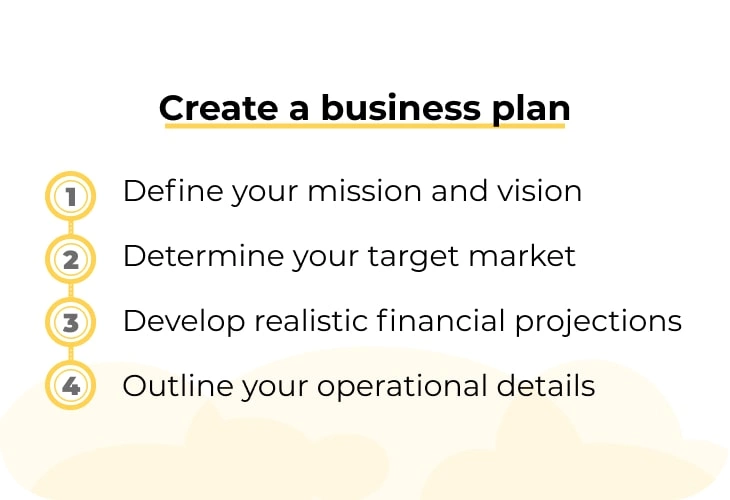 Creating a solid business plan is crucial to getting your HVAC company off the ground. A well-thought-out plan helps attract new clients and investors by showing them your vision. Outline your goals, strategies, and financial projections to map out how you'll build a successful HVAC business.
Define your mission and vision
What do you want to achieve? Helping homeowners stay comfortable? Providing eco-friendly heating and cooling solutions? State your mission and vision to guide your decisions.
Determine your target market
Who will buy your services? Homeowners? Commercial property managers? Focus your marketing efforts on your ideal customers. Talk to people already in the industry to discover untapped markets.
Develop realistic financial projections
Project your income and expenses over the next 3-5 years based on your target market and services. Account for costs like:
Equipment
Employees
Marketing
Insurance
Software like vcita for scheduling and billing
Licenses and certifications
Show how you'll generate a profit to attract investors. Update projections annually based on your actual financials.
Outline your operational details
Describe how you'll complete HVAC installations and repairs
Explain your hiring and training processes to build a qualified team
Discuss using software like vcita to handle scheduling, billing, and customer service efficiently
With passion and planning, you can turn your HVAC skills into a thriving business. Believe in yourself, develop a smart strategy, and stay dedicated to serving your customers well.
Market your new HVAC business and find clients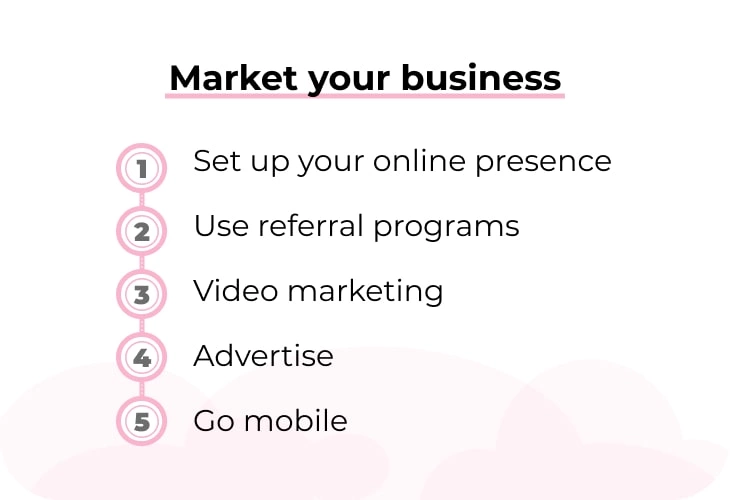 Congratulations, you've started your HVAC business! Now it's time to spread the word. Marketing your new company is vital to gaining new customers and building your business.
Set up your online presence
The first step is establishing your digital footprint. Create social media profiles on Facebook, Instagram and Google My Business. Build a professional website to tell your business story and services offered. Run pay-per-click ads on Google to increase traffic. Use lead generation sites like HomeAdvisor or Angie's List where homeowners search for contractors.
Referral programs
Happy customers are the best way to get new clients. Start a referral program offering customers a discount or gift card for sending you new leads. Ask satisfied customers to leave online reviews and testimonials for your website and social media. Word-of-mouth referrals from friends and family are how many people find reliable contractors.
Video marketing
Create short video content introducing your company and demonstrating your skills to build trust. Post videos on your website and social media. Start a YouTube channel to educate homeowners on HVAC topics. Live video on Facebook is an easy way to connect directly with potential clients.
Advertise
Place ads in community newsletters, local publications and neighborhood Facebook groups. Send direct mailers or flyers to homes in your service area. Sponsor local events to increase brand exposure. Pay-per-click ads and search engine optimization help your website rank higher in Google search results.
Go mobile
Over half of all web traffic now comes from mobile devices. Ensure your website is mobile-friendly so customers can easily access information on the go. Having an app for your business allows you to send push notifications to customers about seasonal specials or maintenance reminders.
Spreading enthusiasm for your new HVAC company will heat up your business in no time! Stay active in your local community, focus on customer service, and keep marketing to build lifelong clients and continued success.
Use all-in-one software to manage your HVAC business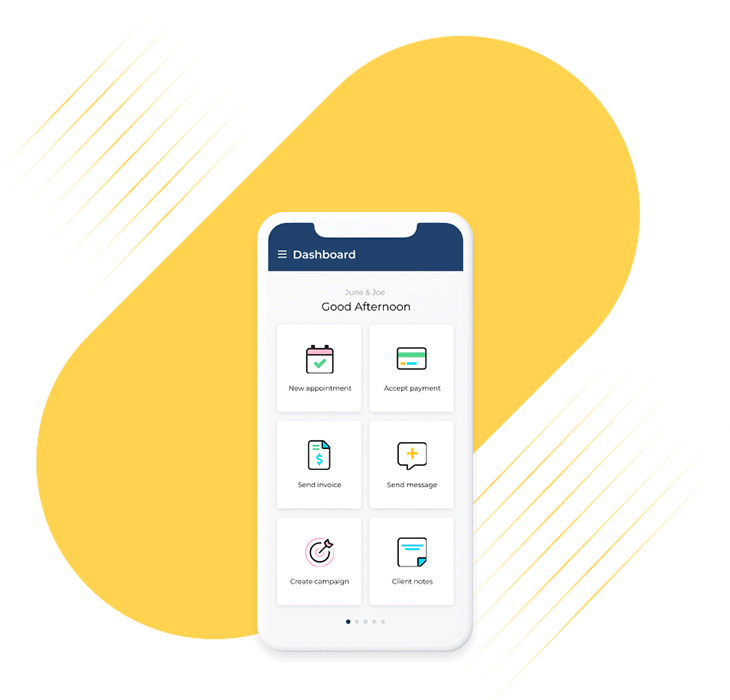 Running an HVAC company means juggling many moving parts, from acquiring new clients to managing technicians and everything in between. The good news is, you don't have to do it alone. All-in-one HVAC management software can help you organize your business and boost productivity.
Using an all-in-one platform like vcita allows you to handle all aspects of your HVAC business in one place. No more switching between multiple tools to schedule calls, send invoices or manage your team. Everything is integrated into a single interface, saving you time and reducing headaches.
With vcita, you can:
Be available 24/7. Enable your clients to book and schedule with you at their convenience and never miss an opportunity.
Create professional estimates and invoices on the spot. Bill customers and get paid faster with integrated payment processing.
Send work orders with ease. Delegate responsibility to other employees once you have them.
Gain insights into your business's performance. See key metrics like revenue, jobs completed, staff performance, average job price and more. Identify areas for improvement and set growth goals.
Market your services and find new customers. vcita includes built-in lead generation tools, email marketing campaigns, and customer review management.
Provide amazing customer service. Give clients a modern experience with features like electronic signature capture and an online customer portal.
Using all-in-one software is a must for any HVAC company looking to scale. The time savings and business insights you'll gain are invaluable. And with many affordable options available, any small business can benefit from these powerful tools. Take your company to the next level – start using all-in-one software today!
Start your HVAC business on the right foot
So what are you waiting for? You have all the steps outlined in front of you – now is the time to take action! Starting your own HVAC company is challenging but rewarding work. Roll up your sleeves, get out there and make it happen.
Talk to other HVAC professionals, start networking, and build your online presence. Before you know it, you'll have your first clients and be running calls. Sure there will be obstacles, but using an all-in-one business management solution like vcita can help.
The opportunities are endless if you have the motivation and drive. Start today – your new adventure awaits! Break into the industry and show them what you've got.