Running a successful small business is all about customer experience. You offer a valuable, unique experience in every fitness training session, health consultation, or doggie haircut, but you also need to make it delightful for customers to book appointments, ask you questions, make payments, and send and receive documents.
Well, they can do all of that and more with vcita's client portal, which actually looks, acts, and behaves as a branded application. But if it looks like a duck and acts like a duck, it doesn't mean your clients need to hunt it down in the app store. Just send them a link, ask them to bookmark it on their home screen –  and voilà, your shiny new branded app is on their phone, ready to go.
The client portal is a ready-made, secure online platform that your clients can easily access on desktop or use as a fully-featured app on tablet or mobile.
Enjoy friction-free client communications
The portal serves as a central communications hub for all your client interactions. If your customers have a question or want to send you feedback, they can shoot it off anytime, anyplace, and view your reply whenever it's convenient for them. (This also means that you don't have to be available 24/7, but it seems like you're available since they can perform all of these activities without you.)
What's more, the portal integrates with vcita's scheduling tool, so your clients can book, cancel, or reschedule appointments within the app. You set the times and dates when you have slots available, and your clients view and select them immediately. Not only does this remove the back and forth from scheduling, but now clients don't even have to visit your website.
Support remote payments
Even as the economy reopens, not everyone is comfortable snapping back to "normal." Your clients might be eager for you to walk their dog or cut their lawn, but they still feel nervous about meeting you face to face to hand over cash or swipe a card on a mobile card reader.

With the client portal, you can invite clients to make payments online, without the need for face-to-face interactions. The portal's payment processing engine supports a range of payment types, so your clients can select their preferred payment method, and it also integrates with your QuickBooks account to issue receipts instantly.
Keep everything in one place
Most service-based small businesses still need to send documentation to clients from time to time. You might need a client to sign a contract for your business consultations, a health form before they begin Crossfit training, or informational pamphlets about nutrition to help them stick to a healthy diet. They might need estimates before you begin work, and receipts for their payments.
Of course, it goes both ways. If you're refurbishing a client's home, they might want to send you color samples or inspiration that they spotted at a friend's, or share their Pinterest board link with you, or check whether the faucet they found is the right size for the fittings.
You can send and receive all of this information and more via digital documents through the client portal. It stores every document in a single communications hub so that both you and your clients can find it easily when you need it. No more pieces of paper that might get lost, or PDF attachments that get buried in your inbox, causing you to squirm or sweat when your client calls and you can't find them.
Strengthen your branding
Your customers live omnichannel lives, swooping from social media to your website to your new branded vcita client portal. You want them to feel like every interaction is just another part of the same conversation, and that all depends on having consistent branding across every channel.
With the client portal, you can present a consistent customer experience across every touchpoint. Customize the color scheme, add your logo, and select the action buttons that appear when your client login. When clients add a shortcut to your business portal, your business logo will appear as an icon on their home screen.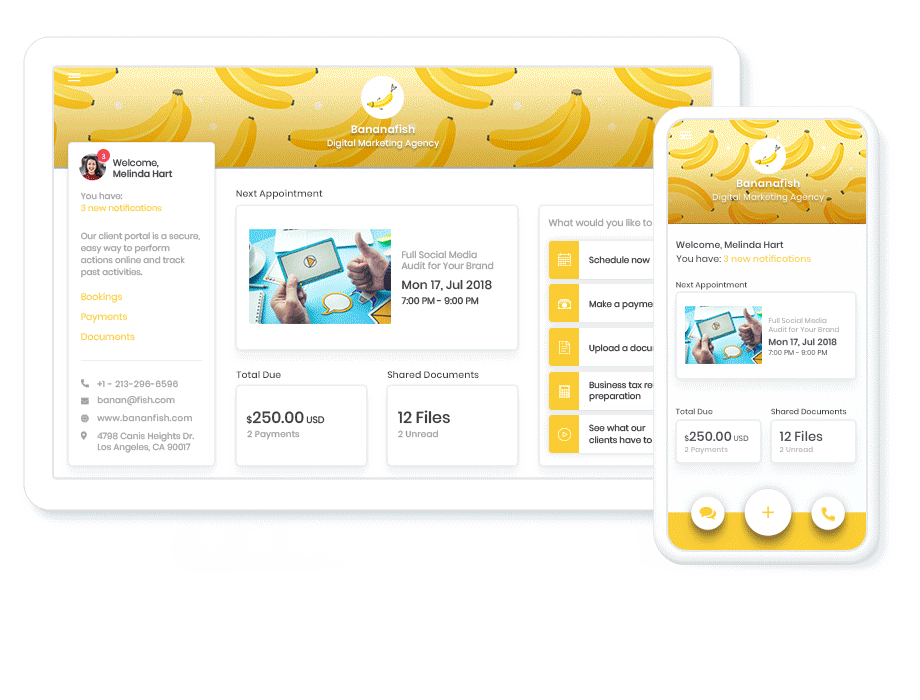 Reduce no-shows and nagging
When a client forgets their appointment or misses it entirely, it's frustrating for both of you. You can send email and SMS reminders, but sometimes those still go overlooked. Plus you don't want to risk nagging your clients when you remind them. The portal makes it easy for them to check the time, date, and location of their next session. And if they need to reschedule or cancel – they can do it on the spot.
Build your value proposition
Whatever your business niche, it's guaranteed that you have at least one competitor in your neighborhood. Our portal helps your business to stand out among the competition for superior customer experience and service. When you can offer your clients friction-free communications, digital interactions, a full range of remote payment options, smooth scheduling and reminders, and a beautiful, app-like interface, you'll differentiate your business and leave the competition behind.